Welcome to the city of Cádiz, an ancient gem nestled on Spain's southwestern coast. As you step into this corner of the Andalucía Region, you'll feel as though you've been transported back in time. With roots dating back thousands of years, Cádiz, one of the oldest continuously inhabited cities in Western Europe, teems with history at every turn.
So, let's start this Cádiz Travel Guide with the most important question …
Is Cádiz worth visiting?
The answer is a resounding yes. Cádiz, offers a treasure trove of cultural experiences, historical landmarks, and picturesque beaches. With every step, you'll feel the city's vibrant history steeped in Phoenician, Roman, and Moorish influences.
Imagine walking through the narrow streets of Cádiz's old town, Barrio del Pópulo, where ancient city walls whisper tales of bygone eras. You'll discover architectural marvels like the Cádiz Cathedral, with its golden dome gleaming against the azure sky.
But there's more than history to this city. Cádiz's culinary scene is a feast for the senses. From the fresh catch of the day served at local markets to the delectable tapas at bustling taverns, your taste buds will embark on an exciting journey.
And let's not forget the city's stunning coastline. Spend your day lounging on the pristine sands of La Caleta, or take a rejuvenating dip in the crystal-clear waters of Playa de la Victoria. As the sun sets, these beaches transform into breathtaking viewing spots, painting the sky in hues of orange and purple.
In this article, we'll delve deeper into these experiences and more, guiding you through all that Cádiz has to offer. Whether you're a history buff, a foodie, a beach lover, or an adventure seeker, Cádiz is a city that promises to enchant and inspire. So, stick around and let's embark on this journey together.
Coming your way in this post - click to expand ->
Note – Please know, some of the external links on this page are affiliate links, this means that if you purchase after following one, I make a small commission from the sale at no additional cost to yourself.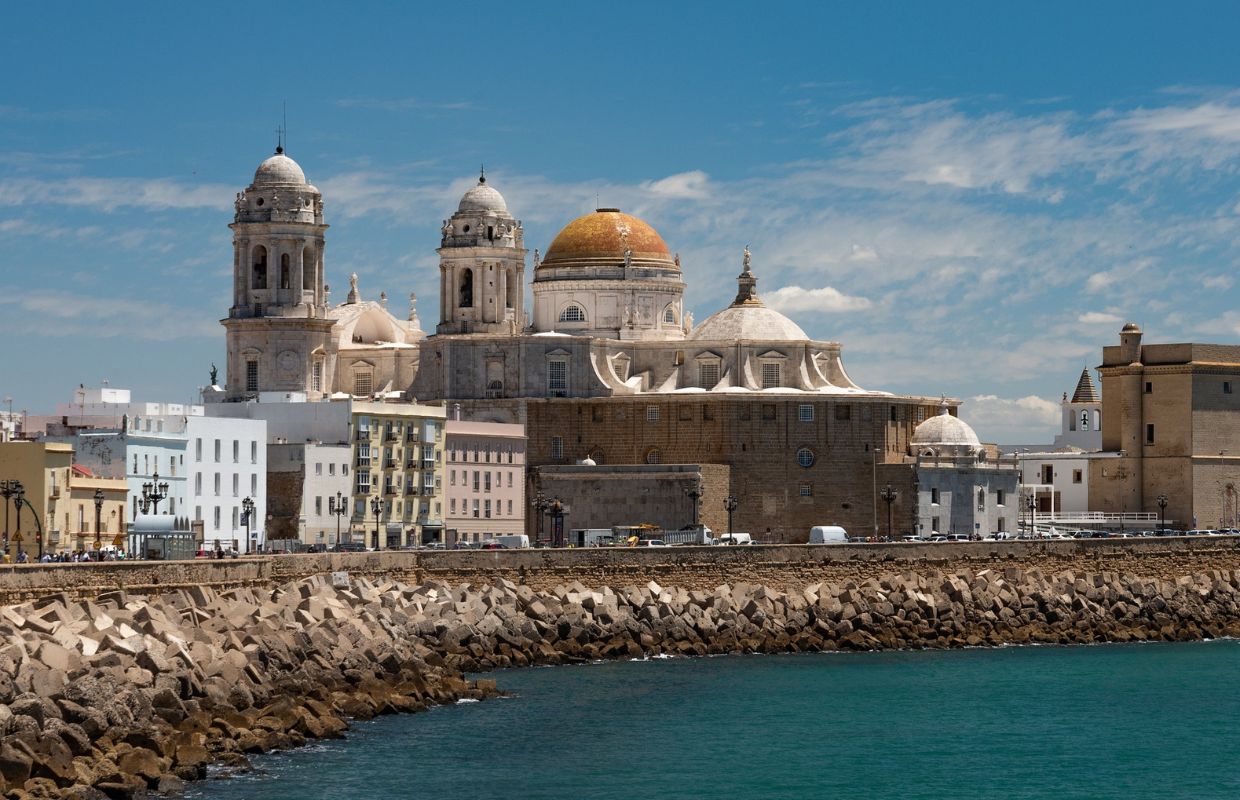 Fun Facts About Cádiz
Parts of the James Bond movie Die Another Day, with Halle Berry, were shot in Cádiz, not Cuba.
Pirates regularly attacked Cádiz for 200 years.
Cádiz is the oldest city in Western Europe.
Christopher Columbus's second voyage to the New World began from Cádiz.
Cádiz has more than 100 watchtowers.
Due to its location on the edge of the Iberian Peninsula, Cádiz linked America, Africa, and Europe with an international trade route.
Where is Cádiz ?
Cádiz is a captivating seaport city located in the southwestern part of Spain, nestled within the autonomous community of Andalusia. Specifically, it's perched on a slender peninsula that juts out into the Gulf of Cádiz, a wide inlet of the Atlantic Ocean.
Cádiz's unique geographical position has given it strategic significance throughout centuries, making it a fascinating intersection of diverse cultures and maritime trade routes.
Getting to Cádiz, Spain
Here's how to travel to Cádiz, a destination that promises to be worth every mile covered.
By Air
While Cádiz doesn't have its own airport, you have two nearby options. Jerez Airport (XRY), a small international hub about five miles from Jerez de la Frontera, is one choice. Alternatively, consider flying into Seville International Airport (SVQ). From either airport, you can rent a car or take a train or bus to reach the heart of Cádiz.
By Train
Spain's efficient rail system makes it easy to reach Cádiz from numerous cities within the country and from neighbouring Portugal, France, and Switzerland. To make this information more digestible, here are some examples:
Seville to Cádiz is approximately 1 hour and 35 minutes, with seven daily trains. Cádiz to Seville is about 121 km (75 miles).
Malaga to Cádiz is approximately 4 hours and 35 minutes. There are usually seven trains per day. Cádiz to Malaga is around 233 km (145 miles).
Madrid to Cádiz is approximately 4 hours and 27 minutes travelling by train. Cádiz to Madrid is about 487 km (303 miles). There are usually seven trains per day.
Marbella to Cádiz is approximately 3 hours and 15 minutes. The road distance from Cádiz to Marbella is about 178 km (110 miles).
Ronda to Cádiz is approximately 5 hours and 41 minutes because you will need to get to Seville first. It is best to rent a car and drive as it will only be 1 hour and 45 minutes. If you don't want to drive, then book a day trip from Cádiz to Ronda.
Valencia to Cádiz is approximately 9 hours and 52 minutes, covering about 612 km (380 miles).
Barcelona to Cádiz is approximately 10 hours and 38 minutes. Cádiz to Barcelona is about 1,114 km (692 miles).
Gibraltar to Cádiz is approximately 118 km (73 miles). It takes about 1 hour and 15 minutes to get from Cádiz to Gibraltar.
For more details and to book tickets, visit The Trainline.
By Car
If you prefer to hit the road, Spain's well-maintained highways make driving to Cádiz a viable option. Keep in mind that parking in Cádiz can be challenging due to its narrow streets and limited spaces, so be sure to plan ahead and have some knowledge of Spanish driving laws.
By Bus
Buses offer another way to reach Cádiz, allowing you to take in the sights of other cities along the way. Flixbus provides services from various European countries to Cádiz, although a change of buses might be required. For a complete listing of buses going to and from Cádiz, check out the Check My Bus Website (link opens in a new tab).
By Ferry
Given Cádiz's coastal location, ferry services connect it to several other destinations. Here are a few options to consider:
Rota – Cádiz Ferry
Cádiz to Tangier Ferry
Cádiz to Canary Islands Ferry
Before you visit – check out my top helpful travel resources
Here are a few of my recommendations for travel assistance and sites I use when traveling myself. For more on these and why I choose to recommend them, check out my full disclosure page.
Climate and Best Time to Visit Cádiz
Cádiz, is not just rich in history but also blesses its visitors with an appealing climate. The city experiences a variation in temperatures throughout the year, but thanks to its coastal location, the weather feels pleasant for the most part.
The summer months in Cádiz can get quite hot, with temperatures soaring up to 95.7°F (35.4°C) in August, which is typically the warmest time of the year. Even during these peak summer months, the evenings provide a respite, with temperatures rarely dropping below 66°F (18.9°C). It's worth noting that despite the heat, the humidity is relatively low during this time, making the city's famous beaches an attractive proposition for sun-seekers.
Winter in Cádiz is mild compared to many other Spanish cities, yet it can feel somewhat cold, especially for those accustomed to warmer climes. January is the most humid month, which might add a bit of a chill to the air. However, the lower temperatures provide a perfect excuse to explore the city's historic sites and museums.
Rain is not a significant concern for most of the year in Cádiz, with the driest months being June, July, and August and the wind is usually calm in Cádiz.
Given the city's temperate climate, the best times to visit Cádiz, factoring in both temperature and humidity, are from mid-March 19th to early July, or from September to November. These periods offer ideal weather conditions for both exploring the city and enjoying vibrant local events. For instance, the Carnival of Cádiz, one of the world's most famous carnivals, usually takes place in February or March, depending on the date of Easter.
Remember, while the climate plays a significant role in planning your visit, Cádiz's charm lies in its historic architecture, lively festivals, and warm hospitality, making it a city worth visiting at any time of the year​.
Weather in Cadiz
Cádiz History
The history of Cádiz is a captivating saga that has left an indelible mark on the city's culture and architecture. From the labyrinthine alleys of the Old Town to the imposing watchtowers, the echoes of the past are palpable in this Spanish gem.
The story of Cádiz, or Gadir as it was originally known, began around 1104 BC, when Phoenician settlers chose this location for its strategic advantages. These ancient seafarers set the stage for Cádiz's long-standing maritime tradition, leaving behind archaeological treasures that speak of a civilization far ahead of its time.
The city, renamed Gades, entered a new chapter in 218 BC when it became a vital hub for the ambitious Hannibal in his conquest of Southern Iberia. Just a few decades later, Cádiz succumbed to Roman rule. Under Rome's influence, Gades flourished, evolving into a bustling port and naval base. Julius Caesar's grant of Roman citizenship to all Gades inhabitants in 49 BC symbolized the city's significance in the Roman Empire, a fact still evident in the city's Roman theatre and other ruins.
The collapse of the Roman Empire paved the way for the Visigoths, who, despite their brief rule, left an impact on the city's fortifications, a legacy that endured subsequent Moorish conquests. The Moorish rule from 711 to 1262 further diversified the cultural tapestry of Cádiz, infusing it with Islamic architectural and artistic influences.
Cádiz's ancient history took a turn towards the New World when Christopher Columbus embarked from its port on two of his four voyages to the Americas between 1492 and 1502. The city then weathered numerous battles and sieges from Spain's adversaries, its resilience tested but never broken.
Fast forward to today, and you'll see a city that wears its history with pride. Cádiz Ciudad, having spent years reconstructing and restoring its landmarks and monuments, stands as a living testament to its rich past. As you stroll through its streets, you'll find the history of Cádiz etched in every corner, whispering tales of ancient civilizations, ambitious conquests, and resilient rebirth.
Exploring Cádiz
Steeped in history and bathed in sunlight, Cádiz offers an array of attractions that cater to every traveller's taste. As you plan your visit to Cádiz, you'll find an enticing mix of landmarks, museums, parks, and outdoor activities that highlight the city's vibrant culture and rich heritage.
From the awe-inspiring Cádiz Cathedral, whose golden dome dominates the city skyline, to the Museum of Cádiz, where millennia-old artefacts tell the city's ancient story, Cádiz's attractions are as diverse as they are fascinating.
A stroll through the lush Genovés Park or a day at the pristine Cádiz beaches is a must for nature lovers. In the following sections, we'll delve into the multitude of things to do in Cádiz, guiding you through the city's most compelling sites and activities. Whether you're a history buff, a beachcomber, or an urban explorer, Cádiz has something for you.
What To Do In Cádiz Spain
There are numerous things to do in Cádiz, Spain. Below are just a few things you should consider participating in on your Cádiz vacation.
Cádiz Beaches
Nestled on the sun-kissed southwestern coast of Spain, Cádiz is a paradise for beach lovers. Offering a perfect blend of city culture and coastal relaxation, the beaches of Cádiz are as diverse as they are beautiful.
Here, golden sand meets the azure Atlantic, creating a haven for sunbathers, surfers, and nature enthusiasts alike. From the urban beaches like La Caleta, brimming with local charm, to the vast stretches of sand like Playa de la Victoria, Cádiz's beaches are treasures waiting to be discovered.
Below are some of the best beaches in Cádiz, each offering its own unique allure. So, whether you're looking for a bustling beachfront promenade, a serene spot to soak up the Spanish sun, or an adventurous water sports arena, Cádiz's coastline has it all. Prepare to uncover the seaside gems of this ancient city, where every grain of sand tells a tale of the timeless synergy between Cádiz and the sea.
La Playa de la Caleta – La Caleta Beach Cádiz is one of the most popular beaches in Cádiz. Situated between Santa Catalina Castle and San Sebastian Castle, it is also known as Baño de la Viña. The beach is 450 meters (1476 feet) long and 50 meters (164 feet) wide. Here you will see families having picnics, grandparents playing cards, and children building sandcastles. This beach may look familiar to you as it was featured in the James Bond movie Die Another Day.
La Playa de la Victoria – Victoria Beach, with its wide-open space and champagne-coloured sands, is considered by some to be the best beach in Spain. Located on the city's west side, it is well known as a nighttime party beach because it is lit up by arc lights. After extensive redevelopment, the beach is now 8,202 feet (2,500 meters) long and 607 feet (185 meters) wide. Here you will find a sports area, beach sun loungers, and umbrellas for rent.
La Playa de Santa Maria del Mar – Santa Maria del Mar Beach, also known as Playita de las Mujeres, is very small, only 400 meters (1,312 feet) long. It sits between Victoria Beach and La Caleta Beach in the northern part of Cádiz. Here you will relax with views of the ancient walls, La Caleta, La Victoria, and the Cortadura.
La Playa de la Cortadua -La Cortadura Beach is the most untouched beach in the city. It is Cádiz's longest beach spanning a monstrous 4,000 meters (13,123 feet) between Cortadura and Torregorda. You will enjoy fine golden sand on this beach that has also received seven blue flags.
Museums In Cádiz
Dive into Cádiz's rich history and vibrant culture by exploring its impressive collection of museums. Each museum in Cádiz is a treasure trove of artifacts, art, and stories that paint a vivid picture of the city's past and present.
From ancient relics that trace back to the Phoenician era to contemporary art pieces that showcase the city's thriving creative scene, Cádiz's museums offer an enriching and enlightening experience. In this section, we'll guide you through some of the must-visit museums in Cádiz, each offering a unique glimpse into the city's diverse heritage and dynamic spirit.
Museo de las Cortes de Cádiz – Its full name, The Iconographic and Historical Museum of the Cortes and Site of Cádiz, was inaugurated on October 5th, 1912, to commemorate the First Centenary of the Constitution of 1812. It is home to many items from the 18th and 19th centuries. Here you will see many things from the siege by Napoleonic troops from 1810 – 1812.
Castillo de San Sebastian – It is believed this island was used as a settlement in the Old Age. The first building on the island was built in 1457 by the crew of a Venetian ship. In 1613 a watchtower replaced the old lighthouse, and the castle was built in 1706. The San Sebastian Castle is currently an exhibition space and a venue for recreational events and concerts.
Cádiz Museum – Spread across three floors, the Cádiz Museum was founded in 1970. It was formerly the Provincial Museum of Archaeology and the Provincial Museum of Fine Arts. However, they are now combined under one roof with the ground floor archaeology, the first floor is art, and on the second floor, you will discover puppets. Tours and educational programs are available.
Monuments To See In Cádiz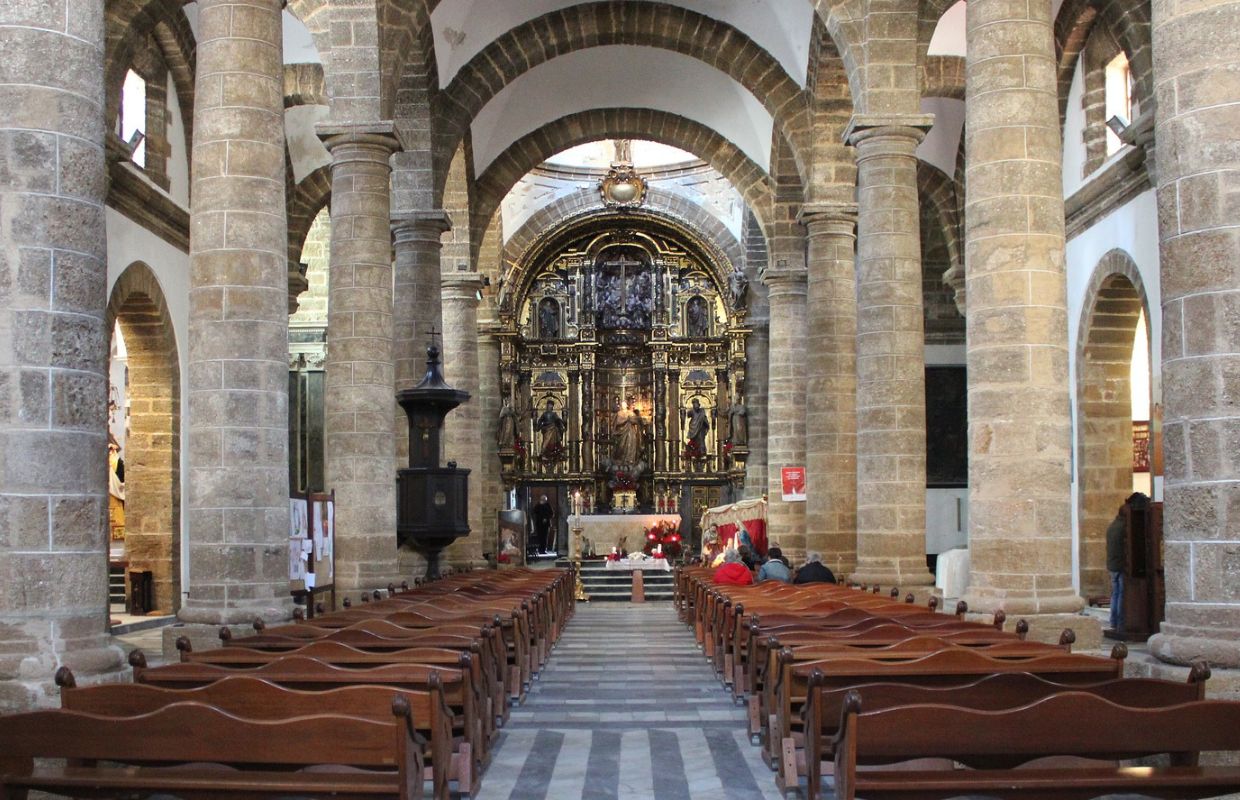 As you navigate through the city's narrow, winding streets, you'll encounter grand edifices and timeless statues that narrate the city's rich past.
Here are some of the must-see monuments in Cádiz, each telling a unique story of the city's storied past and cultural heritage.
Torre Tavira – Built in 1778 as a watchtower, Torre Tavira towers 45 meters above sea level. Climb the 170 steps in ten flights of stairs to the top of the tower for stunning city views. To the south, you will see the Cathedral with its shining dome. To the north, you will see the Castle of San Sebastian.
Cádiz Cathedral – Cádiz Cathedral is also called the "Cathedral of the Americas" because it was built during a trade boom between South America, Central America, and the West Indies in the 1700s. The Cathedral combines neo-classical, rococo, and baroque styles. You can pre-book a guided tour online to save having to queue for entry.
Teatro Romano de Cádiz – The Roman theatre in Cádiz was only discovered in 1980. However, it dates back to the 1st century BC. The almost 120 meters in diameter theatre was demanded to be built by Lucio Cornelio Balbo el Menor. It is estimated more than 10,000 people could watch performances here, making it the second-largest and oldest theatre in the Iberian Peninsula.
Parque Genovés – You can spend an entire afternoon at this large botanical garden. It is located in the north part of the city next to the University Campus. For hundreds of years, this area has been a green space. It contains various plant specimens and trees, including Indian Laurels, Populars, Cycads, Maple Trees, and much more. You will want to spend some time around the waterfall and lake with statues of dinosaurs.
Activities In Cádiz, Spain
Some people can get a little overwhelmed by the number of things to do in Cádiz. Here are a few recommendations of activities we think you will enjoy on your Cádiz holidays.
Four-Hour Bicycle and Surfing Adventure – Explore Cádiz in two of the most fun ways possible. Spend 2-hours cycling along the seaside promenade, then take a 2-hour surf lesson from an expert and ride the waves like a pro! Get your Bicycle & Surfing tickets here.
Two-Hour Segway Tour – Drive on your Segway through the essential parts of the city of Cádiz and zoom past the most beautiful, golden-sandy beaches you'll find. Enjoy a fun and relaxing Segway tour through the city with your friends and family! Get your City Bike Tour tickets here.
Ninty-Minute Cádiz City Guided Tour – Learn the history of one of Europe's oldest cities and journey through more than 3,000 years as you explore the traditional neighborhoods of Cádiz. Get familiar with the sights of the city and hear about its many legends. Get Your Guided City Tour tickets here.
Festivals In Cádiz
In the heart of Andalucía, the city of Cádiz offers an immersive journey into Spanish culture through its vibrant festivals. Though fewer in number compared to Barcelona or Valencia, these celebrations are a testament to the spirit and passion of the Cádiz.
Holy Week
Dive into the rich traditions during Holy Week or Semana Santa, an event that transforms the city into a living theater of devotion. The streets come alive with processions led by costaleros, carrying lavishly decorated wooden statues of saints. Watch out for the Nazarenos, known for their distinctive somber dress, as they follow in reverence. This sacred spectacle, combining faith, art, and community, starts on Palm Sunday and continues until Easter Sunday.
Carnival
Next on the city's festive calendar is the Cádiz Carnival, a spectacle of colours, music, and dance. This event is more than just a festival—it's a cultural phenomenon where satire and flamenco meet. The city pulsates with performances from satirical music groups, and flamenco dancers weave their magic in the streets and squares. This explosion of colour and creativity is one of the reasons many consider it to be one of the Best Carnival Celebrations in Spain.
Corpus Christi
In contrast to the exuberance of the Carnival, the Corpus Christi celebration is a more solemn affair that dates back to the 14th century. The streets near the Cathedral blossom with fragrant plants, and silver custodias bearing the Holy Host are paraded throughout the city. This festival takes place on Thursday, eight days after Whitsun.
Tosantos
Finally, the Tosantos festival, or All Saints' Day, offers a delightful culinary experience. The markets are a feast for the senses, with stalls selling fruits, sweet potatoes, nuts, and doughnuts. This celebration is a must-visit for food lovers and takes place on November 1st every year.
Where and What to Eat in Cádiz
When you are visiting you have to immerse yourself in the rich culinary culture of Cádiz, a city famed for its delectable local dishes and vibrant eateries. When dining out in Cádiz, you will be enchanted by myriad flavours, from the freshness of the sea to the warmth of traditional Spanish cuisine.
Start your culinary journey at "El Faro de Cádiz", a renowned locale known for its traditional Andalusian dishes. Treat yourself to a delightful array of pescaíto frito (fried fish and seafood), Atún rojo (Atlantic bluefin tuna), and tortillitas de camarones (shrimp fritters). Their impressive selection of wines perfectly complements the meal, ensuring a dining experience to remember.
You could also consider "Restaurante Cumbres Mayores", a restaurant celebrated for its delectable Iberian ham. Their speciality, the jamón ibérico, is a cured ham produced in Spain from black Iberian pigs, a gastronomical delight that you can't miss when eating out in Cádiz.
A "Taberna Casa Manteca" visit offers a quintessential tapas bar experience. Enjoy the ambience of this traditional establishment while relishing their authentic tapas like chicharrones (pork rinds), queso payoyo (a local cheese), and locally cured meats.
If seafood is your thing, then don't miss "Freiduría Las Flores", a local favourite renowned for its exquisite fried fish. Their speciality dish, a local variety of fish, is a must-try for all seafood lovers.
Finally, no gastronomical tour of Cádiz is complete without a visit to the Central Market of Cádiz. This bustling market is a haven for food lovers, offering a diverse range of fresh produce, from bluefin tuna and prawns to an assortment of local and national shellfish. Explore the Gourmet Corner of the market, where you can sample a variety of delicacies, from Iberian cured meats and sushi to international beers and a range of cheeses.
Experience the joy of Cádiz cuisine, a delightful culinary journey that reflects the city's rich cultural heritage and vibrant local produce.
Shopping In Cádiz
Embarking on a shopping adventure in Cádiz unveils a blend of vibrant traditional markets, sprawling shopping centres, and distinctive souvenirs. Whether you're hunting for a keepsake to commemorate your journey or keen to dive deep into local customs, Cádiz's shopping scene won't disappoint.
The "Mercado Central de Abastos," the central market, is a hive of activity that pulses with the authentic rhythm of Cádiz life. As briefly mentioned above, it's a haven for food enthusiasts who appreciate the freshest produce. Here, you'll find an assortment of fruits and vegetables and the day's catch brought in by local fishermen. Don't miss the chance to savour regional specialities like Andalusian olives and cheeses at its lively tapas bars.
For those favouring modern shopping conveniences, the "Centro Comercial Bahía Sur," the city's largest shopping centre, awaits. Nestled in the heart of Cádiz, it houses a wide array of shops catering to the latest in fashion trends, local boutiques, and home décor. It's your one-stop destination for contemporary Spanish style and accessories.
When it comes to souvenirs, Cádiz's diverse offerings will not leave you wanting. Pottery and ceramics with traditional Andalusian designs are always a crowd-pleaser. Local sherry, an iconic product of the region, makes for a perfect gift to bring back home. And for those with a sweet tooth, 'Torta de Cadiz,' an irresistible almond cake, is a must-try, easily found in local bakeries and sweets shops.
Day Trips From Cádiz
While Cádiz is a wonderful city to visit with many things to do, if you are visiting for more than a few days, a day trip out to the surrounding area, in Cádiz province, could be a great idea. Below are some recommendations for Cádiz day trips.
Ronda & Setenil de las Bodegas
On this day trip from Cádiz to Ronda & Setenil de las Bodegas, you will learn about the tradition of Bullfighting in the region. You will see the stunning historic bridge that links the new town of Ronda with the old town. You will also discover the unusual architecture in the picturesque village of Setenil and the houses built into the rocks.
Book your day trip from Cádiz to Ronda & Setenil de las Bodegas here.
Gibraltar & Vejer Tour
Enjoy a full-day trip to Gibraltar and Vejer. You will learn about the history of Gibraltar, home to wild macaques (Barbary apes). They are the only ones in Europe who live on the Rock of Gibraltar. Learn about the historic town of Vejer de la Frontera, Spain. See the walls and towers around the town that have been well maintained. Soak up the beautiful Christian and Muslim architecture throughout the town.
Book your day trip from Cádiz to Gibraltar Private Full-Day Tour here.
Doñana National Park & Sanlúcar
On this private day trip from Cádiz, you will discover one of Europe's rarest ecosystems. Watch the migratory birds and local wildlife within the salt marshes, pine forests, and wetlands. Then you will explore Sanlúcar. Discover the Renaissance monuments, medieval walls, and the historic center. You will also have an opportunity to sample the famous local Manzanilla wine.
Book your day trip to Doñana National Park & Sanlúcar here.
The White Towns of Andalusia
Spend the day visiting several white villages within the Sierra de Grazalema Natural Park. Some have said that the picturesque houses with brown or red-tiled roofs are painted white to ward off the extreme summer heat that marks the region. B
Book your day trip from Cádiz to The White Towns of Andalusia here.
Private Boat Trip in Cádiz
A private boat trip offers a unique experience for ocean enthusiasts visiting Cádiz. Departing from the Royal Yacht Club, the journey features the grandeur of Cádiz's iconic bridges and the historic Arsenal de la Carraca naval base. The adventure continues at Valdelagrana beach, where an hour's break allows for swimming and water sports. Onboard refreshments featuring local delicacies enhance the voyage, which concludes after three hours back at the yacht club.
Find out more details about the excursion and book here.
Where to find the best sunset in Cádiz
If you're anything like me, you will appreciate the beauty of a great sunset. This is probably one of my favourite thing about being by the ocean. Living in Madrid, a good sunset is difficult to come by, but there are many options in a place like Cádiz. Below are some of the best places in the city to grab a drink, kick back and enjoy the transformation of day into night.
La Caleta Beach: Nestled in the historic heart of Cádiz, La Caleta Beach steals the show when it comes to sunset viewing. Its charm doesn't just lie in the fiery hues of the sunset but also in the silhouette of the San Sebastian Castle that it paints against the evening sky. Arrive early, grab a spot on the sand, and let the spectacle unfold.
Santa Catalina Castle: It's not just a fort but a vantage point that gives you a grand view of the sea at sunset. The sun dipping below the horizon from Santa Catalina Castle is a sight to behold. Don't miss the nearby cafes where you can enjoy a warm drink as the day ends.
Tavira Tower: As the highest point in the old town of Cádiz, Tavira Tower has more to offer than just its historical significance. From here, the city and the sea stretch out under the fiery canvas of the sunset, creating a panorama that's nothing short of a painter's dream. If possible, it's recommended to time your visit to coincide with the setting sun.
Playa de la Victoria: More than just a beach, Playa de la Victoria is where the sun, sea, and sand meet to create a stunning spectacle at dusk. As one of Cádiz's longest beaches, it provides ample space for you to find your perfect sunset-watching spot. The nearby promenade is dotted with eateries, making it a great place to grab a bite as you watch the sun go down.
Where to Stay in Cádiz: Quick Guide to the Perfect Accommodation
Choosing the right place to stay can enhance your vacation experience in Cádiz. The city offers a broad range of accommodations, from luxury hotels to budget-friendly hostels, catering to different preferences and budgets. I have some quick tips below, but check out our guide to the best places to stay in Cadiz for all budgets for some more ideas.
City Centre (Old Town): This area is perfect for history and culture enthusiasts. Staying here puts you within walking distance of iconic landmarks such as the Cádiz Cathedral and the Roman Theatre. Two notable hotels here are the boutique-style Hotel Casa de las Cuatro Torres and the Parador de Cádiz, with its modern design and stunning views.
La Viña and El Populo: These neighbourhoods are famous for their vibrant nightlife and local eateries, making them ideal for foodies and party-goers. You can find a good mix of hotels and self-catering apartments in these areas.
Beach Areas (La Caleta, Playa de la Victoria): If you're a beach lover, consider staying at beachfront accommodations along La Caleta or Playa de la Victoria. These areas are slightly removed from the city centre but offer stunning ocean views and easy beach access.
For Backpackers: Hostel Casa Caracol and Cádiz Inn Backpackers are budget-friendly, centrally located, and offer communal spaces where you can meet fellow travellers.
More accommodation options in Cádiz
Considerations when choosing accommodation
Accessibility: Most areas in Cádiz are well-served by public transportation, so getting around should be a breeze regardless of where you stay.
Amenities: Most accommodations offer free WiFi, and many hotels provide breakfast options. Some beachfront hotels may also have pools.
Seasonal Factors: Keep in mind that prices may spike during peak tourist season (June to August), and some accommodations may be booked out well in advance.
Safety: All the areas mentioned above are generally considered safe, but as with any travel destination, it's always wise to stay vigilant.
To compare prices, check availability, and read reviews, consider using platforms such as Booking.com. Remember, the best place to stay in Cádiz is one that suits your travel style, preferences, and budget.
Practical Information for Visiting Cádiz
Embarking on a journey to Cádiz, a gem in the heart of Andalusia, Spain, can be an experience of a lifetime, but it's essential to have practical information at your disposal. This section provides useful insights on local customs, safety measures, transportation, and local currency.
When it comes to local customs and traditions, Cádiz takes immense pride in its rich history and culture. Tapas, small plates of food usually enjoyed with a drink, are a way of life here. It's common to see locals hopping from one tapas bar to another, particularly in the old town areas. If you're looking to experience flamenco, head to La Cava, a famous flamenco venue in the city.
Safety is a priority when travelling to any foreign city. Generally, Cádiz is a safe city for tourists, but it's always good to stay vigilant, especially in crowded areas like markets or beaches. Avoid showing off expensive belongings and always keep your valuables secure. As for the beaches, always follow the flag system for swimming and pay attention to lifeguard instructions.
Navigating the city is easy with Cádiz's local transportation. Public buses are the most common and economical way to get around. Tickets can be purchased onboard, or you can buy a travel card for multiple journeys. Taxis are also widely available, but be aware that prices can go up during the night or on holidays. If you prefer a more active mode of transportation, Cádiz has bike rentals available, with dedicated bike lanes for safe cycling. However, due to the compact nature of the city, especially the old town, walking is often the best way to explore Cádiz.
When it comes to currency, Cádiz uses the Euro (€). Credit cards are widely accepted, but it's always handy to have some cash for smaller establishments or markets. ATMs are readily available throughout the city, but using foreign cards might entail additional charges, so it's worth checking with your bank before you travel. In Spain, tipping is not as customary as in other countries, but a small tip is always appreciated for good service, usually around 10% in restaurants.
You can get more information about Cádiz Tourism and the Province of Cádiz from the Cádiz Tourist Information Center.
FAQ's
What is the population of Cádiz?
It is estimated that the population of Cádiz in 2020 is 117,313 people.
Which are the airports near Cádiz, Spain / what are the closest airports to Cádiz Spain?
Cádiz does not have an airport. The nearest airport to Cádiz Spain is Seville International Airport (SVQ).
Which is the best beach in Cádiz?
La Caleta Beach Cádiz is one of the most popular beaches in Cádiz. Situated between Santa Catalina Castle and San Sebastian Castle, it is also known as Baño de la Viña. However, as always, best is a matter of opinion.
Can I book Cádiz Spain Flights / How do I book flights to Cádiz Spain?
You can not book a flight to Cádiz because the city does not have an airport. You need to book a flight to Seville and then drive or take the train/bus to Cádiz.
Is Cádiz the oldest city in Spain?
It is hard to know with 100% positivity if Cádiz is the oldest city in Spain. It is believed to be one of the oldest cities in Western Europe.
What is the time in Cádiz Spain / What is the Cádiz Spain time zone?
Cádiz, like all of Spain, is on Central European Time (CET), and during the summer months, it is on Central European Summer Time (CEST). It is UTC/GMT +2 hours.
Is Cádiz an Island?
No, Cádiz is not an island. It is actually a vibrant city located on a long, slender peninsula that stretches out into the Gulf of Cádiz, an inlet of the Atlantic Ocean. This unique location gives Cádiz its coastal character and a significant role as a principal seaport in Andalusia, southwestern Spain. Despite the surrounding waters, Cádiz remains firmly attached to the mainland, differentiating it from an island. The city also serves as the capital of the Cadiz province in the autonomous community of Andalusia.
Final Thoughts
From the richly historical Old Town to the gastronomic delights that await in its bustling markets and restaurants, Cádiz truly offers a unique blend of experiences for every traveller. As you navigate the narrow, winding streets, take time to appreciate the city's rich tapestry of history, savor the mouthwatering local cuisine, and immerse yourself in the vibrant Andalusian culture.
This guide has aimed to provide you with a comprehensive overview of Cádiz, touching upon its fascinating history, highlighting its culinary scene, offering practical advice for your visit, and more. However, the real magic of Cádiz lies in its ability to surprise and delight at every turn, offering new discoveries with each visit.
We hope that this guide has inspired you to explore Cádiz for yourself and that the information provided will enhance your experience in this remarkable city. Remember, travel is about creating your own journey and Cádiz offers a wonderful canvas to do just that.
Do you have any more questions about visiting Cádiz? Or perhaps you've already been and have some tips or experiences you'd like to share? We'd love to hear from you. Please leave your comments below and let's continue the conversation about this incredible destination. Safe travels!