"I just started reading this book and I don't want to put it down. It is basically a blog or journal about the author's journey through East Africa. It includes some great tips and is a great read for anyone who loves to travel!"
"This book was entertaining and gave a realistic view of what it can be like to find one's self in a totally different culture. Not a bad choice for someone who is interested in doing this!"
It's a travel advice book, a travel diary and a work of "Comedy Genius"* all rolled into one.
The book is based on my diary I kept while travelling through East Africa. It was my first attempt at solo travel and turned out to be a very steep learning curve.
The journey didn't get off the the best of starts when I found myself in Dubai airport (before I'd even reached Africa) with no wallet, phone or passport having left them behind as I passed through a security scanner.
By the time I realised, it was too late, they were gone.
Oh, I had also lost my voice at this point too.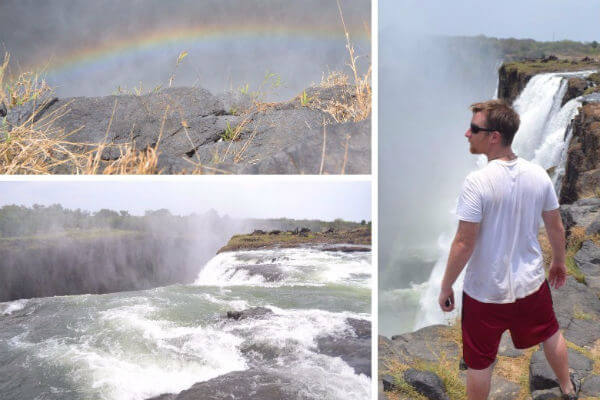 Discover how I continued my journey and join me as I travel on an overland adventure, from Nairobi to Johannesburg, stopping off at some iconic sites, meeting some amazing people and trying my hand at volunteering in the middle.
Each chapter is wrapped up with a list of lessons learnt, such as, if you feel like you are standing out in a restaurant, do not sit under a television, you will think that everyone is staring at you.
To get the digital download of this "piece of literary art"***, just subscribe to The Travel Blogs newsletter. As a bonus, you'll be kept up to date with the latest and greatest posts on The Travel Blogs in a sweet little email that will arrive at your inbox monthly.**
* Quote attributed to my mum
**I try to do it once a month, but time just goes by so quickly, it is entirely possible I may miss a deadline or two . . . or three.
***That one was Dad
Amazon Reviews
"I volunteered with Matt out in Tanzania so my opinion might be a little biased in view of my experiences, but for anyone who is thinking about travelling out in Africa, or anywhere for that matter really, this will be a really good read. It reads as a diary of his experiences out there, and as such is very easy to follow and empathize with. I can vouch for its authenticity and accuracy, and as a bonus all the funds go to a much needed project that will change many peoples lives. Will be entertaining and surprising in equal measure. Highly recommend!"
Or, if you prefer, just buy it on Amazon below: