It's now or never . . .
I was the last to jump. The other five were cheering as I strode confidently to the edge, but then the fear kicked in. The jump wasn't big, but if you get it wrong, you could be swept over the 108-metre drop to the Zambezi below. On the upside, it's an aesthetically pleasing way to die I'd imagine.
Welcome to the story of my trip to Devil's Pool with handy tips about the hike.
Estimated read time 4-5 mins.
Feeling lazy? Skip Ahead
Where is Devil's Pool?
What to do in Livingstone
Where and when to visit
How to get there
The hike
The jump
All you need to know in 7 steps
Where is Devil's Pool?
You can hike to Devil's Pool on the Zambian side of the Victoria Falls. The nearest town in Zambia is Livingstone, although you could also stay in the town of Victoria Falls in Zimbabwe. Just bear in mind you'll need to cross the border and pay for a one day visa to enjoy the hike to the pool.
I was staying in Livingstone and had arrived a few days earlier having caught the bus from Lusaka. The Lusaka bus station is quite a metal place (as all seem to be in Africa) but it was quite straightforward to book a bus and find out where to go, they are all clearly numbered.
I had booked to stay at the Jollyboys Backpackers. I had been recommended it by some other travellers I met earlier in my trip and I wasn't disappointed.
There is a nice swimming pool (very well received after the 28-hour slog of an overland journey), a bar, restaurant and garden with mango trees. I didn't think I was ever going to leave this little oasis!
Welcome to Livingstone town
Livingstone is a great base for a visit to the Devil's Pool. As you'd expect from a place as close to the Victoria Falls, it is a little bit touristy, but it still holds on to its authentic small-town vibe. It felt a little more affluent than the other towns I had visited, but again, that's probably due to the tourism.
My first day here was just strolling around. I visited the craft market which is constant harassment – the traders tell you how poor they are and how they need you to buy something so they can afford the bus home.
Just be ready for it as they are good and it really pulls at your heartstrings, making you feel really guilty if you don't buy something from them. I ended up caving in and buying a carved giraffe statue that was made by a local trader.
Are they really unique?
Well, he told me he made it but it looks suspiciously similar to the ones on all the other stalls, just with a different name carved on the bottom.
It's almost like they get the same stock and just carve their own name on it, but they wouldn't do that, would they?
Little did I realise that by doing this I now had a bag, a signal to others that I had money to spend and the calling definitely stepped up a notch.
If you can deal with it and are in a patient mood the craft market is worth a visit; if you are having a bad day I'd stay away. I find some days I will be really patient and handle them with ease but other days I get angry with them. It's difficult emotionally as I know they are only trying to make a living.
Lots of other things to do in Livingstone
I was in Livingstone for a total of five days, before I made the trip to Devil's Pool. I was worried I'd be bored but this wasn't the case. Between the activities organised by the hostel, including a football game with kids in a local orphanage, visiting lions and cheetahs, lounging by the pool, and going to all the local sites, the time flew by.
Want to know more about my African adventure?
Quick plug – if you want to know more about this area in depth, this post is based on a chapter from my book: How to clean your underwear in Africa; Diary of an unskilled traveller. There is a lot more about Livingstone in there and other parts of Africa. It's just 99p on Amazon or you can get it free by signing up for my awesome monthly newsletters. 😉
Anyway, one of the days I had done a pre-scouting trip to the Victoria Falls to find out more about what I need to jump into Devil's Pool. Their answer; a booked excursion and balls of steel!
Which country offers the best views of Victoria Falls?
I spent that day visiting the park that surrounds the falls; they were beautiful but it was difficult to get a good view from the Zambian side. It's kind of like visiting Niagara Falls, to see the best views you have to go to the Canadian side . . . same with the Victoria Falls; you need to go to the Zimbabwean side.
It is possible to cross the border for a day to see the Victoria Falls from both sides, but you will have to pay for an entry visa, something in the region of $50.
Mixed Feelings about the best time to visit Victoria Falls
In truth, I was a little disappointed as I was there in the dry season so the falls weren't in full flow, but I did find out you can't visit the Devil's Pool when it is, as it's too dangerous, so I got over my disappointment pretty quickly.
If you just want to see the falls, you'd have to go at the end of the wet season to see it in all its glory. But, if you want to visit Devil's Pool? Then you may have to think a bit harder. Rainy season is from November to April. I was visiting at the end of October, possibly the driest possible time!
While wandering around the park surrounding the falls there are plenty of nods to David Livingstone, considered the first European to see the falls and naming them after his Queen at the time, Queen Victoria.
Victoria Falls original name
What's nice is that more and more the original name of the Victoria Falls, Mosi-oa-Tunya—"The Smoke That Thunders"— is coming back into use.
Heading to Devil's Pool
It was an early start to get to Devil's Pool; I had met another guy at the hostel who was going to take the jump with me. We agreed that should the worst happen to one of us, we would deliver a message to our families personally that he died in a stupid way but it was worth it.
Get a bus with the locals
To save money we got the local mini bus to the falls, which is always an adventure. There often isn't a time it leaves. They wait until the bus is full, let a few more people on, chuck in a few chickens for fun and then go.
By this point, I was very used to this method of transport and how it all works. I think the reason African people are so chatty is they pack everyone on so tightly, it feels more uncomfortable if you don't spark up a conversation.
I got chatting to a chap in a Denver Bronco's shirt. Turns out he runs one of the local stalls selling tourist souvenirs at the entrance to the Victoria Falls.
When we arrived we had a quick look at Bronco's man's stall out of courtesy and then met up with our Devil's Pool group; there were six of us.
The meeting point is at the main entrance and after a worryingly brief safety chat, we were on our way.
How hard is it to hike to Devil's Pool?
The hike over to the falls was pretty epic. It starts on the normal paths but then you veer off toward the river.
Lots of other tourists who were on day trips were watching our little posse inquisitively as we approached the river. This turned quickly into a mixture of concern and confusion, their faces saying 'can they do that? They'll surely die'.
The hike starts off with a bit of rock hopping. Fortunately, the African sun had ensured they were dry and grippy as about seven metres to our left was a fall to certain oblivion. But it wasn't long before we reached our first tricky bit.
There is a local power station which syphons off a lot of the water from this area of the river; however, when we were passing our guide explained that they were cleaning the turbine so there was more water than usual.
The result? We had to cross about a 30m section of concrete, about the width of a balance beam, with a couple of inches of water rushing over our ankles.
The guide told us to all hold hands and inch across. He said it was for safety, but I'm not sure if it was more a case of if one goes, they all go, leave no witnesses to his crazy sense of a safe crossing point.
I don't think I have concentrated so hard on anything in my life.
We all managed to pass safely and about another 30 mins of rock hopping, wading and jumping all within a few metres of death we made it to the pool.
The views on the way were spectacular. At one point we found ourselves standing right on the edge with the spray from the falls creating rainbows that felt so close I could almost reach out and grab them.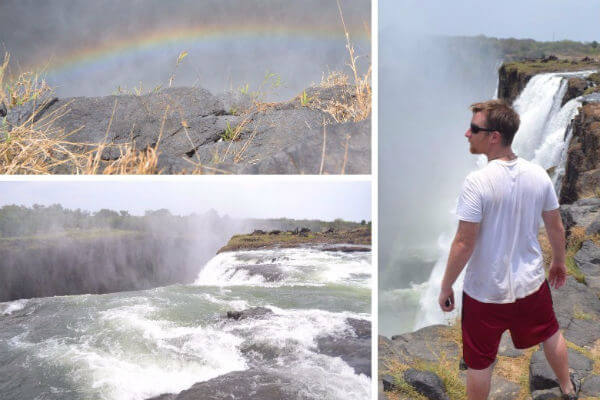 Arriving at the edge of the falls
The actual pool is about three metres deep, right on the cusp of the falls, with a natural wall to stop you from getting swept over the 100-metre drop.
First in was our guide, he pulled off a stunning somersault with distinction. Once he was in, I assume to catch us if we jumped too far, it was our turn.
One after another we held our breath and jumped in.
As my turn approached, I couldn't get the story I had read out of my head about an accident at Devil's Pool where a guide died after being swept over. To be fair, given the reckless abandon our guide was showing by standing up on the edge I wasn't surprised.
I cleared my mind of all thoughts and jumped. I thought the somersault would have been too easy so instead, I opted for a cannonball and boom, I was in.
The feeling was a mixture of complete exhilaration and fear, I could only equate it to a skydive I did in The Florida Keys a few years ago.
I surfaced and, much to my relief, I was still at the top of the falls and so was the rest of the group. The mini tsunami my entrance had caused didn't sweep everyone off the edge as I feared it may.
Suddenly it was all worth it. The fear, the trepidation, the worries all washed over the falls and the exhilaration kicked in. I was in the Devil's Pool. I had been looking forward to this moment from the second I began planning my trip and it did not disappoint.
To be sat in a pool, staring down from the top of one of the biggest waterfalls in the world was a true bucket list moment.
In total we were in the pool for about 10 minutes, posing for pictures and being bitten by very annoying little fish before it was time to head back.
As we returned, the water had been re-diverted to the power station again so most a lot of the hike was now dry. It only took 20 minutes to get back before continuing on to the hostel to enjoy a well-deserved celebratory beer.
The Devil's Pool is an amazing trip that I would highly recommend to anyone and everyone. Even if you just do the hike and not the jump it is well worth it.
If you get to Victoria Falls early in the morning, you should be able to book the trip and do it on the same day, although I would always recommend visiting or calling ahead of time to make sure that the trips are happening and that they have space. Your hostel/hotel should be able to help you with this.
Check it out, accommodation in Livingstone: Places to stay in Livingstone
Seven top tips for visiting Devils Pool:
1 – Don't wear flip-flops, the hike the Devil's Pool isn't really difficult but there are a number of long steps/jumps between rocks so best wear something sturdy on your feet.
2 – Make sure your footwear is waterproof, it will probably get wet.
3 – Book your tour unless you want to pay the entry fee to get into Victoria Falls park twice.
4 – Take a camera, you will want to look at the pictures over and over again.
5 – The hike to Devil's Pool is actually quite straight forward, I'd almost say easy, so don't worry too  much.
6 – You have to book a tour to Devil's Pool, you are not allowed to hike there on your own.
7 – DO IT!
So – would you like to jump with The Devil? Let me know in the comments below.
Are you a Travel Blogger?
If you want your blog to be added to our map be sure to check out our submit your blog page here: https://www.thetravelblogs.com/submit-your-blog
More of The Travel Blogs original content