Part One – Cuenca and the Hanging Houses
Skip to part two: Nacimiento Del Río Curevo and Los Callejones, also be sure to check out the Weekend in Cuenca Vlog on out videos page here: The Travel Vlogs
Castilla-La Mancha
Castilla-La Mancha is famous for many things. The foodies will love that it is the home of the iconic Spanish cheese, Manchego, as well as being famous for wine. Vines were originally established here by the Ancient Romans and it is believed to be the largest continuous vine-growing area in the world. If you are more into hiking, it is one of Spain's most rugged regions, crammed with fantastic hikes through National Parks. The diverse landscape offers everything from casual strolls through forests and waterfalls to more energetic walks across steep ridgeways or climbing to spectacular viewpoints. For those culture junkies, you'll be pleased to know it is also the landscape that inspired Cervantes (known as the 'Spanish Shakespeare') in his tales of Don Quixote, many of them taking place in this very area. I guess what I'm saying is whether you want to eat, exercise, relax or culturise yourself, there will be something for you.
We headed for the weekend to a remote resort called La Utrera in the village of Las Majadas to hike some National Parks and visit nature, a pleasant break from city life. If you have ever watched any horror movie you'd recognise it as the kind of resort that you stay in to be brutally murdered by a deranged local with a traditional farming tool of choice. We decided to visit Cuenca on the way, mainly for its historic nature but also as a good benchmark to know how quickly the police would arrive should we be attacked by a deranged farmer. Nerves aside, we packed our bags and left Madrid for the 2-hour drive to Cuenca.
Located about halfway between Madrid and Valencia, on the east coast of Spain, it is easy to reach. Once we turned off the main Autopista, the traffic disappeared and it became a pleasant drive. Cuenca, a UNESCO World Heritage city, is a provincial capital of Castilla-La Mancha and famous for its 15th Century Hanging Houses. It was originally established by the Muslim Arabs in Spain who understood the strategic value of its location, sandwiched high up between two deep gorges of the Júcar and Huécar rivers. While I hope the defence purposes are not as important in this modern world, the result is a striking town flanked by steep cliffs either side. Over time, as the city has grown, it has spewed down the valley reaching out far into the surrounding plains awarding fantastic views to those who visit.
Arriving in Cuenca
As we turned into the old part of the city, the drive got noticeably steeper with cutback turns. As usual, we hadn't planned too well so just continued up and hoped we'd find a car park. Luckily, we did, just off the main road into town. After parking and spending about 15 minutes bouncing between the first and third floor, trying to work out how the lift worked (you have to swipe your car park ticket) we made it to the exit which was the eighth floor. Immediately found ourselves at the base of the Mangana Tower, a large clock tower with a remarkably modern look. It dates back to at least the mid-1500s (it's appeared in old paintings) but I believe it has been destroyed and rebuilt since then. The immediate area is quite modern and offers wonderful views over the newer part of Cuenca while a few glass floors let you see the ancient city wall below. I missed the name of the car park but it is located along Calle Andrés de Cabrera and I recommend it as a great place to park if you are spending a day exploring the town.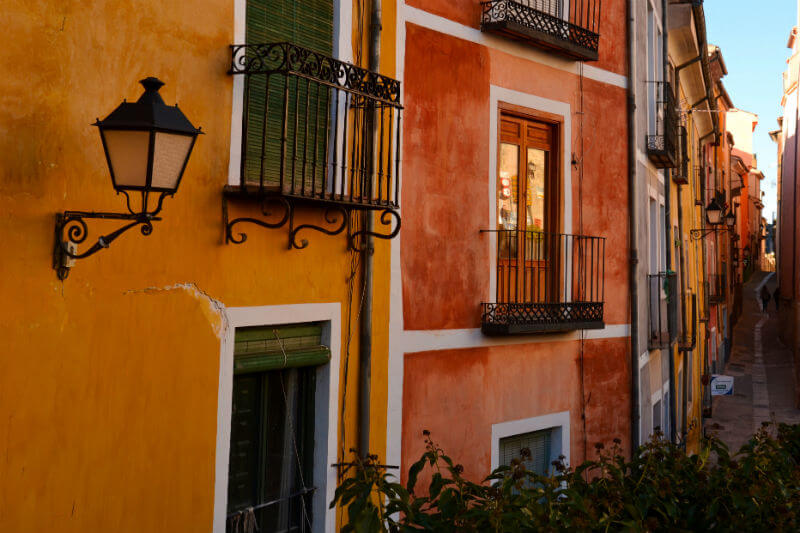 Plaza Mayor
From the tower, we headed to the central Plaza Mayor. As you'd expect with a town between two valleys, the walking can be rather steep in places so if you are on the un side of unfit then be sure to leave plenty of time for refreshment breaks in the many street side cafes and restaurants in Cuenca. As we passed through the arches of the unique Ayuntamiento (Town Hall) we arrived in heart of the city. The large plaza surrounds you with the tall, colourful townhouses, characteristic of the city and is home to the Cathedral of Our Lady of Grace and Saint Julian, which was completed in 1270, the façade was later rebuilt after it collapsed in 1902. While in Plaza Mayor we found a wonderful small ceramics shop owned by local artist Pedro Mercedes. We loved studying his unique, handmade crafts and chatting with his wife, who runs the shop and is only too happy to explain the importance of pottery to the history of the region and how Pedro makes his art. I would say they reminded me of ancient Greek style of pottery, not that I know much about art history. In total we spent about 30 minutes in the shop deciding which one should be our souvenir of the day. With smaller pieces starting from just €8 and larger, more intricate pieces way over €300, there is something for every budget, I highly recommend checking it out.
The Hanging Houses
Having paused for a 'refreshment break' (beer) we continued exploring and headed down to the Puente de San Pablo (The bridge of Saint Paul). On the way we passed the Cuenca Museum and Museum of Abstract Art. Sadly we didn't have time for these, but we have heard good things. Originally built in the mid-1500s, the bridge spans the River Huécar and joins the old town with St Paul Convent which closed in 1975, due to needing extensive renovations, and is now a swanky hotel, the Parador de Cuenca . There are plenty of other hotels and guest houses in Cuenca, but if your budget can stretch, this one looked pretty good. After the original bridge collapsed, the current one was built in replacement. Constructed of wood and iron, I'll be honest and say it feels pretty unstable adding a nice element of fear as you feel it sway beneath your feet while crossing the river which runs about 40 metres below. It is definitely worth putting the fear aside though as it's from the other side of the bridge that you get some of best views of the city's Las Casas Colgantes (Hanging Houses), so named as they seem to literally hang off the cliff edge. In fact, some of the dark wooden balconies genuinely do. Not sure I'd feel comfortable sitting there of an evening enjoying the local wine.
A quick word of warning, as with many towns that are popular with tourists there are people who try to make money on the back of it. As we were walking from the Cathedral to the bridge a man just strolled up to us and started telling us about the history of the city, his aim was to basically guide us, talk to us about the city and expect payment at the end. Luckily we are equipped to deal with this kind of situation, I told him I'm English and understand nothing and he left us to latch onto another young couple walking behind us. We knew what was happening, but if you are unaware of this and think it is just a nice local sharing his knowledge, you could be in for an awkward surprise when the bill comes. If, however, you would appreciate the services of a guide, it may not be a bad thing and they may be full of interesting information, just be sure to discuss how much he expects to be paid upfront so everything is clear.
After the bridge we headed back to the car, after one last refreshment stop (seriously . . . a lot of hills). We found a small shop to buy some of the local wine and I couldn't resist buying some of the locally grown green tomatoes before we headed on to our final destination in the Arcos de la Sierra mountains and Serrania de Cuenca National Park. As we left the car park and descended back down the cobbled roadway we were both left thoroughly impressed with Cuenca and wish we had had more than just a few hours. It is handsome, steeped in history, colourful and has plenty to offer a thirsty tourist.
Continue reading about Castilla-La Mancha, our visit to the National Parks, including Los Callejones and Nacimiento Del Rio Cuervo, and if we survived the night in part 2 here: https://www.thetravelblogs.com/cuenca-nacimiento-del-rio-cuervo/
Are you a Travel Blogger?
If you want your blog to be added to our map be sure to check out our submit your blog page here: https://www.thetravelblogs.com/submit-your-blog