If you are wondering what to visit if you are only in the city for a short time, a Nairobi walking tour is a wonderful way to enjoy the captivating capital of Kenya. Many people simply pass through the city, en-route to a safari, but if you have time to spend a night, you should certainly get out and explore.
I only had 24 hours in Nairobi but left feeling I had made a connection with the city. As Kenya's capital, Nairobi has a huge history, from being at the heart of human evolution to the colonial days and from being once a poster child for a successful post-colonial devolution, to the civil unrest that still bubbles under today.
By taking a Nairobi walking tour with a guide, you won't only see the main tourist places in Nairobi, but you will also hear their stores and share their experience of life in the city.
I was lucky enough to meet Charles, my guide who I am still in touch with, who helped me not only enjoy the city, but also feel safe and make the most of my 24 hours in Nairobi.
You may also like: 10 Cool and Unique Things to do in Nairobi
Coming your way in this post - click to expand ->
*This post contains affiliate links for Booking.com and Amazon. If you make a purchase having followed from the link, I miny a tiny percentage at no cost to yourself.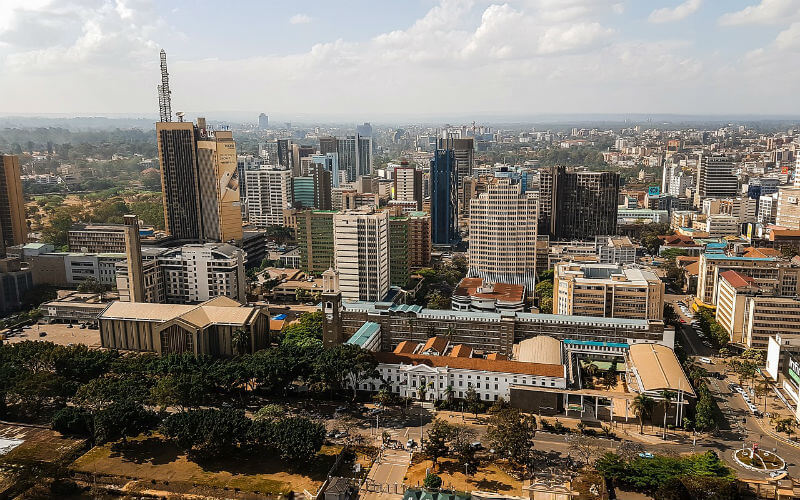 Arriving in Nairobi
The plan was to fly into Nairobi, out of Johannesburg with a whole lot of adventure in between.
Looking back, as a first solo trip it was one hell of a learning experience, particularly having lost my wallet, phone and Passport in Dubai airport, but that's another story.
Getting a visa at Nairobi Airport
Jomo Kenyatta International Airport is simple, just follow everyone off the plane to the visa desk, pay $50 and pass on through.
There are several options on visas into Kenya, so make certain you get the correct one. I had a simple Kenyan tourist visa, but you can also get a transit visa if you are travelling straight through and out of Kenya which I believe is $30 or a multiple entry visa for $70.
If you plan to leave Kenya and re-enter, make certain you get this one otherwise you will end up paying the full $50 again upon re-entry. Bear this in mind if you are visiting some of the neighboring countries such as Kampala in Uganda or Rwanda before coming back to Kenya.
All of these visas are available for UK citizens at the airport, although other nationalities should probably double-check before flying. It is also possible to avoid all this by getting an e-visa before your visit.
Getting a taxi from Nairobi airport
After clearing immigration I gathered my bag and wandered out of the airport. As soon as I emerged I was accosted by loads of different people all crying "Taxi Taxi" – I found it rather intimidating.
I had read a lot about taxi scams and being careful as you pass through from the baggage area. The subtle hangover still lasting from my over-enthusiastic goodbye drinks in the UK made it seem dreamlike (or nightmare) as drivers tried their hardest to grab my luggage and take me with them.
The first man to approach me grabbed my arm and tried to drag me to a car, he was leading me to the car park, pointing at his car.
I didn't want to get in the first taxi I came across as I wanted a bit of time to gather my thoughts and explained that I wanted to get some water. This didn't deter him, he walked me to a café, watched me buy a bottle of water before saying "Let's go now, let's go".
His car was away from the main taxi area, which was a concern, and seemed to be pretty beat up so I chose not to trust him and moved on. I ended up having to get uncomfortably firm with him and asked him to leave me alone, I don't want a taxi . . . I didn't even say please.
I told myself to relax as I sipped on my water, strolling around looking for someone who looks trustworthy and had an official sticker on it on his taxi, but every other step there was someone else wanting me to get into their taxi.
It dawned on me later that I had no idea what an official sticker should look like but I guess the idea was there.
Finally, after around 15 minutes I picked my taxi. Little did I know that the previous guy had been following me and I nearly caused a fight between the first guy who took me to get water and my chosen taxi driver.
Apparently, if you lie and tell them you are not after a taxi to try and lose them and then get in someone else's, they take offence.
However, now safely in my cab, I was on my way to downtown Nairobi.
The ride from the airport turned out to be okay. The taxi driver was a nice guy, we chatted as we sat in traffic, trying our best to stay cool.
As we sat in traffic I noticed the minibus behind us had had enough. Sick of the queue the driver steered it onto the footpath, honking like crazy as pedestrians dove to get out of the way and off it went, into the distance.
Luckily no-one was hurt as the bus sped out of sight leaving the taxi driver and I, still stationary in the gridlocked traffic, chewing on the dusty pollution and wondering whether it is better to put the window up and bake in a car with no air conditioning or continue to gradually shorten our life expectancy, through the onslaught of carbon fumes.
24 Hours in Nairobi
Arriving at my hotel
As my taxi dropped me off at my hotel, I was very surprised to see a guard brandishing an AK-47 stood at the door to welcome me. I later went on to realise this is commonplace, but the first time I saw it, I had quite a lot of questions running through my mind about my choice of hotel!
The New Oakwood Hotel is where I would be spending the night before heading off to Mombassa the following evening. It was basic and cheap, but right in the heart of the city. Unfortunately, the TV only had one working channel playing some awful music. I use the term music very liberally
An evening stroll
That evening I went for a walk. My aim was to find the Nairobi train station and buy a ticket for my onward train from Nairobi to Mombasa, but I got lost.
As I walked I felt very uncomfortable, I realised quickly that I was certainly not in a tourist area and I noticed that my hotel wasn't special, almost every shop had guards brandishing an AK-47 or a shotgun outside.
Coming from the UK where there incredibly strict gun laws and even the police don't commonly carry a weapon, seeing armed guards with weapons that look like they should belong to the bad guys in a James Bond movie, didn't put me at ease.
As the sun set, I started to feel very nervous, I think this was culture shock setting in, and it was a lot scarier than I expected.
I decided it'd be best to head back to the safety of the hotel as it dawned on me, I didn't really know anything about Nairobi, and didn't want to be out alone after dark.
I spent the rest of the evening in my hotel, enjoying a meal in the hotel restaurant and the first of many Tusker beers, a rather nice Kenyan brew, while looking ahead to a fresh start in the morning and look for things to do in Nairobi with just one day.
My Guided Nairobi walking tour
The next morning, I still needed to buy my train ticket and thought it would be an ideal opportunity to discover what to do in Nairobi and main tourist attractions, but I didn't know where I was.
I asked the receptionist in the hotel if they had a map, which they didn't, but he told me of a tourist information place just around the corner where I could get a map of the city, so off I trotted.
Finding a map of Nairobi is harder than you think
One thing I noticed about Nairobi is that everyone wants to "offer" you something, be it a whistle to get your attention followed by calls of "taxi taxi" or just a quick chat and then ask for money.
My destination was within 400 metres and as I was walked I counted three separate people offering me taxi before a guy came up to me, right outside the tourist office, and asked me what I was after.
Getting quickly frustrated by all the approaches, I sharply told him that I just wanted a map and walked straight past him into the tourist office.
Once in there, the lady told me they had no maps but told me someplace else that would and pointed to the guy who I rather abruptly ignored outside, as someone who could show me where.
I thought it strange that a place advertising tourist information had no maps, but given that the hotel I stayed in pointed me this way I trusted the place and wandered off with the guy from outside, his name was Charles.
We engaged in small talk as we wandered off together to go to his tourism office. Once there I received my map but was also offered various safaris and day trips. After explaining I just wanted a map so I could get to the train station and book my ticket to Mombasa for later that evening, he duly obliged.
At this point, I was still sceptical of Charles but I was told he would be happy to walk me down to the station so I agreed. I appreciated the guidance and the company as we walked and talked about Kenya, living in Kenya and what it was like growing up here.
The walk took about 20 minutes but I scarcely noticed the time passing as he walked with me all the way to the ticket office.
Passing the madness of Nairobi bus station
Most of the route was simple enough but about 200m away from the train station you have to pass through the bus station.
I had never seen anything like it. There must have been about 100 buses all in a space, probably about the size of a football pitch, competing for passengers, screaming and calling out their best deals, it was complete pandemonium.
Every bus had a man outside just shouting noise. I could only assume he was telling you where the bus was going, it must have made sense to the locals but it appeared to be insanity to me.
The buses themselves were tiny, just like VW camper vans, no bigger, it astonished me how many people could get inside, it must be like Dr Who's Tardis inside, but I had no real need to find out!
Buying a train ticket from Nairobi to Mombasa
Charles walked me into the station and pointed out the ticket counter to the right where I managed to buy my ticket.
There are three different possibilities in buying a train ticket in Nairobi, first, second or third class.
The third class is simply a seat, second class gets you a bed in a sleeper cabin shared with 5 other people and first get you a sleeper shared with just one other, bedding and meals.
The variation in price between second and first is only about £5 and as it means you share your cabin with one other person as opposed to five, I reckoned it was £5 well spent (third was never really an option for my first overnight train trip).
A walking tour of Nairobi
After booking the train ticket to Mombasa, Charles walked me back and then asked what else I had planned for the day to which I honestly replied nothing.
He offered me the same trips as the other man in the tourist office, including a Nairobi city tour where you drive around seeing stuff.
Having been in a taxi yesterday and experiencing the Nairobi traffic first hand, I did not fancy this so I asked if we could do a guided Nairobi city tour on foot, to which Charles agreed and become my personal tour guide.
We walked . . . a lot . . . and talked, it was fascinating.

Nairobi National Museum
Charles and I started by visiting the Nairobi National Museum where there were fantastic exhibits. I learnt a lot about Kenyan history, how they obtained independence from the British in 1963, the Mau Mau uprising that led to it and about the fierce fighting in 1992 as the people struggled for fair and open two-party elections.
I also learnt a lot about the evolution of humanity, many of the most significant fossils in human history were found in this area of Africa, so close to the Rift Valley, and are on display here, including the wonderful Lucy.
I highly recommend the museum as one of the best places to visit in Nairobi if you have an interest in the history and culture. It has no frills or fancy bits but offers a wonderful learning environment and is a great way to escape the sun for a few hours.
Nairobi National Museum Snake Park
Just across from the museum is the snake park; a mini snake zoo.
On its own, it's really not that special, although I was hypnotised for a while staring at two mating tortoises, they are slow at everything it turns out.
I had purchased an entry as a combined ticket with the museum and as a side attraction it is quite interesting, but definitely not worth a solo trip.
I came face to face with vipers, spitting cobras and black mambas, well, face to face with a sheet of glass in between.
While I was in the museum Charles waited for me outside, just chilling. When I was finished we left and walked back towards the city centre again.
Devil's Corner Nairobi
As we walked we passed a spot that was known locally as Devil's Corner, the site got its name after being the site of many killings during the fight for independence in the 60s and it's said the streets ran red with blood.
Once independence was awarded, the new government donated that area of land to religion and Devil's Corner is now the site of three large churches and a synagogue, nothing like building on the Devil's own land, I love the idea.
Uhuru Park
From there we headed to Uhuru (freedom) park. Here is where you can get a brilliant view of Nairobi and is where all the Prime Ministers and Presidents come to be sworn in and take an oath in a very public way. It used to be that they would take an oath in private so no-one really knew what they were promising to do.
It is also the site that Pope John Paul the 12th held mass back in 1980 when he visited Kenya.
As a Christian, Charles was very proud to have been there. This got us talking about religion, which as you can imagine took quite a bit of time and got us through to lunch.
A traditional Kenyan lunch
I asked Charles to take me somewhere very traditional for lunch and I wasn't disappointed.
Next to the Library, there was a large, open plan eaterie where you order and pick up your food before taking a seat at the communal tables. In each of the corners, there were basins for you to wash your hands before eating but one thing I noticed was missing . . . knives and forks.
I had chicken soup and Charles had fish, both served with ugali, it is a local maize dough-like product. This stuff you could say was A-maize-ing (sorry) – but with no cutlery or napkins eating soup was quite a challenge, messy but a lot of fun.
Being polite, I waited for Charles to start. Really I just wanted to know how the hell I was meant to eat this stuff and watch him. The ugali is essentially a lump, kind of like edible play dough (tastes a bit like play dough too), but this meant it was easily moldable.
So, the way to do it is rip off some ugali, mould it into a rough spoon shape, dip it in your soup and stick the whole thing in your mouth, fascinating and awesome, I would be happy to eat every meal like that.
The only drawback to my lunch was the very skinny chicken. I struggled to find the meat on the bone. This also set the seeds for my later developed theory that you can tell the overall wealth of a country by the plumpness of their chickens.
As the afternoon came to an end I had to go back to my hotel to pack and get to the train station for my overnight train to Mombasa. As we went our separate ways Charles offered to meet me again later to help me get to the train station, an offer I gratefully accepted.
True to his word, he met me later at my hotel at 5 pm and walked with me to the train station, even helping with my bags. Once there we said our goodbyes and on I got the train to Mombasa.
Leaving Nairobi by train
There was a little confusion at the station as in the UK when you buy your ticket that's your ticket, you don't need anything else. Here it is a little unusual.
Although I had purchased my ticket, as I tried to pass through to the platform, the guard wouldn't allow me and pointed me back to the ticket office.
Rather confused I headed back in there, expecting I'd somehow been scammed. Luckily no, it turns out if you have pre-bought a ticket, you have to exchange that for a boarding pass before you can access the train.
It's worth knowing this in case you have to leave some extra time for it, but, don't worry too much about that kind of thing, this is Africa and as everything is always late, you'll have plenty of time to work stuff out.
Get your Nairobi city tour itinerary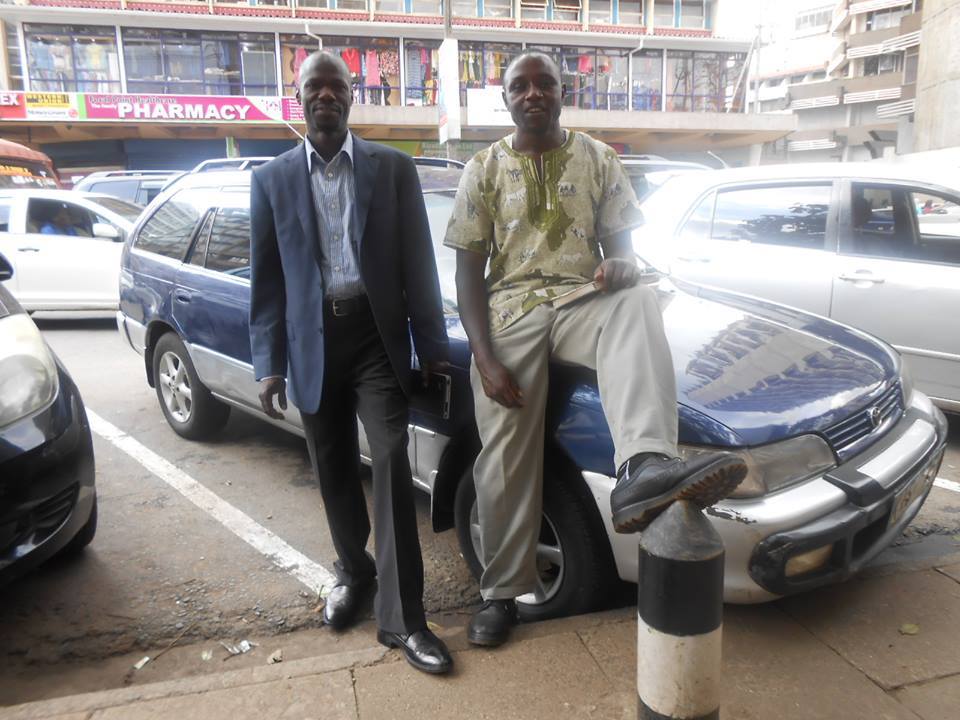 If you are looking for a trusted tour guide in Nairobi, can't speak highly enough of Charles and his skill as both a guide and a human. He was the perfect companion for a tour of Nairobi so I feel it's only right to leave his details.
In our day together we visited the Kenyan National Museum and Snake Park, Devil's Corner, Uhuru Park and enjoyed A traditional Kenyan Lunch.
If you are thinking of going to Kenya please please get in touch with him, he is a qualified guide and offers trips all over the country and even into Uganda. The most popular ones include tours to the Masai Mara, meeting tribes and watching the great migration.
One of the best things about Charles is that he is easy to work with, he will completely tailor a tour to suit you.
He can also arrange trekking trips to climb Mount Kenya. If you would like to find out more, head to his website Trekking Kenya or find him on Facebook Right Time Safaris.
Enjoy my book: How to Clean your Underwear in Africa
The blog above is based on a chapter of my Kindle book: How To Clean Your Underwear in Africa; Diary of an unskilled traveller. It chronicles my journey through Africa and the hard lessons I learnt on the way. If you would like to know more about the book and how to get it for just 99p, please head to Amazon or get a FREE pdf copy by signing up for updates and subscribing to The Travel Blogs. Free e-books, loads of great travel content, it's kind of a win-win!
More of The Travel Blogs original content
[pt_view id="cd68648ga2″]