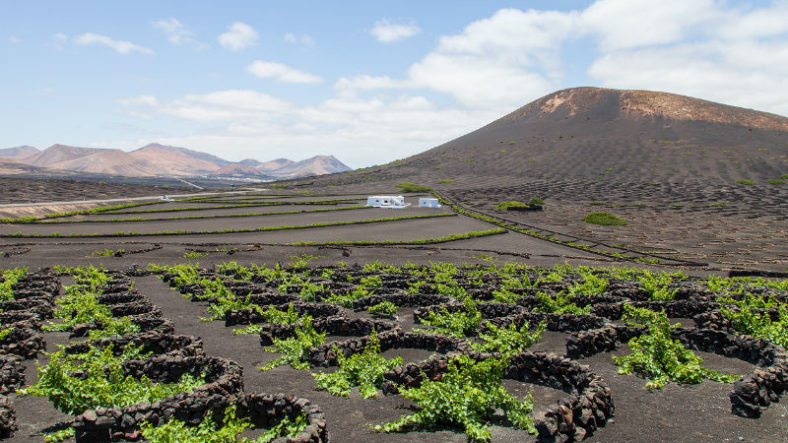 Welcome to La Geria – home to the Lanzarote vineyards
The vineyards of Lanzarote are unlike anything I have ever experienced before. The immense challenge that the volcanic landscape of Lanzarote presents to a winemaker has created a unique wine growing region that looks like it has jumped straight out of the pages of a sci-fi book.
The small green bush vines offer specks of contrast to the otherwise stark, black, volcanic landscape with each vine protected from the strong island winds by a dark semi-circular wall creating the effect of a crater and adding to the overwhelming feeling that you are on the moon.
Coming up … feeling lazy? skip ahead.
About Lanzarote wine
Cultivation
Grapes types & Climate in Lanzarote vineyards
Lanzarote wine characteristics
Why you should visit vineyards in Lanzarote
Getting to the Lanzarote Vineyards
10 Vineyards in Lanzarote you can visit
The Wrap up
About Lanzarote wine
The island of Lanzarote has a long history of wine-making with mentions in some of Shakespeare's works.
There are records of wine being made as early as the 1500s but wine from the Canary Islands was incredibly popular in the UK even further back, in the 1400s. ,
However, that was a very different time when the soil was fertile and the land golden.
Fast forward to 1730 and disaster struck the island as a series of volcanic eruptions shook Lanzarote and covered much of it in a thick layer of lava.
Far from being put off by this destruction, it was quickly discovered that vines thrived in these conditions and the residents started to produce wine again.
The farmers were able to regrow vines by digging a hole through the lava as the roots could reach the fertile soil below.
As time passed the farmers discovered that the newly-formed layer of ash, known as picon, had a huge benefit to the growing of wine in Lanzarote.
As it turns out, picon has an amazing ability to absorb moisture and what little humidity there is in the air and then slowly release it to the roots, easing the challenges faced by the region's lack of rainfall.
Cultivation
This discovery, that vines could produce great fruit when their roots stretch deep, has led to a method of dry cultivation that is completely unique to Lanzarote and known as 'enarenado'.
Each vine is grown in its own small crater and is protected from the strong trade winds by its semi-circular wall, a 'zoco'.
This style means that Lanzarote vineyards rely on cultivating their crops by hand which makes the winemaking process heavily labour intensive.
As a result over 1500 people are employed in Lanzarote making wine and between them they produce an average of 2 million litres annually.
Just to give you an incredibly rough statistic. If you take Australia's wine production (13.7 million hectolitres) and divide by the estimated number of people working in their wine industry (17,200), it would work out that each person makes 79,651 litres of wine.
Compare that to little Lanzarote, where 1500 make 2,000,000 litres of wine, that's just 1333 litres per person.
Grapes types found
in Lanzarote vineyards
Due to Lanzarote avoiding the phylloxera plague that decimated European vineyards in the 19th century, the vines are among some of the oldest original vines in Europe.
The predominant grape grown is Malvasía Volcánic, making up around 75% of production, with the rest split between a few other native varieties and classic Spanish grapes such as Moscatel, Listan Negro and Pedro Ximinez.
The growing climate
The Canaries wine as a whole is considered to have a Mediterranean climate, with long sunny days and warm winters. However, as the protective zocos that surround the vines are testament to, the location of Lanzarote means it is subject to strong Atlantic breezes making it a borderline Maritime climate.
These cool sea winds chill the grapes at night which gives them a lovely acidity to counteract the sweetness developed during the long, sunny days.
Lanzarote wine characteristics
Obviously there are multiple vineyards in Lanzarote, each putting their unique touch to their wines, so to say Malvasía Volcánic has a very light fruity flavour, with a refreshing crispness is a sweeping generalisation, but will hopefully give you an idea of what to expect.
Most vineyards also make a sweet wine from the Malvasía, or also common is Moscatel. These tend to have a good balance between the natural sugar and acidity. Sometimes sweet wine can taste a little thick or forced, but the wines I tried had a nice natural sweetness without sticky aftertaste.
Love Spanish wine? read about my visit to antoher lesser-known wine region in the Sierra Francia Mountains: San Martín del Castañar
The wines of Lanzarote are generally a perfect match the traditional Lanzarote food and sea-influenced dishes you would expect to find on an island.
Lanzarote Designation of Origen
Lanzarote wine was awarded its unique D.O in 1993 and have been enjoyed throughout the globe. They are held in high regard among some of the finest in the world.
Why you should visit vineyards in Lanzarote
Outside of Lanzarote, wine produced here is quite difficult to find. The main reasons for this are price and quantity.
Price: Due to the labour intensive process described above, Lanzarote wine is not cheap in comparison to other European wine. To buy a bottle direct at a vineyard, usually the cheapest place to do so, the prices range from around €8 going up to €25 plus.
It is a tasty, fresh wine made to be drunk young and based on what I tried, I would say the price is about right for the quality of wine.
So if they were to export to other countries, by the time you add on the cost of transportation, import/export taxes, middleman fees and shop profit, it would probably retail at over €15 per bottle.
All of a sudden you are competing with some top quality wines and, while it is nice, for that price you could probably find something better.
Quantity: There just isn't enough produced. Due to the way the vines have to be planted, the yield simply can't compete with other Spanish DOs such as Rioja or Ribero Del Duero.
What this means is that visiting the vineyards and tasting their wines, maybe even buying a bottle or two to bring home, is something special.
Getting to the Lanzarote Vineyards
The majority of the vineyards are located relatively close to each other in an area known as La Geria. The main road that runs through the region is the LZ-30, which links the towns of Teguise and Uga.
Most vineyards can be found along the stretch that runs from Uga in the south to the Monumento al Campesino, a sculpture by local artist César Manrique which marks the geographical centre of the island.
So how to get there?
Hire a car
The most flexible way to visit the vineyards of Lanzarote is to hire a car for the day (but see below about a co-pilot!). There are lots of car rental companies throughout Lanzarote and they offer great value.
During my visit, I used CICAR Car Hire Lanzarote, a local company to the Canary Islands. Their cars were great value, the service was great and I didn't even need to leave credit card details. A super simple rental process.
I'll have more about hiring a car in Lanzarote in my next post coming soon.
Book a Lanzarote vineyard tour
Now, it goes without saying, if you don't have a co-pilot to take over the driving after a glass of wine, then maybe hiring a car is not the most convenient way.
Luckily there are many day trips and Lanzarote tours that offer vineyard visits.
Obviously the big drawback with these is there is little flexibility in which vineyards you visit, but you will get to some of the main ones.
Choose a walking tour
Sadly I found out about this a little too late. There are weekly Lanzarote vineyard walking tours in which you get to hike across the volcanic landscape stopping off at various bodegas along the way.
This seems like the perfect way to enjoy the wines, an opportunity to really get lost in the heritage of the area, see the vines up close, and of course, drink a glass or two of wine.
10 Vineyards in Lanzarote you can visit
Bodegas in Lanzarote I was able to visit during my stay on the island.
Bodegas El Grifo
El Grifo, which translates to The Tap in English, is the oldest winery in the Canary Islands and one of the ten oldest in Spain – some of their vines date back to the 19th century.
Located towards the northern end of LZ-30, just outside the village of La Florida, this is a great stop as they are well set up for visitors.
The winery offers a well-stocked shop plus self-guided tours of their old vineyard and wine museum.
What I loved about visiting El Grifo was the ability to walk among the zocos, get up close to the vines and look down to the roots.
Although I had read about how they are planted metres down into the soil, once I had peered down the hole, it really brought home the creativity and determination the original post-volcanic eruption wine-makers of Lanzarote must have had.
As well as a shop, complete with tasting area, and museum, there is a small cactus garden to enjoy.
You can either pay €5 per person, for access to the museum, self-guided wine tour of the old vineyard and a tasting of one of their wines or €16 for 2 people, which includes the tour with a tasting of 6 wines and local cheese.
El Grifo also offer guided tours of their newer vineyard site, however this must be booked in advance.
For more information head to their website: https://elgrifo.com where you can find the contact details.
La Geria Lanzarote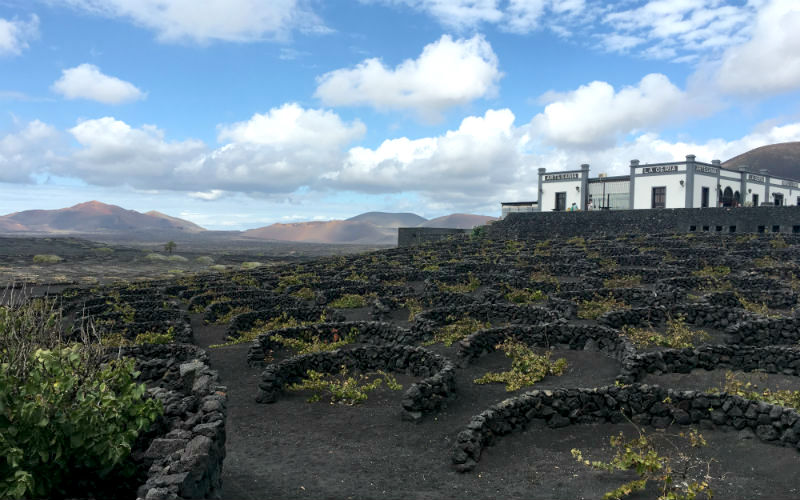 Bodega La Geria, is the most visited vineyard on the island of Lanzarote; it is one of the first you come to when heading north on the LZ-30 from Yaiza.
The vineyard was bought by its current owner in 1993 and following a period of investment they offer a wide range of wines taking advantage modern wine-making technology while respecting the traditions of Lanzarote wine.
They have daily tours that set off at 2pm which last for 45 minutes and include a tasting of two wines. The price is €9 per person with children under 12 years free of charge.
While you don't have to book, it is recommended to ensure there is space (as one of the largest vineyards in Lanzarote, they often look after coach tours).
You can book in advance by emailing bodegalageria@lageria.com or visit their website for more information. http://www.lageria.com
Bodega Rubicon Lanzarote
Across the road from La Geria, literally staring it in the face, is Bodega Rubicon, an estate with a long history. The site has roots in farming dating back as far as 1570 when it is known that it used to grow many different cereals such as wheat, barley and rye.
Sadly, the original farmhouse fell victim to the Lanzarote volcanic eruptions between 1730 to 1736, destroying much of the estate.
Travel a few hundred years and you arrive at the modern history being made by the Rubicón Winery. The current owner purchased the site in 1979 with a dream to devote himself to his great passion: making wine.
Starting off making wine the traditional way with stone presses (which can still be seen dug into the ground to the side of the shop), as time passed they were able to purchase more vines and grow their business.
There is a small restaurant attached offering good priced traditional Lanzarote dishes, such as goat stew and patatas con mojo, with lovely views of the surrounding vines.
The winery is open daily from 10:00 to 20:00h; there is the option for a free tour or a guided tour can be booked.
Take a look at their website for more details. http://bodegasrubicon.com
Bodega La Querencia
Just a few hundred metres north from La Geria and Rubicon, you could easily miss this charming little vineyard.
A small wooden sign, with the word Bodega crudely painted on it, points you up small track which is all that guides you to this little gem.
Well, that and looking at Google maps for vineyards that are still open at 4pm . . . that's how I found it.
Bodegas La Querencia is the complete opposite of the three Lanzarote vineyards mentioned above and offers a completely different experience.
There is no museum or flash shop with multilingual staff. There is a man, a dog, a few tables and a mysterious voice that every now and again shouted instructions to him from inside the house. It really was a family setting.
La Querencia has been in the family for five generations and all they do is make wine and sell it from their front garden. They don't supply any restaurants or bottle wine for stores, nor do they have any ambitions to.
While the dry white was OK, the sweet Moscatel stole the show – the best wine I had tried. It could be a coincidence that it was also the last, so I had a bit of a buzz, but I'm confident I would have enjoyed it just as much if it was the first.
Looking at various reviews online, the vineyard seems to split opinions; people either love it or hate it. All I can do is judge on my experience and I'm happy to say I loved it.
The unique setting, and knowing this wine is just for this moment, you won't get it anywhere else really focuses all the senses.
There are no tours available here but they are open, serving wine and homemade cheeses from 11am – 6pm Monday – Saturday.
Other vineyards
The following vineyards I was not able to visit in this trip have seen the wine for sale in various shops around Lanzarote and you can organise visits if you would like to.
Los Bermejos Lanzarote
Los Bermejos is another iconic wine of the region. The reason I have listed it is I bought a couple of bottles home and thoroughly enjoyed it.
They are open to tours, but you must book ahead. The cost of a tour is 12€ and it includes a tasting of two wines of your choice.
Find out more https://losbermejos.com
Bodega Vulcano Lanzarote
Stylish bottles and a cool name, I was disappointed I didn't get to the volcano; I have it top of my list for vineyards to visit when I return.
Still relatively young, Bodega Vulcano was founded in 2009 with the passion and absolute dedication to cultivation and making young wine. Their concept is to create a "Boutique winery"; small productions of young wines with great quality.
You can visit the vineyard Monday to Friday from 10am to 3pm and Saturdays 10am to 1:30pm.
Find out more on their website: https://bodegavulcano.es
La Florida Lanzarote
I tried to visit here, but got lost and ended up arriving after they closed. It didn't turn out to be a bad thing as it was at this point I Googled vineyards that are still open at 4pm and came across La Querencia.
Situated in the village of La Florida (clue's in the name) they started making wine in 2012 and now the vines cover 200,000 square metres.
Find out more about La Florida on their website: http://www.bodegaslaflorida.com
Bodegas Vega de Yuco
Bodegas Vega de Yuco is another young company, established in 1997, with the aim of obtaining a high quality product as a result of the combination of traditional methods and newest technologies.
Let's be honest now, that's what every single one of them says. But at Vega de Yuco, they seem to back it up.
Their small production allows them to give lots of attention to their wines and a strong personality. This is evident as it stands out and is often referred to as the Lanzarote wine in the blue bottle which has become a bit of an iconic symbol for the winery.
Vega de Yuco winery is a little hidden and located in the middle of a protected area. Due to the limited access and facilities, they don't organize regular guided tours.
However, they do sometimes organize visits for small groups and if you're lucky, you may be able to reserve a spot.
The calendar can be found on their website and costs 10€. This includes a 90-minute tour and a tasting of three different wines.
If you can't make a tour there is a small shop where you can buy any of their wines, open Monday to Friday, from 09.00 to 15.00h but closed on bank holidays and weekends.
Discover more: https://vegadeyuco.es
Bodegas La Guigan

This styles itself as a traditional family winery that offers wines made with love and knowledge passed from father to son, for the sole purpose of pleasing the palate.
La Guigan is located a little further away from the main cluster of vineyards in the small town of Tinajo. As I couldn't find much information on their website, I dropped them an email to ask about visiting. This is what I received back:
"We do not have a store or do tours, but the winery is visitable and you can taste the wines."
Find out more: http://bodegasguiguan.com
Bodega Antonio Suarez
This is a relatively new Bodega that I don't know much about, but it seems you can visit. There is an unofficial Facebook page where people have started to leave reviews. It sounds like some really good feedback and I will definitely try to get there on my next visit to Lanzarote.
The Wrap Up
When looking at things to do in Lanzarote, one of the first things I came across was this unique style of viticulture. A quick Google image search had me engrossed in the results; it seemed that I was looking at vineyards on a different planet and I had to see them for myself. The experience did not disappoint.
The landscape was special, the stories and traditions authentic, the people friendly and passionate and most importantly, the wine was memorable.
So whether you are a passionate lover of the vine or simply a part-time indulger, a day in the vineyards of La Greia is a must when visiting Lanzarote.