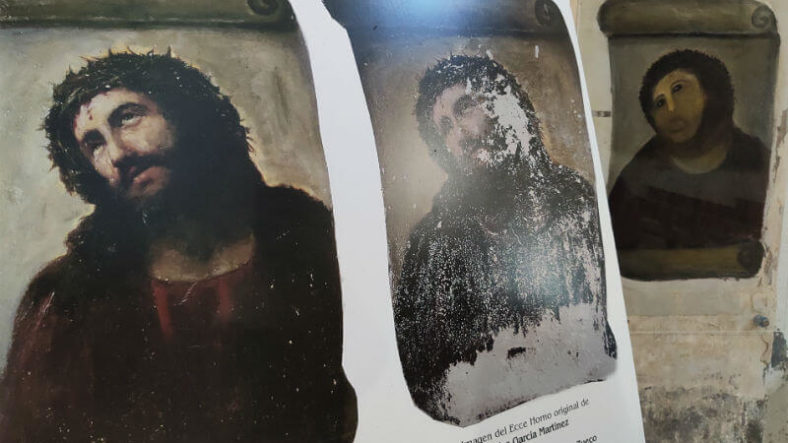 As you pass through the unremarkable town of Borja, you'd be forgiven for assuming that there is nothing much to see. And aside from a couple of small bodegas, you'd be right. However, just a small detour away is one of the most iconic paintings of the decade, the Ecce Homo, a Spanish art restoration disaster which became a viral sensation and event made a Saturday Night Live sketch.
During the peak of its virality, the painting was getting unflattering nicknames such as Potato Jesus and, my favourite, Monkey Jesus and the lady responsible for it started suffering from health issues due to the stress. But as usual, everything wasn't as clear cut as it seemed.
Recently I was passing through the area with my family thought we should make the small detour to see the Monkey Jesus for ourselves. In this post, I'll take a look at the story and the person behind the painting, what it has done for the area and how you can also see Monkey Jesus yourself.

What to see in Borja
The town of Borja is famous for . . . well . . . nothing really. It is a small industrial town that sits in the west of Spain's Aragon region, not far from Zaragoza. As with most Spanish towns, there are a couple of nice churches, but not much else. We only happened to be passing through as we were heading to a pretty town called Tarazona, a few kilometres further up the road.
That said, one thing Borja does well is wine. The town is home to a few little bodegas and has it's own "Campo de Borja" D.O. that specialises in Grenache grapes. If you are a wine fan and passing through, I would certainly recommend popping into a couple of the bodegas.
The Campo de Borja D.O. sits just outside the world-renowned Rioja wine region, so while their wine is less famous, it is certainly tasty and great quality can be found at pretty ridiculous prices when buying directly from the winery. One such example is the Bodega Borsao, a winery that makes award-winning wine in the hills to the north of the town. I bought a couple of bottles home with me and they are patiently waiting for my attention.
And, of course, there is one more famous thing in Borja, the Monkey Jesus.
Sanctuary of Mercy Church
The Sanctuary of Mercy Church sits a little over 5 kilometres north of the main town, nestled in the picturesque hills. There is a small carpark and pond next to the church and a small playground with wonderful views back down to the town below. This unassuming small sanctuary is where you will find the world-famous art restoration disaster.
Next door to the Sanctuary is a small museum dedicated to the artist responsible for the restoration. Sadly it was closed so I cannot confirm if all of the paintings look like potatoes or if this one was special. Actually, that's a bit mean. I'll have more about the artist in a but.
As you enter the sanctuary there is a small replica of a traditional kitchen straight ahead. Rather an odd inclusion I thought, but they seemed proud of it. To the left is an exhibition dedicated to the fame of the restored fresco, complete with a photo opportunity, and to the right is where you enter the sanctuary.
There is a small payment both where a lovely lady took our 3€ fee to enter. The money is all used for charity, more on that in a bit. On the wall is a large map filled with pins to show where the visitors to this tiny corner of the world have come from and it was when I saw the map that it really struck me what a sensation this painting had become. The rest of the walls in this section are plastered in various press clippings and news stories about Potato Jesus.
After a couple of minutes reading, and reminding myself how bad my Spanish is, we passed through into the main room, and there it was.
The Original Ecce Homo Artist
The Ecce Homo (which means Behold the Man) is a fresco of Jesus Christ moments before his execution that was originally painted in 1930 by Elías García Martínez, a retired professor of art in the Provincial School of Fine Arts of Zaragoza. An accomplished professional, Elías García Martínez also worked on restorations and decorations in the stunning Pilar Church of Zaragoza and the Principal Theatre of Zaragoza's Ceiling.
An additional interesting point. His son, Julio Garcia Condoy followed in his father artistic footsteps and one of his works also resides in the Sanctuary of Mercy Church. Inside the church to the right of the Ecce Homo is the oil painting "Saint Francisco from Borja". this one has not yet been turned into a Monkey.
The Restoration
The now fabled Spanish art restoration disaster was carried out by local amateur artist Cecilia Giménez. The original fresco was slowly decaying due to the humidity in the sanctuary and Cecilia wanted to do something about it. Although not a professional by trade, Cecilia is certainly a very good amateur.
The Ecce Homo
So the story goes that she had permission from the local clergyman to restore the painting. She was working on it throughout the days in full sight and people just let her crack on without a second thought. About halfway through she took a vacation, and this is when her life changed.
While she was away, a journalist from the local newspaper happened to stop by the sanctuary and noticed the "artwork" in its now-famous state. She thought it would make a fun story and published an article about this bad painting in the local newspaper, the Heraldo De Aragón on August 21st 2012. A few hours later, this story was being picked up by the BBC, New York Times, Der Spiegel and more, it quickly became a worldwide sensation.
It wasn't long before the internet started doing what it does. Memes were popping up, the nicknames were appearing, even the real name of the Ecce Homo started morphing into the Ecce Mono (mono being the Spanish for monkey). This small fresco painting in a sanctuary in the middle of the Spanish countryside was a worldwide viral sensation.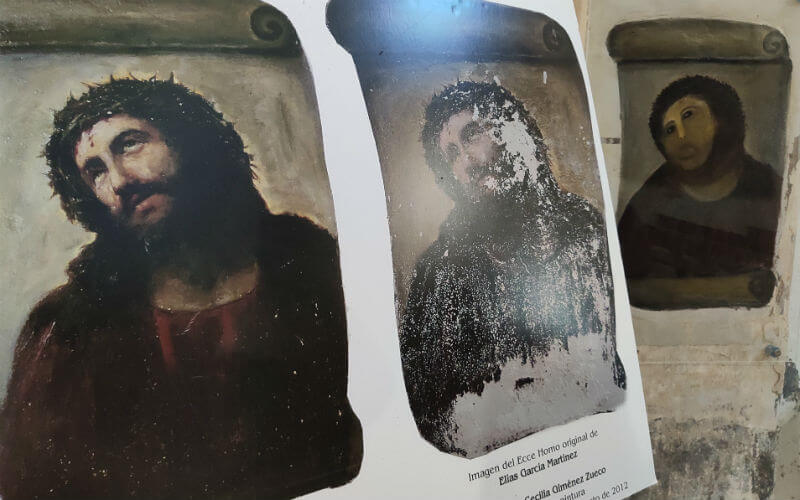 The Fall Out
As always when things like this break out, people look for someone to blame and this story had an obvious villain in Cecilia Giménez. After all, it was her work that had made their town a laughing stock in the eyes of the world. No-one cared to listen to her claims that it was unfinished or cared that the original wasn't exactly an iconic masterpiece. No, it was her brushstrokes that had desecrated the religious artwork and she will be blamed.
Cecilia Giménez started to suffer from poor health, the stress and embarrassment of the situation in a small town were hard to deal with. She loved what she did as an artist and took great pride in her work. Could you imagine going away on holiday and coming back famous for being the creator of one of histories most embarrassing art fails? It must have been a rough time.
The Happy Ending
Due the negative attention, including a BBC correspondent saying that it looked like a "crayon sketch of a very hairy monkey in an ill-fitting tunic", the priest of the church, Father Florencio Garces, thought the painting should be covered up. However, it wasn't long before tourists started to show up to see the botched painting restoration for themselves. Tourism in Borjas started booming.
After a few weeks coming to terms with their newfound fame, they realised they could charge an entrance fee and people were happy to pay. Since September 15, 2012, when they begin to control the entrances to the church has recorded over 250,000 visitors from around the world. The money raised all goes to a church-affiliated nursing home.
The charitable foundation currently receives around 52,000€ per year from the profits generated by the Ecce Homo, both for the tickets and for the 'merchandising' and image rights.
But what about Cecilia? As time has passed and things have settled down she has become accustomed to her fame and the locals. She spent some time with the psychiatrist to help her and now is somewhat of a local celebrity and as briefly mentioned earlier, now has her own Cecilia Giménez Museum next to the sanctuary. Inside there are 38 works from Cecilia Giménez herself and other local artists.
Getting there
Where is Borja and Sanctuary of Mercy Church?
Borja is located a little over 70km to the West of Zaragoza and 140km south of Pamplona in the west of the Spanish region of Aragon.
How to get to Borja
The best way by far is by hiring a car and driving. It's a little out of the way and you can spend the rest of your time exploring local bodegas and other small villages. However, if you must take public transport, the best way is to get a bus from Zaragoza. The journey is operated by THERPASA, takes about one-hour and the service runs once a day.
Driving Distances
Madrid to Borja > 315km
Barcelona to Borja > 375km
Zaragoza to Borja > 70km
Pamplona to Borja > 135km
Logroño to Borja > 140km
Where to stay in Borja
There is a small eco campsite next to the sanctuary which offers tent sites and also has a number of small bungalows you can hire. However, personally, I would recommend staying in the city of Zaragoza.
Travelling is a state of mind, you don't need to go far to find an experience, some of the best adventures are waiting for you on your doorstep. But, travelling far away is a lot of fun!
Are you a Travel Blogger?
If you want your blog to be added to our map be sure to check out our submit your blog page here: http://www.thetravelblogs.com/submit-your-blog
Continue searching for travel blogs from Europe
Recent blog posts from Europe