If you've ever wanted to visit Washington, D.C., but felt overwhelmed with the crazy amount of things to do, you are definitely not alone! If you wish you could afford a travel agent to schedule your entire trip, you've come to the right place. I won't plan your entire trip, but I'll help you navigate the National Mall in an afternoon without backtracking.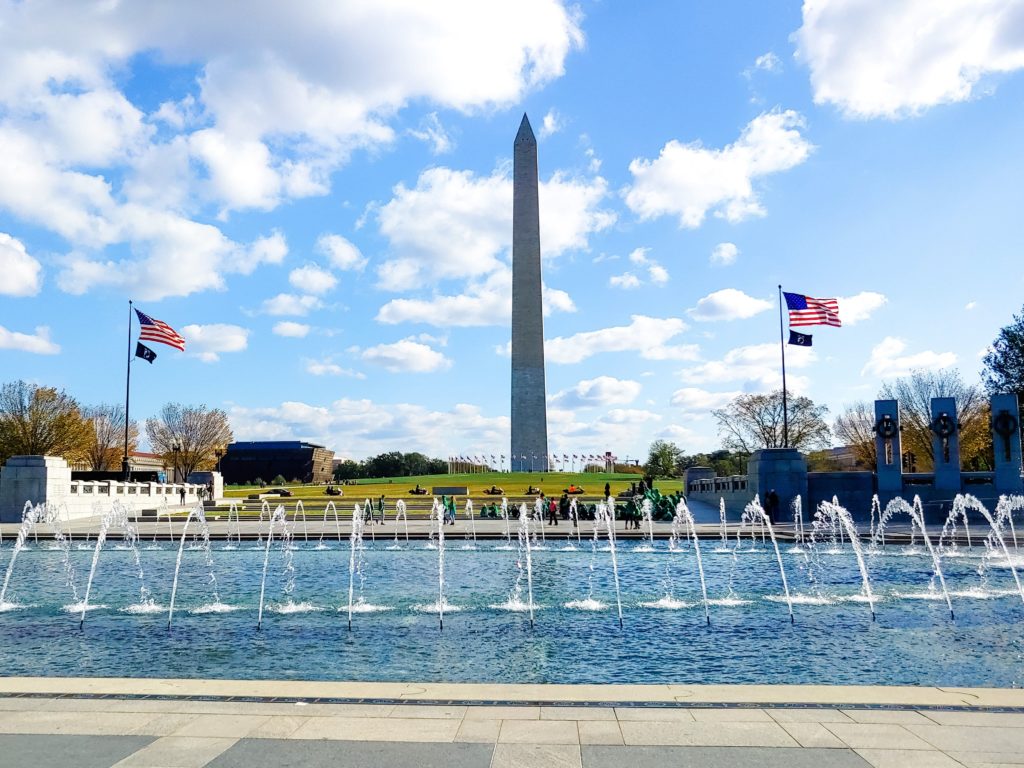 I recently had the opportunity to spend 8 hours exploring the District of Columbia. While that wasn't enough time to experience D.C. to the fullest, it was definitely long enough to do the essentials! If I were never to return, I would feel content with my experience there. However, I definitely want to go back for some more! To make sure you can prepare for the best trip, read these essential tips!
Coming your way in this post - click to expand ->
Note – Please know, some of the external links on this page are affiliate links, this means that if you purchase after following one, I make a small commission from the sale at no additional cost to yourself.
Need a visa?
Not sure if you need a visa to visit this country? Use this nifty little tool from iVisa to check the requirements as well as lots more useful information for your trip.
IT TOOK ONE MORNING TO VISIT EACH MONUMENT, LEARNING ABOUT MAJOR US HISTORY MILESTONES AND SNAPPING PICTURES.
That left the afternoon to try a few tours or museums, which gave a slightly more in-depth learning experience. While we visited the Bureau of Engraving and Printing, Ford's Theatre, and White House Visitor's Center, you have endless options to consider. In addition to the 20 Smithsonian museums within the District, there are several smaller museums offering equal amounts of information! With a little bit of planning ahead, you could even book a tour at the White House or Capitol Building.
The National Mall includes several Smithsonian museums and many monuments. The monuments and memorials are mostly in a loop so you can avoid walking back and forth. However, you have enough forks in the road that you may end up walking in circles.
While this took us less than 3 hours, it may take longer depending on the time of year. We ran into many field trip groups, but it was the off-season for most family tourism. We also rode scooters for the second half of our morning. If you choose to ride scooters, be respectful of other tourists, meaningful monuments, and occasional signs asking you to walk. However, the majority of the National Mall is scooter-friendly if you want to save some work for your legs!
The following is a list of the monuments in the best order of walking. We began at the Washington Monument and ended near the Washington Monument. This was a great place to begin because it was close to the National Mall museums. Another great place to begin is the Vietnam Wall since it is close to many of the city's amenities. However, you can begin at whichever monument is closest to your hotel and then end close to the same spot!
Washington Monument
Since we began our day at the Bureau of Engraving and Printing, which was next door to the Holocaust museum, it made sense to start our tour of the National Mall at the Washington Monument.
If you schedule ahead, you can get a ticket to the top of the Washington Monument for only a dollar! You can also buy tickets at the door, but they often sell out immediately. You could arrive at opening time and be in a line so long that they'll be sold out by the time you reach the front!
World War II Memorial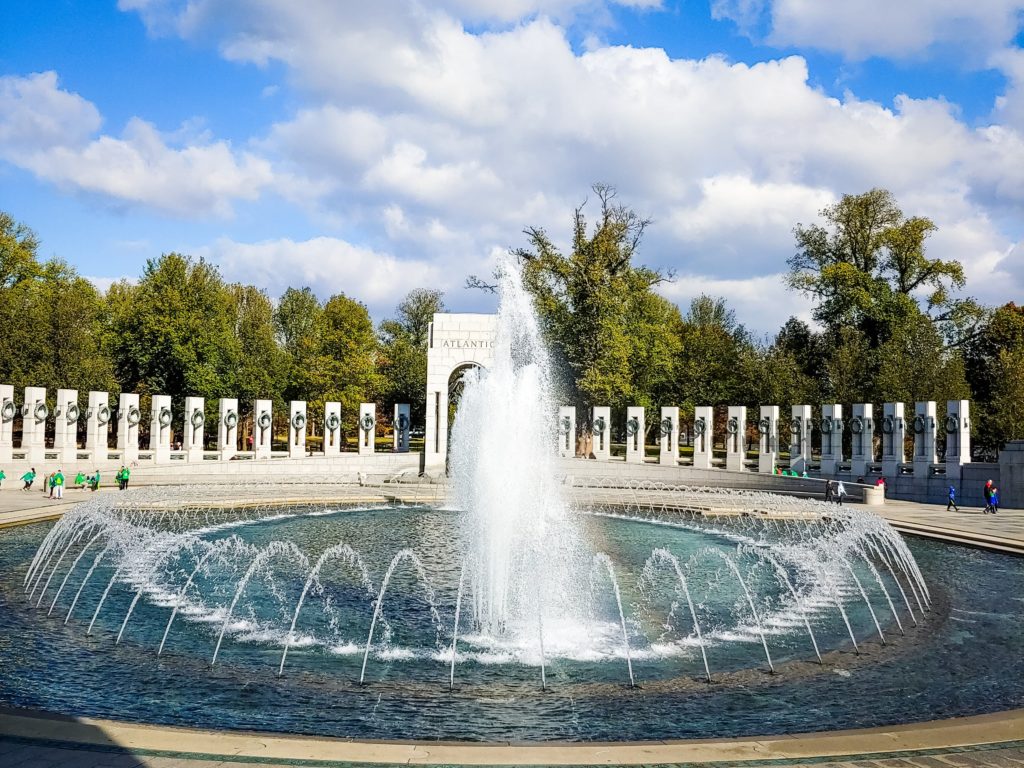 As you walk around the Washington Monument, you will be making your way towards the WWII Memorial. This memorial is one of the less popular ones on the main axis, but it is very powerful.
They have a visual representation of the many lives lost in the second World War. Although this doesn't take up much space, it gives you a great idea of just how serious the War was. As fewer and fewer people alive today remember WWII from firsthand memory, this display can help us to fathom the great toll it took on, not only America, but the rest of the world.
Lincoln Memorial Reflecting Pool
Once you get to the World War II Memorial, you'll be able to see the same reflecting pool by which MLK, Jr. made his iconic "I Have a Dream" speech. You can choose to veer away from the pool to head towards the Vietnam Wall Memorial to save steps, or you can choose to walk along the pool and then to the Vietnam Memorial and back later.
Although you'll do a lot of walking while visiting D.C., I highly recommend walking along the pool. You may be able to see it from many angles otherwise, but walking beside it is such an amazing experience because it helps you to imagine being there in the days of Martin Luther King, Jr. as he strove to bring equality to America.
Lincoln Memorial
On the other end of the reflecting pool stands the Lincoln Memorial. If you're like me and grew up in Indiana, you might feel as though you know Honest Abe on a personal level. (Although Illinois, Kentucky, Virginia, and probably a few other states have also tried to claim him.) Growing up near his boyhood home meant that I could relate to him on a real level as a child!
As you get older, you realize that he was a big deal everywhere and that everybody loves him. You also notice that you see his face everywhere: on the penny, the $5 bill, and the pictures of the Lincoln Memorial that pop up wherever you find love for this country.
Then you get the opportunity to visit Washington, D.C., and see his face on the Lincoln Memorial for real.
It's honestly a bit surreal. Since you've seen countless pictures of this statue throughout your lifetime, you forget that you've never actually seen it. Until you do.
Vietnam Veterans Memorial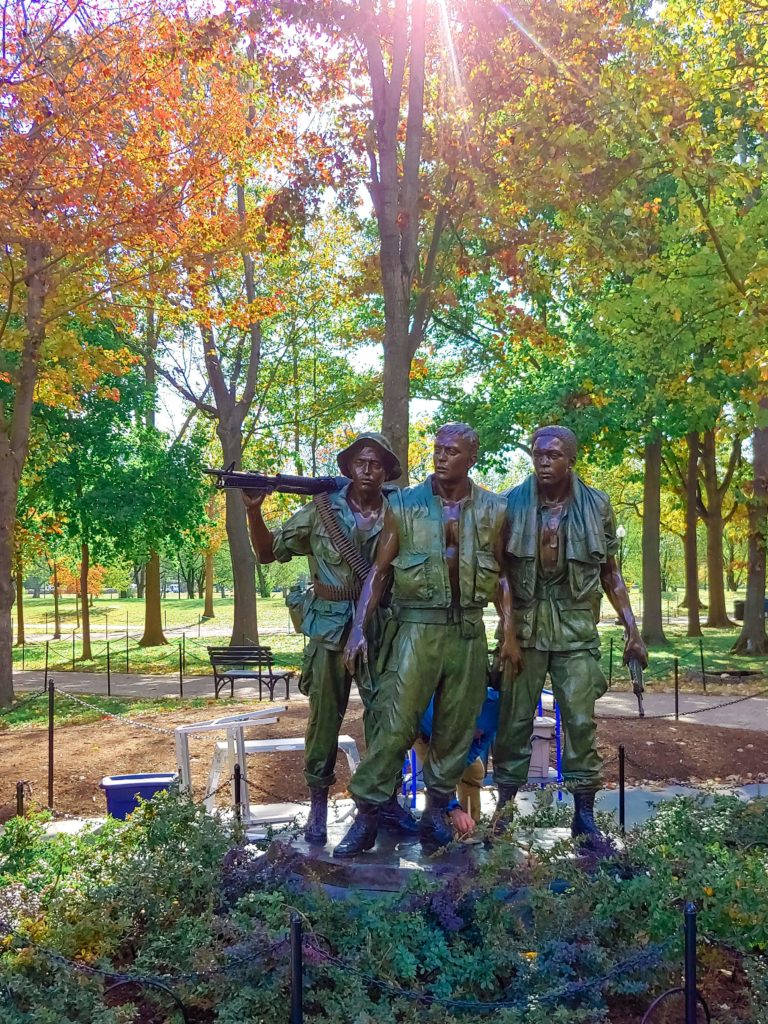 Off to the side, you will find the Vietnam Veterans Memorial. Near the wall, full of names of veterans who gave their lives in Vietnam, you will find the Three Soldiers.
The interesting part of this statue is that the three soldiers were very strategically included. The sculptor, Frederick Hart, sculpted a European American soldier, an African American soldier, and a Latino American soldier. This is significant because the soldiers serving in Vietnam were much more diverse than in past wars. As America grew, more and more people came from places other than Europe and fell so in love with the USA that they chose to give their lives to serve their newfound country.
Statue of Albert Einstein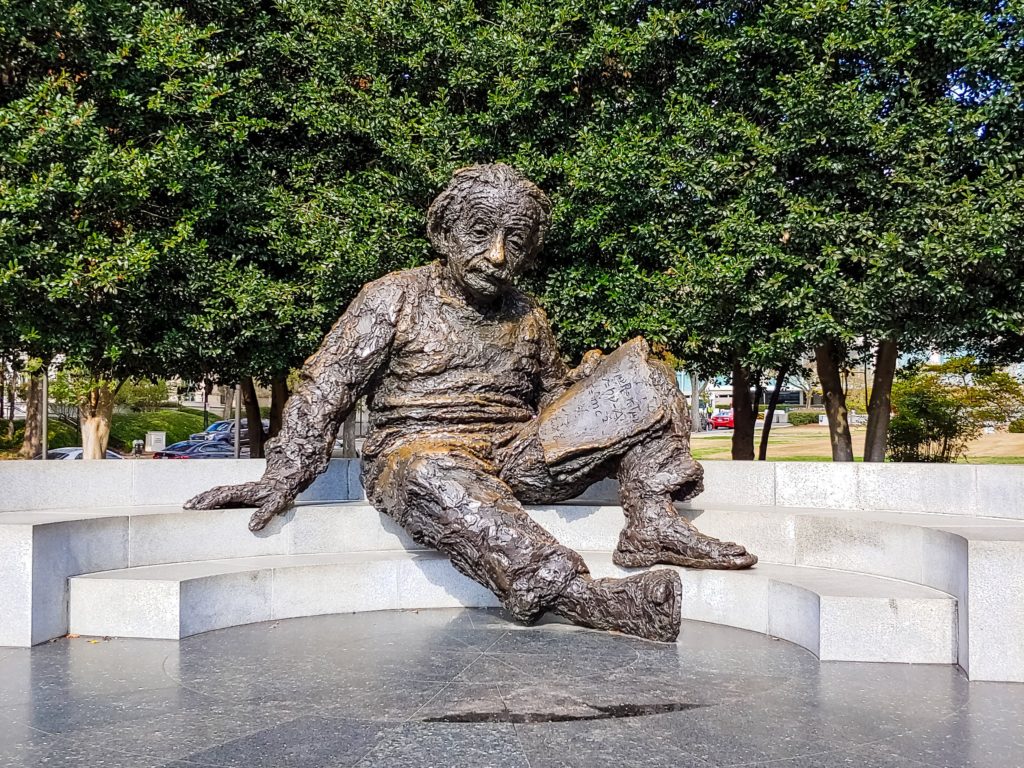 While not part of the National Mall, Albert Einstein is chilling out across the street from the Vietnam Veterans Memorial. Since you're already there, go say hey and pick his brain!
Although many people don't consider Einstein an American hero, the fact that people throughout the world still know his name means he definitely impacted the world as we know it.
Korean War Veterans Memorial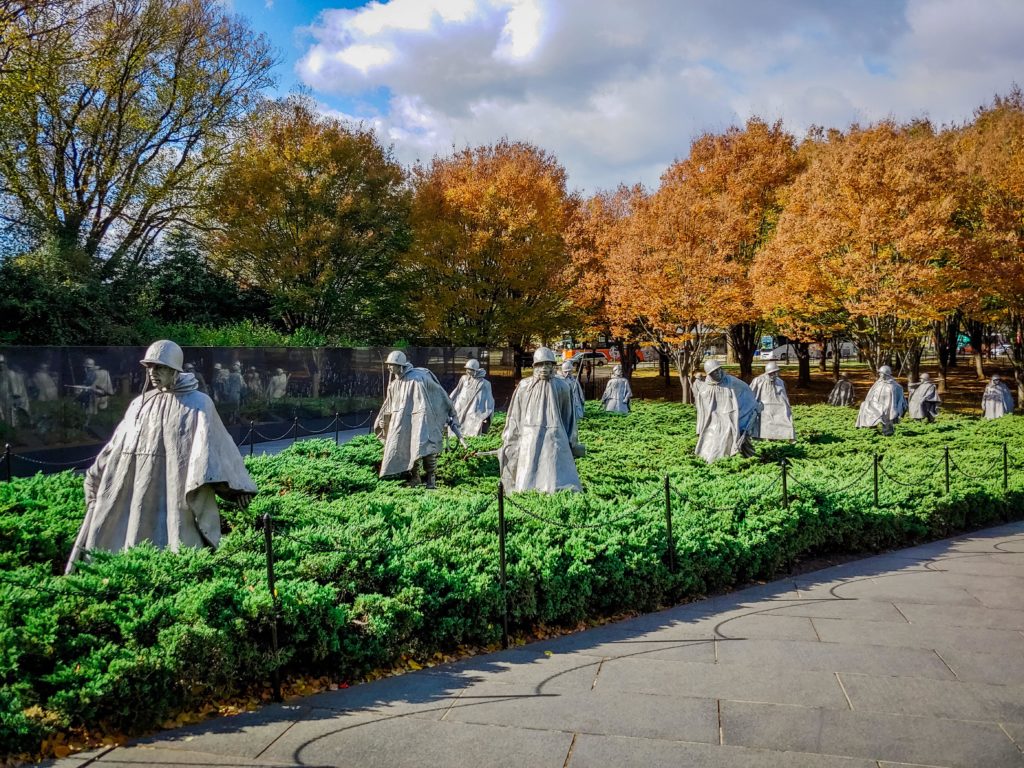 Now it is time to backtrack a little bit (unless you chose to avoid the Lincoln Memorial on the way here) and head back towards Old Abe. Continue walking past the iconic steps leading up to the memorial until you find the Korean War Veterans Memorial.
The Korean War is one that I honestly don't know much about. I tend to forget that it even existed. However, this memorial reminded me that the Korean War left a big impact in the 1950s.
Martin Luther King Jr. Memorial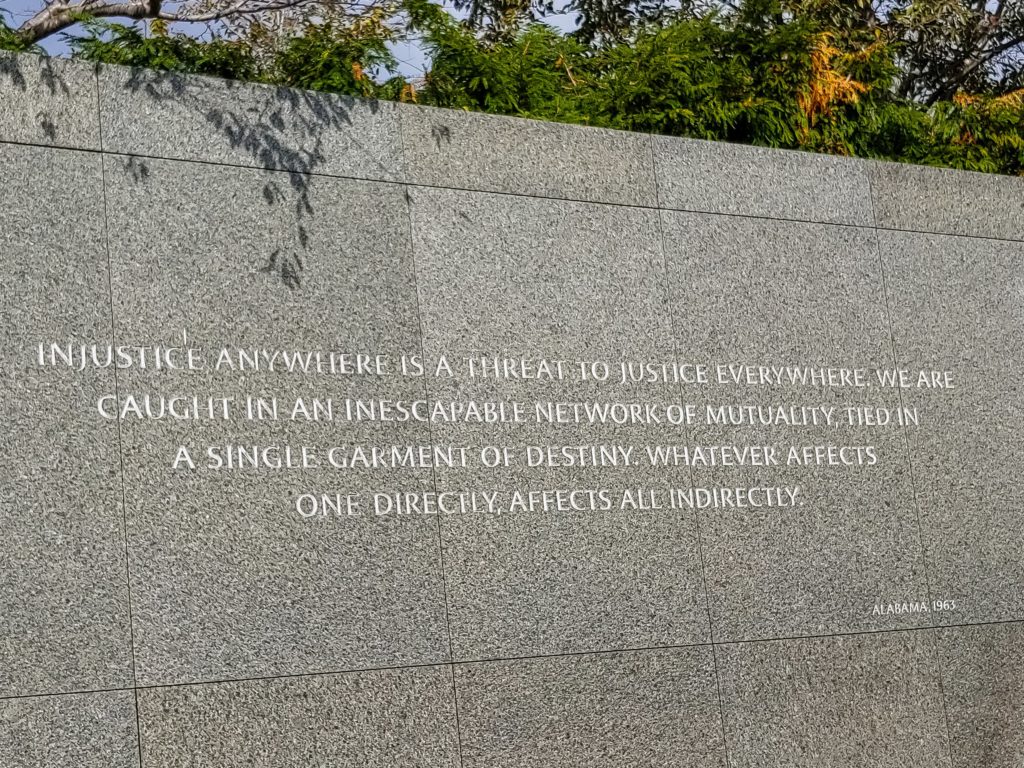 Get back on the main pathway and head over to see the iconic MLK statue that people share pictures of every January. In addition to this statue, you will see many quotes engraved on the wall along the water. If you're a quote-lover, be prepared to spend quite a few minutes here, reading every single word.
The quotes found on these walls are the kinds of quotes that you want to read word for word and try to understand in the clearest way possible. They drop so much truth that you won't want to miss one!
Franklin Delano Roosevelt Memorial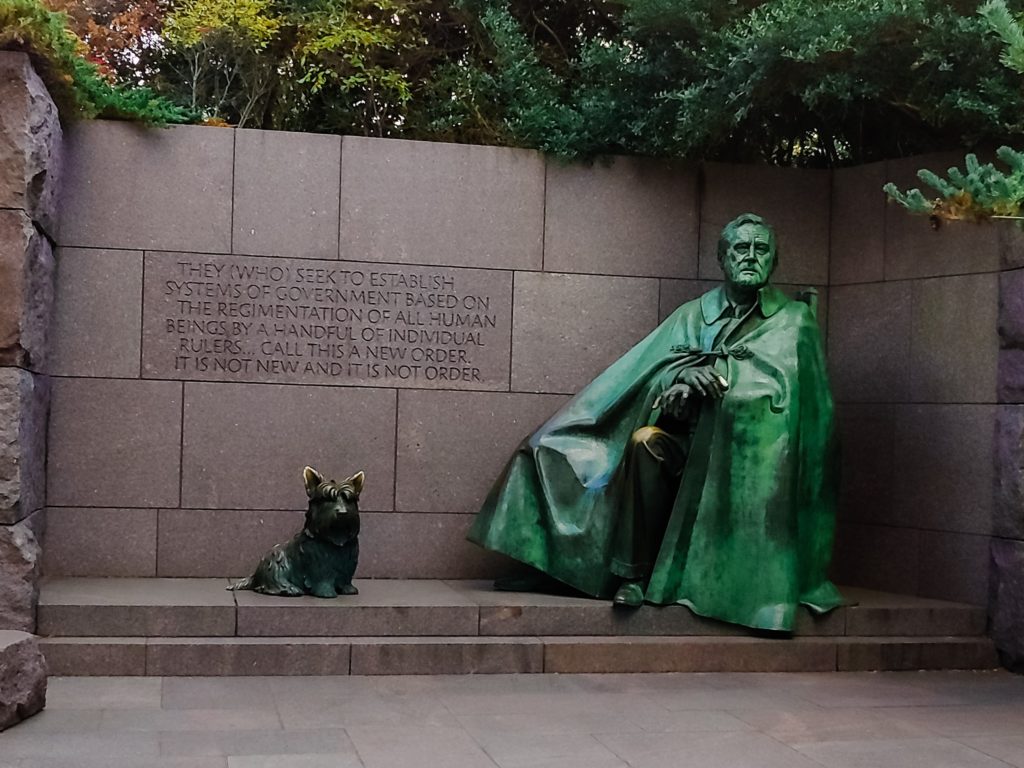 Although FDR is nowhere near the top of my favorite presidents list, this memorial was quite intriguing. There were many sculptures, some of Roosevelt, some of his dog, and some of what life was like during his presidency.
We've all heard stories of the Great Depression, but very few people alive were even around for it. Seeing the artistic depiction of life in the 30s definitely ranked near the top of my list of "Things in Washington D.C. I didn't expect to love but did." Along with many quotes, these statues did a fantastic job of painting a picture of a time era that left such a long-lasting impact on America.
George Mason Memorial
Truth time: I don't know if I'd ever even heard of George Mason until I was researching for this trip. The name sounded familiar, but George is one of those names that pops up in history all the time and Mason is one of those names that pops up in the modern day all the time.
Naturally, I wanted to learn more about this guy who was cool enough to get a memorial in his honor at the National Mall. Basically, he was behind the scenes with people such as Jefferson and Washington, especially regarding the Bill of Rights. If you read about him, you'll quickly learn that he should probably be a bigger deal in our history books.
Jefferson Memorial
Finally, we came to the Jefferson Memorial. Unfortunately, we couldn't really look at it. The memorial was under some major construction and therefore surrounded by metal structures.
While that was a downfall for us, it means that it probably won't go under construction again for several years so you probably won't miss it!
Then you can walk a bit further and head back towards the Washington Monument. This gives you the option to check out some of the museums in the area, including the Smithsonians that are also part of the National Mall. As you find yourself nearing the museums, you will also be able to keep walking until you get to the White House. As you can imagine, there are several other things to do along the way!
If you mostly want to take pictures of historic landmarks and learn a few tidbits of information, this is the perfect way to do it! Perhaps you'd rather absorb as much knowledge as D.C. has to offer. In that case, this is a great starting point before heading off to the museums.
If you're mostly interested in seeing D.C.'s beauty, you may want to search for the cherry blossoms! Every spring, Washington D.C. is home to millions of beautiful cherry blossoms and the Haphazard Traveler has everything you need to know about seeing them–from a local's perspective!
What was the best part about your D.C. trip for those of you who have been before? Let us know about it in the comments! I actually have an article with everything you need to know before planning a trip to the nation's capital city. If you've never been before, which monument or memorial is the one you are most excited to see? I hope this walking guide helps you to have the best trip!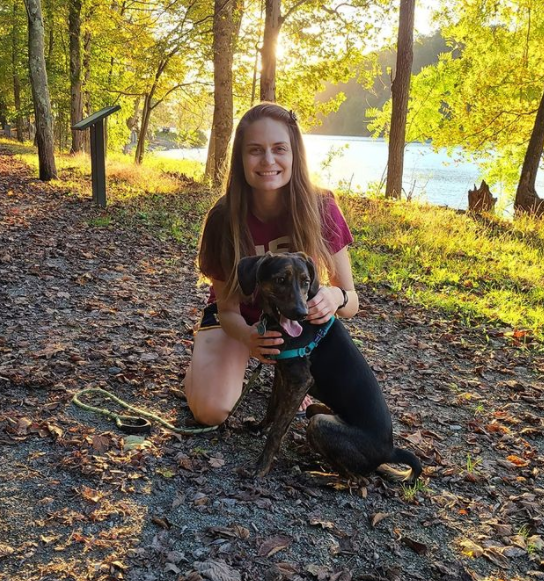 About the author
Raquel is the creator behind Meals and Mile Markers, a place to enjoy Food & Travel with sustainability and budget in mind. "Caviar style on a fish sticks budget".
Find Raquel on Instagram