If you only have 48 hours in Taipei, you really have to make the most of your time.
I recently spent two days in Taipei and I really have to say I made the most of it.
I was Couchsurfing and lucky to have my host also offer to be my guide for my stay in the capital of Taiwan.
Below you can find my recommendations on how to get a good mix of local culture, history, and food (admittedly this itinerary might be a little bit heavy on the food, what I did resembled a Taipei food trip more than anything else).
So, grab your notepad and write down all the activities that should go on your list when visiting Taipei (during your trip around the world or otherwise), with many amazing and unforgettable experiences and tips I got from a Taipei local.
Coming your way in this post - click to expand ->
Note – Please know, some of the external links on this page are affiliate links, this means that if you purchase after following one, I make a small commission from the sale at no additional cost to yourself.
WHAT TO DO IN TAIPEI IN 2 DAYS?
My Taipei 2 Day Itinerary
Day 1
Confucius Temple
Dalongdong Baoan Temple
Visit a local market
National Chiang Kai-shek Memorial Hall
Lunch at Du Hsiao Yueh Restaurant
Hike Elephant Mountain
Visit the Taipei 101
Linjiang Night Market
Day 2
Longshan temple
Enjoy a Food Tour
Shrimp Fishing
Shilin Night Market
A relaxing Taiwanese massage
I spent 2 nights in Taipei, arriving in the evening on what I call Day 0 and leaving at night on Day 2. All in all I spent pretty much exactly 48 hours in Taipei. And I did a LOT!
But, before we kick off, I just want to make you aware of a couple of free tours that are available in the city. Luckily, thanks to Couchsurfing, I had a local and a had a local guide (more on that later), but if you want to take advantage of a free tour, check out these links:
Taipei itinerary Day 1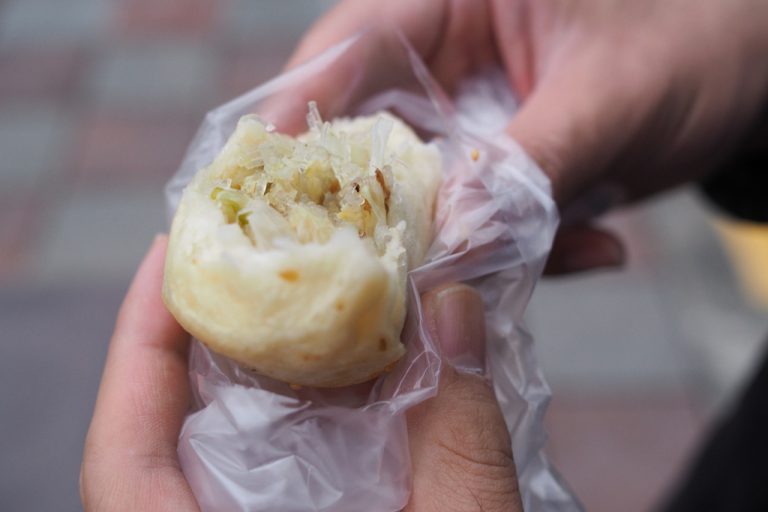 I started the first day of my 2 days in taipei itinerary at 10 a.m. taking red MRT line to Yuanshan Station.
On my way to the first stop (the Confucius Temple), I had some dumplings for breakfast, that I bought at two different local shops along the way. They were super fluffy outside and hot and flavorful inside. One with meat the other with cabbage.
What a great start to the day.
Confucius Temple
The Confucius temple was first constructed in Taipei in 1879 and demolished multiple times. All the buildings today are modeled after the original Confucius Temple in Qufu, Shandong Province of China. You can not only admire the beautiful architecture you can also learn about Confucius and the Six Confucian Arts, all written conveniently in English.
Name: Confucius Temple
Admission: free
Opening hours: Tuesday – Sunday: 08:30 a.m. – 09:00 p.m.
Address: No. 275, Dalong Street, Datong District, Taipei City, Taiwan 103
Check it out on Google Maps
Dalongdong Baoan Temple
Right across the street from the Confucius Temple, you can visit the Taiwanese folk religion temple Baoan Temple, my second stop of my 2 days itinerary in Taipei.
The temple received the UNESCO Asia-Pacific Heritage Award for both its restoration and its revival of temple rites and festivities. And when walking around it really becomes clear, that the temple buildings are quite beautifully restored and so rich in detail that you can look at everything for a long time and still find more details.
There are many tourists visiting, but also many locals who bring offerings.
Throughout the year there are many festivals that are open to the public and free, so when you plan your trip check in advance if you could experience some Taiwanese culture and religion at Baoan Temple.
At both the Confucius temple and the Baoan Temple there were some professional photographers with models taking pictures, which I found very interesting. But I guess the architecture makes for a very beautiful background in pictures.
Name: Dalongdong Baoan Temple
Admission: free
Opening hours: 7 a.m. – 10 p.m.
Address: No. 61, Hami Street, Datong District, Taipei City, Taiwan 103
Check it out on GoogleMaps
Visit a local market
On the way to the Chiang Kai-shek Memorial (see next point), I stumbled upon the Nanmen market and had a look inside.
All the food looked really delicious and I have to say compared to my experiences with markets in other (especially East-Asian) countries it was very clean and smelled really good.
The market had a lot of pre-cooked food that the locals would take home and eat there. But there was also packed dry fruit and nuts and also dry meat of different kinds.
Name: Nanmen Market
Admission: free
Opening hours: Tuesday to Sunday 7 a.m. – 6 p.m.
Address: No. 8, Section 1, Roosevelt Rd, Zhongzheng District, Taipei City, Taiwan 100
Check it out on Google Maps
National Chiang Kai-shek Memorial Hall
A visit to Taipei wouldn't be complete without a visit to the Chiang Kai-shek Memorial Hall . The Memorial is an impressive structure made out of white stone placed at the Eastern side of a huge open square which is also home to the National Concert Hall, National Theatre and the Liberty Square Arch.
Inside you can learn a little bit about the history of China and Taiwan and also visit the statue of Chiang Kai Shek on the top floor.
The statue is protected by two guards who stand on attention for a whole hour and at every full hour, you can see the changing of the guard.
We, unfortunately, missed it but were just in time to see the guards exit the elevator on the first floor where they stayed in formation, and made their way to the guard room. Their synchronicity was quite impressive.
Name: Chiang Kai-shek Memorial Hall
Admission: free
Opening hours: 9 a.m. – 6 p.m.
Address: No. 21, Zhongshan South Road, Zhongzheng District, Taipei City, Taiwan 100
Check it out on Google Maps
Lunch at Du Hsiao Yueh Restaurant
At around 3 p.m. I got seriously hungry and went looking for something to eat. Across the street from King Mango (see next stop) I found a restaurant that looked promising. It is called Du Hsiao Yueh and I can strongly recommend it.
It might have been the best food in Taipei I had.
I ordered some noodle soup and also rice with beef topping, some asparagus salad and to wash it all down a Taiwanese pineapple beer and some lemon tea. It was all really delicious.
I later found out that the food (and restaurant) originate from Tainan, the city Emma (our host) is from. She told me that there are two branches to the restaurant because the family who runs it got into a fight and separated. One is more traditional, the other more modern. I visited the more modern one.
Name: Du Hsiao Yueh
Cost: from 100 NTD (I paid 400 NTD for two people)
Opening hours: 11:30 a.m. – 11:00 p.m.
Address: No. 12, Alley 8, Lane 216, Section 4, Zhongxiao East Road, Da'an District, Taipei City, Taiwan 106
Check it out on Google Maps
King Mango
One of the stops you cant miss on your Taipei itinerary 2 days is King Mango, they have the best desert in Taipei.
The place is quite famous with tourists (mainly Japanese tourists as we found out) and rightly so. The price is a bit expensive at 200 NTD but totally worth it.
The snow ice comes in a big bowl, ringed with mango chunks and a big ball of mango ice on top. I shared one and still wasn't able to finish it (mainly because it was so cold).
The taste was heaven for any mango lover. It was sweet and tasted a lot like mango, but balanced really well with the milk flavored snow ice and sweet sauce.
If you are like me and not only love mango but also chocolate then you might be surprised that there is a lot of delicious chocolate available in Taipei and all over Taiwan.
Another thing to put on a list of best desserts in Taipei.
Name: King Mango
Cost: 200 NTD
Opening hours: 10:00 a.m. – 10:30 p.m.
Address: No. 2-1, Lane 2, Yongkang Street, Da'an District, Taipei City, Taiwan 106
Check it out on Google Maps
Elephant Mountain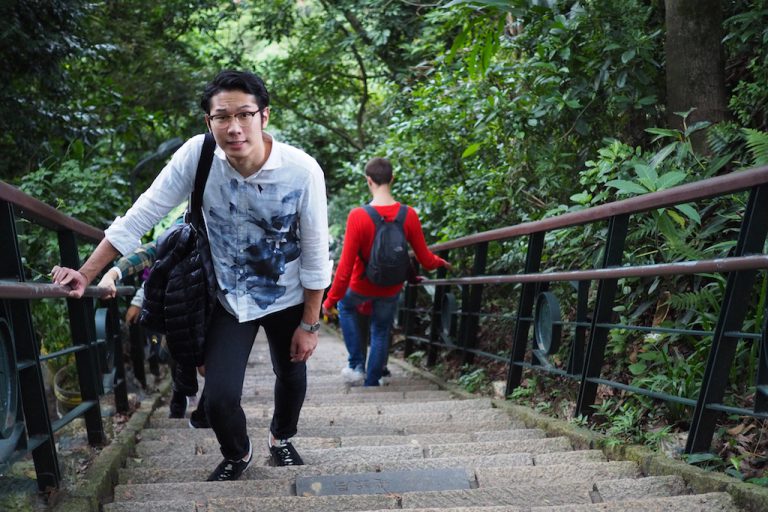 After eating lunch and then the gigantic ice cream it was time to work out a little bit. So, I climbed Elephant Mountain to get a look at the whole city from above. For free.
I learned it is not only popular with tourists but also the locals in Taipei love to visit it, not only for the spectacular view but also for the exercise of climbing all those stairs to the top. And it should be on the top of your Taipei 2 days itinerary.
The exertion is totally worth it. I arrived just before sunset while it was still light and slowly watched the sky get darker and the city light up below me.
The Taipei 101 was shining brightly illuminated in blue color. It is illuminated in a different color depending on the day but I really enjoyed the blue.
There are two viewing spots and I strongly advise not to give up on the first one. The second one has 5 gigantic rocks that you can climb on top of and take some really nice pictures of yourself and the city.
Definitely the best (not food-related) activity I did on that one day in Taipei and one that you definitely shouldn't miss.
Visit the Taipei 101
I decided not to ride to the top of the once tallest building in the world, but rather viewed the building itself from its bottom.
I also did some window shopping in the Taipei 101 mall, a modern mall with many brands inside, and probably the best place to do some shopping in Taipei.
I had planned to ride up to the Taipei 101 observatory, but I did not have a reservation and at the time of my visit, it was extremely busy.
I'll have to chalk that down to a lesson learned, if you want to guarantee a trip to the observation deck at the top of Taipei 101, make sure to have a reservation at least one day before.
Linjiang Night Market
One station away from the Taipei 101 is a night market that was recommended to me by one of Emma's friends, she said it was the best night market in Taipei.
The Linjiang Night Market (also known as the Tonghua night market), in the Da an district, is basically one very long street lined with shops and stalls on either side and the middle.
You can not only find the most delicious foods but also clothing shops and other shops selling phone gadgets, accessories and other cheaply produced things. Basically heaven!
I ate dinner there going from stall to stall and trying a lot of different foods. Some dumplings, fried mushrooms, potato balls and much more. Yum!
I can see why it is one of the best night markets in Taipei.
sadly, as the night drew in and we were enjoying some drinks in a few local open air bars, it started to rain.
Oh well, I was lucky all day so a little rain at night couldn't really dampen my spirits. We finished our drinks under our umbrellas and went home.
Taipei itinerary day 2
Since the start of my food tour was at 11 am I decided to sleep in a little bit and make the Taiwanese food tour my first stop of the day.
Unfortunately, it had continued to rain all night, and also the whole morning. It continued until around 4 p.m. when it finally stopped. But I don't let the weather get me down and I spent an awesome second day in Taipei.
Taipei Eats Food Tour
I was pretty hungry when I started my Taipei Eats food tour in the Xinyi district of Taipei at 11 a.m. But I didn't have to wait very long for the first food of the day.
First some fruit, then some Gua Bao, Bubble Tea, Stinky Tofu, dumplings and more.
Everything was extremely delicious and our guide Amber was super nice and knowledgeable about food and also Taiwan in general.
The other participants were a good match, everyone interested in traditional Taiwanese food and culture and we could exchange many experiences and ideas on where to travel to next.
At the end of the tour, no one could eat another bite, but we were really happy and content. I wrote a detailed review of the Taipei Eats Xinyi Tour. I recommend you check it out and book an unforgettable tour for your Taipei itinerary. It really is my top Taipei food recommendation!
Shrimp Fishing
Because it had been raining all day I was now really looking for an activity I could do inside. Because I couldn't really come up with anything I asked my host Emma if she had any ideas. She did!
Shrimp Fishing. A Taiwanese pastime where you sit around a pool filled with shrimp and try to catch them with your fishing rod. Afterward, you can either grill or boil the shrimp and eat them.
Definitely one of the top hidden things to do in Taipei.
As a shrimp lover the perfect activity for me. But I soon found out I wasn't any good at it. Emma, having also never done this before called up a friend who loves to fish shrimps.
He took the time to show us how it worked, but even with his kind help, we had only caught 6 shrimp in one hour.
Oh well, we thought and started to prepare them as our meager dinner.
The owner of the shrimp fishing place had pity on us and gave us all 6 more shrimp to prepare and eat.
I was, of course, very happy and it was actually not the only time the Taiwanese people were extremely kind to me.
Shilin Night Market
The biggest and most famous night market in Taipei is overrun with tourists, and in my mind, it doesn't have to be very high on your Taipei bucket list.
If you don't like crowds you should really avoid this part of town.
But . . . it is a convenient place to try a lot of different street food and also buy some souvenirs, play some games and just take in the atmosphere of a busy night market with the vendors shouting and the tourists taking pictures all around you.
A relaxing Taiwanese massage
After two days in Taipei with a lot of walking, I was really tired and in dire need of a massage. Compared to Thailand or Vietnam the massage is a little bit more expensive, but still quite a bit cheaper than in Japan or Europe.
There are many massage places around Shilin Night Market, and we felt it might be cheaper to go somewhere less touristy for a massage.
In the end, we realized the price was basically the same even somewhere else. So feel free to take up any of the offers for a nice foot or body massage and just relax for a little while.
I only had one massage but it definitely was the best massage in Taipei I could have had. I don't think I have ever had a foot massage as strong. It really hurt quite a lot, but afterward I felt very very light.
The masseur really knew where to press, he also explained how everything in my body is connected and what points on my feet represented what parts of my body.
Cost: 30 minutes 400 NTD, 60 minutes 800 NTD
A few additional suggestions
Of course, I didn't get to everything in Taipei, so if you have a bit longer or don't fancy shrimp fishing (don't worry, I get it) here are a few additional suggestions for your 2 days in Taipei:
Longshan temple
This large temple, located in the Wanhua District, is home to hundreds of statues of Buddhist, Taoist, and Confucian deities. Striking paintings grace the walls of the temple with stone statues of mystical creatures guarding the temple grounds.
You could pre-book a FREE tour of the Longshan temple here.
National Palace Museum
with a collection of nearly 700,000 pieces of ancient Chinese imperial artifacts and artworks, it is one of the largest of its type in the world.
The Red House Theater
Often known as the Hong Lo Red Play House, it hosts concerts by students and musicians from Thursday throughout the weekend. The unique architectural style is a blend of Western and Meiji era Japanese architectural patterns.
Beitou Hot Springs
Who doesn't love a hot spring? if you have a little longer on your trip, you may want to consider a day trip to the Beitou Hot Springs. It's easy to get to and a great spot for relaxation.
Maokong Gondola
The Maokong Gondola is a popular tourist attraction that offers up some stunning views over the city. located close to the zoo, it is a 4.2km route with a great little spot to enjoy a relaxing spot of tea.
Travel Guide | Getting around Taipei
Connections to Taipei Airport
The Airport MRT or a bus connects the Main Station and the Airport. The MRT is 160 NTD, the bus a little cheaper at 130 MRT.
Both take roughly the same time. About 30 minutes. Be aware that the last MRT leaves from Main Station at 11:00 pm, afterward you need to take the bus.
If you want the easy option, you could opt for a private transfer.
Public Transport in Taipei
The MRT (Taipei Metro) is the easiest way to get around (at least for the places I visited). There is also a network of busses you could take, but I was fine with just using the MRT for all destinations.
The day ticket costs 150 NTD and you will need to ride about 6 times to get the price back (one ride costs between 20 and 40 depending on the distance).
So for day one in Taipei I decided to get the day ticket. For the second day, I decided against it, which was fine. In the end, the single rides cost about as much as the day ticket.
Helpful Tip
I arrived on Thursday in the afternoon at Taiwan Taoyuan International Airport.
My first stop was the service counter to receive my portable WIFI which I had booked in advance through klook.com. It was super cheap and worked quite well to keep in contact with people and to look up directions on Google Maps.
Klook offers portable WIFI and sim cards for many Asian countries. For everyone like me, who can't go anywhere anymore without internet connection it is a great way to stay connected during the day.
I arrived in Taipei city and had only time to have some very nice Taiwanese dinner with my Couchsurfing host and her friends.
So in effect, my Taipei in two days itinerary starts on the morning of the next day. Emma and her friends gave me some great tips on local things to do in Taipei, that I would like to pass on to you.
Places to Stay in Taipei
Taipei has no shortage of hotels, hostels, and all kind of other accommodations. Let me pick out a couple of very different options for you, to make it easier to decide where to stay in 2 days in Taiwan.
Couchsurfing in Taipei
I would like to start out by telling you where I stayed: With a lovely Couchsurfing host.
There really is nothing better than having a local host who can tell you what kind of activities to focus on if you only have 2 days in Taipei.
We stayed with Emma, a 20 something Taiwanese girl originally from Tainan, who works in marketing. It just so happened that I was her first Couchsurfing guest and I really hope I was not too much trouble.
If you are Couchsurfing, Be sure to familiarise yourself with their safety guide, but on the whole, due to the peer to peer review system, it is a safe option for some amazing experiences, I love it and would happily recommend to to anyone.
Airbnb in Taipei
A different way to stay with a local in Taipei is Airbnb. Taipei has a lot of Airbnbs that cost as little as 10 US dollars per night if you opt to stay with a local and share a home or room.
If you were wondering how to find real locals to stay with using Airbnb you can follow my guide.
And if it's your first time using Airbnb,sign up through this link to get a discount on your first stay.
Hotels and Hostels in Taipei
If you were looking for the best hostels in Taipei for your trip to Taipei, no problem. There are plenty.
One that stands out is the Star Hostel. It is one of the best rated hostels in Taipei by a long way and great location. The reviews on booking.com are very very good and judging from the pictures this hostel is not only well thought through in regard to comfort but is also stylish and a great place to hang out.
Check out more hotel and hostel deals below from booking.com, my go-to accommodation booking site. Mainly due to the free cancellation policies. Always nice to have.
Final thoughts on the 2 days in Taipei itinerary
I really hope you enjoyed reading this 2 day Taipei itinerary.
I would have loved to stay much longer and explore the regions surrounding Taipei much more.
Next time I visit Taipei a day trip to Maokong via gondola is definitely on the agenda.
If you have anything else you'd love to throw into the mix, I'd love you to leave them in the comments.
If you are reading this before you visit, be sure to come back and let us know what you loved about Taipei and help fellow travelers in the future.
[starbox]