The Pena Palace and Park, in Sintra, make a fantastic day trip from Lisbon. The colourful 19th-century Romanticist castle sits high up on a hill with stunning panoramic views out to the ocean and is a highlight for many visitors to Portugal
In this post, I'll dish out loads of information like how to get to Pena Palace, prices, opening times and what to expect when you are there. I visited recently with my wife and 2-year-old son, so I'll also focus on what it is like visiting the beautiful Pena Palace with a stroller and a few other tips thrown in just for fun.
So with that said . . . let's get going.
Coming your way in this post - click to expand ->
A quick history of the Pena Palace in Sintra
The history of Sintra's Pena Palace begun in the middle ages as a chapel dedicated to Our Lady of Pena. In the 16th century King Manuel I ordered the construction of a monastery on the site.
It became a site for peaceful meditation for hundreds of years until the Great Lisbon Earthquake in 1755 destroyed it.
The site remained ruins for a while until King Ferdinand II decided to transform the site into a summer palace for the Portuguese Royal Family.
Reconstruction of the Pena Palace started in 1842 and lasted until 1854. It is an eclectic mix of architectural styles but is widely regarded as a wonderful exotic taste of the Romanticism architecture.
After frequently being used by the royal family for a few decades, it was purchased by the Portuguese State in 1889 and by 1910 it was classified as a national monument and quickly became one of Portugal's most visited monuments.
1995, the palace and the rest of the Cultural Landscape of Sintra were classified as a World Heritage Site by UNESCO and is now enjoyed by thousands of tourists every year. It is an excellent inclusion on any Portugal Itinerary.
How to get to Pena Palace from Lisbon
There are a few options for getting to Sintra and the Pena Palace from Lisbon.
1. Lisbon to Sintra by car
As you may imagine, having a car makes your visit to Sintra and the Pena Palace a lot easier as you will not be restricted by time. If you are driving, there are two main routes. One is the motorway and another the slower route.
What we did, and I would recommend as the best option, was to drive to Pena Palace on the motorway to get there quickly and take the scenic route back with a few stops along the way.
If taking the main roads, it takes about 45 minutes to get to Sintra's Pena Palace from Lisbon. Take the A5 out of the city and then the A37 from there.
Once you pass through the town of Sintra, you will be on more regional roads that are smaller and do get a bit busy, especially with tour busses, so take care, but it is not a difficult drive.
On the way back we took the coastal road so we could visit a few other highlights such as Cabo da Roca, Cascais and Hell's Mouth. It takes about 1 hour 45 minutes on this route along the N6 without stops, we took about 4 hours to do in total.
2. Organised tour to Pena Palace
If you don't have access to a car, or only have a few days in Lisbon so time may be tight, this is probably the best way to do it. There are many tours to Sintra and the Pena Palace and stopping at various places on the way back. If you are short on time or want the easy way to visit Sintra, this would certainly be your best choice.
Of course, there are drawbacks. As with any group tour, you know it will be busy when you visit, your are stuck to a strict time limit and it is generally a bit more expensive.
However, the pros generally outweigh the cons as they are the best way to see the main sites in an efficient way,
Below are a few recommended tours from Get Your Guide. I have used them in the past and have always been happy with the service.
Note: If you decide to book a tour after clicking to the website from one of my links, I do make a commission at no cost for yourself. If you would like to know more about my affiliate partners and why I choose them, please read my affiliate information page.
Recommended Pena Palace Tours
If you want to see some more options for tours of Sintra, check out the wide selection of Lisbon tours on Get Your Guide.
3. Train to Sintra and bus
When it comes to how from Lisbon to Sintra, this would be my 3rd choice, but it is the cheaper option. It offers good value, but you will be a little more restricted with what you can see in the day.
Getting to Sintra from Lisbon by train is easy. They run at least every 30 minutes from Lisbon's Rossio station in the city centre. IT takes around 40 minutes and a return ticket should be less than €5.
Sintra station to Pena Palace
To get to the Pena Palace from Sintra train station you can get the 434 bus from outside the station which makes a loop between the town's centre (where you'll find the National Palace) then up to the Moorish Castle and the Pena Palace. Once it has dropped off, it completes the loop by returning from Pena Palace to Sintra train station.
The ticket costs around €5 and can be purchased on the bus. And, of course, don't throw away your ticket as if you will need it to get back on.
Another option, if you didn't want to get the bus, would be a tuk-tuk tour. There are plenty of operators as you leave the train station offering tours up to the palace. This can be a more relaxing way of making the trip as you won't have to wait in line for the bus. It can get quite busy.
The town of Sintra itself is also a lovely place to visit, so if you are taking the train, you should certainly spend some time exploring Sintra as well as the Palace.
Pena Palace visiting information
Pena Palace opening hours
The Palace
Winter hours: 10:00 – 18:00, last ticket 17:00
Summer hours: 09:30 – 19:00
The Park
Winter hours: 10:00 – 18:00, last ticket 17:00
Summer hours: 09:30 – 20:00
Pena Palace parking
If you are driving there are two parking areas. The first one you pass (and where we parked) is at the bottom of the park attached to the palace.
There is a small visitor centre and ticket purchase area that you need to pass through before you enter. Once you are in it is an uphill climb to the Palace that will take about 30 minutes or so if you don't stop. If you are relatively fit I would recommend this option as it is a nice walk through the gardens and the ticket office is less busy.
The second parking area is also the main entrance. As you would expect it is busier, but if you are not a big walker, I would recommend this option for ease.
There is a small tourist bus that picks up and drops off at the car park that takes you almost to the doot of the palace.
Pena Palace ticket price
There are two options, you can buy a combined ticket for the park and the palace tour, or just the park.
If you just buy the park ticket, you can still access the battlements of the palace, where some of the best views are, you are just missing out on the tour of the inside. If I were to return, this would be my choice as I thought the tour inside did not offer great value, but more on that later.
Also, if you are not on a tour I would highly recommend booking e-tickets ahead of time to save queuing. We did not do this so we had to queue. It wasn't too bad, only about 15 mins, but we were early, this wait time will only increase throughout the day.
Tickets for the Pena Palace and park
Adults (18 – 64 yrs) – €14
Youths (6 – 17 yrs) – €12.50
Seniors (over 65 yrs) – €12.50
Family ticket (2 adults + 2 youths) – €49
Tickets for the park only
Adults (18 – 64 yrs) – €7.50
Youths (6 – 17 yrs) – €6.50
Seniors (over 65 yrs) – €6.50
Family ticket (2 adults + 2 youths) – €26
Our visit to Pena Palace
Getting to the Pena Palace Sintra
We set off from Lisbon relatively early so we could aim to get the the Palace for when it opens, at 9:30am. Unusually for us, we actually managed to achieve it and I was parking at about 9:45am.
However, what I hadn't realised at the time is that I was parking in the lower car park at the bottom of the park.
Blissfully ignorant to what awaited us, we queued up, bought our tickets for entry to the park and palace and off we went.
The paths up to the palace were well paved and wide, so there were no concerns about having the stroller with us. The only thing is it was quite steep in places, so required a fair amount of effort.
Getting off the main path proved a bit more difficult. When I visit places like the Pena Palace and park, I love to explore and find every secret, however, with the pushchair I was limited to how far we could go.
With the stroller, it took us about an hour to reach the palace at the top of the hill. It can be done quicker, but we weren't hurrying.
As we looked up we were wowed by the colourful facade of the palace, made all the brighter by the morning sun. We could see people high on the wall, taking their insta-selfies. The Palace is quite one of the most Instagram-able places in Sintra, just check out #palaciodapena to see what I mean.
The main entrance to the palace is a large archway opposite a large ticket and information office that also acts as the obligatory souvenir shop. If you didn't buy a ticket for a palace tour, you can do so here.
It was when we got to this point that we could see the mistake we had made by parking at the bottom. The hour it took us to get to the top meant that all the tour busses had caught up and the line to get in was huge. At best guess it was a minimum of 100 people were in front of us.
But, it was at this point I realised that pushing the buggy all the way up the hill had been a worthwhile endeavour.
The path leading up to the entrance was split into two, the right hand side was the line and the lefty was the exit. However, this was also access for those with disability and those with pushchairs.
So up the left hand lane we headed. As we rolled past all the bored-looking people lining up I couldn't help feeling a little guilty, but it didn't last long.
We were led to a door around the back of the entrance where they took the stroller off us and we were free to enter.
Tip: It's worth knowing that if you buy a ticket for just the park, you can still get access to the main courtyard area where there are some amazing views to the ocean, restaurant and public toilets. Just walk past the line in the left hand lane. You will still have to line up if you have a ticket to enter the palace.
The Pena Palace tour
If I had just one word to describe the tour of the inside of the palace, I would use stressful. Although we managed to skip the queue, it was still a lot of people.
In all honesty, I would not recommend doing the tour inside of the palace unless you are really into Portuguese royalty and their history or antiques.
There is a set route that you must travel through the palace and it is not very wide, single file in many places. As a result, it was very difficult to feel relaxed and enjoy the visit.
It was like one massive long snake of tourists making their way from room to room. If I slowed down I pretty quickly received a nudged from behind and had to keep going.
We were all advised to wear any backpack on our fronts to reduce the chances of breaking anything, and photography inside the palace was not allowed. Although some people seemed to get away with it.
While the furnishings were certainly very nice, there was nothing that really stood out about the tour that makes it a must-do.
If you add into the mix a grumpy 2-year-old that had just woken from a nap and wanted to run around like a manic, not admire antique beds, you can understand why I would say the visit was stressful.
Heading back down
After we finished the tour we headed back to the car. As we left the palace the lines had all but disappeared, so it must have been a real flashpoint of tourists that we encountered in the way in.
The way down took about 15 minutes, mainly due to the fact it was downhill and I was enjoying pretending to let go of my son so he free rolls down. Much more to my amusement rather than his I feel.
In total, we spent about 4 hours exploring the park and the palace. I would highly recommend it as something to do if you are spending some time in Lisbon.
We didn't spend much time looking around the town of Sintra, although what we did see certainly made it look like we should explore further.
As we had a car we decided on exploring a bit further afield and taking the slow route back to Lisbon, stopping off at Cabo da Roca lighthouse for a late lunch and Cascais on the way home.
If you do visit the Pena Palace from Lisbon, I would recommend that you just get the park ticket and save some money.
If you do this, be sure to enter the palace as far as you can to enjoy the views from the castle entrance.
It is not immediately obvious that you can do this, especially when there is a line. I think a lot of people that just have the park ticket do not make it that far.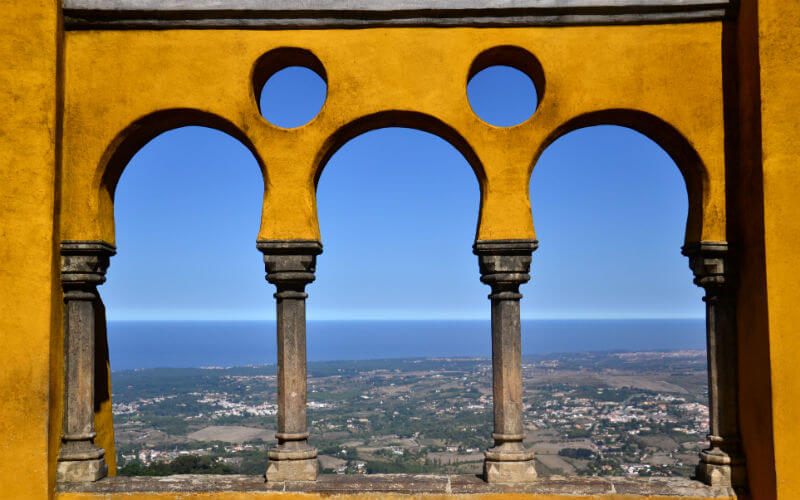 FAQs
Do you need to book Park and National Palace of Pena tickets in advance?
No you do not, although in peak times (May through September) this is certainly recommended. You can book e-tickets online.
Can you go inside Pena Palace?
Yes, although I would not say it offers a valuable experience. There are some nice treasures and antiques, but not much else. Also, it is a forced tour route that at busy times can become quite stressful as it is very tight. I would recommend just buying a ticket for the park. You can still reach the castle and get up to the entrance with spectacular views across to the ocean.
What's the best way to see Park and National Palace of Pena?
You can reach Pena Palace from Sintra by bus or tuk-tuk but once you are there, by foot is the best way to get around. There are busses that can take you up to the palace but you will miss the opportunity to explore the wonderful park below.
How long does it take to visit Pena Palace?
The palace itself can be visited in around 1 hour. If you want to relax and enjoy it and see the surrounding Parque da Pena, I would recommend a minimum of 3 hours.
How much does it cost to get into Pena Palace?
For the Palacio da Pena tickets and the park, it is €14. If you want park only, it is €7.50. There is a reduction of kids and seniors, see my pricing section in this post for the full breakdown.
When is Park and National Palace of Pena open?
10am – 6pm in Winter and 9:30am – 8pm in Summer.
Is Pena Palace worth visiting?
Yes. It is one of the nicest things to do during a visit to Lisbon. The colourful palace is a wonderful site and the panoramic views are breathtaking.
Final thoughts on the Pena Palace
It's not a surprise that Sintra and the Pena Palace is one of the most popular things to do in this area of Portugal. The Palace is a marvellous piece of architecture and the views are stunning. It is quite safe to visit with a stroller, although I would recommend a baby carrier too if you want to fully explore the park.
I hope you have found this post helpful for planning your visit. Please if you have any questions about visiting Pena Palace with a stroller (or without) I'd love to try help, drop them in the comments and I'll come back to you.
---
Are you a Travel Blogger?
If you want your blog to be added to our map be sure to check out our submit your blog page here: https://www.thetravelblogs.com/submit-your-blog
Continue searching for travel blogs from Europe
[custom-mapping map_id="1195″ height="400″]
Recent blog posts from Europe
[pt_view id="7c0c5a6gyb"]