My first day trip to Nikko was 3 years ago. Since then it has become a favorite day trip from tokyo for me and a great way to escape the city. The combination of wonderful shrines, Nikko National Park and lovely food make it a truly special (and popular) place to visit.
Maybe you have an extended stay in Tokyo and are looking to break free from the city, or are just looking for some excellent shrines and temples to visit, Nikko is a great choice.
I have created this post to help you plan a great day trip to Nikko from Tokyo. It includes all the highlights of Nikko including food highlights, and of course all the information you might need on how to get to Nikko from Tokyo.
Let's dive right in!
Coming your way in this post - click to expand ->
A UNESCO World Heritage Site – shrines and temples
The Shrines and Temples of Nikko are a UNESCO world heritage site and the main reason why so many tourists spend a day in Nikko. The Nikko Toshogu Shrine, Futurasan Jinja and the Rinnoji Temple and all buildings belonging to these three holy sites which are located closely together in central Nikko.
The founder of the Tokugawa Shogunate, which ruled Japan for more than 250 years until 1868, Tokugawa Ieyasu and his grandson Iemitsu are both entombed in Nikko, and there is a lot you can learn about the Tokugawa period during your visit. But there is even older history to be found here in the form of Futarasan Jinja and Rinnoji.
You may also like:
What to do on a day trip to Nikko from Tokyo
Tosho-Gu Shrine
Futarasan-Jinja
Rinno-Ji
TAIYU-IN
Shinkyo Bridge
Eat Yuba
Lake Chuzenji
Kegon Falls
Irohazaka
Visit a day onsen
1. Tosho-Gu Shrine
Naturally, you would start your Nikko day trip at the World Heritage site, Toshogu Shrine. Many elements make the shrine such a fantastic visit.
The first thing you will come across when entering are some wonderfully decorated storehouses, the most famous woodcuts depict the famous 'see no evil, speak no evil and hear no evil'-monkeys. Another renowned woodcut located on the Sakashitamon is Nemurineko, the sleeping cat.
From the Sakashitamon a flight of stairs leads through the woods to the mausoleum of Tokugawa Ieyasu, the first Tokugawa Shogun. When he was laid to rest at Toshogu Shrine, it was still a very simple mausoleum but was enlarged to its current beauty by his grandson Tokugawa Iemitsu.
The 5-minute walk to the mausoleum through the thick Japanese forest is a stunning one. It contrasts so sharply with the high-rise buildings and modernity of Tokyo that it seems a little bit out of this world.
Unfortunately, because of the popularity, the shrine is almost always crowded and a visit early in the morning might be a good idea if you like to avoid the crows.
On another note, until the 2020s the complex is under renovation and at different times different buildings are covered up because of this work. But the main building's repairs are already finished, and it won't really influence your experience negatively.
2. Futarasan-Jinja
Another must-see on a Nikko day trip is the Futarasan-jinja which is much older and more laid back (read: not so pompous) compared to its neighbor Tosho-gu. The shrine was founded more than 1200 years ago by the same Buddhist monk who also founded Rinnoji Temple.
Another excellent example of how Buddhism and Shintoism used to go hand in hand in Japan.
Futarasan-jinja is dedicated to the deities of Nikko's three most famous mountains (Mount Nantai, Mount Nyoho, and Mount Taro).
Futarasan is an alternative name for Mount Nantai the most important of the three mountains. Another two Futarasan Shrines are located close to Mount Nantai itself.
3. Rinno-Ji
The most important Buddhist temple of Nikko is Rinno-ji. Like I mentioned before it was founded by the same monk who also founded Futarasan-jinja.
You might be asking yourself why a Buddhist monk would establish a Buddhist temple and a Shinto shrine, but the temple and shrine worship the same three holy spirits.
The deities of Nikko's most important three mountains. From the Buddhist standpoint, these three deities are manifested as Amida, Senju-Kannon and Bato-Kannon whos statues are located in Rinno-ji.
4. TAIYU-IN
Similar in architecture and purpose to Tosho-gu is Taiyu-in, the final resting place of Tokugawa Iemitsu, the grandson of Tokugawa Ieyasu (who as you might remember is laid to rest at Tosho-gu).
With the forced separation of Buddhism and Shintoism in the Meiji Era, Taiyu-in became a sub-temple of nearby Rinno-ji Temple, whereas Tosho-gu became a pure Shinto Shrine).
But even today both contain elements of both Buddhism and Shintoism in their architecture. (Which you probably won't really know if you aren't an expert or aren't told by a super helpful travel blogger, who just looked this information up on the internet for you).
5. Shinkyo Bridge
One of the three finest bridges in Japan, Shinkyo Bridge (神橋) which means holy bridge, marks the entrance to the Shrines and Temples of Nikko. It officially belongs to Futurasan-jinja. The current bridge was constructed in the 17th century and was recently renovated. For a small fee, you can even walk across.
So far, I have resisted the urge to pay to cross and just viewed the bridge while passing by. There are so many beautiful bridges you come across in Japan, many which are free for you to cross that I didn't see the need to pay to cross a bridge that won't lead you anywhere.
6. Eat Yuba
After all this walking around, exploring Japanese history and culture, you are probably getting hungry. Now is the time to have some delicious local food.
A day in Nikko is not complete without trying their famous local food, Yuba, made with tofu skin. This very thin white substance is skimmed from soy milk, very similar to the surface on cow milk when it is heated.
Yuba doesn't really have much of a taste of its own, so it is all in the preparation.
Maruhide Shokudo
During our day trip to Nikko, our research led us to Maruhide Shokudo not far from Tobu Nikko Station. It was a very simple no-frills restaurant with a small menu. The food was good and cheap and, of course, there was Yuba on the menu. It wasn't the best food I had ever had, but it was all right.
Sun Field
Because I wasn't too happy with my food at Maruhide Shokudo, I did some more research on delicious Yuba restaurants for this post, which leads me to believe that there would have been better options to enjoy some Yuba in Nikko.
One of the restaurants that came up in my search is Sun Field. A charming looking restaurant with a variety of Yuba on the menu that you can try on your lunch menu. (They also offer delicious looking dinner)
7. Lake Chuzenji
After exploring central Nikko, it is time to head to Oku-Nikko another part of the area that should be on your day trip to Nikko itinerary. On a height of 1269 meters above sea level lies the beautiful lake Chuzenji (中禅寺湖) at the foot of Mt Nantai in Nikko National Park.
Chuzenjiko is an excellent place for a visit because of the little Onsen town at its eastern shore and also the beautiful nature surrounding the lake. If you have the time, you can take a small paddleboat out on the lake or just enjoy the view during a walk along the shore.
If you have a lot of time, you can even hike around the whole lake on a 25-kilometer long hiking trail through nature.
8. Kegon Falls
The most famous waterfall in Nikko National Park is the almost 100-meter tall Kegon Waterfall (華厳の滝) which is also located in Chuzenjiko Onsen. The impressive waterfall is the only outlet of Chuzenji Lake and can be viewed from two viewing platforms. A free one and a paid one (which has the better view).
Kegon falls as well as Lake Chuzenji, are favorite spots in October during the fall season when the leaves turn their colors.
9. Irohazaka
The area around Lake Chuzenji is located more than thousand meters above sea level. To reach the lake the scenic route is to take Irohazaka.
This winding road up the mountainside is extraordinarily beautiful during the fall season when the autumn leaves turn color, but also in May when we drove up it was beautiful in lush green colors.
We even saw a deer at the roadside. So be careful when you make your way up the mountain. But don't forget to enjoy the view.
10. Visit a day onsen
Many people visit Nikko not only because of the cultural highlights and beautiful nature but also because of the famous Onsen, Japanese hot springs, that can be found in the area.
All around Nikko are many Onsen towns located, and even if you are not planning on spending the night in Nikko, you can enjoy the healing properties of Nikko's Onsen.
There are multiple Onsen that open their doors to day visitors for a small fee, they usually also rent towels, so you don't have to carry around a towel all day.
If it is your first visit to an Onsen in Japan make sure to read up on Japanese Onsen Etiquette before you go. There are many things to know, and if you don't want to make a fool of yourself it is best to read about them once.
On my first visit, I was quite clueless, and even though I tried to mimic the locals I still did a lot of things wrong.
How to get to Nikko from Tokyo
Getting to from Tokyo to Nikko is really easy. You have so many different options, so choose one that fits your needs and enjoy your day trip to Nikko.
Note: the links in this section are affiliate links. this means if you book something after following one, I make a little commission at no cost to yourself. For more information on this you can check out my affiliate disclosure page.
By train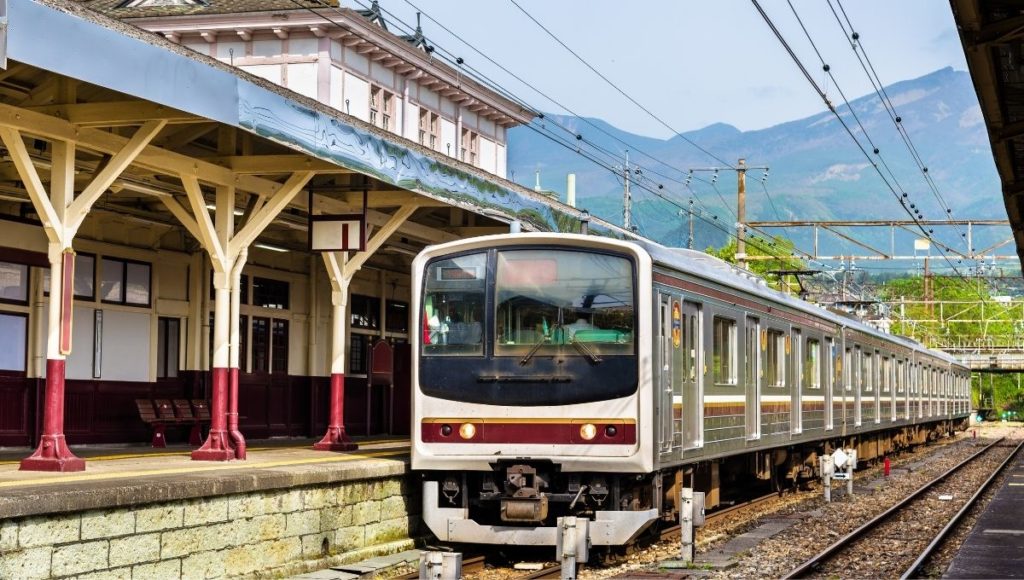 There are about three different trains connecting Tokyo and Nikko and they are all a viable option for your Nikko day trip.
If you are a J Rail Pass holder the cheapest and fastest way is to take the JR Tohoku Shinkansen to Utsunomiya Station and there transfer to JR Nikko Line. Depending on the time it takes to transfer in Utsunomiya this is the fastest option at around 100 minutes.
Another option, this one is only partly covered by the Japan Rail Pass is an express train from Shinjuku Station to Tobu Nikko Station. A one-way trip costs 4000 Yen and will take about 2 hours.
The cheapest option if you don't have a Rail Pass is the use of the Tobu Line that connects Asakusa Station in Tokyo with Tobu Nikko Station.
The limited express is more expensive at 2800 Yen. The normal trains are cheaper at 1360 Yen, but takes half an hour longer around 2 and a half hours.
By car
Having a car is the most flexible way to explore get from Tokyo to Nikko and explore the area. For a day trip from Tokyo, you can rent a car in Tokyo and drive up to Nikko in 2 hours.
A one-day car rental in Japan will cost you roughly 16000 Yen calculating in gas money any toll roads.
This might be a cheaper option for a Nikko day trip if you are traveling as a couple, family or any other group and you don't have a Japan Rail Pass.
But if you are traveling alone, using public transport might come cheaper, and especially if you own a J Rail Pass I recommend you go by train.
There is ample parking space close to the shrines and temples, which are the main attraction of Nikko. Getting to Okunikko where Chuzenji Lake and Kegon Waterfall are located is also easiest by car. From Nikko, you will get to enjoy the Irohazaka.
By tour
There are multiple day tours to Nikko from Tokyo, all with a slightly different program but they in general cover the highlights of Nikko very well. I had a look at Get your Guide and also KLOOK, and these are the day tours to Nikko that I would recommend for your Nikko day trip:
Final Thoughts on a day trip to Nikko
There is much more to experience in a trip to Nikko than you can squeeze into a full day trip. If you are in Japan and have a relaxed itinerary, I would really recommend that you spend a night at a lovely Ryokan in one of the Onsen towns of Nikko. However, sadly this isn't always possible.
Even if you do just have one day, you can still see plenty and really enjoy a trip to Nikko. As mentioned above, having a car is the best way to see as much as possible on a day trip to Nikko, so I would certainly recommend investigating this option, alternatively, a tour could be a good choice if you are tight on time and want to see the highlights.
Either way, I'm sure that you will not regret a Nikko day trip, it is a journey to one of Japan's many gems that are waiting to be discovered.
[starbox]