Mount Fuji is the icon of Japan and on many traveler's bucket lists. In case you are planning on mainly staying in Tokyo (for example to explore Tokyo for 5 days) during your trip to Japan, don't fret. Fujisan (富士山), as the mountain is called in Japanese, is only a short distance from Tokyo and planning a day trip to Mount Fuji to discover some of the best places to view Mt Fuji.
In this post, I will firstly focus on the best viewing spots, these are divided between Kawaguchiko and Hakone areas, both of which are an easy day trip destination from Tokyo.
Another option is climbing Mt. Fuji, which is possible in the summer months and an unforgettable experience in itself. You can find more information about this option below.
Coming your way in this post - click to expand ->
Note – Please know, some of the external links on this page are affiliate links, this means that if you purchase after following one, I make a small commission from the sale at no additional cost to yourself.
The best places to see Mount Fuji on a day trip from Tokyo
Kawaguchiko
Lake Kawaguchiko
Chureito Pagoda
Fuji Q Highland Amusement Park
Lake Motosuko
Hakone
Lake Ashinoko
Owakudani
From Tokyo
Tokyo Tower
Skytree Tokyo
Metropolitan Government building
From the shinkansen (bullet train)
Best place to sit
I'll cover all of these options in more depth, including how to get there and other helpful tips later in this post, but first let's have a quick look at the iconic Mt Fuji.
Where is Mount Fuji located?
Mount Fuji (Japan) is a 3776 meters high inactive volcano about 100 kilometers south-west of Tokyo on Japans biggest island, Honshu. It is an UNESCO World Heritage site since 2013 and has always been a popular destination for day trips from Tokyo.
The mountain is between Yamanashi and Shizuoka Prefectures and it is surrounded by multiple cities, Fujinomiya, Fujiyoshida, Gotenba and Fuji. But most notably for tourist are the cities of Hakone and Fujikawaguchiko and their surroundings. Both locations providing stunning views of Mount Fuji.
When is the best time to see Mt Fuji?
Unfortunately, just because you visit one of the viewing spots mentioned in this post doesn't mean you will be able to see Mt. Fuji.
You can only see Fujisan on sunny days when no clouds obstruct the views of the mountain.
The best view of Mt Fuji is possible in the early morning (before 9 a.m.) or the evenings, because at noon clouds often obstruct the view, even on otherwise sunny and beautiful days.
So, for a Tokyo to Mount Fuji day trip I recommend to either get up really early or stay until the evening. Your other option is, of course, to spend the night close to the mountain and head out early to see it.
Below I included a list of accommodations in Kawaguchiko as well as Hakone for that purpose.
Best views of Mt Fuji from Kawaguchiko
Fujigoko (富士五湖) or Fuji Five Lakes is an area about two hours west of Tokyo. The five lakes formed due to the eruption of Mount Fuji and the Fuji Five Lakes area is a favorite weekend or day trip destination from Tokyo.
Not only the abundant nature is beautiful, but there are also famous Onsen and other sights to be seen. While you can enjoy great views of Mount Fuji in many places around the Fujigoko area, some viewing spots are exceptionally lovely.
You can read my full post on what to do in Kawaguchiko for more information about this lovely area.
Fuji Shibazakura Festival
Typically, from April to May each year (from April 13 to May 26, 2019) the Shibazakura Festival is held close to Motosuko Lake (also known as Lake Motosu) in the Fuji Five Lakes area. The festival offers impressive views of vast fields of Shibazakura (pink moss) with Mount Fuji in the background.
Due to the popularity of the festival I highly recommend not to visit during the Golden Week (a one week holiday in Japan at the beginning of May) or on weekends. For the best views and least people, a visit in the early morning will be your best option, even on weekdays.
You can get to the festival location by bus from Shinjuku (reservation in advance is required).
I did a trip to the Shibazakura Festival in May 2018 and you can read about my experience in another blog post called Fuji Shibazakura Festival – Is it really worth it?. If you love flowers, Furano in Hokkaido might also be an interesting destination for you.
Lake Kawaguchiko
Kawaguchiko (河口湖) is the most accessible lake of the Fuji Five Lake area, and from its northern shore, you will have a fantastic view of Mount Fuji especially during cherry blossom season in April and fall season at the first half of November.
Lake Kawaguchiko has much more to offer than just an unforgettable view of Fujisan. There are hot springs and a variety of museums you could visit during your day trip to Mount Fuji from Tokyo.
Chureito Pagoda
The Chureito Pagoda (忠霊塔) is part of the Arakura Fuji Sengen Jinja Shrine (新倉富士浅間神社).
You climb the 400 steps from the bottom where the main shrine is located all the way to the pagoda on the top, then you make your way around the pagoda and get a look at the pagoda in the foreground and Mt. Fuji in the background.
Perched high on a hill and surrounded by cherry blossoms, it is one of the most famous images of Japan. It is especially beautiful in November when the many maple trees turn bright red, or during cherry blossom season when the cherry blossoms around the pagoda are in full bloom.
You can get to the pagoda either by a train going all the way to Shimo-Yoshida Station on the Fujikyu Railway Line (10 minutes, 300 yen from Kawaguchiko) and walking the short 10-minute distance from there, or by Mount Fuji World Heritage Loop bus.
Fuji Q Highland Amusement Park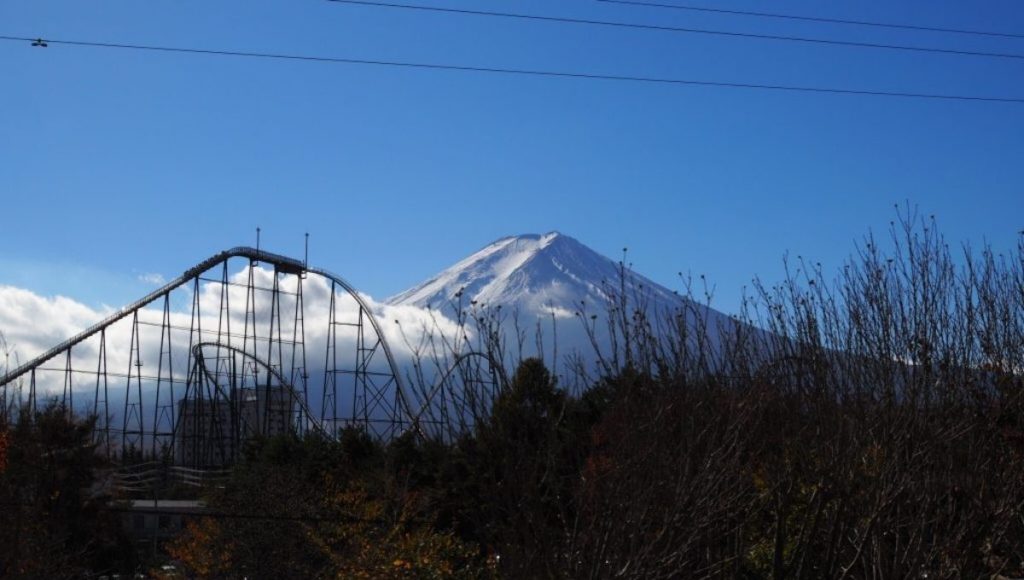 If you want to do something a little bit different on your Tokyo to Mt Fuji day trip, riding a roller coaster while admiring a great view of the mountain might do the trick. At Fuji Q, the famous amusement park in Kawaguchiko you can do just that.
Fuji Q is one of the most popular amusement parks in all of Japan; one reason is the record-breaking Fujiyama roller coaster, which used to be the fastest and highest when it was opened in 1996. Since then the park has been continuously upgraded, and there are always new attractions to compel people to visit.
I am not a lover of roller coasters myself and have never been inside Fuji Q Highland Park, although I have driven by and can tell you it looks fantastic. But I do have some friends who recently visited the Fuji Q Highland park during their trip to Japan.
They told me even though the lines were a little long sometimes, it was a lot of fun to ride the four crazy roller coasters, but they mainly loved the haunted house, which used to be a real hospital.
You can get your ticket for Fuji Q Highland in advance at Get Your Guide.
Most busses bound for Kawaguchiko from Shinjuku make a stop at Fuji Q Highland. This is probably the easiest way to get to the amusement park from Tokyo.
The aforementioned Fujikyu Railway Line between Otsuki and Kawaguchiko also stops at Fujikyu Highland Station.
Lake Motosuko
Motosuko (本栖湖) is the fifths lake of the Fuji Five Lakes and furthest away from Tokyo. The lake with Mount Fuji in the background is the iconic scene of the Japanese 1000 Yen bill. There is a convenient viewing point directly at the street going around the lake.
If you want to get to Lake Motosuko, you can take a bus from Kawaguchiko Station which leaves about once an hour and will take about 30 minutes (1230 Yen).
Day trip to Kawaguchiko from Tokyo
You can see all 5 spots on a Kawaguchiko day trip from Tokyo if you get up early. It is easiest to save time if you go by car, but it is also possible to visit all stops using public transport.
On a recent day trip to Kawaguchiko I followed the following itinerary and had an amazing time.
View Mount Fuji from the shore of Motosuko
Visit the Shibazakura Festival
Climb to Chureito Pagoda
Eat some Hoto
Visit Oshino Hakkai
How to get from Tokyo to Kawaguchiko
You have multiple options to get from Tokyo to Kawaguchiko. By car, bus, or train.
By car
Going by car is the most flexible option and you will probably be able to do more stops if you go by car compared to public transport. You can check the latest prices for a car rental through rentalcars.com.
By bus
Kawaguchiko is easily accessed from Tokyo's Shinjuku Highway Bus Terminal by highway bus (2 hours, 1750 Yen). About two buses leave every hour.
You can also take buses from Tokyo Station or Shibuya.
By train
If you are a Japan Rail Pass holder and are not in too much of a hurry, you might want to take a train from Shinjuku to Otsuki Station which takes 70 minutes and then buy an onward train ride for 1140 Yen to Kawaguchiko, which will take another 55 minutes. You can get your Japan Rail Pass easily from home. Buy it right now!
Other Kawaguchiko tours you may be interested in
If you don't want the hassle of planning your own itinerary or worrying about train and bus connections a tour from Tokyo might be the best option for you. Below you can find a selection of the best tours to Kawaguchiko from Tokyo.
Where to stay in Kawaguchiko
If you are looking for a budget hostel, Kawaguchiko Station Inn (right next to the station) might be exactly the place for you. A bed in the dormitory costs under 30 US dollars and the reviews for this hotel are excellent.
Book your stay at Kawaguchiko Station Inn today via booking.com
Your other alternative is to look for a hotel near Kawaguchiko lake. The hotels there are in general more expensive than Kawaguchiko Station Inn but for just 25 US dollars you could stay at a Japanese capsule hotel called Capsule Inn Fujisan. A night in a capsule hotel is something every traveler to Japan should experience at least once after all.
A list of hotel recommendations in Japan wouldn't be complete without the option to stay in a Japanese style Ryokan. Fujinoya Ryokan is located close to Lake Kawaguchi and offers Japanese style double rooms with a shared Japanese bathroom. Unfortunately, at this particular Ryokan you won't be able to enjoy Onsen, the Japanese style hot spring.
A Day Trip to see Mt Fuji to Hakone from Tokyo
Hakone is another favorite day trip or weekend destination from Tokyo, because of it's incredible views of Mt Fuji. It is also a hot spring destination because of the volcanic activities in the area. There are a lot of activities to enjoy around Hakone, and while a day trip from Tokyo would be enough to see Mount Fuji there is enough to see and do to spend a night here.
Lake Ashinoko
If you want to get a fantastic view of Mount Fuji from Ashinoko (足の湖) I recommend you get on one of the Sightseeing Cruise Boats crossing the lake between Togendai, Hakone Machi, and Moto Hakone. A round trip costs 1840 yen (18 USD). The tori gate of Hakone Jinja Shrine (which I suggest you visit from Moto Hakone Port) in the foreground of the lake and Mount Fuji in the background is an unforgettable sight and can be best enjoyed on your way to Togendai port.
Owakudani
From Togendai you can also take the Hakone Ropeway (1370 yen) to Owakudani (大涌谷) where you can breathe in the (not so pleasant) smell of sulfurous fumes as they come to the surface of this active volcano. You can not only enjoy black eggs that have been cooked in the sulfurous waters but also have an amazing view of Mount Fuji on sunny days.
How to get to Hakone from Tokyo
There are multiple ways to access Hakone from Tokyo by public transport, but none that will let you reach Ashinoko without any transfers.
Therefore it really is easiest to rent a car from Tokyo to get to Hakone.
You can check the latest rental prices on rentalcars.com
By train
If you are a Japan Rail Pass holder, you might want to take the Shinkansen to Odawara Station (30 minutes) and then continue your journey to Ashinoko by bus to Moto Hakone or Hakone-machi. The route from Odawara will cost 1180 yen (11 USD) and take about 50 minutes (The price for the bus is not included in the Rail Pass).
You can buy your Japan Rail Pass comfortably online and have the voucher delivered to you in a couple of days.
By Bus
If you don't have a JR Pass you might want to consider a bus ride from Tokyo to Hakone on the Odakyu Hakone Highway Bus from Shinjuku.
Take a Hakone Tour
Get Your Guide offers different tours to Hakone from Tokyo. The Hakone Fuji Day Tour includes all the activities I mentioned above: The cruise on lake Ashi, the cable car ride up Owakudani as well as the experience on the top. As an added bonus you can shop at one of the biggest Outlets in Japan or enjoy an Onsen with a view. The transport from Tokyo is by air-conditioned bus. Sounds good to me!
Where to stay in Hakone
Hakone is another great spot to enjoy Onsen, the Japanese hot springs and therefore I recommend you try to find a hotel with an Onsen.
I personally have stayed at two different ones, but I have to admit they both weren't cheap. With my parents I stayed at Mount View Hakone which was a highlight of our trip around Japan. The hotel features rooms with a view of Mount Fuji and even from the dining room as well as the Onsen baths we had an unforgettable view. The hotel is really authentic Japanese and the dinner was delicious.
Check availability and prices for Mount View Hakone on booking.com
If you are looking for cheap accommodation in Hakone there are many dormitory options for around 35 US dollars. At Emblem Flow Hakone you can enjoy real Onsen (Japanese hot spring) at the property and sleep in a very comfortable looking 8 bed dormitory.
Where to see Mt Fuji in Tokyo
If you really don't have the time for a Mount Fuji day trip from Tokyo or you were unlucky with the weather during your visit to Hakone or Kawaguchiko, you have a chance to enjoy views of Mount Fuji from Tokyo.
On a cloudless day you have multiple options for views of Mt Fuji in Tokyo. In general your best chance to get a good view of Mount Fuji in Tokyo is from an elevated point, like the Tokyo Tower, the Tokyo Skytree, the Metropolitan Government building or even the ferris wheel at Tokyo Dome City.
In my opinion, the best place to see Mount Fuji is the Tokyo Tower. The views from the Tokyo Tower are especially beautiful when the sun is going down, but beware that that is also the time when it is most crowded. You can buy your ticket to the Tokyo Tower online using Get Your Guide.
The other option I mentioned above is the Tokyo Skytree. I haven't been to the observation deck myself and so I can't make promises for the view, but since it is a bit higher than the Tokyo Tower I would imagine the view is even better. Purchase a skip-the-line ticket for the Tokyo Skytree here!
How to see Mount Fuji from the Shinkansen (Bullet Train)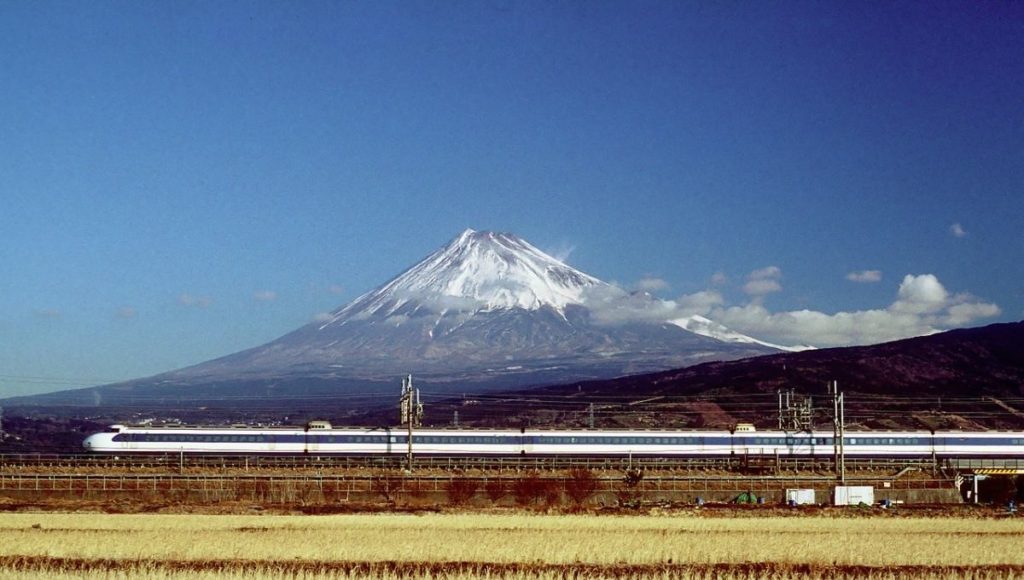 Another great way to get great views of Mt Fuji is from the Shinkansen bullet train, as you can see in the picture above.
If you are heading to for example Nagoya, Kyoto or Hiroshima on the right-hand side of the Tokaido Shinkansen train you will get a spectacular look at Fujisan on sunny days. For your seat reservation make sure you sit by the window on the right side of the train.
You can also see Mt. Fuji if you are heading north in the direction of Nagano from Tokyo. For that direction you need to reserve seats on the left side of the Hokuriku Shinkansen train.
Make sure you buy a Japan Rail Pass if you are planning on taking the Shinkansen more than once during your time in Japan. You can buy it online and have your voucher delivered to you within 24 hours (even if you are already in Japan).
Climbing Mount Fuji
If seeing the famous mountain on a day trip from Tokyo is not enough for you, you can also climb Mount Fuji. Climbing is only possible in the summer months from July to September, the official climbing season. In the other months, Mount Fuji is covered in snow and therefore it is too dangerous to visit Mount Fuji on a climb.
I have never climbed Fujisan before and am not planning to do it soon. But the views from the top, especially the sunrise is supposed to be magical.
If you are looking for more information on how to climb Mount Fuji, I can recommend this post from theplanetD (who feature in my best bloggers round up!) that covers all the relevant information for a trip to Mount Fuji if you want to climb the mountain.
Final thoughts on the best views of Mount Fuji
All of the viewing spots I mentioned are close to Tokyo and easily reached either by public transport or by car. There is really no excuse not to make the trip to either Hakone or Kawaguchiko. By the way, in Kawaguchiko there are more amazing experiences you shouldn't miss. You can read about them in my post "10 Things to do in Kawaguchiko".
If you are going to be in Japan for a little bit longer and you are still looking for the perfect Japan itinerary I also have something for you. An itinerary I have put together including my vast knowledge after traveling all over Japan for years. And of course I also have much more Japan posts which you can find in the Japan Travel blog category. For more amazing experiences all over the world, I recommend you visit my Travel Experiences page.
[starbox]