Having just made my fourth trip to the Fuji Five Lakes area, I like to think I am well placed to help you to decide what to do in Kawaguchiko and share some travel tips. Luckily, that is what I will be sharing with you in this post.
Located in Yamanashi Prefecture, it is a perfect day trip from Tokyo, just 2 hours east of Japan's capital and easily accessible by car, bus, or train, but more on those details later.
If you have more than a few days in your Tokyo itinerary, a day trip out of the city is a really nice inclusion. In my Tokyo post, I have recommended a Kamakura day trip, however, A day trip to Kawaguchiko is also a great option.
Coming your way in this post - click to expand ->
Note – Please know, some of the external links on this page are affiliate links, this means that if you purchase after following one, I make a small commission from the sale at no additional cost to yourself.
Kawaguchiko or the Fuji Five Lakes
OK, so let's just start by clearing up a little confusion a lot of people stumble upon to make it easier to understand.
If you were looking for day trips to view Mount Fuji from Tokyo, you probably stumbled upon the following things: Fujikawaguchiko, Lake Kawaguchi, Fuji Five Lakes, Fujigoko. I am here to tell you they are all the same destination
The official name of the region where Lake Kawaguchi or Kawaguchiko (ko (湖) is Japanese for lake) is located is Fuji Kawaguchiko in Yamanashi Prefecture.
This region around Kawaguchiko is otherwise known as the Fuji Five Lakes area because there are five lakes: Kawaguchiko and four other lakes (Motosuko, Saiko, Yamanakako, Sojiko). The name for Fuji Five Lakes in Japanese is Fujigoko (富士五湖), again with the ko at the end.
I hope this made a lot of things more transparent and your research into this really fascinating region easier and now that we are all on the same page let me introduce to you the top 10 things to do in Kawaguchiko on a Fuji Five Lakes day trip from Tokyo.
10 Things To Do In Kawaguchiko
Chureito Pagoda
Fuji Shibazakura Festival
Lake Kawaguchi
Lake Motosu
Oshino Hakkai
Fujigoko Caves
Eat Hoto Noodles
Fuji Q Highland Amusement Park
Visit an Onsen
Go strawberry picking
The main reason you want to visit Kawaguchiko are probably the breathtaking views of Mt Fuji.
I am going to introduce to you the best place to view Mt Fuji around Kawaguchiko but be warned: If you are unlucky and the weather isn't perfect you might not see the famous mountain at all.
But don't worry, even if the weather doesn't hold its promises there are other things to do in Lake Kawaguchiko besides going to see mt fuji.
1. Chureito Pagoda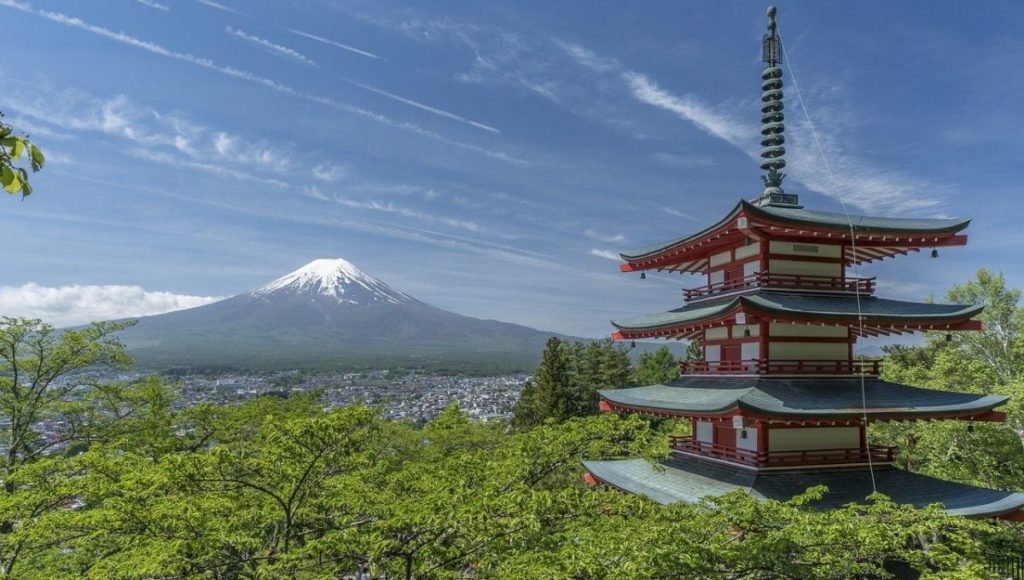 Chureito Pagoda is part of the Arakurayama Sengen Shrine. The shrine is built at the foot of a mountain with roughly 400 steps leading all the way to the top where the pagoda is located.
A path winding around the pagoda leads to the observation deck from where you have a fantastic view of the pagoda in the foreground, the city in the background and looming over it all: Mt Fuji.
On a day when Mount Fuji is not hiding behind clouds, the pagoda is the best place to see Mt Fuji.
Unfortunately, even on days when it is sunny, and the sky is clear and blue, clouds seem to be as attracted to be near Mt Fuji as the many tourists are, making it impossible to see the mountain.
This can be very frustrating, especially when it isn't your first or second trip to the location. But apparently, the fourth time is the charm, and I finally got that fantastic view and even captured it on film (okay digital file) forever.
Chureito Pagoda (Arakurayama Sengen Shrine)
Opening hours: always open
Entrance fee: free
Address: 3353-1 Arakura, Fujiyoshida-shi, Yamanashi-ken 403-0011, Japan
2. Fuji Shibazakura Festival
Next on my list of 10 things to do in Kawaguchiko is the Fuji Shibazakura Festival. This festival is held from April to May each year and is really popular not only with Japanese but also foreign tourists.
The Shibazakura only bloom around April and May and turn the park into a sea of dark pink. And in the background, standing tall and majestic is Mt Fuji.
If you plan a visit in April or May and want to know more about the Fuji Shibazakura Festival follow the link to my post about it and learn about the best time to visit.
3. Lake Kawaguchi
A list of 10 things to do at Lake Kawaguchiko wouldn't be complete without mentioning Kawaguchiko. The biggest of the Fuji Five Lakes and the namesake of the whole area. Lake Kawaguchi is the lake best developed for tourism and the entrance to Fujigoko.
Not only is it a fantastic place to see Mt Fuji from, but also home to the Lake Kawaguchiko ropeway going up Mount Tenjo. Here you will have another unforgettable Mt Fuji and Lake Kawaguchiko view and be able to visit multiple museums such as the Kawaguchiko Museum of Art, Kawaguchiko Music Forest, home to automatic musical instruments and intricate music boxes, or the Kubota Itchiku Museum which features stunning Kimono.
If you are visiting Lake Kawaguchiko during cherry blossom season don't miss these three cherry blossom viewing spots (one on the northern shore, one on the eastern shore and in between at Ubuyagasaki).
If you want to enjoy the Japanese cherry blossoms to the most, consider booking a tour such as this one.
If you are later in the year, there are also some beautiful spots to enjoy the fall colors, like the Momiji Tunnel or Momiji Corridor (both located on the northern shore of Lake Kawaguchiko).
4. Lake Motosu
Motosuko is the westernmost lake of the Fuji 5 Lakes. It isn't really developed but a road leads around the lake, and there is a campsite at the northern side of the pond, as well as a Mt Fuji viewing area.
This viewing area is where you want to go. It is probably the most famous view of Mt Fuji because this is the view depicted on the Japanese 1000 Yen bill. And I can tell you, it is a really magical view.
5. Oshino Hakkai
Another of the Kawaguchiko attractions is Oshino Hakkai. I am sure the name doesn't make any sense to you so just remember that there used to be a sixth lake in the area, which dried up and left behind 8 little ponds that are fed with snowmelt from Mount Fuji. This small area is called Oshino Hakkai.
Oshino Hakkai is so popular because of the clearness of the water in the ponds. You can see not only the plants growing at the bottom but also the beautiful koi fish swimming in the waters.
While Oshino Hakkai is definitely worth a short visit, be aware that it is a place developed for tourism with souvenir shops and restaurants, and if you expect a place of untouched nature you will be disappointed.
6. Fujigoko Caves
Another fascinating place in Fujigoko and a great place to learn a little bit about what life used to be like here a hundred years ago, is a visit to one of three caves called Ice Cave, Wind Cave and Bat Cave (or all of them).
These caves formed by the lava of the eruption of Mount Fuji stay cool throughout the year and used to be used for storage of perishable goods or ice for use throughout the year.
At the entrance to a cave, you get a helmet, to protect your head because the ceiling can be quite low in some places and then you can make your way through the caves.
Some areas are quite slippery so pay attention where you are stepping and going can be slow and difficult, sometimes you even need to use your hands for balance.
Mainly in summer, these short tours through the caves can be a nice place to cool off for a couple of minutes before going on to do the next activity on your list of things to do in Kawaguchiko.
7. Eat Hoto Noodles
Let's talk about local food. In my opinion, you haven't been to Kawaguchiko properly if you haven't had some Hoto Noodles.
Kawaguchiko is famous for this hot pot filled with ultra-thick white noodles (even thicker than Udon) and a variety of vegetables (including pumpkin, mushrooms, cabbage, and leek) and other ingredients like Aburage (fried Tofu).
I always go to the same Hoto restaurant, but there are actually multiple, you can't really miss them. At Hoto Fudo the portion size is so big that I didn't manage to finish the first two times, so for my third and fourth visit, I just ordered one Hoto to share and some Japanese pickles as a side dish.
By the way, the restaurant I go to is designed like an igloo from the outside and very spacious on the inside. They do have English menus with pictures so don't be afraid to visit.
Hoto Fudo (ほうとう不動)
Opening hours: 11 a.m. – 8 p.m.
Address: 401-0301 Yamanashi Prefecture, Minamitsuru District, Fujikawaguchiko, Funatsu, 2458
8. Fuji Q Highland Amusement Park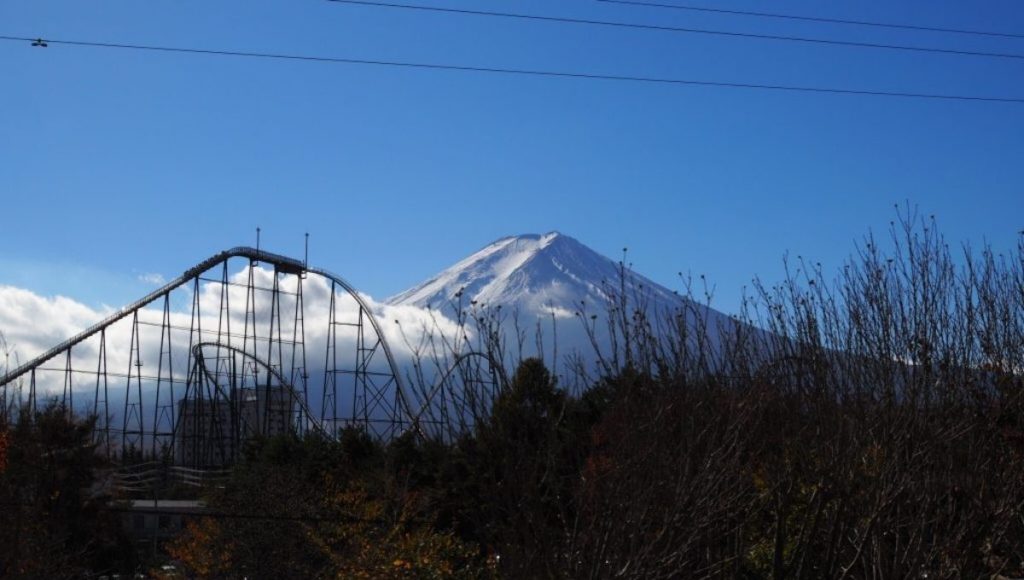 Maybe you shouldn't visit Fuji Q Highland after you have eaten your fill of Hoto because one of the roller-coasters in this amusement park used to have a world record for being the fastest and highest when it was opened in 1996.
There are other amazing attractions like the haunted house which used to be a real hospital (spooky) and of course many more rides.
Your whole experience is made even better because of the fantastic views of Mount Fuji as a backdrop for your crazy roller-coaster rides.
I haven't been to Fuji Q myself, but friends told me that it was an entertaining amusement park and definitely worth a visit, especially because of the haunted house. You can get your tickets to Fuji Q Highland in advance from Get Your Guide.
9. Visit a traditional Japanese Onsen
Don't you think it is also about time to relax after all this activity? Me too! That's why my number 9 of 10 things to do in Kawaguchiko is a visit to an Onsen. We can't talk about places to visit around lake Kawaguchiko and not mention the Japanese style hot springs.
Because of the volcanic activity in the area, there are many natural hot springs and spring water for you to enjoy.
Even for day visitors, it is possible to experience Onsen at one of the following establishments.
10. Go strawberry picking
And last but not least I recommend you go strawberry picking. Strawberries are super popular and delicious in Japan, and from January to May each year, it's strawberry season.
During that time you can pick your own strawberries and eat as much as you can at one of many strawberry farms in the Fuji Kawaguchiko area.
Usually, there is some kind of time limit, so, for example, you pay 2000 yen (about 20 US dollar) and can then pick and eat as many strawberries as you want for 30 minutes. For me, this sounds a lot like heaven, and for my last trip I really wanted to go, but unfortunately everywhere I look it was already booked solid.
Strawberry picking is included in some of the tours to the Fuji Shibazakura Festival (see number 2). Have a lookout for tours like that when you are booking your tour.
By the way, strawberries aren't the only fruits you can pick in Kawaguchiko. There are other fruits, so no matter what season you visit there is a fruit you can pick.
How to get from Tokyo to Kawaguchiko
Getting to and around Fuji Kawaguchiko is super easy. You have so many options, I am sure you will find one that fits exactly your travel style.
Self Drive from Tokyo to Lake Kawaguchiko
I love exploring Japan by car, and Kawaguchiko is easily reached by car from Tokyo. The activities near Lake Kawaguchiko I talk about are most easily explored by car.
You can rent a car in Tokyo even as a foreigner if you have a valid international driver's license. This driver's license cannot be issued in Japan, you will need to get it before you leave your own country.
A day trip to Kawaguchiko by car from Tokyo costs about 16.000 yen (160 USD), this includes the rental, road fees, and gas money. If you are two or more people, this can already be cheaper than other options.
Bus from Tokyo to Kawaguchiko
Many highway buses leave Tokyo heading to Kawaguchiko. The bus from Shinjuku to Kawaguchiko station makes a stop at Fuji Q Highland before arriving at Kawaguchiko bus station.
During the Fuji Shibazakura Festival, there are special buses that go there directly from Shinjuku Terminal.
A ticket to Kawaguchiko costs about 1700 Yen (17 USD) per person one way. And from Kawaguchiko you can take other highway or local buses to reach your destination.
Train from Tokyo to Kawaguchiko
The JR train from Tokyo to Kawaguchiko Train Station leaves from Shinjuku and takes about two hours. From Kawaguchiko Station you can then take other trains to reach or respective destination.
If you are a Japan Rail Pass holder this is the cheapest option to get to Kawaguchiko station. Without a Rail Pass the one-way trip will cost 2500 Yen (25 USD). So, I recommend you get your Japan Railpass before your arrival in Japan. You can book it online and have it delivered to your home.
The easy way: A Lake Kawaguchiko tour
There are many tours leaving from Tokyo to the Fuji Five Lakes area. While this will always be the most expensive option, it does come with many benefits, number one being you can just relax and let someone else take care of the planning. You just turn up where you need to be and enjoy the day.
You'll be sure to see the highlights and have lots of additional information from your guide. Here are a selection available on Get Your Guide.
Where to stay in Kawaguchiko
If you decide you want to stay over night in Kawaguchiko there are different options available to you.
AirBNB
There are some beautiful options on Airbnb if you are looking to spend the night in Kawaguchiko. Have a look here.
If you are willing to share a room you can find dormitory type accommodations for under 30 US dollar a night.
If you are new to Airbnb, sign up using this link and you will get up to 50 US dollar off your first stay.
Hotels
If you are looking for a budget hostel or hotel near Kawaguchiko Station, Kawaguchiko Station Inn might be exactly the place for you. A bed in the dormitory costs under 30 US dollars and the reviews for this hotel are excellent. Book your stay at Kawaguchiko Station Inn today via booking.com
Your other alternative is to look for a hotel near Kawaguchiko Lake. The hotels there are more expensive than Kawaguchiko Station Inn but for just 25 US dollars you could stay at a Japanese capsule hotel called Capsule Inn Fujisan. A night in a capsule hotel is something every traveler to Japan should experience at least once after all.
Book your night at Capsule Inn Fujisan today before all capsules are booked out!
A list of hotel recommendations in Japan wouldn't be complete without the option to stay in a Japanese style Ryokan. Fujinoya Ryokan is located close to Lake Kawaguchi and offers Japanese style double rooms with a shared Japanese bathroom. Unfortunately, at this particular Ryokan you won't be able to enjoy Onsen, the Japanese style hot spring.
Book your Ryokan today on booking.com
Final Thoughts
With so many things to do in Kawaguchiko you can easily spend 2 or 3 days in the Fuji Five Lakes area and not get bored. It is a wonderful place to see Mt Fuji but also offers much more than that with numerous museums and other activities to enjoy.
Have you been to the area? Is there anything that stood out that you would like to recommend? Drop them in the comments and I'll be sure to consider them for the next update of this post.
[starbox]