As Colombia continues it's travel renaissance, Cartagena de Indias is quickly emerging as one of the worlds hot destinations. This guide to the city has been written by Sasha who, with his wife Rachel, runs the travel blog Grateful Gypsies.
Starting off with a little bit of history, the post continues with the best places to visit in Cartagena as well as advice about where to stay, what to eat, nightlife and so much more. Enjoy!
A city of contrasts
Cartagena de Indias is a city of contrasts. On one side of the city you've got the Old Town, a UNESCO World Heritage Site full of cobblestone streets with stunning colonial architecture on every corner. On the other, high-rise condos towering above the beach with shopping malls and chain restaurants galore. In the intense mid-day heat, the city is quite tranquil. Once the sun goes down, however, raucous party buses and bumping salsa bars take over. With a fascinating history, beautiful surroundings, and vibrant nightlife, this city on the Caribbean coast is a great place to start when backpacking Colombia.
A Bit of History
Founded back in 1533 by Pedro de Heredia, this city was named after Cartagena, Spain, which was also named after another city – Carthage, Tunisia. Thanks to its strategic location, Cartagena became a major trading port that helped to expand the Spanish empire. Silver from Peru was exported, while African slaves were imported. This made it an easy target for pirates, which led to the building of a defensive wall and several fortifications along the coast. For further protection, the Castillo de San Felipe was built in 1657. You won't find pirates in Cartagena these days, but you can still walk on the old city walls and visit the fortress.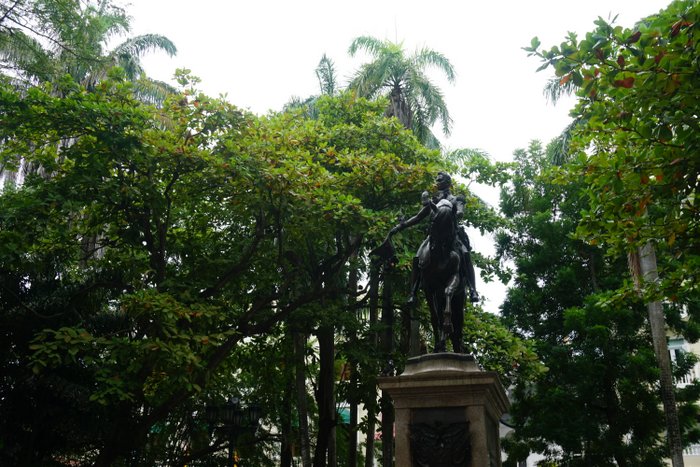 Fast forward to November 11, 1811, and Cartagena became only the second city in South America to claim its independence from Spain. It took a few more years, but independence became official with the help of "The Liberator" Simon Bolivar when he incorporated Colombia into the confederation of Gran Colombia. In Bolivar Park, you'll find a statue of him on horseback with one of his famous quotes – "Cartagenians: If Caracas gave me life, Cartagena gave me glory."
Free Walking Tours
The best way to learn about the city's history is by joining one of the daily free walking tours. They're led by friendly, knowledgable local guides every day of the week at 10 AM and again at 4 PM. Even though the tours are free, it's advised to reserve a spot ahead of time as they cap the group size. Tours last a few hours and provide a fantastic introduction to the city. If you enjoy the tour, be sure to leave a decent tip for your hardworking guide.
Exploring the Old Town
Once you've learned all about Cartagena on the tour, exploring the Old Town on your own will be even more rewarding. For example, you'll know what the several different designs on the door knockers mean. These beautiful door knockers (known as aldabas) signify what the family living there was known for. A mermaid or seahorse signifies a merchant, a lion is for military members, and a lizard is a sign of royalty.
There's plenty more to see and do in the Old Town, including several museums, churches, and art galleries. In between, you can just walk around and admire the beautiful homes covered in bougainvillaea – a tropical, shrub-like vine covered in colorful flowers. Make sure you have your batteries charged up, because these make for some great photos.
The Old Town is very much the center of tourism in Cartagena, and this is where you'll find the bulk of accommodation, shopping, dining, and nightlife. Places here tend to be a bit on the pricier side, though. Backpackers may want to consider basing themselves in another funky neighborhood not far outside the city walls.
Getsemani
This traditional Colombian 'hood is quickly emerging as a backpacker hotspot in Cartagena. Full of hostels, street art, and super friendly locals, it's a very welcoming place to call home for your visit. The main square here is buzzing at night with locals and tourists alike. Here you can grab some cheap street food and hit a Happy Hour while you watch break dancers bust a move. If you're looking to class it up a bit, there are several great restaurants to choose from here as well.
Bocagrande
Those looking for more sun and sand on their Cartagena trip may want to consider staying in the Bocagrande area. You don't have to stay in one of the fancy hotels to base yourself near the beach, as you can find furnished apartments on Airbnb for a fraction of the price. The beaches here aren't the best, but it's hard to beat sipping on cold beers, munching on seafood, and listening to the sounds of the ocean and wandering musicians.
Out of Town
If you're looking for those white sand beaches with crystal clear water, you'll have to head out of town a bit. Every travel agent in the city has day trips to Playa Blanca, or you can just catch a boat from the port in the morning. Another popular option for a day tour is the Volcan del Totumo, where you can jump in the mud bath that's said to rejuvenate your skin.
Those with a few days to spare may want to consider booking a stay at the Casa en el Agua. This eco-hostel out in the middle of the ocean is the perfect place to chill out after a busy couple of days exploring the city. Spend your days sunbathing, snorkeling, and visiting nearby beaches, and then enjoy dinner and drinks with the other lucky travelers who managed to snag a coveted spot at this little slice of paradise.
Food and Drink in Cartagena
As it's on the coast, it should come as no surprise that seafood is big in Cartagena. Those on a budget will want to stick to local joints called corrientes, which feature set menus that typically run about $3-4 and include fish, coconut rice, fried plantains, and salad.
With so many good restaurants here, you've got to splurge on at least one meal. Fans of American chef and TV star Anthony Bourdain may want to check out La Cevecheria, where the host dined on an episode of his former show "No Reservations." It ain't cheap, but it's well worth it.
Down in Bocagrande, there's a fantastic local joint called Guatila. It's very unassuming and easy to miss from the outside, but don't let the simple appearance fool you. This is real deal Colombian home cooking. Sit down to a perfect plate of seafood coconut rice or a bowl of the mouth-watering mote de queso – a rich cheese soup typical on the coast.
Nightlife
If you're looking to let loose at night, it is a damn good place to be. Once the Cartagena sun goes down, you'll start to hear the roar of the Chiva buses. These colorful open-air buses whisk tourists around town with music blasting and cocktails flowing. They're a great way to meet people and get a little tour of the city at night while you get your buzz on.
Cartagena is all about the salsa, and there's no shortage of places to go tear up the dance floor. One of the most popular spots to dance the night away is Cafe Havana, which is packed to the brim on weekends. If you've got two left feet, never fear – there are plenty of places where you can take lessons before trying out your moves in public.
The city is also home to a wide variety of bars and clubs. One of the most interesting places to grab a drink has to be the KGB Bar. Located opposite one of the city's many churches, this theme bar is full of Soviet Union-era decorations and propaganda. The back room even looks like you're in a submarine! It's a great spot to have a few drinks and snap some cool photos before heading out to dance.
Practicalities
While a trip to South America can seem like such a difficult task to pull off, visiting Cartagena is actually quite easy. There are direct flights here from Fort Lauderdale, Miami, Atlanta, and New York in the US, as well as some seasonal flights from a few Canadian cities.
For continuing your South America journey, there are super cheap flights from here to other cities in Colombia such as Bogota and Medellin. As far as visas go, citizens from 95 different countries are allowed 90 days visa-free in Colombia on arrival.
With its historical walled city, beautiful beaches, delicious cuisine, and legendary nightlife, Cartagena makes an excellent choice for a vacation. It's also a great way to get your feet wet when traveling in South America, as it's got a very developed tourism industry and is quite safe. A few days of exploring the Old Town, lounging on the beach, and wining, dining, and dancing the night away here is the perfect warm-up for all the epic adventures this continent has to offer.
About the author
Bio: Sasha is an English teacher, videographer, and blogger from the suburbs of Detroit. He has taught English in China and studied Indonesian in Bali and is currently doing the digital nomad thing as he travels around South America. He and his wife Rachel run Grateful Gypsies, where they write about living abroad, teaching ESL, live music and more.
Are you a Travel Blogger?
If you want your blog to be added to our map be sure to check out our submit your blog page here: https://www.thetravelblogs.com/submit-your-blog