Spain is home to many of Europe's most beautiful national parks. They provide nature lovers with everything from scenic landscapes to whole ecosystems of flora and fauna. Get out of the city and go into the great outdoors where you can go hiking, take a guided tour on a bus or boat, and discover nature in its many forms.
This comprehensive list of 15 of Spain's National Parks will take you on a journey through the high mountains of Picos de Europa, the heavenly blue waters of Galicia's Atlantic Islands, the lush forests and streams of Sierra de Guadarrama, the surreal volcanic landscapes of Teide, the pristine wetlands of Doñana, and more.
Table of Contents
Aigüestortes i Estany de Sant Maurici National Park
Barcelona is an amazing city, but if you are looking to engage in nature, look to the far northwest of Catalonia and find yourself in the heart of the Pyrenees. This vast 141 km² (87.6 miles²) landscape of fertile valleys, jagged mountains, and two hundred crystal clear lakes is home to golden eagles, bearded vultures, chamois, and fallow deer. The park takes its name from its largest lake, Sant Maurici, which sits at the foot of the Encantants, and Aigüestortes, which means "winding waters," to perfectly describe its two stunning river valleys – Escrita and San Nicolás. Los Encantados, the twin peaks, offers the most breathtaking view of the Pyrenees.
Atlantic Islands of Galicia National Park
The archipelagos of Cíes, Ons, Sálvora, and Cortegada form this rich combination of land and sea at the edge of Pontevedra, Galicia. It features the Rodas beach, which paints an almost artistic scenery of fine white sand and clear turquoise waters. On the lighthouse of Monte Faro, one can see the breathtaking view of the Vigo estuary as it clashes with the sea. The Cortegada island, separated about 656 feet (200 meters) from the village of O Carril in Vilagarcía de Arousa, is home to the largest laurel forest in Spain and the remnants of an old civilization, adding to the magic and mystery of the island that often finds itself submerged in water.
Cabañeros National Park
In the grasslands of Montes de Toledo, the Cabañeros National Park is a unique 98,842 acres (40,000-hectare) protected ecosystem of over 1,000 plant species, wildlife, and perhaps most notable, endangered animals like the Imperial eagle and Iberian lynx. The park has two terrains – the lower grasslands, known as rañas, containing materials from 3 billion years ago, and mountains ranging between 2,132 – 4,750 feet (650 to 1,448 meters). Fossils that are 400 million years old have also been found in the quartzite and slate that make up the park's geological materials.
Cabrera Archipelago Maritime-Terrestrial National Park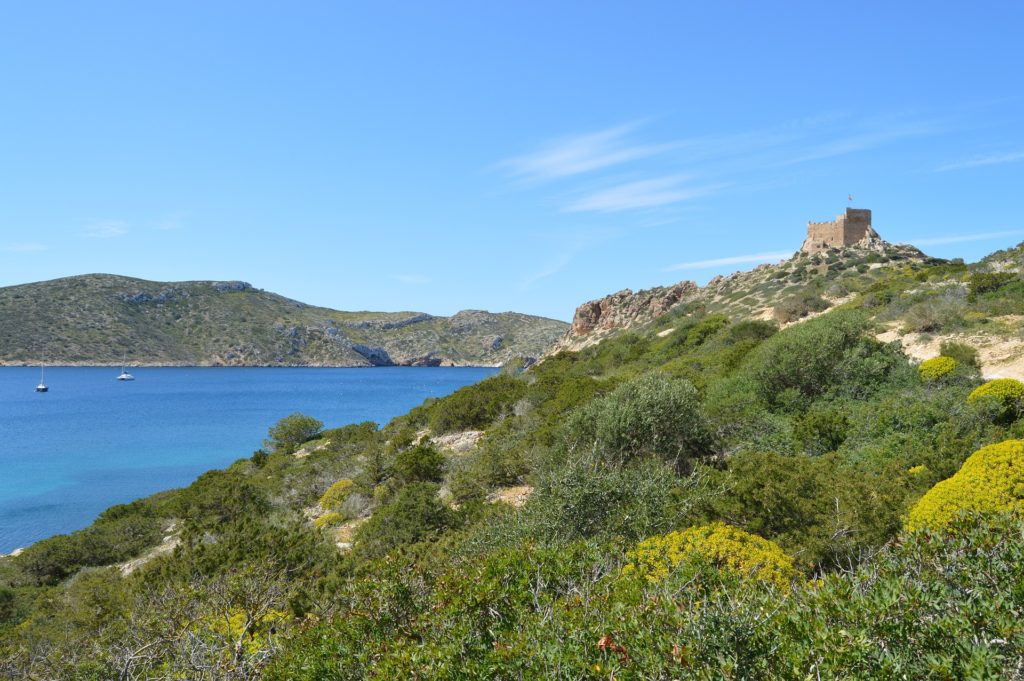 Situated just ten kilometers south of Cape Salinas in Mallorca, the Cabrera archipelago features the bluest oasis in the Mediterranean, perfect for snorkeling and diving. Due to its remoteness, the biggest park in Spain remained primarily unchanged throughout the years, preserving its beauty and abundant marine and terrestrial life. The park's surface is 85% water and is home to 160 species of marine plants, 500 species of marine fauna, and important colonies of seabirds such as the yellow-legged gull.
Caldera de Taburiente National Park
On the island of La Palma, the Caldera de Taburiente sits on the crater of the Caldera, spanning eight km in diameter. Its walls tower some 6,561 feet (2,000 meters) over the caldera floor and open to the sea in the southwest, giving the park its daunting views of jagged cliffs and deep ravines. Dense with Canarian pine woods and laurel forests, this park offers a landscape full of lush vegetation.
Hikers take in the views of La Cumbrecita and Los Andenes as they make their way up to the peak of Roque de Los Muchachos, then sit down and look at the beautiful stars lighting up the night sky.
Doñana National Park
This UNESCO World Heritage site in Andalusia is home to Europe's most beautiful and important wetland. The park offers various ecosystems from clay-lined marshlands, lagoons, mobile dunes to pine forests and shrub woodlands. It shelters some 300 species of birds and mammals and serves as the last refuge for many endangered species. Its location also serves as a breeding ground and a transitory route for thousands of European and African birds. In the winter, 500,000 waterfowls can be spotted in the area.
Garajonay National Park
Another UNESCO World Heritage site, this time located in La Gomera, the Canary Islands, the Garajonay National Park is 9,884 acres (4,000-hectare) landscape of lush laurel forests of a type now rare in southern Europe known as laurisilva. These forests are living remnants of old rainforests that once covered much of Europe and North Africa during the Tertiary period. The park is shrouded in clouds and mist at 75-90% humidity and is home to endemic plant and animal species like the Laurel pigeon and the Gomeran lizard.
Monfragüe National Park
The Monfragüe National Park got its name from the Romans, who called it Mons Fragorum, or the fragmented mountain, for its unique mountain landscape. Located in the middle of the imaginary triangle formed by Plasencia, Trujillo, and Navalmoral de la Mata with the Tagus river running through it, this park was declared Biosphere Reserve by UNESCO in 2003 for its unspoiled ecosystems. Here you can find majestic birds of prey like the black vulture, a variety of mammals from stags to otters, and oak forests. Climb up to the Salto del Gitano and get the best view of the Monfrague.
Ordesa y Monte Perdido National Park Spain
The four valleys of Añisclo, Escueta, Ordesa, and Picuaín and the peak of Monte Perdido, the third-highest in the Pyrenees, make up this Pyrenean wonder where one can hike up a few kilometers and experience an entirely different ecosystem. Indeed, one of the best national parks in Spain, it features glacial lakes, perpetual snow, beautiful gorges, and cascading waterfalls that bring life to its inhabitants. This park is among the oldest on this list, having been declared in 1918 and subsequently enlarged in 1982. It covers 156 km² (96 miles²) of paradise with altitudes ranging between 3,000 ft (700 m) to more than 9,840 feet (3,000 meters). The park is also home to the highest calcareous massif in Europe.
Picos de Europa National Park
Picos de Europa is one of the best national parks for hiking. Located in the mountain range of the same name, it features the impressive geological effects of glacial erosion on the limestone massifs forming the Cantabrian Mountains, which shaped its magnificent karst mountain system. The oak and beech groves and meadows house two of Spain's most emblematic animals – the brown bear and the Iberian wolf – among other wildlife. Its highest point is in Torre de Cerredo peak, and while hiking, one can enjoy the company of locals in the villages that line this nature reserve.
Sierra de Guadarrama National Park
This 84,000 acre (34,000-hectare) land of vast pine forests, high mountain scrublands, snow-covered landscapes, massive rock fields, streams, and waterfalls are less than one hour away if you take it by car from the city of Madrid. At 7,986 feet (2,428 meters), the park features the highest peak in the Madrid region, the Peñalara. This area has eleven different ecosystems with more than 1,280 species of flora and fauna.
Sierra Nevada National Park Spain
With dramatic mountain ranges that stretch for miles and some of the highest peaks in Europe, the Sierra Nevada National Park in Spain proves to be one of the best places to hike. In winter especially, the park offers excellent skiing spots and spectacular views of the snow-capped mountains. Stretching from the Alpujarra to El Marquesado and the Lecrin Valley, this area features more than fifteen mountains with an altitude of about 10,000 feet (over 3,000 meters), including Mount Mulhacén. You definitely want to visit Sierra Nevada National Park, Spain.
Tablas de Daimiel National Park
As a Special Protection Area for birds, this oasis in the semi-arid area of La Mancha is home to over 200 species of resident and migratory birds. Specifically, it is a floodplain wetland created where the Cigüela river joins the Guadiana river. Using established wooden walkways, visitors can birdwatch and explore the area.
Teide National Park
Located at Tenerife, the Canary Islands, this UNESCO World Heritage site is perhaps the most visited national park in Europe, with over three million visitors per year.
Teide National Park is valued for its great geological history and volcanic landscape, including several volcanoes, vents, lava flows, and rare, endemic flora and fauna. The most notable feature is the Tiede volcano, a 12,200 feet (3,718-meter) high stratovolcano and the highest in Spain, with surrounding cloud formations that only make it more visually appealing.
Timanfaya National Park
After continuous volcanic eruptions that lasted between 1730 and 1736, a big part of once fertile land in the island of Lanzarote turned into an otherworldly barren landscape of basalt. The dark volcanic terrain that stretches 50 km (31 miles) and hot surface temperature make visitors feel like they have arrived in another world. After passing by the El Diablo sculpture by Spanish artist César Manrique and reaching the Islote de Hilario, visitors take a guided tour of the fire mountains and eat food prepared using heat from the volcanoes.
Frequently Asked Questions
Are dogs allowed in national parks, and what are the best national parks for dogs?
Dogs are generally permitted in the National Parks, but people are not encouraged to bring them. Also, they must be kept on a lead. It is best to check the specific rules with each park as they might vary. Therefore, there is not a best National Park for you to bring your dog.
Will I see wild animals in national parks?
You have an excellent chance of seeing wild animals. What you may see depends on the park you are in and the time of the year. With around 100 species of birds, including the Spanish Imperial Eagle, Golden Eagle, Black Stork, the Griffon, and the Black (or Cinereous) Vulture, you could see a lot. Mammals include Spanish Ibex, Common Genet, mongooses, wild boar, badgers, wolves, brown bears, etc.
Is there an app for national parks in Spain?
There are a few apps for the National Parks in Spain. I can't say which is the best national parks app. I think it becomes a personal preference. Read more about some hiking apps for Catalonia, Spain.
Are guns allowed in national parks in Spain?
The quick and easy answer is NO! Guns are highly restrictive throughout all of Spain. Particular requirements must be met for a person the have a gun. For information about gun law in Spain, go to The Library of Congress Law.
What are the admission fees to national parks in Spain?
You can enter all of Spain's National Parks free of charge. Be aware that some parks limit the number f visitors. You should check with the specific park you are visiting before going.
Are there bus tours to national parks in Spain?
There are several tour companies in the cities and larger towns throughout Spain. They will have bus tours to the National Parks and some throughout the parks.
Am I allowed to have alcohol in national parks in Spain?
The laws about consuming alcohol in public places, including the National Parks, vary from region to region. Generally, drinking in public is not allowed, but it is not strictly enforced. If you are going to relax with a couple of beers or have some wine with a picnic in the parks, you should be fine. Getting drunk and causing problems is another story.
Will I see bears in national parks in Spain?
You are more likely to see a brown bear in the south of Spain in the Sierra del Caurel Mountains. However, last year a brown bear has been spotted in northwest Spain for the first time in 150 years.
Is there a Grand Canyon in Spain?
The Ordesa Valley located in the Ordesa y Monte Perdido National Park can be found in the Spanish Pyrenees. It is also called the Grand Canyon of Europe.
Are there accessible national parks in Spain?
Spain is working on having all their National Parks with full accessibility for disabled people. Some of the best so far are:
Timanfaya National Park in Lanzarote;
Teide National Park in Tenerife;
Tablas de Daimiel park in Castile–La Mancha;
Picos de Europa National Park in Asturias;
Sierra Nevada National Park in Granada, Andalusia;
Doñana in Andalusia;
Aiguestortes i Estany de Sant Maurici Park, in Catalonia.
Which are the Canary Islands National Parks?
The following four National Parks are located in the Canary Islands:
Caldera de Taburiente in Santa Cruz de Tenerife (La Palma island).
Garajonay – Santa Cruz de Tenerife (La Gomera island)
Teide – Santa Cruz de Tenerife (Tenerife island)
Timanfaya – Las Palmas (Lanzarote island)
What time are National Parks open?
National Parks don't have hours of operation. You can go hiking and camping (where permitted) anytime. If you require information from the park's visitor centers, they are generally open 10 am-2 pm and 4 pm-6 pm in October-April and 6 pm-8 pm in May-September. Most of them are open on public holidays.
Are the national parks closed because of Covid-19?
Keeping track of what is open and closed regarding Covid-19 restrictions is impossible. You will need to check with the local Visitor Center and municipality for information about movement and restrictions.
Are drones allowed in national parks in Spain?
There are many rules and laws regarding drones in Spain and throughout Europe. For more information on them, check out Drone Traveller or Grupooneair.
Are there books on national parks? If so, what is the best national parks book?
There are numerous books about the National Parks in Spain. Which one is the best is a matter of personal opinion. A popular one is called Parques Nacionales de España [National Parks of Spain]. Its 255 pages cover all 15 National Parks. You can get it on the NHBS website.
Where can I get brochures of national parks?
You can get them at almost any tourist information center, from some tour companies (they will offer tours and transportation) and the visitor centers in the park areas.
What activities in national parks are popular?
There are several activities you can do. Most people go hiking, bird watching, and some offer skiing and snow sports in the winter, to name a few.
Is there an annual national parks pass, or are all national parks free?
Generally, the parks are free to enter.