Nestled in the Yucatan Peninsula, Merida in Mexico attracts visitors here to explore the stunning works of nature and historic sites. there is so much to do here, from brightly the colored ancient architectural designs, stately museums, visits to the infamous Mayan ruins, enjoying Yucatan cuisines, swimming in the cenotes, Merida market tours to thriving Mayan culture, Merida is richly blessed in attractions.
Whether you are an adventurous soul, foodie traveler, nature lover or a history buff Merida Mexico travel never disappoints.
Dubbed the white city Merida, is one of the safest destinations in Mexico, welcoming to visitors with endless opportunity to explore.
If you are wondering what to do in Merida here are 11 of the best things to do when visiting this Mexican gem.
1. Marvel at the Incredible Views of Mayan Ruins
Enlisted as one of the new Seven Wonders of the World, the Mayan ruins are a must-visit destination when touring Merida, Mexico.
There are chains of Mayan ruins adorning the city of Merida, the
largest and the most visited of them is the Chichen Itza, it is also a designated a UNESCO World Heritage Site.
This awe-inspiring monument houses Temple of Kukulkan, Temple of Jaguars, and a sacred cenote with flamingoes dotting the area.
Another option is the Uxmal Mayan ruins, they might not be big or popular as Chichen Itza but offer a unique opportunity to see the temple of magician and enjoy a less crowded destination.
For more off the beaten Mayan ruins tour, Dzibilchaltun and Mayapan ruins should be in your Merida itinerary

2. Take a Stroll Down Paseo de Montejo
The Paseo de Montej, in downtown Merida, is a lovely avenue with wide sidewalks lined with trees and old colorful colonial buildings.
Built in the 19th century most of the buildings have been restored and converted to banks and offices. Dotting this colonial street is the Museum of Anthropology and History located in Palacio Canton, restaurants, cafes, boutiques and ice cream shops.
On Sunday mornings the street is closed to vehicles allowing visitors to have fun walking, skating and cycling is safety while absorbing the amazing surroundings of Paseo de Montejo.
It's also worth knowing that on Saturday night's, Paseo de Montejo hosts Noche Mexican; a unique event marked with dances and musical performances that draw diverse Mexican traditions.
3. Wander Plaza Grande
Fondly referred as the historic center of Merida, Plaza Grande is an amazing park that offers an authentic Merida experience. From cultural performances, music, free Merida walking tours, and even free Wi-Fi, Plaza Grande is always beaming with life.
Plaza Grande is a perfect place to pick up some souvenirs with vendors selling Mayan paintings; local artisans wares and clothes. For foodies, there are plenty of good priced traditional Merida dishes.
Merida downtown really comes alive at the weekends. On Saturday nights you can enjoy pok- ta-t ok; a traditional Mayan ball game, and on Sundays when lots of cultural performances by locals wearing traditional costumes are taking place
In addition, the square is surrounded by some of best of Merida attractions such as the historic cathedral, museums, and Governors Palace. Once inside the cathedral, you can feed your eyes on the colorful carvings, paintings, and relics.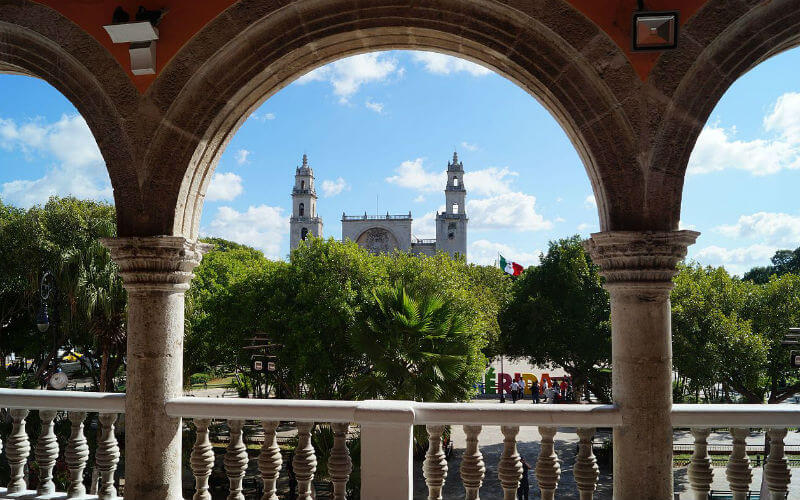 4. Experience the Historic Haciendas of Yucatan
Some of Merida's iconic attractions are the traditional haciendas that were originally used as palaces and residential estates by colonial masters to reflect their lavish lifestyle during the henequen production boom.
Henequen, a type of agave, saw business in Merida flourish with the production of ropes and textiles throughout the 17th and 18th centuries.
One of the finest examples is Hacienda Sotuta De Peon where there is functional henequen machinery and visitors can learn about the traditional process of making ropes. There is also a restaurant great restaurant and they organise tours to traditional Mayan houses and agave plantations as well as a local cenote. More on cenotes later.

Other interesting Hacienda to visit near Merida includes Hacienda Temozon, Hacienda Yaxcopoil, and hacienda Xcanatum. Though they have different ancient Mayan archeological designs and hosts different activities you will note that they all boast of tranquility.
5. Visit the Colorful Merida Markets
One of the best things to do in Merida is visiting the lively markets throughout the city. From electronics, hardware, shoes, spices, herbs, jewelry, religious items, handmade crafts to fresh vegetables you will find tons of vendors selling their goods and wares.
If you don't speak any Spanish, It is possible to hire an English speaking guide to take you to the most popular Merida markets such as Lucas Galvez market or San Benito. This can be a great way to have some fun and interact with the vendors for a "close to authentic" experience.
6. Sample the Yucatecan Cuisine and Street Food
If you are visiting the markets, you have to taste the Mayan cuisine and street food. Yucatan cuisine is a fusion of traditional Mayan food with influences from Mexico, Spanish and Lebanese cuisines prepared from locally sauced products, herbs and spices.
Merida boasts of the yummiest Yucatan dishes. The flavor of Merida dishes is characterized by onions, pork, turkey, citrus juice and coconut with fried tortilla accompanying almost all meals.
Cochinita pibil, slow roasted pork marinated with citrus or orange juice then seasoned with local spices serves as Merida's national dish. Other signature Yucatan cuisines to sample in Merida restaurants include Relleno Negro slow; cooked turkey, and frijol con Puerco; a combination of pork and beans.
If you are visiting Merida then sampling Yucatecan street food is a must do. Best street food in Merida includes salbutes, papadzules, and panuchos. For breakfast you can enjoy huevos motulenos; fried eggs and tortilla served with black beans.

7. Relax at Merida Mexico Beaches
Merida does not lag behind when it comes to beach life, marine life, seafood, boat and fishing tours. Progresso Beach located just few minutes drive from Merida downtown not only serves as a recreational facility but also a habitat for thousands of migratory flamingoes.
Progresso beach is adorned with beautiful beachfront restaurants. When visiting Merida travelers can also stroll or swim in other amazing beaches near Merida including Celestum and Chelem beaches.

8. Explore Merida Caves
For the adventurous souls, one of the top things to do in Merida is to discover the stunning caves. From the gigantic Grutas De Calcehtok to the conveniently and easily accessible Grutas De Loltum which offers great caving experience as part of Merida guided day trips.
Loltun caves have numerous artifacts dating back to 7000 years. Being the largest of Yucatec caves, this gem is unmissable during Merida Mexico travel.
The Calcechtok caves boast of ancient tools such as arrows, knives, hammers and stone carvings. For more cavern expeditions in Merida, you can visit Balankache caves and Tzabnah caves.
9. Cool off at Merida's Cenotes
No visit to Merida is complete without refreshing and diving in the crystal clear waters of natural underground swimming holes.
Merida is endowed with hundreds of sinkholes varying in sizes and depths known as cenotes.
Cenotes near Merida were regarded as sacred and many served as key sacrificial sites during Mayan rituals. Some of the best cenotes to explore in Merida town and its outskirts include cenote Xlacah in Dzibilchaltun ruins, Cenote San Ignacio, Honum cenotes and Cuzama cenotes. Interestingly there are cart driven wagons that carry visitors to some cenotes.
10. Check Out Merida Museums
If you are interested in discovering authentic Mayan history, culture and Yucatan contemporary arts then a tour to the Merida museums should be in your bucket list.
For those geared towards arts, Contemporary Art Museum [MACAY] has great exhibits from local artists and ancient sculptures together with Popular Art Museum and Folk Art Museum of Yucatan which displays artifacts and local crafts, clothing and ceramic wares.
Additionally, Gran Museo de Mundo Maya- the largest of Merida's museums, Anthropology and History Museum in Paseo de Montejo buildings and Mayan world museum of Merida are rich in Mayan culture and history.
11. Enjoy Merida Nightlife and Cultural Festivals
Despite being one of the little known Mexican cities, Merida has some of the most epic nightlife in the region.
From concerts to live musical performances, great cocktails and drinks Merida has many clubs, rooftop bars, and pubs for maximum entertainment.
Some of the best Merida nightlife spots include La Negrita Cantina, Mambo Café, La hora loca, and EL Cardenal Cantina. Cultural events are the backbone of Merida attractions and part of daily life. For a real taste of Yucatan culture, Parque de Santa Lucia hosts colorful cultural -oriented entertainment with local artists wearing traditional costumes.
Other cultural highlights to indulge in Merida include Zocalo weekend market and cultural events; held on weekends this is a series of cultural dances and singing that takes place in Main Square Street, Vaqueria and Noche Mexicana.

The Wrap
There are endless reasons why Merida should be your next holiday destination. At every corner of Merida city, visitors are treated with free traditional music, cultural events, and performances. This means you are bound to fall in love with Merida no matter your length of stay here. A visit to Merida is simply magical, full of thrilling adventures and packed with priceless history and rich in cultural heritage.
Find accommodation deals in Merida
If you book accommodation after following a link in this map, I'll make a small commission at no cost to yourself, so thanks 🙂
Are you a Travel Blogger?
If you want your blog to be added to our map be sure to check out our submit your blog page here: https://www.thetravelblogs.com/submit-your-blog