So you're in Spain, and you have heard about this incredible city called Seville, where the sun is always shining, the locals are friendly, and they filmed Game of Thrones. However . . . You don't have much time. You may well be questioning, if there are so many things to do in Seville, is 1 day in Seville enough and is a day trip to Seville from Madrid possible? If so, what can I expect to see while I'm there? Well, excellent news.
With the Madrid to Seville AVE train, it is entirely possible to visit Seville in one day, with plenty of time to see the highlights, enjoy the culture and even enjoy a healthy dose of Andalusian tapas.
In this travel guide, I'll take a look at how you can get there on the Madrid Seville train, where you can book your tickets, suggest two options for a Seville one day itinerary and also suggest how much you can expect it to cost.
So let's get you Madrid to Seville day trip planning underway!
Coming your way in this post - click to expand ->
Note – Please know, some of the external links on this page are affiliate links, this means that if you purchase after following one, I make a small commission from the sale at no additional cost to yourself.
How to get the train to Seville from Madrid
If you are undertaking a day trip to Seville from Madrid, there are only two options. Flying or the high-speed train. As flying involves getting to and from airports, arriving way too early and awful security queues, I would not hesitate to recommend the train as the best option for 1 day in Seville.
If you have a bit more time, you can opt for an organised tour like this 2 day option. I did try to find some day tours from Madrid to Seville to recommend, but it looks like there are not any. It's understandable as it is quite a long distance to cover, but totally doable if you are up for organising yourself. But relax, it's really not that hard.
The Madrid to Seville train is a high-speed rail journey takes, on average, two and a half hours, with the first train departing from Madrid's Atocha Station at 6:20am during the week and 7 am on the weekends.
It's hard to recommend a specific train or time to you as each day is slightly different, and the price, as with flying, will change depending on availability. So if you are flexible about when you can visit, it's worth comparing the cost across a few days to find the best value. More information on where to find times and prices in a moment.
I would suggest aiming to arrive in Seville no later than 11am. With the last train back usually between 8/9pm, this will give you a nice amount of time to discover this charming city.
I have seen that generally, the first train departure of the day tends to be a little cheaper. You'll also be pleased to know that the seats are comfortable and there is a buffet car on the train, so you can have a little nap on the way or enjoy breakfast while hurtling through the Spanish countryside at over 250 kph.
Booking your train ticket to Seville
Although RENFE is the company that runs the trains and the booking, their website is actually a bit crappy and not friendly to use at all. It involves lots of clicking to find prices and gets quite frustrating.
I would highly advise using Trainline.eu as an alternative. The website interface is much cleaner. Their description of the different fares and types of tickets makes much more sense, and their payment processing is much simpler.
Madrid to Seville train cost
You can expect to pay anywhere from €49 to €120 each way depending on the level of ticket and availability. If you can be a little flexible and book in advance, I would expect you should be able to buy a return ticket for around €100 – €120. Tickets are released for sale 60 days before departure.
While it may seem quite a chunk of cash to make the trip, if this is the only chance you're going to visit Seville, I'd say it is worth taking the opportunity. You can also read about my day trip to Toledo from Madrid.
How to get to Atocha Station in Madrid
Atocha station is relatively easy to get to as it is in the main tourist area of Madrid. If your hotel is a little outside of comfortable walking distance, you can get a taxi or Uber in Madrid for a pretty reasonable price. If there are a few of you, this may even be the cheapest way if you split the fare.
Do not be late! In contrast the Spanish stereotype, their trains leave on the dot, and the doors officially close 2 minutes before departure, so if you are late, you will miss the train.
Other options include the Metro. Atocha Station is located on line 1, the light blue line. Until recently there were actually two Atocha Metro Stations, Atocha & Atocha RENFE, but fortunately, one has recently been renamed Estacion Des Artes to make it a little simpler for touristing. However, just in case there is any lingering signage, be sure to get off at Atocha RENFE.
When you get off the Metro, follow signs for AVE. You will walk into the botanical garden area and have to go up a couple of floors, getting a beautiful view of Atocha's tropical forest on the way up.
Atocha Station is quite easy to navigate once you are inside, but be sure to factor in at least 20/30 minutes to get from the Metro to the departure platform, as they do operate bags scans for long-distance, high-speed train journeys.
You can also reach Atocha Train Station using Cercanias, the overground train (although most of it is also underground). Almost all lines go to Atocha, so it should be quite easy to find a station, although I would say the Metro is slightly simpler and has more regular trains.
As mentioned above, be sure to leave 20/30 minutes to get from the arrival platform to your departure due to the potential hold up at the bag scans.
What to see with 1 day in Seville
So now that you have arrived, what are the must-see sites you can feel like you truly visit Seville in a day?
First of all, let's take a quick look at some of the main tourist sites in Seville.
Below, I have broken them up into what I would consider two tiers of importance, followed by some advice and two suggested one-day Seville itineraries.
Tier one sights are what I would recommend as the essential sites of Seville with tier two sites being lovely places, but either not as iconic or challenging to reach with limited time.
If you don't want to plan it on your own, check out the Hop On Hop Off Bus Tour. It's a great value way to pack in loads of sightseeing on one day.
Tier One: Seville's main tourist sites
Real Alcázar of Seville
The Alcazar of Seville is a decadent palace complex that dates back to the Moorish period of Seville and has grown into an architectural delight as several historical periods have left their influence on the palace. There are also expansive gardens, oh, and it is known as being one of the Game of Thrones filming locations, it was transformed into Dorne for the hit TV show, home of the Martells.
Seville Cathedral
The largest cathedral in the world. The stunning nave towers over you at 42-metres high, the Giralda Bell Tower offers fantastic views for those that take the trip to the top, and it is home to the tomb of Christopher Colombus. I have my Seville Cathedral Guide here if you want to know more.
Plaza de España and Maria Luisa Park
The expansive park is where you will find the Plaza de España, a beautiful crescent-shaped building with a 500 meter, semi-circle lake where you can hire row boats and spend some time on the water.
Barrio Santa Cruz and the Jewish Quarter
One of the oldest areas of Seville and a great spot to get lost in the small alleyways. Despite a checkered history, it is now a hotspot for tapas and drinking.
Flamenco Show
Andalucia is the birthplace of one of Spain's most iconic dances. Learn about the history and culture of Flamenco with an emotional show.
Plaza Del Toros and the Bullfighting Museum
Bullfighting is still a major cultural event in the south of Spain. It's not my thing at all, but if you wanted to learn a bit more about the killing of bulls in the name of entertainment, this is probably one of the best places in Spain to do it.
Tier two things to do in Seville
Triana Market and the Triana District
Across the other side of the Guadalquivir River is home to what is considered the arts and cultural district. It is considered as the birthplace of Flamenco and is one of the most famous tapas districts in Spain.
Las Setas
Las Setas (or the Metropol Parasol to give it it's official name) The largest wooden construction in the world, this unique attraction is a beautiful spot to get some great views of Seville.
The Guadalquivir River
The riverside has several parks and walkways and is an excellent place for a wander and to escape the traffic.
Torre del Oro
The Tower of Gold is a 12-sided tower that stands next to the river. It has quite a history, originally a watchtower, then an ammunition store, harbour masters office but now it is home to the Maritime Museum and another great place to go for some beautiful views.
The best way to see Seville in one day
By far the best way to see as much of the Seville best bits with limited time is to mix self-exploration with an organized tour. My personal suggestion would be to start off with a 3-hour cycle tour before heading to the Cathedral and Alcázar in the afternoon on your own.
A cycle tour will be a great way to get your bearings, see some of the tier two sites before spending the afternoon in the epicentre of Seville's Tourist attraction.
A different option for combining a tour to make the most efficient use of your time would be to purchase a combined Real Alcázar and Seville Cathedral ticket. These include a guide to ensure you make the most your visit to these sites, but most importantly, include a queue skip, so there is no waiting around, you can go straight in.
You can then build what else you would like to do with 1 day in Seville around your booked tour. The combined tours take around three hours, so this gives you plenty of time to enjoy Maria Luisa Park first and Plaza de España.
Explore Seville in 1 day on your own
If you would rather skip the tours and explore under your own steam, then I have 2 suggested 1 day in Seville itineraries for you that will cover the city highlights.
The first focuses on history and architecture, while the second other the culture. And of course, it is easy to mix and match to make your own.
1. Seville 1 day itinerary: Architectural delights
Plaza de España
It's about a 30-minute walk from Seville's Santa Justa Train Station to the Plaza España. I would recommend getting a taxi and starting here.
The main building was constructed in 1929 as part of the Ibero-American Exposition. It is now mainly government offices but is none the less impressive.
In-front of the building are many artistic tiled seats with each one having a unique design relating to a region of Spain. Running in front of these is the semi-circular moat, crossed by 4 bridges, each representing one of the old kingdoms that made Spain.
Once you have taken your photos, you can explore the park a bit further and exit out of the south entrance. This will bring you for a quick wander along the Guadalquivir River before reaching . . .
Torre de Oro
The name Torre de Oro translates to Tower of Gold, this refers to the golden reflections the 13th century 12-sided tower casts onto the river.
While the tower is home to a modest museum, the main reason people pay the €3 entrance fee it to climb to the summit and admire the views from the top. While I would recommend checking out the view, if you are a bit behind schedule, you could easily just take some lovely photos from below and move on to . . .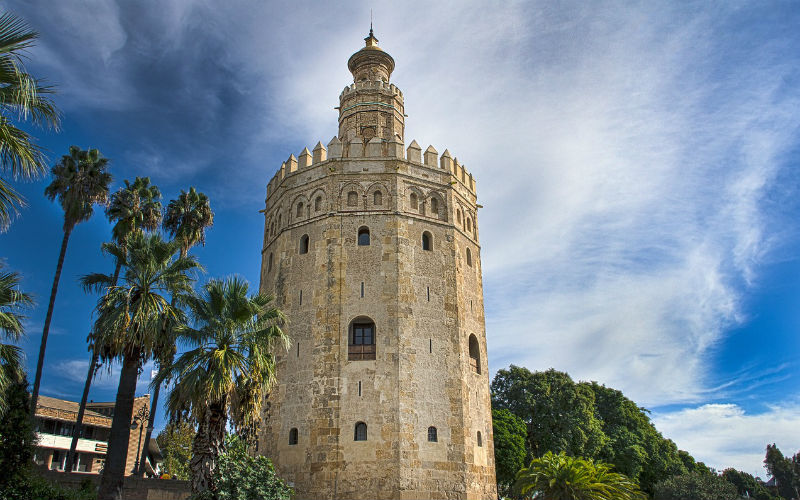 The Real Alcázar
Now the reason you need some kind of schedule is that it is essential to book your tickets before you visit the Real Alcázar of Seville to allow you to jump the extensive lines to get in. I can't stress that point enough and is why I recommend buying a guided tour which is a joint entry and line jump for both the Cathedral and Alcázar of Seville.
Once you have jumped the lines and are through the gate into the first courtyard, it is possible to purchase an audio guide from a small office in the left on your way in and make sure you get a map.
As you walk into the central part of the palace, you will instantly be transported to Dorne (that's Game of Thrones in case you just said whaaaat in your head). The gorgeous little courtyards and the stunning details on the wall really give this palace the feeling of luxury. It must have been quite a place to live.
I would allow one and a half to two hours to get around the Alcázar of Seville and see the gardens. I needed that much just to feel happy that I had enough pictures of orange trees.
Lunch in Barrio Santa Cruz
Barrio Santa Cruz is also known as the Jewish Quarter and has quite a long history which I'm about to butcher as I condense it into a couple of paragraphs.
During the years following the Spanish reconquest, there wasn't much tolerance for religions other then Catholosim in Seville which over time developed into the Spanish Inquisition years.
All of the Jewish population were forcibly moved to this area of Seville and a wall built. No-One quite seems to know if this wall was built by the Catholics to keep the Jewish in, or the Jewish for protection, either way, segregation was in full effect.
Once the Alhambra Decree was passed, officially banning all religions aside from Catholicism, the residents within the wall had a choice, either leave their home or convert. If they didn't, they were on the road to a horrible death. As people left, the area really fell into disrepair.
Luckily, these days we live in slightly more tolerant times and The Jewish Quarter is now a thriving hotspot of tapas and drinking in bars scattered throughout the narrow streets. However, there are many nods to the not so savoury past such a street names that roughly translate to the street of life and the street of death. During the trials, defendants were sent down one or the other to receive either their freedom or . . . You get it.
Seville Cathedral & Giralda Tower
In the case you didn't book the dual ticket, Seville Cathedral tickets can also be bought on online with a queue jump, again, highly recommended.
Seville's Cathedral is the largest gothic cathedral in the world and hard to miss. Once you are inside the, be sure to track down the main features that include the Tomb of Christopher Columbus, the Central Nave, and the Capilla Mayor altarpiece which comprises of 45 carved scenes from the life of Christ and is the largest in the world.
Of course, don't miss out on climbing to the top of the Giralda Bell Tower too. We all love to work for a view!
Finally, enjoy a Flamenco Show
The Museo del Baile Flamenco has early evening shows which makes it a perfect spot for a day-trippers to catch a Flamenco show. The first one starts at 5pm and lasts for an hour leaving you plenty of time for a drink after before heading back to Santa Justa Train Station and Madrid.
It's about a 20-minute walk back to the station from here, or alternatively 10-minute taxi ride, allowing a little spare for traffic.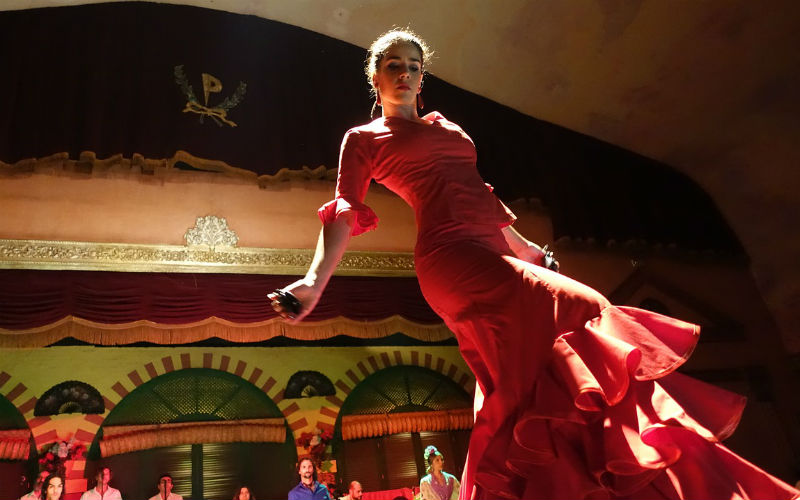 Or a different finish – Las Setas Seville
If flamenco dancing is not your thing (trust me, I totally understand why and don't feel bad about it), a visit to Las Setas could be a great alternative.
The Metropol Parasol is a bizarre wooden structure with a circular walkway on top which can be accessed by paying the entrance fee of €3 and taking the lift to the top. You can expect superb views of the cathedral and surrounding countryside on the horizon.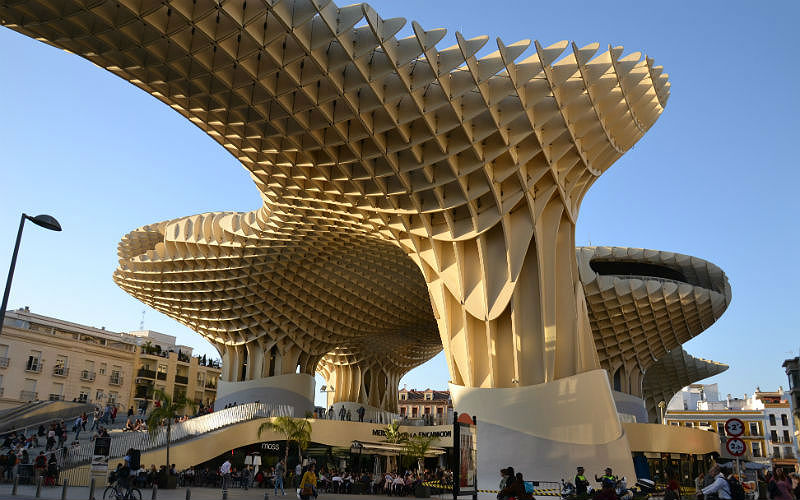 2. Seville 1 day itinerary: History and culture
Start at Plaza de España
As with the first itinerary, I would recommend starting at Plaza de España (read above if you skipped it). The difference is though, once you are finished here it is just a 7-8 minute walk north to the Jewish Quarter and the . . . .
Real Alcázar or Seville Cathedral
Given the timings of the day, and with just 1 day in Seville, I would imagine you would only have time to see one of these, and if I had to choose, I would suggest the Real Alcazar of Seville over the Cathedral, but they are both magnificent.
What I would say, to try to persuade you, is the Cathedral can be enjoyed from the outside, whereas you have to go into the Alcázar to really appreciate it's beauty.
I will once again make the point that whichever you decide, it is vitally important to buy your tickets, with line-skipping, in advance.
Torre de Oro & Plaza del Toros
After you are done, head down to the river where you can see the Torre de Oro and a little further along visit the Bullfighting Museum of Seville. Entrance to the museum includes a tour and costs €4. It would be an excellent place to learn a bit more about this Spanish cultural entertainment.
If you are not too interested in the Bullfighting, you can spend a little longer exploring the Jewish Quarter or possible squeeze in both the Alcázar and Cathedral.
Guadalquivir River and Triana Bridge
Next is a wander along the river and crossing the pretty Triana Bridge into the Triana District.
Tapas and Triana
Just after the bridge, on your right, you will see the Triana Market. This is a great little spot to grab a refreshment and get a feel for the area as you wander among the small stalls.
After the market, continue up Calle San Jacinto where you will find numerous taparia's and shops. Also, be sure to keep an eye out for some of the small churches that are nestled along the street. Hermandad de la Estrella is a great example of a traditional, tiny Trianan church that if you weren't on the lookout for you could easily miss.
Finally, enjoy a Flamenco Show
Once you have tapped out (see what I did there) in Triana, you can either walk back across the bridge, or grab a taxi/Uber (recommended), and head to the Museo de Baile Flamenco Sevilla to enjoy a 5pm Flamenco show before heading back to Santa Justa to grab your train back to Madrid.
As mentioned above, it's around a 20-minute walk or a 10-minute taxi ride from the Flamenco venue to the train station.
Getting back to Madrid
If you follow the above well, you will have plenty of opportunities to stuff your face full of fantastic Andalucian tapas; however, in the event, you miss the chance for dinner there is a McDonalds and a 100 Montidatos (mini-sandwiches and beer) in Santa Justa train station.
Of course, there is also the fallback option of the train buffet car, which while limited in the menu, is surprisingly good in quality (by train standards).
What to budget for 1 day in Seville
As you'd expect, the train will be the most expensive part of this day and if you're happy to walk everywhere, pay base rate ticket prices and eat on the cheap, you could probably spend a total of €150 per person (that's based on a €60 each way train, which you could also get a little cheaper).
If you wanted to spend a little more and take advantage of a cheeky taxi ride and a couple of extra drinks with your lunch, I'd say it would be closer to €180 per person.
To go all in, tours of both the Seville Cathedral and The Real Alcázar or a 3-hour cycle tour, I'd estimate it would be closer to €215 per person.
So as usual, the price depends on what you want to achieve, however, for what you are getting, a day trip from Madrid to Seville, packed with great experiences, I don't think that's a bad price for a treat.
FAQs
Can you do a day trip from Madrid to Seville?
Yes, it is possible to do a day trip from Madrid to Seville. However, please note that Seville is approximately 2.5 to 3 hours away from Madrid by train, so it will be a long day with limited time to explore the city. It is recommended to spend at least one night in Seville to fully experience its attractions and culture.
Is there a high speed train from Madrid to Seville?
Yes, there is a high-speed train from Madrid to Seville. The high-speed train, known as AVE, is operated by RENFE and offers a fast and efficient way to travel between the two cities.
How long is the train from Madrid to Seville
The train ride from madrid to seville takes approximately 2 hours and 30 minutes, making it a convenient option for travelers. The AVE trains are comfortable and provide amenities such as Wi-Fi and power outlets. It is recommended to book tickets in advance to secure the best fares and availability.
Which train station in Madrid goes to Seville
Atocha Station is the train station in Madrid that goes to Seville. It is located in the main tourist area of Madrid and is easily accessible. If Atocha Station is not within walking distance, you can take a taxi or Uber to reach it. Taking a taxi or Uber can be cost-effective if the fare is split among multiple people. Alternatively, you can also reach Atocha Station via Metro Line 1 (light blue line). Follow the signs for AVE and enjoy the view of Atocha's tropical forest on the way. Once at Atocha Station, you can board the train to Seville.
How far is Seville from Madrid?
Seville is located approximately 530 kilometres (330 miles) south of Madrid. The distance between the two cities can be covered by various modes of transportation, including trains, buses, and flights. The fastest and most convenient way to travel from Madrid to Seville is by high-speed train.
Can I fly from Madrid to Seville?
Yes, you can fly from Madrid to Seville. There are several airlines that operate flights between the two cities, including Iberia, Ryanair, and Vueling. The flight duration is typically around 1 hour, making it a convenient option for those who prefer to travel quickly. However, it's worth noting that flying may not always be the most cost-effective option, especially if you book your tickets in advance or take advantage of promotional fares offered by train companies. Additionally, flying may require additional travel time to and from the airports, whereas taking the train from Madrid to Seville allows you to conveniently travel from city center to city centre. Ultimately, the choice between flying and taking the train depends on your preferences, budget, and travel schedule.
Final Thoughts on a day trip to Seville from Madrid
Not only is a day trip to Seville possible, but it is also easy to see much of what makes the city of Seville one of the finest in Spain.
Of course, if you'd rather not have to do it all yourself, it is possible to book a tour that takes care of everything from, getting you on the train, to showing you Seville and then safely back again.
Price-wise, it's not actually much difference between the tour or doing it yourself, but of course, you'd have less freedom.
So what do you think? Have you been to Seville? Do you have any additional recommendations? If you do go after reading this, be sure to swing back by and let us know how you got off or if you'd suggest any amendments to the Seville itineraries above.
Tours mentioned in this post