It's no surprise Andalucia's capital is one of Spain's hottest destinations, and I'm not just talking about the scorching sunshine. Coming up in this post, I will be sharing some of the best things to do in Seville as well as lots of helpful information about getting there and getting around.
During a visit to Seville, your days will be filled with orange tree-lined parks, decadent Moorish palaces, and delicious tapas before bursting into life after the sun sets with music and dancing long into warm nights.
If you would like further information about planning your trip to Seville, be sure to read my post about making the most of a day trip from Madrid to Seville, or if you're visiting a bit longer, you may also want to check out my 2-day Seville itinerary. In both posts, I share what I think you can comfortably see in the time allowed with an interactive map and suggested timings.
Coming your way . . .
Coming your way in this post - click to expand ->
Affiliate disclosure: The links to tours or accommodation in this post are affiliate links. This means if you purchase after following one of these links, I make a small commission at no cost to yourself. Think of it like a win-win. ?
17 of the best things to do in Seville
1. Tour the Royal Alcázar of Seville
Price: €9.50 if you buy a ticket on the day, €3 for the optional audio guide
Hours: October to March: 9:30am – 5pm, April to September until 7pm
Recommended visit: 2 – 3 hours
Declared a World Heritage Site in 1987, the Royal Alcázar is probably the most famous tourist spot and at the top of many people's list of things to do in Seville. Aside from being a jaw-droppingly exquisite royal palace with architectural influence spanning hundreds of years, it is also famous as the many Game of Thrones filming sites in Spain helping it reach a whole new demographic of tourists.
The palace has been home to royalty for well over 1000 years and is the oldest royal palace still in use in Europe, the upper floors are still used by the royal family as their official residence in Seville.
Throughout this period, different kings and queens have come and gone, each adding their own style to the Royal Alcázar, turning it into what it is today, a maze of rooms and interlocking courtyard garden with many period influences including Islamic, Mudéjar, Gothic, Renaissance and more. You could easily spend a whole day wandering through the ornate chambers and orange tree-lined gardens that were first planted a thousand years ago.
If you are not visiting the Royal Alcázar as part of a guided tour, I would highly recommend purchasing an audio guide on the way in. As you enter, there is a small shop on the left where you can hire one for €2. While you can still enjoy a wander, the information is quite scarce, so without one, you won't really be sure what you are looking at.
A couple of favorite spots of mine that you should be sure not to miss are the decadent baths in the basement, the Labyrinth and the English Garden, it is in the latter we found some peacocks and a particularly aggressive duck that kept attacking my shoes.
2. Enter the Seville Cathedral
Seville Cathedral Hours
Monday: 11:00am to 3:30pm and 4:30pm to 6:00pm
Tuesday to Saturday: 11am to 5pm
Sunday from 2:30pm to 6pm
Price: Adults €9, children €4 Admission free for Disabled persons and free entrance on Monday's from 4:30pm 6:00pm
Recommended Visit: 2 hours
Located next to the Alcázar is the Seville Cathedral. Built between 1401 to 1506 when it was completed in the 16th century, it replaced the iconic Hagia Sophia as the largest cathedral in the world, a title it still holds. There are Catholic buildings, the Basilica of the National Shrine of Our Lady, in Brazil, and St. Peter's Basilica in the Vatican, but technically these are churches.
While impressive to look at from the outside, you don't truly get a feel for the sheer size of the cathedral until you step inside and look up in the central nave at the roof is a towering 42 meters high.
Other highlights inside the cathedral include the tomb of Christopher Columbus and the Giralda Bell Tower.
It is possible to get combined tours of both the Royal Alcázar and the Cathedral, a combined ticket including a highly recommended queue jump. This is a smart idea if you would like to see both, hear the history and are quite tight on time.
3. Climb La Giralda Bell Tower
Price: Included in your Seville Cathedral ticket
Hours: See above
Recommended visit: Allow about 45 mins to get up and down (depending on fitness of course).
Entrance to the 103-meter high tower is included in your Seville Cathedral Ticket, but be aware, there is no lift. To reach the top, you have to take on a series of slopes that ran around the inside wall of the tower. It was designed this way so you could reach the top of the tower by horse, although I'm not sure if it would be frowned upon should you turn up with your own steed.
4. A Horse & Carriage Ride
Price: €45
Hours: Carriages are available from around 10am to 9pm
Recommended visit:30-45 mins
A ride in one of the many ornate horse-drawn carriages is one of the iconic things to do in Seville, and there are two main places you can enjoy one.
The first right in the heart of the city between the Seville Cathedral and the Real Alcazár. Here you can hop in and be taken for a tour of the top city sites.
Alternatively, if you would prefer to get away from the traffic, you can also take a ride in Maria Luisa Park. You can find the horses located just on the outside of Plaza de España and the ride will be a relaxing jaunt through the expansive city park.
It costs around €45 for a 45-minute tour. The only thing I will warn you about is that there are mixed reviews about the quality of the tour guide, language skills are often a barrier, and it seems to be more of a pointing at things tour rather than an in-depth, engaging tour packed with stories of the city.
5. Wander the Jewish Quarter
Hours: All Day
Price: Lunch can easily be found for around €10
Recommend Visit: 1 – 2 hours
As one of the best tapas hotspots in the city, the Jewish Quarter is home to some of the best places to eat in Seville. You will find scores of bars and restaurants with tourists and locals alike creating a lively buzz. However, it wasn't always this way.
In the past, the Jewish population of the city was rounded up and forced to live in this area and segregated from the rest of the Seville population. Things became worse after the Alhambra Decree in 1492, in which all non-catholic religions were banned. The Jewish people were forced to either leave or convert.
It wasn't until an earthquake did considerable damage to the area of Santa Cruz that is was decided to invest money and rebuild this area of the city. It is now one of the best neighbourhoods to stay in Seville during your visit.
The barrio is a maze of narrow streets connecting many small plazas, all lined with tall, imposing buildings designed to limit the streets exposure to the sun and keep the houses cooler during the long hot summers.
Taking one of the guided tours of The Jewish Quater is an excellent way to really discover the history and some of the tales of the not-so-savory past discover some of the stories of the past. This can also be combined with Cathedral and Real Alcázar entry if you don't have a lot of time during your Seville visit.
6. A Cruise on the River
Hours: From 11am – 11pm and cruises last 1 hour
Price: Tickets start from €12.50 depending on which operator you use
Recommend Visit: 1 hour
The Guadalquivir River runs through the heart of Seville splitting the old city and Triana and reaching all the way to the Atlantic Ocean. As the docking point for merchant ships loaded with gold, silver, tobacco and other lusted after goods as they arrived from far away lands, it was the Guadalquivir River that bough wealth and prosperity to the city.
A cruise on the river is a fantastic way to get a feel for Seville and an excellent introduction to the city. You will pass by some of the most iconic buildings such as the Plaza de Toros de la Maestranza and the Monastery of Santa Maria de las Cuevas, where Christopher Columbus planned his trip across the ocean looking for India.
Various operators offer river cruises leaving from the Torre del Oro, with departure every 30 mins. Tickets can be bought on the day or in advance.
7. Visit the Torre del Oro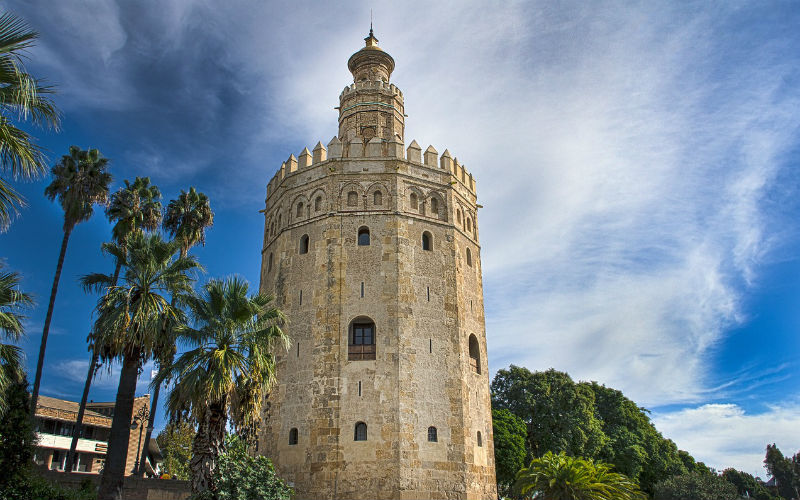 Price: Adults €3, students and children 6-14 years €1.50, Kids under 6 are Free. Optional audio guide €2. Mondays are free all day.
Hours: Monday to Friday: 9:30am – 6:45pm, weekends from 10:30am, closed on holidays.
Recommended visit: 1 hour
The name tower del Oro translates to the tower of gold in English, it gets this name for the bright shimmering hues that reflect back from the Guadalquivir River.
The 12-sided defensive military watchtower has been rebuilt and repurposed throughout the years, being used as a chapel, noble prison, gunpowder store, Naval Command but now stands as the Maritime Museum.
Seville's most prosperous years were on the back of the harbor and shipyards, and the city played an essential role in the naval dominance of Spain's Armada. Inside there are some beautiful displays about this period. However, the main attraction, in my eyes, is the chance to climb the 36-meter tower and admire the views of the river below.
8. Visit Plaza de Toros de la Maestranza and the Bullfighting Museum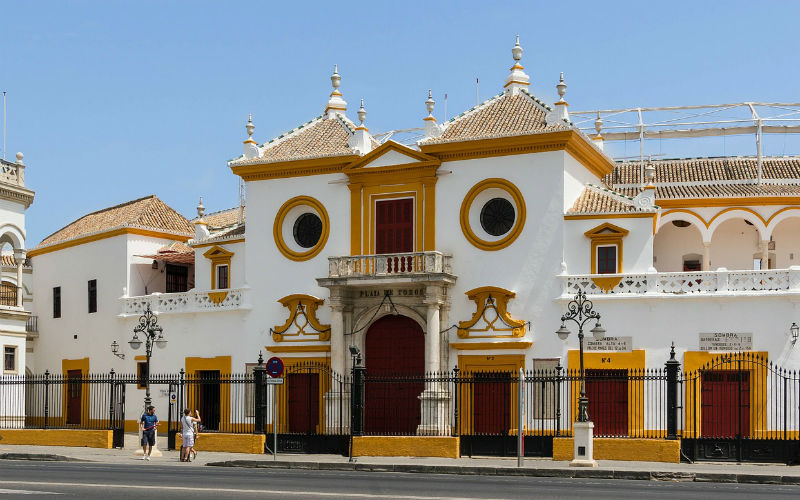 Price: €4
Hours: Daily 9.30am-7 pm, except on bullfighting days until 3pm.
Recommend visit: 1 – 2 hours
The Seville Bullfighting museum charts the history of the sport, its place in Spanish culture and is one of the most popular things to do in Seville. In recent years, many Spanish cities are starting to ban bullfighting (something I would happily see); however, Seville is still very much at the center of the controversial spectacle.
As a stage for bullfighting, Seville is considered one of the most challenging due to its history, characteristics, and the viewing public, which is regarded as one of the most unforgiving in all of bullfighting fandom.
While the museum is open year round, if you would like to see a bullfight, the season runs from Easter Sunday to 12 October, with around 20 fights in total. The most popular period is Feria week, at the end of April, when some of the most celebrated matadors in the world make an appearance.
It is possible to buy tickets from the ticket office, located within Seville's bullfighting ring. The prices range for €45 up to over €1000 depending where you sit. It is also possible to buy tickets online, which is certainly recommended during popular festivals.
9. Enjoy a Flamenco Show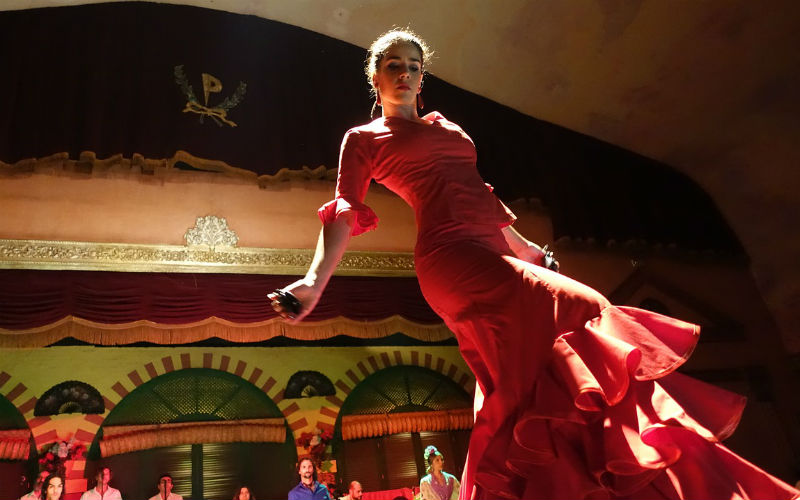 Hours: Most Flamenco shows in Seville hold multiple shows starting from around 7pm
Price: Tickets start from around €18 depending on when and where you go
Recommend Visit: Until the end of the show and then go and try it yourself in a nearby bar!
Andalusia in southern Spain is the heartland of flamenco, and with Seville being the heart of Andalusia, where better to enjoy some authentic Flamenco.
Whether you are a fan or not, I would highly recommend seeing a show as it is an entirely different experience to what you may have encountered before merely listening to it. The intimate surrounds of a fabulous flamenco bar offer a perfect stage for the passionate dance.
There are many shows throughout the city, although my recommendation would be to look to the Triana district. Across the river from the main Seville city center, Triana is widely considered to be the birthplace of flamenco and is home to many great venues.
10. A Visit to the Flamenco Museum
Price: €10 for museum entrance, €22 for the show, €26 for a combined museum and show ticket
Hours: Museum hours 10am – 7 pm
Recommend visit: 1 hour
Flamenco is an artistic expression of song, dance, and musicianship, and the Flamenco Dance Museum is one of the best places to learn more about the enchanting world of flamenco.
The Flamenco dance is famous for being a passionate interpretation of a wide range of feelings expressed through sincere, emotional lyrics that are characterized by a punchy style with plenty of foot stomping and clapping.
Inside you will discover unique experiences that cover all aspects of deceptively complex dance which is included on the List of the Intangible Cultural Heritage of Humanity.
11. Find some of the best tapas in Andalusia Triana
Price: Depends where you eat but you should be able to have a good feed for less than €15 then as many drinks as you like.
Hours: Expect locals to be drinking and eating until midnight, then that is when the party kicks in and runs all night.
Recommended visit: As long as you can last!
As well as being famous for Flamenco, Triana is one of the most renowned Tapas areas in Spain.
Most of the taparias are along Calle San Jacinto, but there are also some fantastic places to eat at the riverside along Calle Betis.
Some places to look out for are Blanca Paloma, a locals hotspot so be sure to early as busy every day and Bar Amarra, which offers some of the best seafood in Seville.
But don't worry too much, it is hard to find a bad place in Triana, just bounce from bar to bar and appreciate some of the local delicacies such as tortillas de camarones (shrimp fritters) and Secreto Iberico, a choice cut of Iberico pork.
12. Metropol Parasol; Las Setas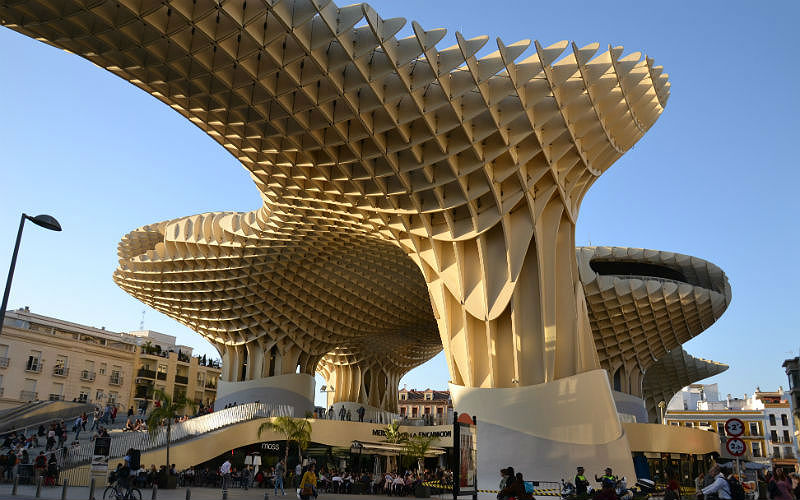 Hours: 9:30am – 11pm (11:30pm on Friday and Saturday)
Price: €3 (children under 5 free)
Recommend Visit: 1 – 2 hours
Located in La Encarnación square, the Metropol Parasol, or more affectionately known as Las Setas, which translates to The Mushrooms is the largest timber-frame structure in the world and offers some of the best views in Seville.
The construction is striking for the ground, looking up, but for the small entrance fee, you can catch the lift to the top where you can walk the winding pathway on the mushroom caps.
As one of the highest points of the city, you can enjoy magnificent panoramic views of the cathedral, the surrounding city and there is even a bar on top . . . perfect.
13. Parque Maria Luisa
Price: Free
Hours: Open From 8:00 am to 10:00 pm in the winter, midnight in summer
Recommended visit: 2 – 3 hours
Maria Luisa Park is a vast green area that was donated to the city in 1893 has belonged to the Palace of San Telmo before then.
You will find lush palms, orange trees, Mediterranean pines, and stylish flower beds lining the wide boulevards and smaller pathways that link the numerous fountains and monuments throughout.
A couple of the more famous monuments are the Fountain of Lions the Water-lily Pool, but my favorite is the Monte Gurugu, a rocky mound that has stairs climbing up it and a waterfall falling down the other side. There is a tunnel cut through the bottom and an excellent pavilion on top that offers a seat to enjoy the view while you take a welcome break from the sun.
14. Hire a rowboat in Plaza España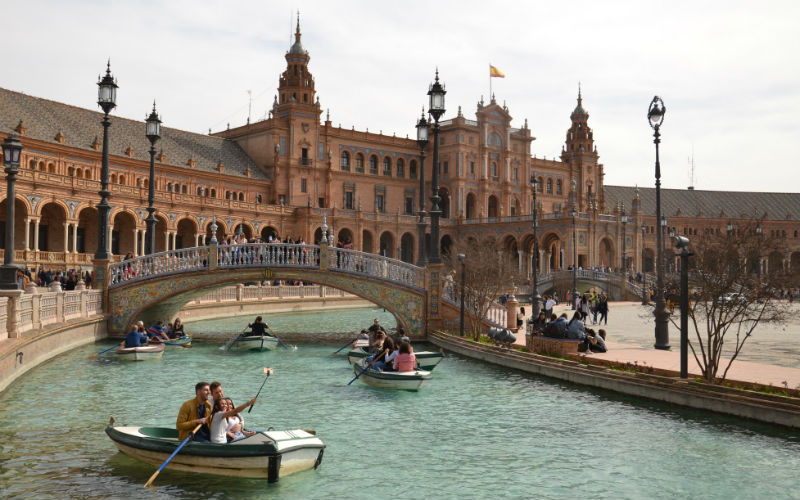 Price: €6
Hours: 10am – 9pm
Recommended visit: 35 mins (after that the price goes up to €10)
Located in Maria Luisa Park, the vast, crescent-shaped Plaza de Espana was built in 1929 when Seville hosted the Ibero-American Exposition World's Fair. Now it is home to one of the favorite things to do in Seville, hiring a boat and getting on the water.
The plaza has been used as a filming location for some notable movies including Lawrence of Arabia and Star Wars Episode II: Attack of the Clones. However, the stunning curved building that runs around the plaza has a more practical purpose and is now mainly boring government offices.
Running around the edge of the main building are 49 different tiled benches with the artwork each representing a different region of Spain. Each one has small bookshelves at either end, supposedly a book exchange, sadly lacking in books!
In front of the benches runs a curved 515-meter canal spanned by four bridges, each representing one of the ancient Kingdoms of Spain. It is here that you can hire a rowboat if you would like to spend some time on the water and cool off a little.
15. Discover NO8DO all over the city
Price: Free
Hours: All day every day
Recommended visit: The entirety of your stay
Although I say discover NO8DO, I'm pretty sure NO8DO will find you, you will see this symbol everywhere.
NO8DO is the motto and logo of the Seville City Council, it is used in everything they do from bins to bike racks, marketing to lamposts, you see this symbol everywhere.
The letters and number are a phonetic representation of the phrase no me ha dejado, meaning "you have not abandoned me." The 8 symbol in the middle is actually a representation of a skein knot, tying the word together.
Although various stories exist to explain the history of NO8DO, the one that strikes as most true is on that revolves around King Alfonso X and his close relationship with the city of Seville. Towards the end of his reign, his son Sancho turned on him and defeated his army as his Dad took refuge in Seville. Not wanting to kill the already old Alfonso X, Sancho let him live out his remaining days surrounded by the people that remained loyal to him. Upon his death bed, he uttered the words "You have no abandoned me" (but probably in Spanish) about the city of Seville.
The origin of NO8DO is still a matter of hot debate in the city, but there is one thing for sure, it is a motto and logo that they hold close to their heart.
16. Museum of Arts and Traditions
Price: Free for EU residents, €1.50 for the rest of the world
Hours: 9am – 9pm
Recommended visit: 1 – 2 hours
If you are looking for great value things to do in Seville to really get under the skin of the city, this museum is highly recommended.
The building was another built as part of the Ibero-American Exposition World's Fair, located at the south side of Maria Luisa Park, and houses a beautiful collection of artifacts to do with life in Seville throughout the years.
Just don't be misguided by the name, although it mentions arts, if you are heading there looking for fine paintings, then you will be disappointed, it is art in the sense of local weaving, woodwork, metalwork, more like a museum of life.
17. A Romantic Seville Sunset River Walk
Price: Free
Hours: Whenever the sun sets
Recommended visit: Depends on how many drinks you want 😉
As the searing heat of the day gives way to night, the city really comes to life, and what better way to welcome the relief than a cocktail and to enjoy a Seville sunset.
Just by Tirana bridge is a great little spot that has been given over to pedestrians. Away from the traffic, it is a great spot to watch the sun drop behind the horizon over the Guadalquivir River.
There's even a small bar where you can grab a couple of drinks and really kick back!
Seville City Guide; Helpful information for your visit to Seville
The best place to stay in Seville really depends on what you are looking for. If you are all about the nightlife, then you may want to be a bit closer to the center, which will be more expensive, but I found where we were to be a right balance, close enough to walk to the center, far enough away to be peaceful and offer value.
Recommended best value hotels in Seville
By best value I do not mean the cheapest, they are suggestions based on quality, price, location, and guest reviews. I should say these recommendations are based on research and my opinion and the price has been taken from a weekend stay in Seville in Autumn booking 3 months ahead. Obviously, the actual cost will vary considerably. That said …
Hotel Kivir – located in the Old town, this is a great choice for travelers interested in architecture, atmosphere, and cathedrals.
Zenit Sevilla – next to the River Guadalquivir, in Seville's famous Triana neighborhood. It offers a rooftop terrace and views of the Giralda and the city.
Hotel Rey Alfonso X – located in the historic center of Seville, a short walk from the Giralda and the Santa Cruz district.
Recommended luxury hotels
Hotel Palacio De Villapanés – a converted 18th-century palace is situated just outside Seville's historic Santa Cruz district, it features a garden terrace and a rooftop plunge pool.
Hotel Mercer Sevilla – excellent hotel with top class furnishings and decor set in a quiet location yet still convenient for the center.
Best for solo or budget travelers
Triana Backpackers – set in a traditional Andalusian house in Seville's Triana district, it has a charming rooftop terrace with hammocks, sofas and a hot tub.
La Banda Rooftop Hostel – situated in the heart of Seville, next to La Maestranza Bullring, the hostel has a large rooftop chill-out terrace with sofas and stunning views of Seville Cathedral.
More Seville Hotels
Best time to visit Seville
As you can imagine, the South of Spain gets hot hot hot in the summer. It's not uncommon to have temperatures in the 40's for long periods. It's, for this reason, I'd probably recommend avoiding between July – September. However, if you can stand the heat, you'll probably be able to find some good deals.
For me, Spring is the best time to visit Seville. The flowers in the parks are starting to emerge, and the weather is pretty much spot on. Just be aware though, the place goes mental at Easter.
Semana Santa is the week of Easter, and the place is packed, it is one of the biggest celebrations of the year in Seville with marches and processions happening throughout the week. Expect hotels to be a lot more expensive, but the atmosphere will be special.
Getting to Seville
Flying to Seville is how most people will arrive with regular internal flights available, and as Seville grows in popularity, more international routes are regularly offered. Both mainstream and budget airlines fly in and out of San Pablo Airport.
Generally, I use Skyscanner as an excellent starting point to find flights, it will give you a good idea of who flies to Seville from your starting point and from there you can start comparing prices.
Getting from Seville airport to the centre
San Pablo Airport is located a little over 10 kilometers to the North East of the city.
Taxi: As usual, this is the quickest, most convenient and most expensive way to get from Seville airport to the city center. Depending on traffic, expect it to take 25-30 mins and cost in the region of €23-25.
Private Transfer: Take the stress out by organizing a private transfer and have one of those people with a sign waiting to whisk you away after you breeze through passport control
By Bus: If you wanted the cheapest way to get from Seville airport to the city, you'd be best off on the bus. There are regular that run between 5.20am to 00.50am with a single ticket costing around €4 euros (€6 for a return) and taking approximately 35 minutes to reach the city center. Check out the full schedule here as a downloadable PDF.
Madrid to Seville train
As I hate flying, when I visited Seville with my wife and little one, we caught the high-speed AVE train from Atocha station in Madrid to Sevilla Santa Justa Train Station.
The best thing about getting the train to Seville, as opposed to flying, is there is no hanging around airports, just get there and go. But please note, the trains in Spain do generally leave on time, and for the high-speed trains, there is bag scanning in effect, so be sure to leave some time spare to get through, it won't wait for you!
The trip took a little over 2 and a half hour, which to me, make Seville do-able in a day trip from Madrid, but you will be very rushed to see everything as a tourist, especially if you wanted to spend some time in the Alcázar or Cathedral, so while possible, I would recommend a minimum of one night.
Cost: depending on when you go, tickets range from a little over €40 to a little over €100. The cost depends on how full the train is and if it is peak time. The average prices seem to settle at around €60.

Time: between 2h 45 mins – 3 hours on a high-speed train with more than 20 trains a day making the trip between Madrid and Sevilla, with options more or less every half hour.
Getting to the city center from the Train Station
Santa Justa Train Station is just a little over 2kms from the city center, so depending on how much you are packing, it is walkable.
Alternatively, you can grab a cheap taxi, there will be plenty waiting, or the bus stop is just out from with regular buses passing through. It takes about 10 minutes to reach the city center by bus.
Getting around Seville
Seville is quite a compact city, so for the most part walking is undoubtedly recommended. However, in the case you find yourself tired and at the opposite end of the city, there are a few ways to make getting around a little easier.
Taxi
There are plenty of taxis in Seville, and generally, they are quite cheap, you can get to most places in the city for less than €8. In general, the drivers do not expect a tip, but I still think it is nice to give them a little something to buy a coffee.
Uber
Yes, Uber is available in Seville at the time of writing this post. As is Cabify.
By bus
One of the cheapest ways of getting around, there is quite an extensive bus service in the city. You can find the information on the Tussam website but note, it's all in Spanish.
Seville Metro
Seville does have a small Metro system that offers good value ranging from €1.35 to €2.80 for a one-way journey (depending on zone), but the obvious limitation is that it doesn't cover many areas, although most of the central district is.
MetroCentro
Different from the main Metro, the is a 5 stop tram system that runs from Plaza Nueva to San Bernardo Cercanias, although there are plans to develop this further in the future.
Seville Sevici Bikes
One of the most fun ways to get around with more than 2500 bicycles available from 250 Parking Stations throughout the city, but they may not as cheap as you may think.
To hire a bike, you need a credit or debit card and can pay at any terminal and will have to take out what they refer to as a short term subscription which costs €13.33 and lasts a week. It requires an extra one Euro to include insurance, which given how little that is, I would recommend. You will also have a €150 deposit blocked from your account for the week.
Once you have paid the subscription, the first half hour is included and then €1.03 for the first hour and €2.04 for an hour after that.
So, if you wanted to use the bike for 2 hours, that would be a total of €15.38 – subscription fee, 1 hour @€1.03 per hour and ½ hour @€2.04 ph.
A bike for the whole day (10 hours) €31.07.
So, as you can probably see, while they are a nice idea, for a short-term visit, they do not really offer value. However, if you were staying in Seville for slightly longer and can take advantage of the full 7 days, they become a lot cheaper.