The Spanish capital city of Madrid is perfect for a city break or as a base to explore many of the wonderful towns and villages nearby.
Whether you're interested in checking out the famous artworks and baroque pieces you don't even understand at the Museo del Prado, going about official business, or tasting first-hand what all the fuss around Calamari sandwiches is about, Madrid definitely has its charms.
Coming your way in this post - click to expand ->
Note – Please know, some of the external links on this page are affiliate links, this means that if you purchase after following one, I make a small commission from the sale at no additional cost to yourself.
The quick answer
Here's a quick overview of the best options. Each is expanded on further in the post.
My value pick
Train or Metro. Certainly not the fastest, it can take about 45 mins, but when comparing cost vs convenience, I feel this offers the best value.
Easiest and most comfortable
Organize a private transfer before you leave. You will have someone waiting for you with your name, and they'll take you right into the city. Great if you are scared to speak the language.
Cheapest
If you are on a budget, the bus from the airport to Madrid is just €5 and doesn't take too long. It is a bit limited on stops but should get you close to where you need to be.
Madrid airport to central Madrid
If arriving in Madrid by air, you will almost certainly be landing at Madrid's Barajas Airport and the good news is getting from Madrid Airport to the Madrid city center is a breeze.
The frustration of where you are and not fully understanding where you're going is real. There is also the fear of being ripped off and that you might end up paying five times more than you should for traveling to central Madrid from the airport.
Bet fear not, this is why I have prepared this post for you – a complete transport guide for your first time in Madrid.
As a Madrid resident and a regular traveler, I have come to know the airport in Madrid very well and pretty much every method of getting there.
Read on to see the best options for getting from the Madrid airport to the city center.
Madrid Barajas airport terminals
Madrid Barajas Airport has 4 terminals spread over two separate hubs. Terminals 1, 2, and 3 are all next to each other and can be walked between. It takes about 15 mins to walk from the far end of terminal 1 to the opposite end of terminal 3.
Terminal 4 is in a completely different building and you would need to use the free, inter-terminal bus if you need to move between the different hubs.
How to get from Madrid airport to city center
Madrid airport is just around 10 kms from downtown, so the ride is usually a short one. The options you have include taxis, metro, train, bus and private transfers.
While a taxi or a pre-booked transfer, (you can easily book a private transfer or group mini-shuttle if you want to save a little bit without sacrificing convenience) would always be the best choice for convenience, if you are looking to save a bit of money the Metro or Train would be a better choice depending on what terminal you arrive into. If you are landing in terminals 1, 2, or 3, then I would recommend the Metro. If terminal 4 then the train is more convenient. Each cost about €5 and I have more details below.
Car rental is another option, Madrid airport has all of the major car rental operators available. However, if you are staying in the city center, I would avoid this option as it is not the easiest or most relaxing place to drive.
If you are staying further afield, then if could be a good choice. Be sure to also check if your Madrid hotel offers to park if you do have a rental car.
The last option is the bus from Madrid airport to city centre. And while the trip ticket is priced at €5, most people would want a faster alternative than a means of transportation that took one hour for such a short journey. Here's a lowdown of what each option offers.
Taxis from Madrid airport to the city centre
Madrid airport to city centre by taxi has a €30 flat taxi fare. Any other destination that falls outside of the city centre (designated as being inside the M30 Madrid's city ring road) will be charged based on the readings on the taximeter.
If you are on the meter, you do not need to be concerned, Madrid taxi drivers are well regulated and certainly trustworthy. Although, in my experience, not many of them speak English, so if you don;t speak Spanish, be sure to have written down where you are going for them.
The airport always has plenty of cars available arranged in taxi ranks outside the all the terminals. There are also dispatchers there to make sure that boarding the taxis is orderly and quick and that no one jumps the queue. Not that I have ever seen a large line for taxis or had a long waiting time.
Madrid taxis are painted white with red stripes that run across the cab diagonally. They also run all day and night, so you won't ever get stranded if your heart is set on using that form of public transport.
As I mentioned above, the taxi from madrid airport to Madrid centre should take between 25-30 minutes without traffic. However, the route from the airport to Madrid city centre is one of the busiest roads in the city as three major highways all roll into one.
If you are travelling in the rush hour, roughly between 7am – 10am or 5pm- 8pm, you can expect to add an additional 20 minutes to that time.
It's not so bad when travelling the other way, from the city to the airport, but if you have a flight to catch, do bear this in mind and leave plenty of spare time.
Metro from Madrid airport to city centre
If you don't have much baggage, then the metro is a very cheap option and probably the best choice if you are arriving into terminals 1, 2 or 3.
The Madrid Metro costs €5 for a ticket that'll take you directly to the Nuevos Ministerios station, in the city centre, within 22 minutes.
If you are visiting Madrid for the football and heading to the Santiago Bernabeu stadium, taking the Metro from the airport to Nuevos Ministerios is perfect as it is just a 10-minute walk away.
However, aside from this, it's not the most connected station, so you will likely have to hop onto Metro line 6 (Grey) towards Moncloa Metro station where you can pick up Metro lines 1 (Blue) or 2 (Red) which will be the ones that can get you to most places in the city.
The fee includes a €2 supplement charge on a standard €3 fare.
If you already have a Metro ticket, then you'll need to pay the supplement before you can pass through the gates to the Metro line. The same is also true if you arrive at the airport using a standard metro ticket; you'll have to pay the surcharge before getting clearance to exit through the gates.
There are multiple ticket machines on both sides of the gates to make this as easy as possible, but there will still usually be lines.
What I would recommend is paying the surcharge before you get on the train. If you are boarding the Metro heading to the airport, then just stop at a machine and buy the airport supplement. This will mean you'll avoid the backlog of confused tourists wondering why their Metro ticket won't open the gate.
There are two metro stations located close to terminals 2 and 4 that are easy to find. If you're arriving through the other two terminals, there's a free airport bus you can ride to those other terminals.
But, you won't need it. Terminal two is in between 1 and 3 so easily walkable from both.
Here is a Metro map to help you work out where you're going As you can see, the airport is on line
Train from Madrid airport to city centre
I would highly recommend the train as the best way to get from to the city centre if you are arriving in terminal 4 and don't want to spend the money on a Madrid airport taxi.
The local train takes off from the station close to terminal 4 of the Madrid Barajas airport. It makes five stops at the main station of Madrid, Atocha train station, Chamartín, Nuevos Ministerios, Méndez Álvaro, and Príncipe Pío, and from here you can get pretty much anywhere in the city and are within reach of most of the main hotels in Madrid.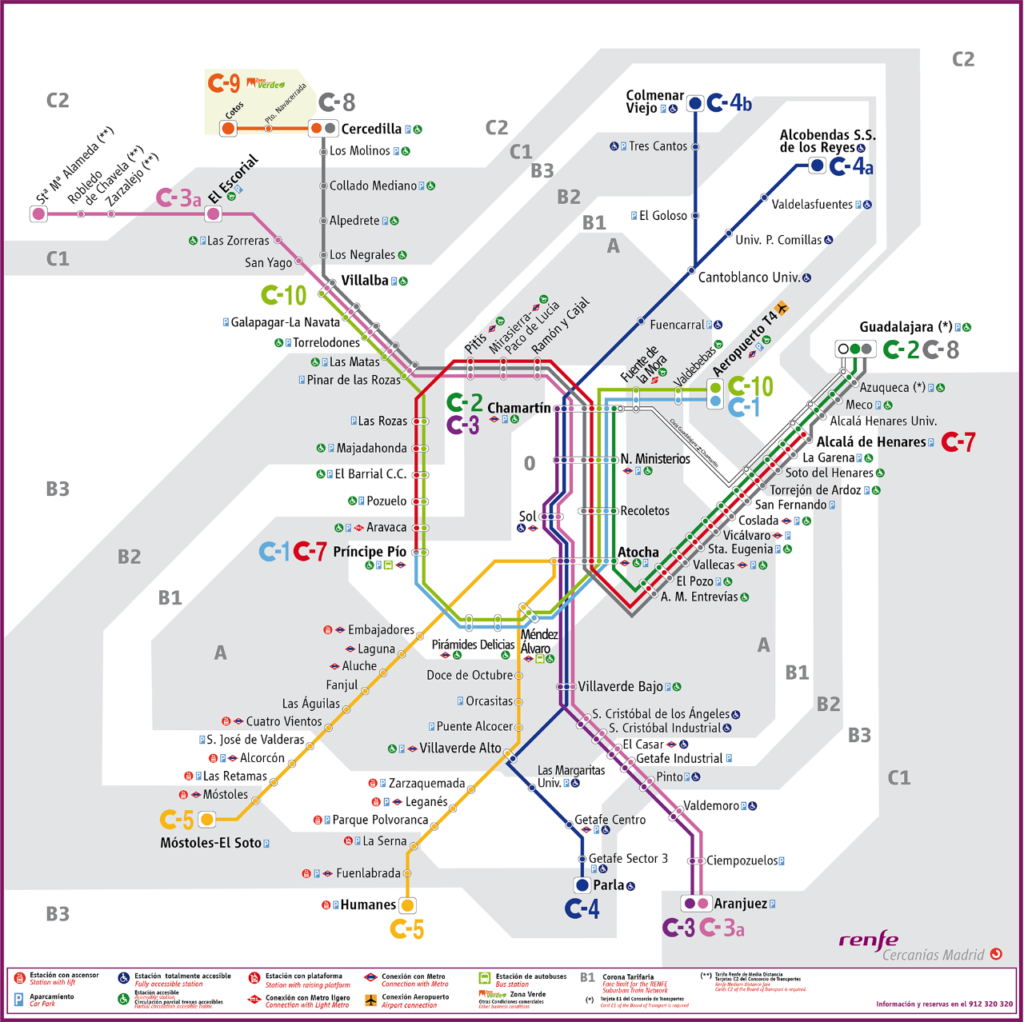 The trip from Madrid Airport to the City Centre usually takes about 27 minutes, with trains moving out every 8 minutes during the day, and every 15 minutes at night and early every morning.
You must know that getting to the station, however, is just the first phase of what is sure to be an inconvenient experience. You'll need to get a shuttle that'll take you to the station from the air hub, and that's easier said than done. The shuttles can be quite busy, and lugging around many bags can prove to be quite the hassle as it is quite a lot of escalators involved.
When you get through that hell, keep an eye out for pickpockets leering at your possessions. The downside of public transport is that the convenience and security of the option are sacrificed to get you a train ticket price as low as €2.60. That trade-off might not be worth it sometimes.
Bus from Madrid airport to the city centre
Leaving the Madrid Barajas Airport towards the city centre by the Madrid Airport Express bus is just €5, and is available throughout the year. You can buy the ticket on the bus but remember to carry cash, as that's the only acceptable means for bus ticket purchase.
The only terminal that doesn't have a bus stop is terminal 3. From the other three terminals, the bus makes three stops: at Plaza de Cibeles, O'Donnell's, and Atocha station during the day, but the bus stops only at O'Donnell and the Plaza de Cibeles at night.
Traffic decides how quickly you can get to the city centre. Under heavy traffic can take up to 1 hour to get to the city centre. If not, it still takes around 45 minutes – which is why bus services are crowned the slowest options among all the available ones.
Private transfer service from Madrid airport to the city centre
The most comfortable way to the centre of Madrid is Madrid airport transfers. Many transfer services are available online, so you just need to book an airport transfer on their websites before you get off the plane and voila, a driver will be waiting for you at the terminal with a nameplate.
The drivers are always professional, friendly, and the transfer companies might match you up with a driver that's fluent in your native language. This way, they can show you around the hotspots in Madrid.
Most transfer services will monitor your flight, so they know which time you alight from the plane and prepare your reception, so you don't waste a second. Other transfer services also allow you to choose the type of air-conditioned car (or bus) you'll prefer to be transported in.
The prices will be different (and not as cheap as the train tickets). But there's no price on convenience, so the cost of at least €35 will be a little dent in your purse if you value your time, comfort, and security.
The trip using private transfers are also the fastest since you don't spend any time looking out for a shuttle or bus to stop while carrying your luggage around. Once you get to the airport terminal, the driver will be waiting to get you to the door of your accommodation at the city centre in as little as 19 minutes.
FAQs
Is Uber available at Madrid airport?
Yes. Madrid is one of the only places in Spain in Madrid that have Uber (it's not even in Barcelona).  The Uber driver will usually pick you up at the parking lot of each terminal. 
How much is a Madrid airport taxi to the city centre?
The taxis from the Barajas Airport to the City Centre are available at a flat rate of €30. Compared to other cities with the same flat rates, there's no extra tariff added to the flat rates even on weekends.
Is tipping a taxi driver necessary in Spain?
That choice is entirely up to you. It's not common but It's cool if you can. Usually the tip would just be the loose change from the fare, and there's no need to do more than 10% of the trip cost.
How do the Madrid taxis look?
Madrid taxis white with a red diagonal stripe. If you need a large vehicle, put in a word with the taxi dispatcher to get a larger car for you.
Can you leave the airport during a layover in Madrid?
Yes. The airport provides some entertainment options like bars, lounges, and cafes for stranded travelers during their Madrid layover, but not as much as other major international airports. If you feel the need to make the most of your time in the Spanish capital, I would recommend leaving 1 hour to get back to the airport from the city centre to be safe. You can leave luggage for short term in lockers at terminal 1, 2 and 4. Also, be sure to just double check with your airline as you may need to check in with your flight again so you can pass through security on the way back.
How long does it take to get from Madrid city Centre to the airport? 
Many factors determine how long it'll take to travel from the airport to the city centre. Your transportation option is the first and most important factor. Buses take as much as one hour, while private transfers can take as little as just 19 minutes. Traffic might also play a part, but the deviations are never too much from the expected times.
How far is Madrid airport from city center
Madrid airport is just around 10 kms from the city centre which will take about 20 mins in a taxi but depends a lot on when you travel. It will be more at peak rush hour and less late at night.
Madrid airport to the city centre: final thoughts
There's no doubt that the fastest and most convenient option for transportation from the airport to the city centre is to book a transfer. Entering a taxi comes a close second, but there's no telling what you'll experience with that option.
If you're more conscious about your budget, then the train can be a great choice from terminal 4, but as there is no train station in terminals 1, 2 and 3, I would go with the Metro.