If I were you ask you where is the best beach in the world, what would you say?
One thing is for sure, we would have different answers, but neither of us would be wrong.
The great thing about the word best is it's all relative. You may like the beach with the whitest sand or the most palm trees. Maybe natural rock pools are your thing.
The point is, everyone has a different reason to think of a beach as the best.
I recently asked a host of travel bloggers what their favourite beach is and why and it was great to see what the people who love travel love to look for in a beach.
Of course, certain countries feature more than once, beaches in the Philippines, Australia and Fiji all made the list but what about beaches in Wales, Albania or Bangladesh? Well . . . they're here too.
So if you are looking for some inspiration to take a trip to the beach, in no particular order welcome to 28 of the best beaches in the world as chosen by travel bloggers!
Estimated read time 4-5 minutes
The best beaches in the UK
Let's start in the UK, only because that's where I'm from and that's a good enough reason for me!
Mellissa Williams, Fly, Drive, Explore, loves sandy sandwiches in Tenby in Wales:
I love Tenby in West Wales as it has the most amazing beaches. They are always very clean and have gorgeous golden sand. I have memories of visiting Tenby every year as a child with my parents, and we would always go to the beach where I would play in the sand, and then have a sandy picnic. You haven't lived if you have never had sand in your sandwiches! Although south beach in Tenby has sand stretching for 2 miles my favourite is the harbour beach with the multi-coloured houses. It is just so pretty.
Laura Sellwood, Escapes Etc, Adores clambering over the dunes of Horsey Beach in Norfolk, England:
When you think of England, do you think of beautiful long beaches with golden sand? Probably not! Now, I've grown up spending lots of time at the seaside, but last year when I went to North Norfolk, UK, I just fell in love with Horsey Beach. It is completely spotless, surrounded by dunes to clamber over and it feels like it stretches for miles. It honestly felt like I had stepped onto a beach somewhere exotic. And to put the cherry on the cake, during the winter months Horsey beach is home to a colony of Grey Seals! You can see them swimming along the water's edge and basking in the sun on the shore. There are no barriers or restrictions here; it has been left completely spotless and you can throw yourself into the natural beauty of it all. It's a proper gem and a must-see beach for a trip to the UK!
Katie Featherstone, Feathery Travels, gets lost in the drama of the Scottish Islands. Her best beach is in Port nan Gallan, The Oa, Isle of Islay, Scotland:
A strange growth of land, almost detached from the rest of the island in both landscape and geography, the Oa descends a sharp hundred meters into the sea. The cliffs are so dramatic it looks like the setting for an unwritten adventure, fantasy novel. With these bizarre rock formations, a crashing waterfall and a good fifty wild goats, I return to Port nan Gallan every time I visit my family on the Isle of Islay. Often overlooked in favour of mountains and castles, Scotland's coastline is sprinkled with treasures like these, but the real beauty is that you'll probably have them to yourself.
Top European Beaches
So who would have thought there would be three UK beaches in the list? So how about beaches in the rest of Europe?
Violeta Matei, http://violetamatei.com, finds the best of both world in Praia Grande, Algarve, Portugal:
If you head east from Armacao de Pera, you'll find Praia Grande, a 2km long beach hidden between sand dunes and small bushes. Praia Grade de Pera stretches between Ribeira de Alcantarilha and Lagoa dos Salgados, a natural reserve featuring a lake and several rare species of water birds. It is certainly worth considering among the best beaches in Croatia.
Although this beach offers all modern amenities such as hotels, beach bars and restaurants, you'll have the pleasure to find a few secluded and private spots. On Praia Grande, you can have the best of both worlds, wildlife and modern comfort. Camping in your own RV is also possible. The nearest bigger town is Albufeira. You can reach this area by flying to Faro, Portugal, and by renting a car or by using the public transport.
Toccara & Sam, http://forgetsomeday.com, had quite an adventure to reach the crystal clear waters of Grandovac Beach on the island of Vis in Croatia:
Grandovac Beach on the island of Vis in Croatia may not be the easiest beach to reach, but the effort to get there is certainly worth it! To reach the island of Vis from Split, hop on the public ferry for the 2h20m journey for a low cost of less than $10 USD. We personally recommend you spend a few days on the island to make your journey worthwhile! To get to Grandovac Beach from the harbour town of Vis, you have two options –take a taxi or walk! (Note, the road to get to the beach is a little treacherous and not all taxis will go there. Also, for this reason, rented scooters are not permitted on this road.) For the sake of ease (and your wallet), we recommend walking. It'll take about 20 minutes and you'll pass through the lovely village of Kut along the way. You'll forget all about whatever effort it took you to get there the instant you arrive at Grandovac Beach. Even during the summer, this beach remains uncrowded and the crystal clear water of the Adriatic will take your breath away. Swim, snorkel, or simply relax as you take in one of Croatia's most gorgeous beaches!
Silvia Galvan, www.findingupendi.com, finds year round blue sky in Playa de Sotavento on Fuerteventura, one of the Canary Islands:
The island of Fuerteventura in the Canary Islands is known for having some of the best beaches in Spain, and although it is not easy to pick one, I'd have to go with Playa de Sotavento. This beach covers most of the southern coast of the island, boasting of nearly 10 kilometres of clean white sand and clear blue waters. Given the permanent state of summer that the island seems to be living under, you will also be guaranteed a clear blue sky about 350 days a year. The beach is especially popular among windsurfers and kitesurfers, and it actually plays host to the World Windsurf Championships every year during the months of July – August. No matter the time of the year, you can always count on a peaceful blue overdose with some kites splashed over it at this beach.
Pascal, Truevoyagers.com, finds some divine views while visiting Monastiriou beach in Amorgos, Greece:
Amorgos is a Greek island in the Cyclades with white houses, crystal clear waters and a peaceful atmosphere. During your visit to the island, you shouldn't miss the monastery of Panagia Hozoviotissa and its gorgeous beach. Monastiriou (Monastery) beach is a secluded bay which is mostly reachable by boat as the path that leads to the beach is extremely steep. The beach itself boasts the most brilliant blue waters humans could have laid eyes upon. It's no wonder that this area (which includes the famous Agia Anna beach as well) has been the perfect scene for Luc Besson's cult movie "The Big Blue". The monastery right above is built into the face of a cliff, thus you will need to climb 1000 steps to get to the top, but once you arrive, you will be rewarded with one of the most spectacular views you have ever seen, the endless blue of the Aegean Sea.
Giulia, http://www.blocal-travel.com, couldn't single out one beach but instead, recommends the whole of Albania:
Albania is one of Europe's best-kept secrets, especially when it comes to unspoilt beaches. The country stretches along the Mediterranean Sea, with a few big harbours in the north and several small villages in the south. My favourite beaches are in the area surrounding the picturesque village of Himare, as far as the more touristic area of Sarande, where you also find an UNESCO-listed archaeological site (Butrint). Dotted with abandoned bunkers from the Enver Hoxha era, the Albanian Riviera is rough and wild. Its beaches are sometimes secluded (such as in Gjipe, where you will find massive red cliffs), sometimes vast and quite sandy (such as in Borsh). Often, they are towered by ancient villages made up of stone houses, which are silent and suspended in time, if it weren't for the herds of either goats or cows wandering around them.
Read more about Albania's beaches here: http://www.blocal-travel.com/balkans/albania/albanian-riviera-html
Amazing beaches in the Philippines
OK, I think it's time for a special mention. When I asked the question two countries shone through more than any other. It was a close-run thing, but the winner with the most amount of suggested submissions was . . . The Philippines. I wasn't surprised, although I haven't been myself (yet) I have only heard wonderful things about the beaches there.
Katherine & Hali, www.taraletsanywhere.com, loved Boracay:
Boracay is consistently hailed as one of the best islands in the world. This tropical paradise, located in the Philippines, is famous for its white powdery sand and azure water. The most well-known beach in Boracay is White Beach, and this is the centre of tourist activities. White Beach is perfect for party-goers and beach lovers. It has night bars and pub crawls, as well as a wide range of restaurant options. It also offers numerous activities that can fill up weeks of a schedule, such as island hopping, helmet diving, parasailing, mermaid swimming and a whole lot more. For beach bums who prefer a little more solitude, Boracay doesn't come up short. There are lesser-known, quieter locations such as Puka Beach, which are great for relaxation and idyllic activities such as sunset viewing.
Read their full blog about Boracay here: www.taraletsanywhere.com/surprise-we-actually-like-boracay
Margherita Ragg, http://www.thecrowdedplanet.com, recommends Solangon beach:
I've seen many nice beaches in my life, especially in the Philippines, a country that in my opinion is home to some of the most beautiful seascapes in the world! Solangon beach on Siquijor may not be the most photogenic beach in the country, but it's definitely my favourite. Why? Actually, there are two reasons. Because it's the first Filipino beach we visited, we spent 5 wonderful days chilling in a local resort, doing nothing except swimming, relaxing, drinking fresh juice and eating fresh fish! The second reason is because of its wonderful sunsets. Every day nature put on a different show for us, and they're still the best sunsets I've ever seen!
Christine Vigonte
Caramoan is a small town in the Philippines endowed with untapped natural resources. It is a land of many caves, rivers, lakes, lagoon (found through hiking within the island) and a sea of crystal clear waters decorated by many beautiful unexplored islands. In the recent years, it was featured in the local and foreign programs, one of which is the TV show "Survivor", which eventually gained tourism popularity. Local and foreign travellers started to explore and love the beaches of the town. Apart from the beauty of nature, visitors are captivated by the warmth and family-like culture of the locals. Visitors will be in awe and left with nothing to say but that place is beautiful or in the local dialect "ang dahom na maray!"
Mike, www.LiveTravelTeach.com, wants you to add El Nido beach to your bucket list:
My absolute favourite beach in the world is El Nido on Palawan in the Philippines. It's incredibly remote and requires a flight and 6-hour van or two from Manila but well worth it. El Nido is so paradisiacal that it has been ranked #1 in the world by CNTraveler. El Nido has tonnes of great beaches but my favourite one was Corong Corong. The long stretch of beautiful sand has plenty of places to eat and stay but still feels empty of all the tourists you'll find in other places. From the shore, you'll see hundreds of beautiful boats that will happily take you to any of the islands littering the horizon. The landscape here is simply one of the best I've ever seen! Part of El Nido's charm is its remoteness but there are plenty of amazing activities to be had too. You can stay on land and rent a motorbike to a secluded beach or waterfall. Jump on a paddleboard or go island hopping and kayak in gorgeous aquamarine lagoons! El Nido has it all and should definitely be on your bucket list!
The best beaches in Australia
Coming a close second and another country that is synonymous with beach life is, of course, Australia. Blessed with a little over 16,000 miles of coastline, there are sure to be some stunning Australian beaches. Here are some of our blogger's suggestions:
Carla & Jarratt, Eathiketravel.com, recommend the wilderness of Wineglass Bay in Freycinet National Park, Tasmania:
With translucent turquoise waters lapping against the fine white sand of the crescent shaped beach, it's no surprise that Wineglass Bay in Tasmania is regarded as one of the finest beaches in the world. Located in Freycinet National Park and with the Hazards mountains as the backdrop, this picturesque beach truly is in the wilderness. Accessible only on foot or by boat, you're sure to find a moment to have the beach to yourself if you get started early enough. On foot, the Wineglass Bay lookout can be reached by a 1.5-hour return climb (uphill!) and this is where most visitors will finish, content to marvel at the spectacular view. Allow another hour (return) to visit the beach itself and wade in the crystal-clear ocean. Quite often your only swimming companions will be a pod of dolphins!
Rain Campanilla, http://wordsandwanderlust.com, loves Soldiers Beach in Norah Head, New South Wales:
Soldiers Beach in Norah Head, NSW is my ultimate favourite amongst the innumerable beaches along the east coast of Australia. It boasts of a long strip of white sand amongst rocky platforms and low bluffs. It is often eclipsed by the more popular Norah Head Lighthouse and The Entrance Pelican Feeding Park and is mostly known only to locals. It is a delight for more morning walkers, swimmers and surfers. The area also has a coffee shop where one can enjoy a cuppa before a picturesque vista.
Maia Pesayco, www.passportandpostcards.com, takes us back to the Gold Coast and Currumbin Beach:
An up and coming beachfront community, Currumbin Beach is very different from most Gold Coast seaside suburbs. Here, homes are built on the hillside, overlooking the beach or by the Pacific Parade enveloping the hillside. The Currumbin Creek and Alley serve not only as an entryway to the ocean but also provide a protected and patrolled haven for different kids of active water sports such as kayaking and stand-up paddle boarding. Every September, Currumbin Beach also plays hosts to 'The Swell Sculpture Festival' where sculptures are placed along the Pacific Parade and directly on the beach to observe, touch, feel, and take photos of. Some artists even allow for kids to play with their creations, making the wonderful event perfect for the whole family. With a number of Lookouts to view the gorgeous beach and watch some surfers ride that perfect wave, modern cafés sharing the beachfront vistas and the famous Currumbin Wildlife Sanctuary just metres away, you'll easily find yourself spending a whole day here!
Stunning beaches in The Caribbean
Where next? The Caribbean? . . . I think so
Marisa Martin, also known as The Traveling Storygirl, www.thetravelingstorygirl.com, enjoys the dangers of Maho Beach, St. Maarten: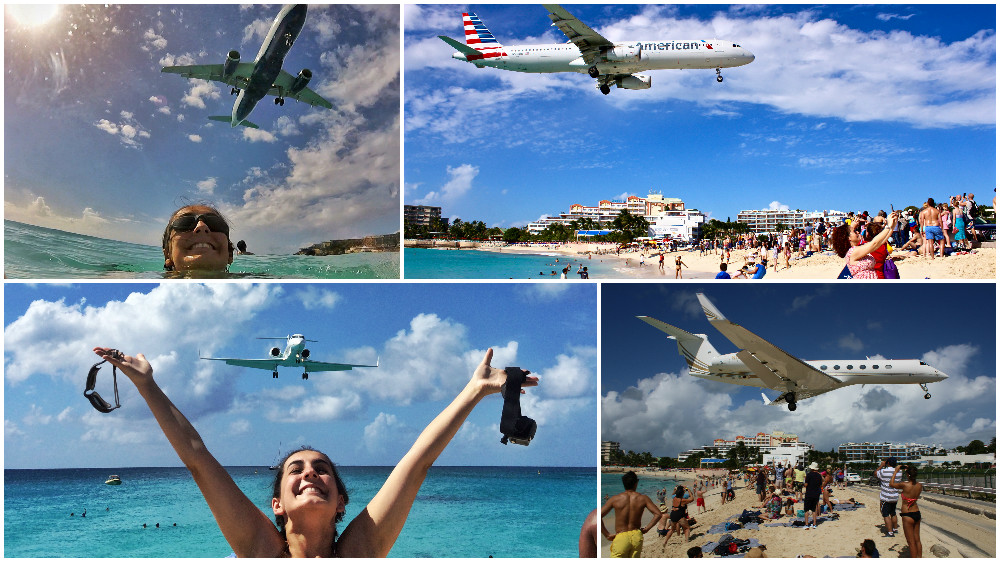 Most people go to the Caribbean in search of the perfect tranquil beach with white sands that stretch on for eternity. Not everybody expects to sit at the beach and have aeroplanes whiz by only 100 feet above your head. Yet that is exactly what Maho Beach on the Caribbean island of St. Maarten is. Dubbed one of the most dangerous beaches in the world, it is a top attraction for thrill-seekers and those who want to relax and watch aeroplanes. Some people choose to even stand directly behind the planes as they take off, while others prefer to swim in the crystal clear waters and admire the planes as they land just overhead. This extraordinary destination certainly earns Maho Beach the title of one of the top beaches in the world.
Jessica Festa, http://jessieonajourney.com, gets a boat at Exuma Caves, Bahamas:
For a quirky beach experience, head to the lesser-known Exuma Cays in the Bahamas and take a boat out to Big Major Spot Cay. Here off the shores of this white-sand beach, you'll be able to swim in azure waters with not just fish, but pigs! The adorable creatures were placed here during the First Gulf War as insurance in case local farms needed to be repopulated later on. You'll also find chickens and sheep on the island — but no people!
Stephanie Kuchs, https://www.gingeronthegonyc.com, fell in love with Grace Bay and the surrounding Cays of the Turks & Caicos:
Grace Bay is a lovely beach, but it wasn't until I hopped on a catamaran to explore the uninhabited smaller cays of Turks & Caicos Islands that I fell in love. These clear shallow waters made it easy to spot marine life. We were able to spot an abundance of bright orange sea stars and stingrays jumping from the water!
Hannah from http://www.gettingstamped.com continued chasing the sun in the stunning Half Moon Cay.
I've been chasing the summer the last 3.5 years and I've been to my fair share of gorgeous beaches. One of my favourites is the private island Half Moon Cay. The only way to visit the island is if you are cruising with Holland America or Carnival Cruises. On my cruise this was the last stop on our week long trip and boy did they save the best for last. I literally spent the whole day walking the white sandy beach and dipping into the ocean to cool off. Half Moon Cay really is paradise.
Find out more about Half Moon Cay in Hannah's blog post here; Visiting Half Moon Cay
Other great Asian Beaches
So what about the rest of Asia that isn't the Philippines? Well, rather amazingly, I didn't have anything submitted from Thailand. Having been to both Ko Phi Phi and Ko Lanta, I feel both would be great inclusions, maybe I'll get them in part two. One suggestion that caught me by surprise was Bangladesh. I'll hold my hand up and say I know very little about the country but really want to visit one day. So let's kick off with that one . . .
I didn't get the real name but Travel Cracker, http://www.travelcracker.com, thinks you should ride bikes in Saint Martin Island, Bangladesh:
Saint Martin Island Bangladesh is the coolest & the most peaceful beach among all other beaches of Bangladesh. This 8 square km island has more than 2000 inhabitants who live mainly by fishing all the year. From the beginning of November to the end of March is the peak season for travelling this mesmerising island. 2-3 days are enough for taking almost all the experiences in Saint Martin Island Bangladesh. The main food is fish & fish barbeque is the most popular menu among the travellers. In addition, green coconuts of this island are very tasty. The average price of one green coconut is around 75 cents. Besides, you can also ride bicycles by 35-40 cents an hour. Finally, don't miss visiting Chera Ddwip which is near to the island, enjoying the sunrise & sunset and feeling the silence of the beach. These are the average tourist guidelines. Hope it will help.
Read more about Saint Martin Island Bangladesh here http://www.travelcracker.com/saint-martin-island-bangladesh
Michael Still, www.LiveTravelTeach.com, has a second entry, because Muuido Island in South Korea sounds pretty awesome:
Muuido Island is a short ride from Seoul, South Korea and has a gorgeous beach. The water itself slowly rolls into the sea stretching for miles towards other islands. At high tide, you can splash through the waves or relax on the beach. The water is shallow but you can easily submerge yourself. During low tide, on the other hand, you can walk out forever. Rumour has it you can even walk to the next island but we didn't try it. My favourite part about Muuido is the sunset. It's by far the best sunset I've ever seen in Korea and pretty close to #1 in all of Asia. Maybe we just got lucky but this picture doesn't need me to elaborate on how stunning the orange and red hues are on Muuido Island!
Tracy Chong, http://peekholidays.com, loves Wayag island in Indonesia, check it out and you'll soon see why:
Raja Ampat in West Papua is claimed as the heaven for the divers due to the richness of its marine life. As shown in the photo is part of Wayag island, the icon of Raja Ampat. To get this view, there is a little bit climbing involved; to the top of the karst hill which has quite harsh and sharp surface. But as long as you watch your step, getting to the top of the hill to enjoy the view, is not an issue at all. Wayag is about 2-3 hours away from Waisai, the capital of Raja Ampat, by speed boat. Besides enjoying the view, you can also enjoy snorkeling or just casually swimming around the island.
Wendy, www.worldwidewendy.be, Dreams of being shipwrecked in the Maldives:
Did you ever dream of experiencing the Robinson Crusoe feeling? In that case, the Islands of the Maldives have to be your next destination. Numerous atolls are floating just above the surface of the Indian Ocean. Everywhere you look, you see landscapes postcard-worthy. White sandy beaches, abundant palm trees and crystal clear water are everywhere. Bandos is the biggest and most popular island and Olhuveli and Kuda Huraa are the most exclusive. I have been to many places but the Maldives beaches are unbeatable.
Rishabh Shah, http://gypsycouple.com, loves the variety that Goa, India, has to offer:
Goa is an enigma and has gone through multiple personality changes over the past few decades. From being a hippie hub in the 70's-80's to being a party hotspot in the 90's-00s to its present avatar of a lost child finding its way back. However one thing about it remains constant, it's wonderful array of beaches remain one of the best in the world. One of the few destinations we've visited which has rocky beaches, black beaches, muddy beaches and white sand beaches within its periphery and all of them world-class beaches to boot. Some of them perfect for long romantic walks, others for getting a tan, yet others for a spell of self-introspection, some beaches a haven for partygoers and some maybe to join locals for a game of football. To cap it up, Goa in monsoons is a whole new destination in itself. A beach for everyone and all seasons making it our top beach destination.
Other great beaches in Oceania
How a few more beaches in Oceania?
Kay & Gelo, www.jointhetravellingpair.com, tell tales of Whale Bay on the Tutukaka Coast, New Zealand:
Whale Bay Beach is tucked in the Northeast coast of New Zealand's North Island. It is quite a small and secluded spot and we reckon it's the best beaches in the world. Why do you ask? Well, let's start with some of the most common and essential attributes that make up a good beach. Whale Bay Beach has fine white sand and crystal clear turquoise waters, it is also in a sheltered bay so the water is calm and perfect for snorkelling or a relaxing swim. Now for most folks, such traits would be more than enough for a great swimming spot but this little gem goes way beyond that. It is surrounded by lush greenery and has no direct road access, you'll actually have to walk a good 15 minutes through native bush to get to the actual beach. Consequently, the beach tends to be more tranquil compared to more popular shores, even during summer. Furthermore, it is relatively untouched by development and the only infrastructure present is a single toilet facility. The sheltered bay is home to many of the native marine species in New Zealand which makes it an incredible snorkelling location. Dolphins and the occasional orca whales also frequent the place to hunt small fish and stingray.
Juliette Siversten, www.snorkelstosnow.com, marches with sergeant fish in Fiji:
Natadola is one of the few public access beaches on the mainland of Fiji's Viti Levu. It's just a 40minute drive from the popular tourist resort area Denarau Island, near Nadi. With long stretches of white sand gently fading into the turquoise waters, the snorkelling right off the beach is among the best in Fiji, with plenty of colourful tropical fish darting in and out of their coral hidey-hole. Expect to snorkel with parrotfish, schools of sergeant fish and plenty of brightly coloured little damselfish. Along the beach, refresh and rehydrate with a fresh drinking coconut or a beachfront massage at any of the local stalls next to the Intercontinental Resort, which is situated on the beach. You can go horse riding along the sand or even try surfing. The usually calm waters make this beach ideal for stand-up paddle boarding. Natadola is a favourite in Fiji because of its easy location and excellent swimming and snorkelling so close to the mainland.
Aleney de Winter, www.boyeatsworld.com.au, adores the fish poop of Amedee Island, New Caledonia:
Amedee Island – A tiny coral atoll about 24-kilometres south of New Caledonia's Noumea, Amedee Island is one great big, ridiculously beautiful beach. Surrounded by swaying palm trees, pristine white sand (which is basically a giant pile of fish poop, or minute excrements of coral sediment, to be more precise) and retina-searingly blue water filled with coral gardens, Amedee Island is also home to one of the tallest lighthouses in the world. It is from its soaring antique tower that visitors can best take in the beauty of this impossibly pretty patch of the Pacific. An abundance of marine life and its surrounding lagoon has seen Amedee Island classified on the UNESCO World Heritage List. Just metres from the beach you'll find yourself snorkelling alongside dozens of graceful green sea turtles, all of whom are absolute pros at selfies. Or maybe, if you are lucky, you can try stand up paddle boarding alongside a friendly dugong. That is when you aren't dodging the sea snakes slithering up and down the beach. They're non-aggressive but venomous and it is advised to give them a wide berth. Shame no one told the bolshy sea serpent that swam right between my legs on its way to sunbake on the irresistibly pretty beach.
And the best beach in California?
Finally, somewhat surprisingly, I only had one submission from the USA
Nisha Hood, enjoys the Californian vibes on Manhattan Beach: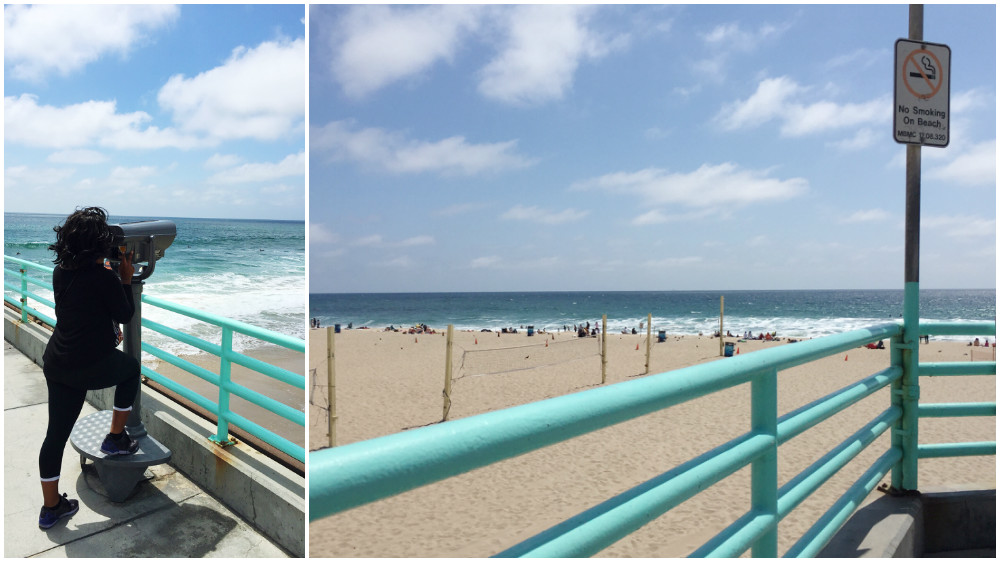 I visited many beaches in the last few years. I always get asked which one is my favourite. Without hesitant, I reply Manhattan Beach in California. Some of my friends and family are shocked at my answer because I currently live about thirty minutes away from Manhattan Beach. Before I moved to California I had an image in my mind that all beaches are perfect and relaxing. Like most people visiting Los Angeles, the first beaches I visited were Santa Monica Pier and Venice Beach. My picture perfect beach image was shattered at these interesting and very crowded beaches. Theses beaches are still nice just not what I pictured. The first time I visited Manhattan Beach I instantly feel in love. The whole city of Manhattan Beach is welcoming and has California beach vibes written all over the place. The beach is picture perfect with amazing blue water. My favourite is spot is up by the viewpoints aligned with turquoise rails, perfect area to watch the local surfers catch waves, and people on the sand playing volleyball. I recommend everyone to visit Manhattan Beach when in the Los Angeles area to experience a more authentic California beach.
So there you have it, 28 of the best beaches as recommended by travel bloggers. As I mention throughout there are some surprising inclusions and exclusions. I thought there would be more from Europe, I noticed that beached in Italy are missing and I thought there would be more Spanish beaches included. You may have noticed two continents are missing, has anyone been to the beach in Africa or South America … I thought Brazilian beaches would be here for sure.
I just want to finish with a big thank you to all the bloggers who helped to create this post, be sure to check out their pages for loads of great travel stories and advice.
What do you think? What is your favourite beach of all time? Let me know in the comments, maybe I'll reach out to you for part 2!
Are you a Travel Blogger?
If you want your blog to be added to our map be sure to check out our submit your blog page here: https://www.thetravelblogs.com/submit-your-blog
More of The Travel Blogs original content
[pt_view id="cd68648ga2″]