Western Pennsylvania spans across a variety of geographical features, including the foothills of Appalachia and the shores of Lake Erie. Here are five Pennsylvania State Parks to visit this year!
Summer 2020 was the year of the outdoors! I think that is a trend that won't fade out anytime soon. Being outside has been proven to boost attitudes and health, so I think outdoor recreation won't go out of style anytime soon!
I spent a ton of time camping, especially in Pennsylvania, although I did get to leave the state a couple of times. Fortunately, Western Pennsylvania is the perfect place to be outside!
The winter doesn't get too cold (unless you're close to Lake Erie) and the summer doesn't get too hot, either. While Pennsylvania has a few big cities, most of the state consists of woodlands and waterways. Pennsylvania actually means "Penn's Woods." With a name like that, it shouldn't be surprising that the entire state is gorgeous!
I had no idea that Pennsylvania housed so much beautiful scenery until the first time I visited. If you've never been out this way, you should definitely put it on your to-do list! If you have visited before, then you definitely understand. Either way, you will benefit from knowing about these 5 beautiful Pennsylvania State Parks!
5. Shawnee State Park
Shawnee State Park made the list of Pennsylvania state parks because it has a beautiful lake, perfect for anyone who loves to fish, swim, or go boating. Measuring at 451 acres, Shawnee Lake is big enough that you could spend an entire day on the lake without getting bored. While this is perfect for fishing, it's also a great way to soak in some sunshine with loved ones! If you want to rent boats with friends, you can choose from paddleboats, canoes, kayaks, and rowboats.
If you like fishing, then get a fishing license and you'll have no problem catching fish here! Obviously, different people have different preferences when it comes to fishing from a boat or from the shore. Fortunately, both options usually result in success at Shawnee Lake! The pond is well-stocked with warm water game fish. If it gets cold enough during the winter, ice-fishing is also an option!
If you'd rather find dinner on land, you can also hunt on the grounds. Be sure to research hunting safety and regulations before you head that way!
For those of you who prefer to look at animals rather than eat them, you can also do that. If you keep your eyes open, you may find deer, rabbits, grouse, and other woodlands creatures. The Lake Shore Trail is a great place to find some of these animals! You'll also find many creatures that prefer the water, such as turtles, fish, and snakes. Field Trail is a bit more remote and may lead you to even more wildlife, including ducks or geese.
If you're mostly concerned about getting your steps in, you should have no problem with 16 miles of trails at Shawnee State Park! While most of the trails offer easy hiking, you'll be able to find more difficult hiking trails if you're up for a challenge!
Swimming is also an option daily during the summer. You can ride a bike, play disc golf, or go for a picnic. If you visit in the winter, make sure it's a snowy day so you can participate in snow activities, such as sledding or snowmobiling!
The surrounding area also has a lot to offer, including cute shopping areas and Old Bedford Village.
4. Keystone State Park
Keystone State Park made the list because it's a nice little park with everything you need! These activities include the classic outdoorsy activities, but everything is so close together that you can park in a central location and walk all over the park!
Since it's a small park, it only has eight miles of trails. That doesn't mean it has any less fun, though! The trails all offer unique experiences. For instance, some of the trails are good for bikes. Some of the trails offer more chances to see wildlife. There are many woodlands and wetlands creatures, as well as a wide variety of regional plants!
The park is home to an ADA accessible lake! This lake has a beach, boat rentals, and fishing spots. You can also buy food and some fishing gear at different shops around the lake when they're open during the summer months.
This park is perfect for anyone who isn't quite sure about spending too much time outside. It has all the benefits of a state park, but it's not as secluded as many. If you decide that you can't take it anymore, you'll be able to head right over to Pittsburgh!
For more detailed information, read this article about 7 activities to do during a day at Keystone State Park.
3. Presque Isle State Park
If you've ever visited one of the Great Lakes, you'll know why Presque Isle State Park is one of the more beautiful parks in western Pennsylvania. Since it's a peninsula in Lake Erie, the park is surrounded by water.
It's a day-use park filled with activities you can do to spend the entire day at the park. Some of these activities are similar to the activities at other parks, although none of them are quite the same.
For instance, boating on a Great Lake is different than boating at a small lake. If you're more interested in kayaks or other small boats, there is a pond with rentals. However, taking a boat on Lake Erie would be a neat experience! If you're not comfortable driving a boat in such open waters, you can take a boat tour to see the sights from the comfort of a passenger's seat.
Fishing is also a bit different because you'll have the opportunity to catch different species of fish and the fish are more likely to be bigger.
Instead of swimming at one small lakefront beach, like at most Pennsylvania State Parks, you'll be able to choose from many beaches that have different qualities. You can even go surfing in a few places!
Since the park is open every day of the year, you can take advantage of the lake effect snow and participate in snow activities. Just be sure to follow safety guidelines! You can also do some indoor exploration when the weather is a bit gloomy, such as visit a lighthouse, eat at one of the local restaurants, or visit the Tom Ridge Environmental Center which is right outside the park. For more details about the area, read this ancient blog post of mine about Erie, PA!
If you visit the environmental center, you'll learn about the interesting ecosystem of Presque Isle as well as what animals you can find throughout the peninsula!
Of course, you can also go hiking and biking. There are trails that go around the entire peninsula. One is ADA accessible and allows bikes, skates, surreys, and more. If you don't have your own, you can even rent them when you get there. The hiking trails are often parallel with the biking trails, but are not paved so can be a bit more difficult to travel along. They'll take you to different parts of the park if you don't want to drive around!
2. Laurel Hill State Park
Laurel Hill State Park is a great place to visit if you really just want to experience the great outdoors to the fullest. Since it is so big, you don't really run into many people. Although tons of people visit, there's so much space to spread out!
Home to fifteen miles of trails, you could hike/walk/bike all weekend without following the same trail twice! I know this because I did it and told you all about the different trails in this blog post about hiking at Laurel Hill. Different trails have different qualities and I'm sure you'd find that a couple of them (or more) will suit your interests!
Since it's a bit more secluded than other parks, you'll have opportunities to see tons of wildlife! This is especially great if you would like to hunt or fish, because you'll have many species to choose from, including black bears! You can even find tours in the area that will take you to the best places to see some amazing aspects of nature.
One other cool part of the park is the lake! It's pretty big so you can fish, boat, or swim. Since the lake covers 63 acres, you'll find several spots to hang out by the lake!
One awesome detail about Laurel Hill State Park is that they have so many ADA accessible activities, including the beach and boat dock! Everyone will be able to enjoy some time at this state park!
1. Ohiopyle State Park
This one is, I could argue, the most beautiful park in the state! Ohiopyle State Park is always crowded if the weather is halfway decent. This is because the park has so much to offer!
It is home to several waterfalls, including some natural waterslides. It has nearly 80 miles of hiking trails! The park also offers many basic outdoor activities in addition to some you can't find at most state parks.
For instance, they have amenities for horses and their riders so you can enjoy horseback riding along some designated trails. They also have some rock climbing areas and you can pay for a guide to show you the ropes. Some of the trails are excellent for mountain biking as well as cross country skiing! They also have rapids that are perfect for whitewater rafting.
Since the Youghiogheny River (or the "Yok," if you're a local) runs right through the park, you'll have many fun experiences around the river! If you're not quite brave enough for rafting, you can do some calmer activities. Maybe you'll hike alongside the river, find a dock or bridge that takes you over the river, or try fishing. Since river fishing is much different from lake fishing, this will be a new adventure for many people!
Instead of hiking along the lake, you can find more challenging trails or hike to one of the several overlooks, such as Baughman Overlook or Tharp Knob. Also keep your eyes open for wildlife because you'll find tons of woodlands animals in addition to the birds and river critters.
If you'd rather be inside, then visit the small town of Ohiopyle because there are a few cute shops and restaurants you can explore.
Final thoughts
If you happen to be in western Pennsylvania, definitely check out some of its natural beauty at one of these state parks! Hopefully you'll be able to plan a weekend around one of these gorgeous state parks and enjoy some outdoor activities. Have you been to Pennsylvania? If so, what was the prettiest view you'd seen in the state? Be sure to let us know in the comments!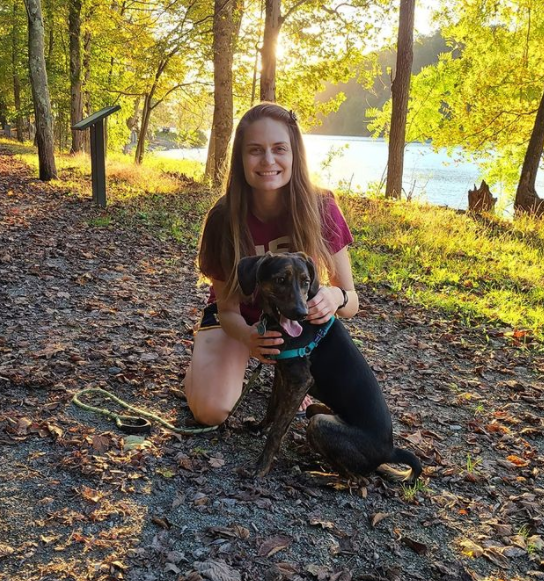 About the author
Raquel is the creator behind Meals and Mile Markers, a place to enjoy Food & Travel with sustainability and budget in mind. "Caviar style on a fish sticks budget".
Find Raquel on Instagram