The Ayutthaya Historical Park is the epicentre of what was once the great empire of the Ayutthaya Kingdom. An ancient imperial establishment that was at the peak of its powers between the 12th to 16th century.
The vast site is a UNESCO World Heritage site and part of the modern city of Ayutthaya, in Thailand, only 50 miles (80kms) from Bangkok.
If you're into historical sites, the Ayutthaya Historical Park has to be on your radar when visiting Thailand.
This site is home to many buddhas, which were in their time magnificent, but due to natural degradation and not a lot of restoration, only a few remain. The most iconic of which you will see in postcards all over Thailand, the buddha head in a tree.
A Visit to the Ayutthaya World Heritage site makes a wonderful trip from Bangkok. There are many ways to get to and then explore the temples. When I visited, I chose to get the train from Bangkok to Ayuttaya and then explore the temples by bike, but more on all that in a bit.
You may also like:
Coming your way in this post - click to expand ->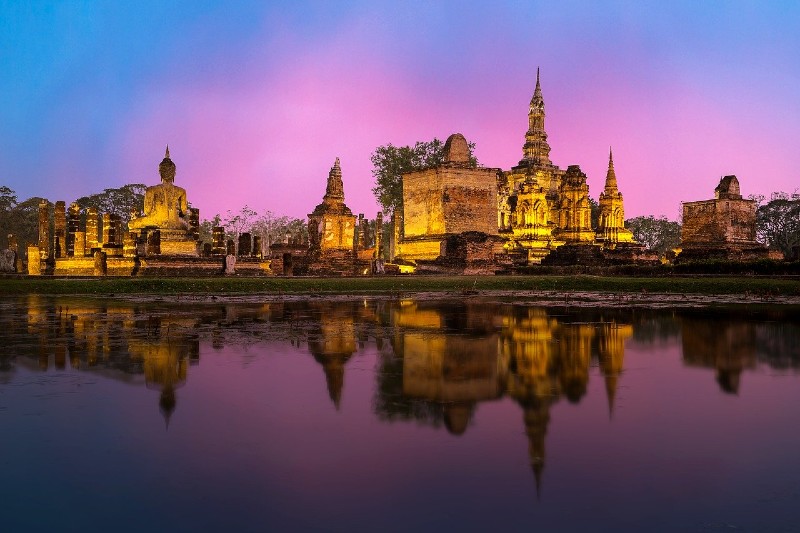 How to get to Ayutthaya Historical Park from Bangkok
Getting to Ayutthaya is easy with 3 main options available.
Guided Tour
If you're on a tight schedule but adore historical sites and don't want to miss out on the Ayutthaya Historical Park, you can opt for a tour.
A day tour offers the benefit of pick up and drop off and ensuring that you don't miss a thing. There are also tours that include one of my favorite places in the world, the Monkey Temple in Lopburi.
Of course, comfort and convenience comes at a price. A tour will always be more expensive, although still outstanding value, than getting to Ayutthaya on your own, but the premium is for peace of mind.
If you are not a seasoned traveller or are tight on time, I would recommend this as the best option. Otherwise, take the train.
*Please note, the recommended tours below are affiliate links. This means if you book after clicking through, I make a small commission at no cost to yourself.
Bangkok to Ayutthaya by Train
If you don't fancy dropping the cash on a tour, then the train would be the best solution. Trains in Thailand are actually pretty good and as this isn't a really long ride, it's a safe option.
The train leaves from Hualamphong Station in the city centre many times throughout the day with 4 different options:
Ordinary
Rapid
Express
Special Express
Depending on the service you choose the journey will be between 1 and a quarter hours to 2 and a half.
Obviously, the price of a ticket depends slightly on the service, a first-class one will be around 300 THB ($9.50) or down to 40ish THB ($1.50) for the third-class carriage.
The park is around 3 miles (4.5kms) from the train station on the other side of the Chao Phraya river. It's a longish walk or just hop in a tuk-tuk at and you'll be there in no time. The tuk-tuk will be about 50 THB ($2).
Bus from Bangkok to Ayutthaya
The other option is the bus. There is a bus to Ayutthaya that leaves from Mo Chit Station every half hour that takes around 90 minutes and costs 60 THB ($2.50).
However, it's not the easiest thing in the world to find. Once you are at Mo Chit Station, your best bet is to take a quick taxi to get to the correct bus stop for Ayutthaya.
My top recommendation would be to take the train. It's just much more relaxing and the views as you're whizzing through the rural countryside are far more enjoyable than the endless tarmac of the road.
Getting from Chiang Mai to Ayutthaya
While this post isn't focussing on getting to Ayutthaya from Chaing Mai, I do want to briefly touch on it.
The only quick way is an internal flight which takes a little over 1 hour. I guess that makes it possible as a day trip, but unlikely. There is a train that takes 9 hours, so if you are Overlanding through Thailand, it could be a good stop between the two big cities of Chiang Mai and Bangkok.
A quick history of Ayutthaya Historical Park
The Ayutthaya World Heritage site is the remains of a Siamese empire settlement, laid over almost 715 acres of land, which started in 1351 by King Ramathibodi. It was one of the biggest cities of the time to exist in Indochina with extended connections to traders and a massive hub of trade in Asia.
The fall of this vast empire was through the Burmese invasion in the year 1767. The city was pretty much decimated to ashes, but the Phoenix prophecy, this empire did not rise again from its ashes to fulfil the greatness it once had.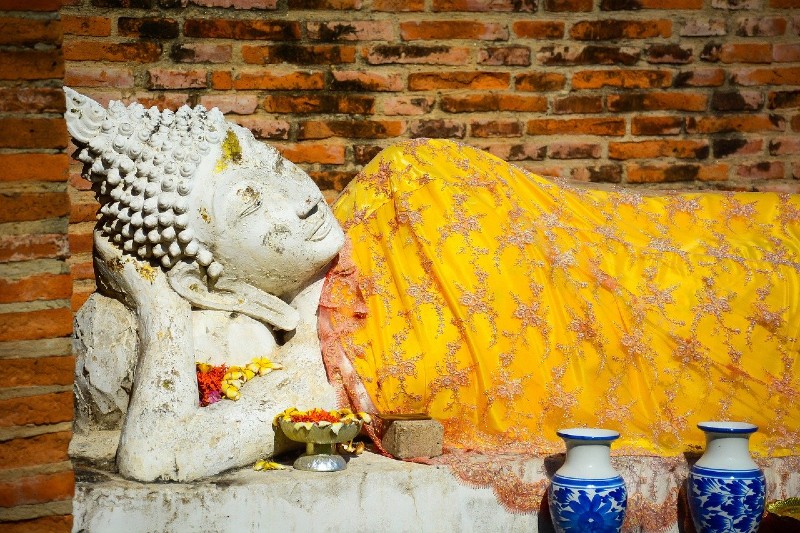 The vast temples, buddhas and buildings that remain on the site portray the relative luxury of the people at that time. They must have been magnificent, especially to the eyes of the time.
More recently, the Ayutthaya Historical Park has been restored by the National Fine Arts Department of Thailand and protected by UNESCO. However, due to erosion and human fighting, over time, much of it has faded away and the ruins are just a shade of what magnificence it once was.
But, that does not mean it is not worth visiting! What has survived are still some examples of splendid temples and a fascinating insight into a history that all happened so far away from the history we know in the West.
The most important temples in Ayutthaya Historical Park
Wat Chaiwatthanaram
King Prasat Thong built this temple in 1603 as a memoir of his loving mother.
Wat Mahathat
This temple is the head of the Buddha entangled in the branches and roots of a tree initiated in 1374. It is one of the famous temples around.
Wat Phra Sri Sanphet
Initiated in 1350, it is known to be one of the most spiritual temples amongst the others. This has three Chendis, which were destroyed by the Burmese and restored later on.
Wat Yai Chai Mongkhon
A temple with an enormous reclining buddha with saffron robes, also known to bring you luck if you put a coin on the 7-meter long Buddha. Try out your luck.
Wat Ratchaburana
The temple's main prang is one of the finest in the city. Despite the crypt being looted, some of the ancient treasures were recovered and are now on display in the nearby Chao Sam Phraya Museum.
Where is the Ayutthaya Buddha Head in a tree?
As I alluded to earlier, you cannot visit Thailand without coming across this image somewhere.
The Buddha head in a tree is located in Wat Mahathat temple complex, in the northeast corner of Ayutthaya Historical Park and one of the biggest tourist attractions in the city.
The head is wedged between the roots of a tree, showing just the right amount of its face to praise and respect.
The most popular story relates to the Buddha being stolen to be retrieved later on, but it seems they never got around it.
But these are only rumours which exist around the head and nothing more. There is no real solid truth for such a claim.
In all honesty, once I had found it I felt a real sense of satisfaction like finally, I've seen it. But in all honesty, looking at it was a little underwhelming. Like you build up and up to the moment, finally seeing this iconic image, and there is, a head in a tree. I'm not really sure what I should have expected. I can't imagine visiting Ayutthaya and not looking at it, but don't be surprised if you feel a little "meh" afterwards.
Ayutthaya vs Angkor Wat
There are often comparisons drawn between these two ancient sites, and it's easy to understand why. They are both ancient, temple-laden cities left in ruins in the same area of the world.
But in all honesty, if you can only visit Ayutthaya, that's still a great option, but Angkor Wat is a whole other level.
Angkor Wat is a little over 400kms east of Ayutthaya in Cambodia and is the biggest religious monument in the world. The temple complex spreads over 162.6 hectares (1,626,000 m2; 402 acres), it takes days to explore, although most people, including me, chose to just see the main temples in one day and move on. You'd have to be a real temple geek to keep going back, but if you are, this is your Xanadu.
Having said that, it may surprise you to know that the Ayutthaya Historical Park is actually larger than Angkor Wat. The official size spreads over 289 hectares (742 acres), but almost all of the iconic Ayutthaya temples are found in a small area North of Rama public park situated in the middle of a busy town and can easily be covered in a day.
Angkor Wat and Ayutthaya are most definitely two of the most significant religious sites to exist in the Hindu and the Buddhist religion. They serve their purposes in their manner of fashion.
In the timeline of existence and style of the site, they share many similarities, but there is no question that Angkor Wat somewhat stands out.
As I mentioned at the beginning, if you cannot get to Angkor Wat, Ayutthaya is still a fantastic destination, but if you have the choice of only one, Angkor Wat hands down.
On a side note, if you are heading to Cambodia and Siem Reap, be sure to send Jimmy a message. He is an amazing guy. An ex-monk who funds local schooling projects through his tuk-tuk tours. I promise you, if you get in touch, you will not only get a great tour, you will also come out the other side inspired to be a better person and have a new friend for life.
I have a post about his last school project and how to get in touch over here.
Best way to explore the Ayutthaya ruins
Walking
Obviously, the cheapest way, but also the slowest and you will lose a lot of time walking between the main temples. I chose the word carefully as you wouldn't be wasting time, the park is a lovely place to be and the walks between the temples will be enjoyable, but not quite as efficient.
Bike
This is my top option. There are plenty of places to hire bikes (with comfy saddles) to tour the historical park and visit the many temples in Ayutthaya.
If you arrive by train, you can hire bikes from the station, alternatively, there are plenty of places in and around the park, it won't be hard to find somewhere.
Hiring a bike in Ayutthaya costs between 40 to 100 Baht per day *roughly between $1.50 – $3.50). Just make sure you get a lock as part of your rental in case you need to leave it outside while popping in and out of temples.
Boat
While this won't get you into any temples, there are various boat rides you can take which offer an excellent and relaxing way to see the temples. The river is very much the life of this city, so as you cruise along, don't be surprised by the other little snippets of daily life you come across.
Kids jumping around the river banks, playing with rubber rings. Residents trying to catch their dinner, a boat tour will open your eye to a lot more than just the temples on the horizon.
Tuk Tuk
This is a great idea if you want to relax and let the temples come to you. Many of the local tuk-tuk drivers will also be happy to share stories of the temple and their life in the city.
You can expect to pay 1000 baht ($32)for a day or around 250 baht per hour ($8) if you want just a few hours.
Ayutthaya Elephant rides
Elephant rides are an extremely popular option with a certain style of tourist. Although the elephants are cute and it looks like a great time, I would not encourage this as an option.
Not only is it very expensive, around 3000 baht ($100) for a 20-minute ride, I do not personally recommend this kind of animal experience. There are far better ways to get close to elephants in Thailand. If you are still interested in doing this, check out this link, read some of the contrasting reviews and make a decision you'll be happy with.
Frequently Asked Questions