Arriving in La Sierra de Francia's
Leaving Ciudad Rodrigo behind we passed through the small village of Serradilla del Arroyo before heading into the mountains. The nice manicured tarmac turned into a winding mountain road, often narrowing to a single lane with steep drops off the edge. The views were spectacular, the pointed mountain tops on the horizon beyond the tree covered valley in front . . . although I couldn't pay too much attention for the fear of mistiming a switchback corner to an untimely death.
Suddenly from nowhere our home for the evening, Monsagro, appeared. The whole village is hidden by the mountains until you turn the final corner into it. The only sign of life was the smoke rising from the chimney pots to counter the chill on this cool Spring evening.
The village of Monsgaro
Monsagro is one of many handsome villages scattered throughout the Sierra de Francia, a range of foothills acting as the entrance to Spain's Sistema Central mountain range.
The most famous landmark in the region is the Santuario de Nuestra Señora de la Peña de Francia (from here on referred to simply as La Peña as I really can't be bothered to write all that out every time). It is a Catholic Church and Sanctuary which sits atop the Peña de Francia, and is visible from many of the surrounding villages. Peña de Francia is the common term people use when referring to the monastery, although Peña actually simply means rocky hill.
We were staying in the small village of Monsagro, just 17kms away from La Peña. If you would like to know a little more about other villages in the area, check out my separate villages of the Sierra de Francia post. We are lucky Raquel's (my other half) parents live here when they are not in Madrid so we have a place to stay. However, there are a couple of great options aside from Raquel's mum (although I'm sure she'd be happy to look after you too!). There are some self-catering apartments, Apartamentos Sierra de Francia, or a small hotel, Hotel Rural Valle Agadon, run by the lovely María José, complete with dining room and terrace with stunning views over the village.
In the centre of the village is a small village square, home for the many celebrations held throughout the year, as well as a small museum that celebrates the local wildlife and the family history in the village. However, the village's claim to fame is the use of fossils in the buildings. In fact, it has its own fossil route and downloadable app, you can find out more about this soon in my post about the villages of Sierra de Francia.
Visiting the Santuario de Nuestra Señora de la Peña de Francia
So after a good catch up with the family and a hearty breakfast, we were ready to head to La Peña. From Monsagro it's about a 4-hour hike with a couple of different route options, so if you set off early you can be there in time for a mid-morning snack or lunch.
Alternatively, you can do what we did and do the 20-minute drive.
The road continued to impress as the scary drops to oblivion kept me focused. If you're lucky you may spot some of the mountain goats and their impressive curved horns scurrying up and down the mountainside.
Mirador de los Lobos
Just before the turn to head up to La Peña, there is a great viewpoint, Mirador de los Lobos, a spot to take some lovely pictures looking up to the monastery or of the expansive views beyond.
From the outside, La Peña is nothing special to look at. No amazing architecture (if you look past the fact it's built on a 1700m mountain) and I only felt a tinge of disappointment when I discovered that the tall tower is actually for the region's TV signal, not a rocket ship to heaven. However, as I mentioned, it is built up high, and here's why.
How Simon Vela founded La Peña de Francia
According to legend, the location of La Peña isn't a random accident. There was this guy, Simon Vela, who was of great religious devotion and he found a Romanesque image of the Virgin Mary on the spot that La Peña now sits in 1434 after having a dream and being told where to find it.
What makes the Virgin of the Rock of France (its English name) special is that it is a Black Madonna. There are only about 500 of these in Europe and seem to have an almost cult-like status. In fact, the Virgin of La Peña has shrines dedicated to it in many countries including Brazil, The Philippines, India, Mexico and more.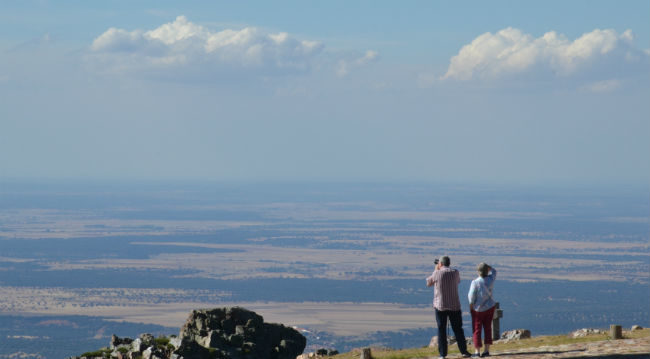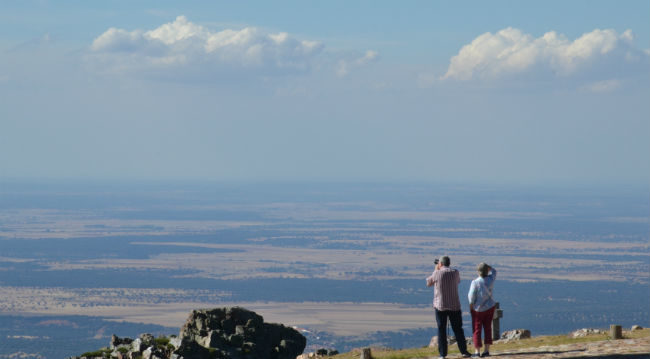 So once Simon had the icon he built a chapel on the spot (which still exists) and the rest of La Peña built up around that.
The original Virgin was actually stolen in 1872 but then returned under the seal of confession in 1889. Sadly it had heavily deteriorated and a new one was made. However, the original is actually encased in the new version and if you look closely, apparently you can just about see the original one inside through a small hole on the left-hand side.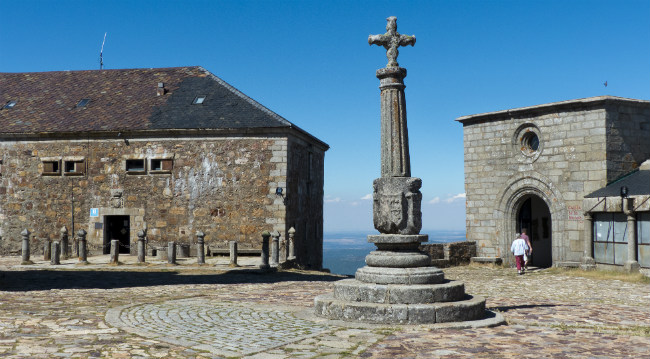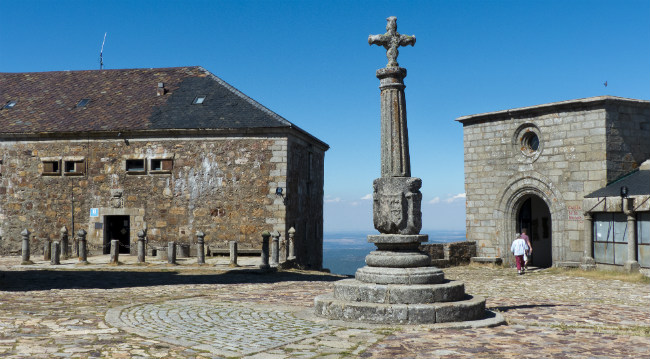 The Church
Once we had parked our car, it was just a short uphill stroll the church. We immediately noticed the dip in temperature, the additional 900 metres altitude from Monagro had really put a nip in the air of an otherwise cloudless, blue sky day.
I loved the church as it is very understated. There are no large gold-covered altars or jewel-encrusted icons, just a simple church with a Black Madonna. I'll be honest, sometimes I get really angry with how much wealth the church have sitting around in the form of gold and other decorations. They are not really needed, especially when so many of the church's followers live in poverty. Sell some of it and help them out. Sorry, rant over.
Opposite the church is a large building that has bedrooms (you can actually stay), a small Café which has tables outside for the warmer days and the obligatory gift shop.
The views from La Peña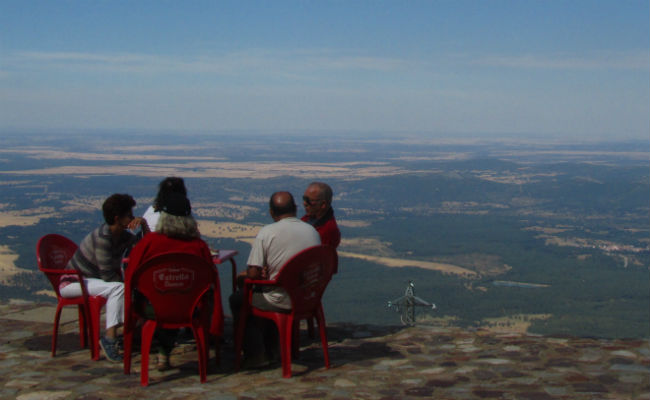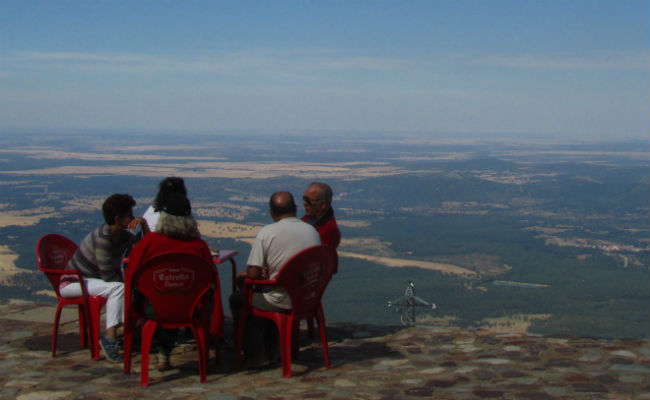 However, the true beauty of La Peña is the site itself. The far side of the complex is where there are panoramic views of the landscape and villages for miles into the distance. A really nice touch are the helpful markers on top of the wall which told us which village we were gazing down upon from our high vantage point.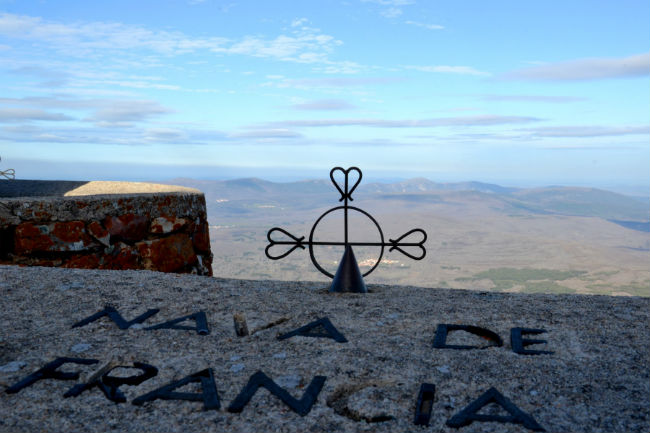 It's rare these days to find such a site that is free to enjoy. I'd highly recommend it as a stop on any visit to the region, even if simply to stand and absorb the calm peaceful feeling and you admire the expansive views as eagles soar below you.
OK, that last bit about eagles may be overselling it, but an eagle definitely flew below our line of sight while we were there.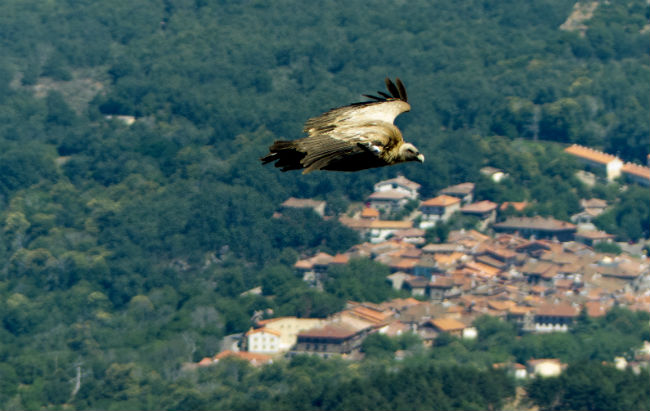 Getting there
La Peña de Francia is around a 1 hour 20-minute drive from Salamanca or about 45 minutes from Ciudad Rodrigo. There are buses that go there but I'd imagine if you find yourself in this area you will probably be in a car, that's a much better recommendation.
As for when to visit, I'd recommend spring or autumn as it does get rather popular in the summer months. But remember to check the conditions before heading there because there can be late snow and the road becomes almost impassable.

Are you a Travel Blogger?
If you want your blog to be added to our map be sure to check out our submit your blog page here: http://www.thetravelblogs.com/submit-your-blog
More of The Travel Blogs original content
Travelling is a state of mind, you don't need to go far to find an experience, some of the best adventures are waiting for you on your doorstep. But, travelling far away is a lot of fun!