Siem Reap is wonderful, the people are fascinating; the nightlife has a great buzz and of course the place to stay while visiting the temples of Angkor Wat which are a short tuk-tuk (or long bike ride) away. But, while enjoying the nightlife I spotted a troubling scene unfold in front of me – something of which visitors should be aware; the milk powder scam or baby milk scam.
Look out for the tourist scams in Siem Reap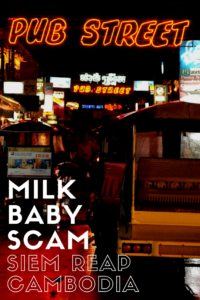 It was while I sat enjoying a beer I was watching a man chat with a group of three or four girls carrying babies. The group laughed and joked as cash was being passed around; it was an odd sight and something didn't seem right.
After I went back to the hostel that night, having been approached by several girls with babies, I did a little digging and soon came across the explanation.
The scam operates like this. Basically, a team of bedraggled looking young girls stand at several points in the main tourist area with infants. They approach tourists but don't ask for money, they simply ask you to buy milk for their child.
Are the babies drugged?
Something that struck me was how strangely quiet all the babies were, often passed out in the girl's arms. Scarily, according to some sources, this is because they are often drugged.
As you would expect, many tourists take pity and agree to buy the milk. Seeing a young girl and poor baby is enough to make them pop in the supermarket to try and do some good that directly benefits a mother and child.
This method works so well – begging for food, which doesn't cost much, for an undernourished baby. What heartless bastard would answer no? Well me, and now you, because we are aware of what happens next.
The girls don't keep the money
After the kind tourist is out of sight, the girl goes back into the supermarket, returns the milk and gets the money back. Sadly, many of the shop owners are also in on this scam and take their cut too.
I can only assume these gangs of girls with their babies are run by a cartel and that is what I saw that night. Worryingly, while researching the scam, there was one guy who claimed he brought it to the attention of the local Police who were completely uninterested.
Could be they're in on the act as well, or simply it's tourists putting money into the local economy so they may not even see it as a bad thing.
What struck me most is when that man took the money off the girls, they didn't even seem to be hiding it. In fact, there were smiles from all (apart from the probably drugged baby) as they hugged, said goodbye and went back to the streets.
There are better ways to help locals
Tourism has the ability to add a dark side to the local economy, but please, please, please do your best not to support scams and begging such as this.
Saying no can be difficult and you often have to be quite forceful but always remain polite, there is no need to be rude to any of the girls. They are possibly victims themselves of this scam.
If you really want to make a difference in the town, instead of giving money to individual beggars, find a charity, hospital or institution that offers education or employment skills so begging becomes unnecessary.
Read more about Jimmy's School, Siem Reap
I found one such place called Jimmy's School; he offers free English lessons to children that cannot go to school. Read more about Jimmy's School by clicking here.
By taking a little time to do some research before you travel you can find out about many potential scams to protect yourself and others. Only when groups such as these cease making money is there any chance that it will stop.
Have you encountered any major scams on the road? Why not leave a comment and a link to your blog, let people know about it.
Are you a Travel Blogger?
If you want your blog to be added to our map be sure to check out our submit your blog page here: https://www.thetravelblogs.com/submit-your-blog
More from The Travel Blogs
[pt_view id="250c6f8kli"]