The Museu do Brincar in Vagos, which translates to the Play Museum in English, is a wonderful place to take kids if you are looking for something a bit different to do. It is a large museum filled with traditional toys as well as large spaces for little ones to play.
We recently visited the museum as part of our trip through Portugal and spend a few hours there with our 2-year old who had a blast, and even got to meet Santa . . . in summer.
Coming your way in this post - click to expand ->
Where is Vagos?
Vagos is a small town just about 20 minutes south of the wonderful Aveiro or about an hour south from the large Portuguese city of Porto. It is a wonderful stop if you are visiting Porto with kids, or combined with some of the fantastic local beaches is a great idea as a day trip from Porto.
How to get there
The only real option to get to the Play Museum in Vagos is to hire a car and drive yourself. There is quite a lot of street parking in the local area and a small car park about a 5-minute walk away in R. Carvalho e Maia.
Our visit to the Museu do Brincar
During our visit to Aveiro, we ended up staying in the Hotel Santiago in the small town of Vagos. The reason was mainly due to price. All of the hotels in Aveiro were well out of our budget during the time of our visit, so we decided to stay 20-minutes down the road.
We discovered the Play Museum purely by chance, it just happened to be close to the hotel. With a relaxed itinerary for our Portugal road trip, we decided we should take a look quick look.
The museum is next to the local church. It's hard to miss as the bright white building reflects the sunshine, making me squint as I continued my trend of only having my sunglasses with me when they are really not needed.
As we walked in there is a small shop and ticket office disguised as a train. A great touch is that kids can climb into the driver's seat where a TV plays some cartoons as a parent pay the small entrance fee and the museum team explain how to approach the museum.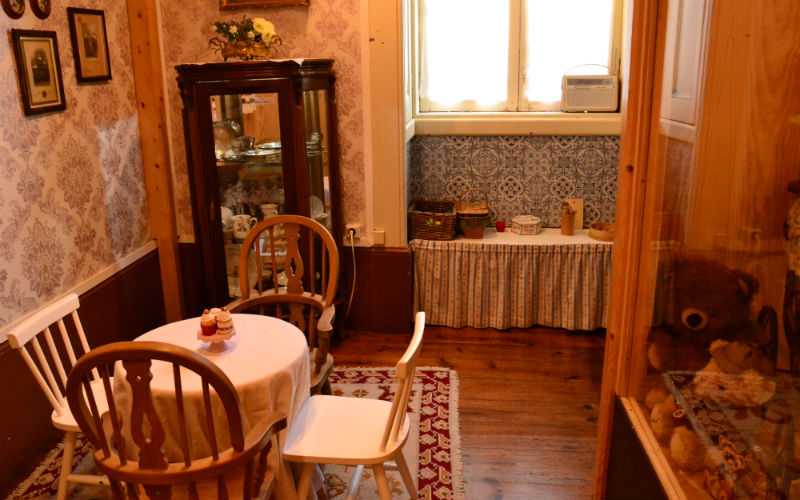 What is the Play Museum?
The displays are made up of over 15000 traditional toys and games. But it is much more than that. While there are exhibits of old toys where parents (and grandparents) can enjoy a touch of nostalgia, there are also multiple rooms where kids can actually play and interact with the exhibits.
This is what was so perfect for our little boy. It wasn't a case of wandering around looking at crusty objects, you could pick them up and play with them. Hence the Museum of Play.
There are multiple rooms, each with a different theme where kids can play. There are dress up games with a medieval castle, arts and crafts, Victorian tea party rooms and much more. A particular favourite of our son was the horses in the Wild West room.
What was meant to be a quick visit swiftly turned into three hours as time flew and our little man gleefully ran between the rooms. We couldn't help getting involved and dressing up to take some photos in a room made up to look like a traditional school.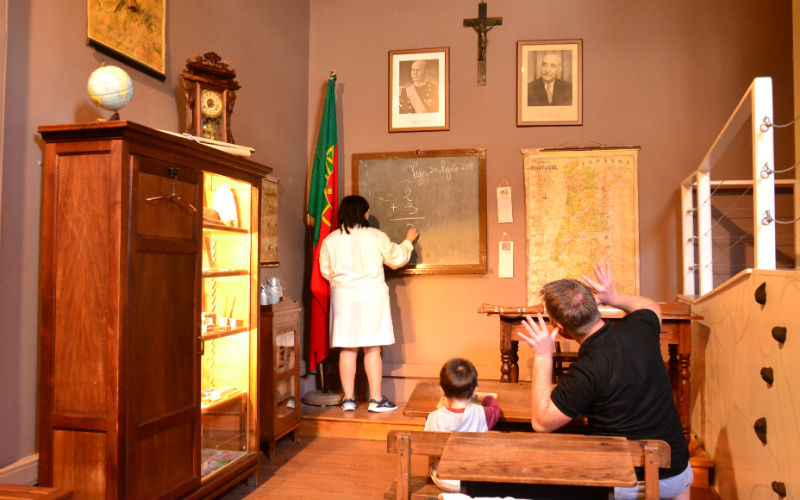 However, the biggest treat of all was saved for the end. We were visiting on what happened to be a quiet day and as lunchtime closing approached, the founder of the Vagos Play Museum came to lock up. I'd never met the guy, but there was something familiar about him.
He spoke good English and asked us where we were visiting from and just chatted to us about the museum and then it clicked. It was Santa!
The only Santa in Portugal
Carlos Rocha, who prefers to be known as Jackas, is the only certified Santa Claus in the Iberian Peninsula. As we talked he showed us into his office where various Santa accreditations hang from the wall alongside his proudly displayed Santa Claus Oath and his certificate as a member of The National Beard Registry.
The Santa Claus Oath
I will seek knowledge to be well versed in the mysteries of bringing Christmas cheer and good will to all the people that I encounter in my journeys and travels.
I shall be dedicated to hearing the secret dreams of both children and adults.
I understand that the true and only gift I can give, as Santa, is myself.
I acknowledge that some of the requests I will hear will be difficult and sad I know in these difficulties there lies an opportunity to bring a spirit of warmth, understanding and compassion.
I know the "real reason for the season" and know that I am blessed to be able to be a part of it.
I realize that I belong to a brotherhood and will be supportive, honest and show fellowship to my peers.
I promise to use "my" powers to create happiness, spread love and make fantasies come to life in the true and sincere tradition of the Santa Claus Legend
I pledge myself to these principles as a descendant of St. Nicholas the gift giver of 'Myra.
*Click here to see the full certificate
Talking to him for a while it was clear to me that he is just a wonderful man and the perfect person to run a project such as the Play Museum. Sometimes you just know when you are in the presence of someone that is special. As he talked I could feel the passion for what he does just radiating out of him. He clearly has a love of play and imagination that far too many of us lose as we get older.
Although the museum should have been closed, Jackas and his colleague were too happy just to chat with us and we ended up staying at least 30 minutes after they had closed. Our son was even given a special certificate from Portugal's only official Santa before they walked us to the door, locked up and headed off for lunch.
Final thoughts on the Museu do Brincar
Now I cannot promise you will also meet Santa, but I can promise if you are visiting Portugal with kids and are looking for something for them to enjoy, the Vargos Play Museum is certainly a recommended stop. You can easily spend a few hours there, but to be honest, there isn't a whole lot more in Vargos.
I would recommend visiting the museum as a day trip from Porto that you can also include a boat ride in Aveiro or some of the beaches along the coast. Costa Nova do Prado is a lovely small village nearby that would be worth a visit to see some of the colourful, traditional houses by the coast.
Additional Information
Museu do Brincar Opening Hours:
Tuesday to Sunday – 10 am to 12.30 pm & 2 pm to 5.30 pm
Closed on Monday
Prices:
Children under 3 – Free
Standard ticket – €3.00
Groups (6 or more) – €2.00/each
Address:
Museu do Brincar
Largo Branco de Melo
Palacete Visconde de Valdemouro
Vagos – Aveiro
Phone: +351 234 796 151
Email: [email protected]