The Shetland Islands are a collection of remote islands located in the far north of Scotland. In this post, I want to share with you what you need to know about how to travel to the Shetland Islands as well as some tips from my experience visiting the beautiful islands.
So, if you're planning a visit to the Shetland Islands, keep on reading for some helpful information. But first, let's have a quick overview of the islands.
Coming your way in this post - click to expand ->
Get to know the Shetlands
What are the Shetlands and where are they located?
The Shetlands are a collection of more than 100 islands, only about 20 of which are inhabited. The entire archipelago is located off the northernmost tip of Scotland, 130 miles from the British mainland and a little bit west from the Orkney Islands.
The largest town and Shetland's capital is Lerwick, a busy port located on the largest island, rather confusingly called Mainland.
Around 20,000 people live in the Shetlands and most of them work in fishing or fish farming. Tourism has been growing rapidly over the last few years so there are plenty of things to do here besides going around museums and ancient castles as well as miles upon miles of stunning coast.
To hear the locals talk, I would best describe it as a strong mix of Orcadian (the dialect spoken in Orkney) and Scots with some Norn words mixed in. It's not difficult to understand at all although you might find yourself hearing things that don't make sense all the time.
What's the climate like in the Shetlands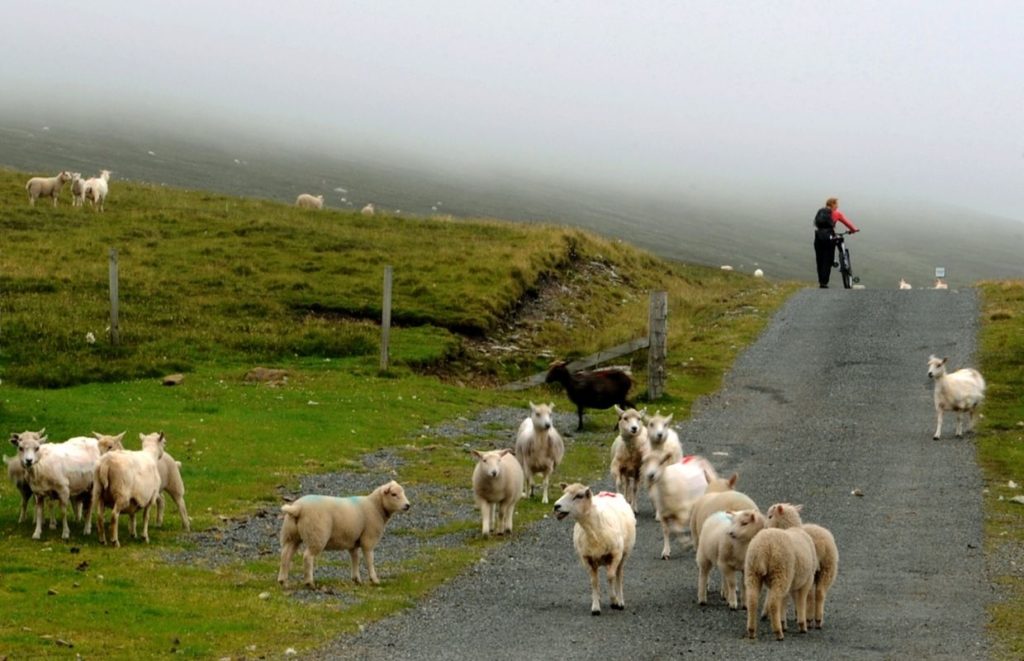 The climate in the Shetland Islands is oceanic, which means cold and wet most of the year but can be amazing in the summer. I certainly recommend visiting during the summer (June-August). Temperatures are mild and there is less chance of rainfall. I went in June and although there were some downpours, it was blue skies and sunshine most of the time.
I also loved the fact the sun didn't set until about 11 pm, even then it never got truly dark. One of the cool things about being so far north.
But bear in mind, the opposite is true for winter, so if looooong dark nights are your thing, this is the place to go!
You can read more about the climate in my post about the best time to visit the Shetland Islands.
How to get to the Shetland Islands
Car Ferry to Shetland Islands
If you're asking me what is the best way to get to the Shetland Islands, then it has to be the ferry. It takes longer but is far more enjoyable to me than flying. However, flying will always be better if you are tight on time.
There are two main ferry routes to Shetland. One from Aberdeen, on the Scottish mainland, and another from Kirkwall in the Orkney Isles.
The ferry is large with an onboard cinema, restaurant, bar, kids play area and a small shop. During our crossing, there were ample places to sit and relax, and if the weather is kind, a great outdoor area to get some refreshing Seabreeze into your lungs.
Aberdeen to Lerwick ferry
When I visited Shetland, I had my car with me, travelling up from England, so leaving from mainland Scotland using the Shetland Islands ferry from Aberdeen was the best option.
During summer, NorthLink Ferries sail daily from Aberdeen to Shetland and from Shetland to Aberdeen. The crossing takes 12-13 hours through the North Sea leaving every evening and arriving the following morning. However, be sure to double-check out of the main season as there are fewer crossings available.
Tickets can be booked in advance from their website with a number of options to suit all budgets.
The cheapest is just a ticket with no cabin or seat. I found that most people doing this tended to sleep in their sleeping bags in the bar.
At least, I assume this was the case and they weren't just too drunk to get back to their cabin!
A simple ferry ticket with no car or sleeping area is between £23 – £36 depending on the season. You "upgrade" and can book a reclining seat for a guaranteed place to sleep for £3.50.
The middle option is what we booked, a sleeping pod. I booked it more out of interest as it sounded cool, but all it is is a larger reclining chair with a bit more security than the public areas of the boat.
There is a locked door that separates the sleeping pod area from the rest of the boat, so while it is slightly more secure than sleeping in the bar option, it's still not fully private so we didn't feel comfortable leaving valuable stuff around.
The sleeping pods have a shared shower and toilet facilities and a pod costs £18 per person.
The most expensive option is a cabin. There are a few options from Executive to shared 4-bed cabins, some with sea view whereas others are inside. The cabins run from £70 – £150 depending on the options you select.
What I love about the ferry pricing is that there is something for everyone and the best option depends on circumstance. For example, I visited with my wife and as it was just the two of us, we were happy with a sleeping pod. If I were backpacking, I'd be happy with the bar floor to save some ££s.
However, if I was travelling with my kids, getting a 4 birth cabin would make sense.
Let's take a closer look at the pricing.
Aberdeen to Lerwick ferry price
To give you an idea, here are a few selected prices for journeys between Aberdeen and Lerwick to help give you an idea. These are based on the 2022 schedule and are subject to change.
Low Season – 7th January to 23rd March, 1st November to 17th December.
Mid Season – 1st to 6th January, 24th March to 14th June, 1st September to 31st October, 18th to 31st December.
Peak Season – 15th June to 31st August.
| | | | |
| --- | --- | --- | --- |
| Passengers | Low | Mid | High |
| Adult Single (16yrs & over) | £23.20 | £30.00 | £36.00 |
| Child Single (5-15yrs) | £11.60 | £14.70 | £17.60 |
| Infant (0-4yrs) | FREE | FREE | FREE |
| | | | |
| --- | --- | --- | --- |
| Vehicles | Low | Mid | High |
| Car (< 6m long) | £95.00 | £121.00 | £127.00 |
| Motorhome (< 6m long) | £95.00 | £121.00 | £127.00 |
| Long and Towed Vehicles (>6m long) (supplement per m) | £12.70 | £15.65 | £18.70 |
| Bicycle | FREE | FREE | FREE |
| Motorcycles / Scooters / Trikes | £24.55 | £28.00 | £30.50 |
| | | | |
| --- | --- | --- | --- |
| Accommodation | Low | Mid | High |
| Premium Outer 2 berth | £110.00 | £142.00 | £153.00 |
| Executive Cabins | £110.00 | £142.00 | £153.00 |
| Inner 4 berth | £77.00 | £109.00 | £121.00 |
| Sleeping Pods | £18.00 | £18.00 | £18.00 |
| Reclining Seats | £3.50 | £3.50 | £3.50 |
If you would like to see all of the rates, and the full Shetland Islands ferry timetable, just check out the Northlink Ferries website and fares page.
Orkney to Lerwick Ferry
For those travelling to Shetland from Orkney, all of the above information is pretty much the same, the only difference is that the price is a little cheaper and the crossing takes about 5 hours less.
Travelling on the Shetland ferry with pets
You are allowed to travel on the Northlink ferry with your pets and there are a few options. Pets can travel either in your vehicle, a booked kennel or there are also bookable pet-friendly cabins.
Pets don't require a boarding pass and travel free of charge but it is important to know that only support dogs are permitted in the ship's internal public areas.
See more information on the pet policy here.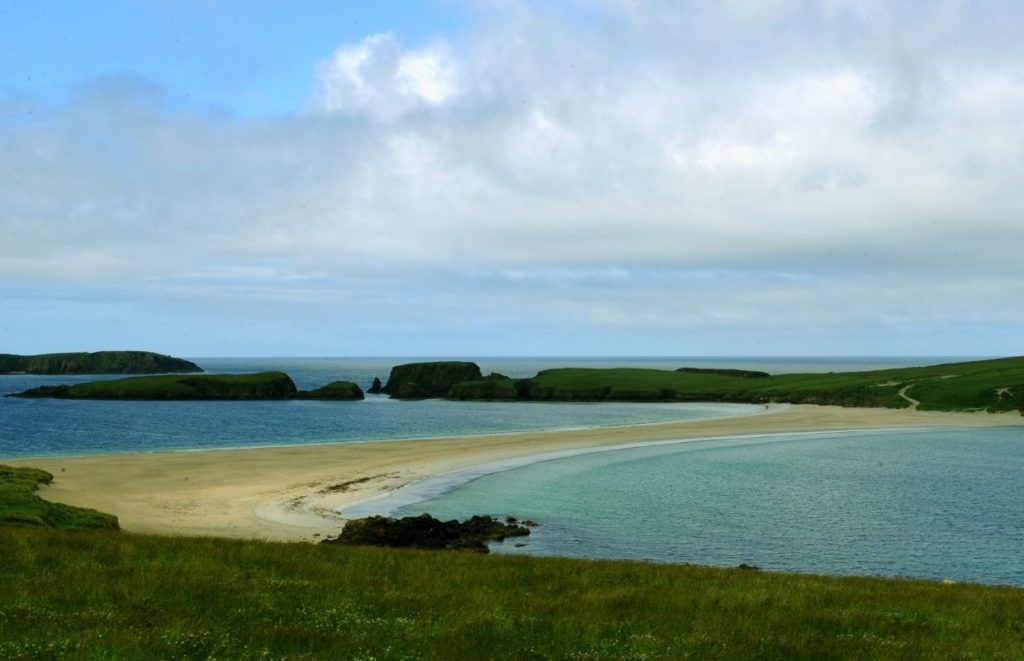 Flights to the Shetland Islands
The quickest way to get to Shetland is by flying, but the downside is that it is more expensive and if you want to explore, you'll have to hire a car. Sumburgh Airport is the main airport in the Shetlands and is located to the south of Mainland
There are several flights per day, to and from the major Scottish airports of Aberdeen, Edinburgh, Glasgow, Inverness and Kirkwall. For the latest flight times, prices and details on how to book, visit the Loganair website.
You can fly directly from London to Shetland out of London City Airport on Mondays and Thursdays. The flight lasts 3h 35mins and will usually cost around £200. You can check the Loganair website above for more details on these flights.
There are plenty of other options for flying from most English airports to Shetland if you are happy to make a stop. With one connection you can expect the flight to take around 5 hours.
You can also fly directly to Shetland from Manchester on a weekly basis, and also from Bergen in Norway during the summer.
All of the flights are operated by the Scottish airline, Loganair. Hold baggage and onboard refreshments are included in your ticket price.
Getting from Sumburgh Airport to Lerwick
Sumburgh Airport is located on the southern tip of the Shetland Mainland, about 25 miles south of Lerwick.
The most flexible way to make this trip is with car rental. This will allow you the freedom to explore the islands at your leisure.
While it is hard to give an exact price as it varies significantly depending on the time of year and availability, a rough guide price would be that you can expect to pay £60-70 per day for car hire in the region.
The fastest way to get from Sumburgh Airport to Lerwick is by taxi. While the price will vary, you can expect to pay between £50 – 60 and the trip to be around 30 mins.
There should be some available, but you can also pre-book through many island taxi companies.
The cheapest option would be the bus to Lerwick from the airport. This will be between £4-7 per person and the journey takes around an hour. You can catch the bus, Service 6, from opposite the main terminal. View the timetable for more information.
Getting around Shetland
Now that you know how to get to The Shetland Islands, you will also need to know more about getting around.
The easiest and best way to explore Shetland is in your own car. You can either bring your own if you get the ferry or hire one on the island. If you are only visiting for a couple of days, I'd recommend flying and hiring, it is the most efficient use of your time.
However, if you are on holiday and staying for a week or so, then certainly bringing your own would be the most cost-effective option.
For comparison, a car will be about £125 each way on the ferry vs £70 per day in a hire car. So a return ferry for your car will be around the same as 4 days car hire.
Driving around the islands is wonderful with barely any traffic and stunning scenery, and while there are buses, you can only reach the most remote parts with your own transport.
As I mentioned there, another option is the bus. We met a few hikers who were using this option. It is certainly more cost-effective, but you will be less flexible.
Finally, you can reach out to local guides and taxis. Many residents will offer guide services or taxis are good for a to b travel.
Travelling between the islands
Between the islands, there are ferries that run on a regular timetable, so to avoid waiting you should try to have an element of planning, but I'll go into this in more depth in a different article that I haven't written yet. But for now, you can find the details of ferry times and prices can be found on the Shetland Islands Council website here. Alternatively, the Tourist Office which is located at Market Cross in Lerwick also has all the information you would need.
For the islands that are a little further away, such as Fair Isle, there are a number of direct flight routes. Bear in mind these leave from a different airport, a smaller one about 7 miles north of Lerwick in Tingwall.
You can find out more about these routes on the Air Task website who operate the flights.
Final thoughts
The Shetland Islands are a beautiful and remote part of Scotland that can be accessed by plane, car or bus. In this article, we have shared with you how to get there as well as some tips on getting around the islands. We hope that this information will help you plan your visit to these stunning islands.