The Shetland Islands are a beautiful place to visit in Scotland year-round, with each season offering its own unique experiences and in honesty, there is no one "best" time to visit, as it really depends on what you're looking for.
When I visited it was the middle of July, so I got to enjoy Unst Fest and some nice weather with long daylight hours. But, I'm sure I'll be visiting Shetland again, and when I do, I think it would be in January as the Up-Helly-A' just looks too good to miss! But more on that in a bit.
So with that in mind, let's take a dive into a few things to consider to help you decide what is the best time to visit the Shetland Islands, but first a bold statement …
When is the best time to visit the Shetland Islands?
Late June or early July is the best time in my opinion. It is not the main season yet, so won't be too busy and you can find some good value in accommodation, also the days are long and you'll have a good chance of nice weather.
So let's take a closer look at how I came to that decision.
Coming your way in this post - click to expand ->
The Shetland Island Climate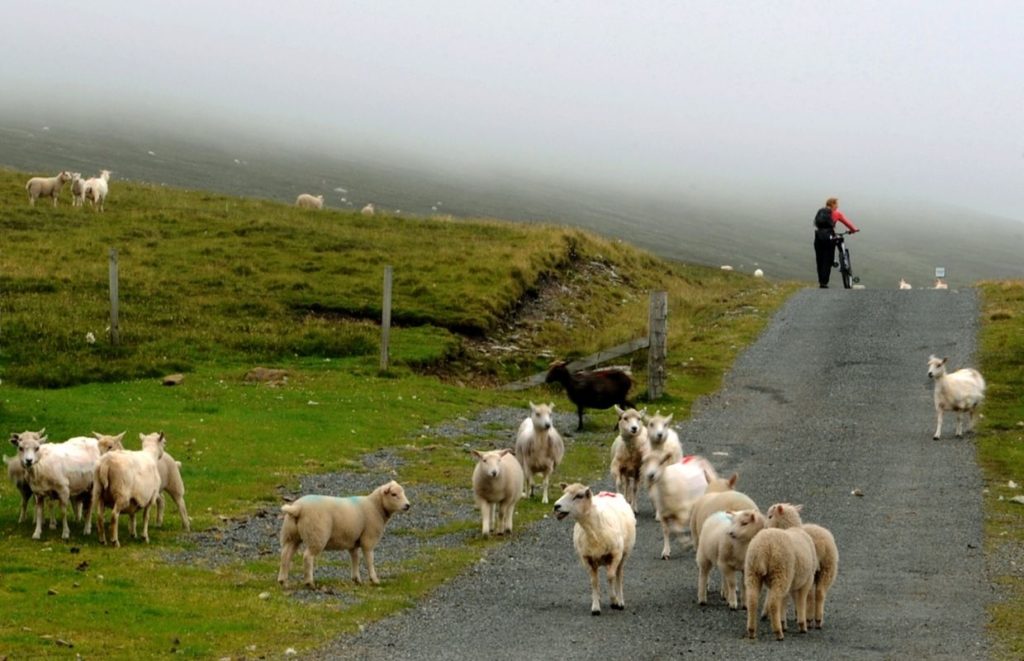 Of course, one of the major factors to consider if you are deciding when to visit is Shetland's weather. Well, given that it is so far North, and an island with an oceanic climate, no matter when you visit, there is a high chance of rainy days. But you can visit at specific times to make the odds in your favour.
Here's a quick seasonal overview, a rough guide to what you can expect.
| Season | When it happens |
| --- | --- |
| Summer | June to August |
| Autumn | September to November |
| Winter | December to February |
| Spring | March to May |
Summer
If you are camping, then you should definitely try to stick to the summer months.
During the months of June – September Shetland enjoys very long daylight hours, with sunset not occurring until after 10 pm in June and barely before 8 pm by the end of August. It will also be your greatest chance of sunshine.
The average temperatures will generally range from 14 – 18 degrees Celsius (50 – 61 Fahrenheit), although it can get above 20 Celcius (68 Fahrenheit) on the nicer days.
Nature is also an amazing place to visit during these months too, as you'll find the best conditions for walking/hiking, wildlife spotting (the Shetlands are home to many native species including otters, porpoises, seals and of course the famous Shetland Pony) and also great conditions for camping/wildlife watching.
Although, summer is the least windy season, even though some days with strong wind are still possible.
Autumn
Summer may end in October, but there is still good weather to be found if you go during the weeks around Halloween (October 31st). Temperatures can be similar to those experienced during summer but are often less humid, so you're more likely to feel the chill during the night.
November can be a bit of a mixed bag with some nice periods of weather, but also the chance of some really windy days – this is especially true around St Andrew's Day (November 30th), as it is one of the windiest times of the year.
Winter
The Shetland Islands experience snowfall in winter, but they can be particularly prone to blizzards during January and February. The average temperature in January is around 0 Celcius (32 Fahrenheit) and can hit highs of 6 Celcius (42 Fahrenheit) but the wind and above average humidity can feel much colder.
If you do decide winter is for you, this is when you are most likely to experience bad weather, so wearing layers and bringing a good winter coat is a must, as well as a sturdy umbrella!
However, the winter months are also when you'll be most likely to see some amazing displays of the Northern Lights in Shetland – so if this is something that interests you, then visiting in January or February could be a great idea, just try to avoid full moons.
Spring
The first half of spring, around late March/beginning of April, is a good time to visit if you're hoping to avoid the winter months but don't want to hit peak season in summer. It's also a great time to see the tiny Shetland ponies.
The temperature is likely to vary a lot, with the average high being around 9 Celcius (48 Fahrenheit) but the days start getting longer.
While not common, snow can still appear in spring though, so make sure you always pack layers and be prepared for anything.
Shetland average temperature by month
| Month | Celcius | Fahrenheit |
| --- | --- | --- |
| January | 4.1 | 39.5 |
| February | 3.8 | 38.8 |
| March | 4.6 | 40.2 |
| April | 6.1 | 43 |
| May | 8.1 | 46.5 |
| June | 10.3 | 50.6 |
| July | 12.2 | 54 |
| August | 12.6 | 54.7 |
| September | 11.1 | 51.9 |
| October | 8.5 | 47.3 |
| November | 6.2 | 43.2 |
| December | 4.5 | 40.1 |
| Year | 7.7 | 46 |
Festivals and celebrations on the Shetland Islands
Aside from getting the best weather, something else to consider is if you want to mix it with the Shetland locals in some of their traditional festivities throughout the year. Here is a quick overview of some of the main celebrations throughout the islands.
Lerwick Up-Helly-A' and other fire festivals
Held on the last Tuesday in January, this is one of Europe's biggest fire festivals and an amazing sight to see. Probably the biggest event in the Shetland Islands. More than a Thousand Guizers (guisers) parade through Lerwick with flaming torches and burn a full-sized replica Viking galley. The festival concludes with Fire Festivities at the War Memorial Park.
Check out the Up-Helly-A' website for more information on this epic celebration.
Scalloway Fire Festival
Another fire festival, this one celebrated in Scalloway in January, usually a couple of weeks before the Lerwick Up-Helly-A'. It is a smaller event but still attracts many visitors and participants.
Throughout the first few months of the year, there are many other smaller Up-Helly-a' celebrations throughout the islands including Lerwick Junior Up Helly Aa, Uyeasound, Norwick and more. Check the calendar below for more information.
Shetland Folk Festival
In late April and into May the Shetland Folk Festival arrives. The annual festival is organised by a voluntary committee and features concerts from some of the best international, British, and Shetland music talent. The festival takes place throughout the isles and is a great opportunity to see some of the best traditional Shetland music performances.
Simmer Dim Bikers Rally
The Simmer Dim Bikers Rally is a motorcycle rally that takes place annually in Shetland, UK. The rally usually happens around the 21st of June and sees hundreds of visitors come to the islands to participate in the event. The rally is focused on bikes, but also includes music and beer tents as part of the festivities.
UnstFest
UnstFest on Britain's most northerly island hosts Britain's most northerly festival! A whole week of fun activities and events usually takes place in July.
During my visit with my wife, we were able to enjoy some of the UnstFest community activities. It was clear that the whole island buys into it and really enjoys the celebrations. They were capped off by a rock bagpipe concert that was as awesome as it sounded.
What really struck me was just how welcoming everyone was at all of the events. Unst was a special place and being able to be there during UnstFest just made it that little bit better.
Shetland Nature Festival
Also in July is the Shetland Nature Festival, a celebration of the unique natural heritage of the Shetland Islands. The festival takes place throughout the islands, and features guided walks, family days out, evening talks, and more. The festival is a great opportunity to learn more about the local flowers, fossils, seabirds, and seals that call the Shetlands home.
Shetland Boat Week
In August is the Shetland Boat week, a celebration of the Shetland's maritime heritage. The festival features lots of events and activities, including demonstrations of traditional skills, talks, boat trips and tours of vessels not normally open to the public.
Shetland Wool Week
The Shetland Wool Week is a celebration of the best of Shetland's knitters and crofters, their sheep, and the wool they produce. The festival is a week-long event with lots of events throughout Shetland showcasing wool themed tours, evening talks, Shetland craft workshops, and more.
The fact it happens just as the weather turns and everyone starts to appreciate a good woolly jumper is either a coincidence or marketing genius!
Shetland Events by month
Here is a rough guide for your calendar. Please bear in mind it is based on past events, so there may be some varience for specific events.
| Month | Activities |
| --- | --- |
| January | Scalloway Fire Festival, Lerwick Up Helly Aa, Lerwick Junior Up Helly Aa, Nesting & Girlsta Up Helly Aa |
| February | Uyeasound Up Helly Aa, Northmavine Up Helly Aa, Bressay Up Helly Aa, Cullivoe Up Helly Aa, Norwick Up Helly Aa |
| March | Walls Junior Up Helly Aa, South Mainland Up Helly Aa, Delting Up Helly Aa, Shetland County Drama Festival, Schools Music Festival |
| April | Shetland Folk Festival |
| May | |
| June | Midsummer Carnival in Lerwick, Simmer Dim Rally, Bergen-Shetland Yacht Race |
| July | Shetland Nature Festival, UnstFestFolk Frenzy |
| August | Shetland Boat Week, Screenplay Film Festival, The Shetland Agricultural Shows |
| September | Shetland Wool Week |
| October | The Taste of Shetland Festival, The Shetland Accordion and Fiddle Festival |
| November | Wordplay Arts Book Festival, The annual Craft Fair at Clickimin |
| December | Lerwick Winter Festival, Christmas Parade |
You can see more details on all of the events on the Shetland Visitor website.
How much it will cost to visit Shetland?
The final thing to cover is probably the most important part of planning … how much will it cost me?
First, let's talk about seasons. As with most of the UK there is a huge amount of seasonality in visits to the Shetland Islands with most people visiting in the Summer.
As you would expect, the demand on local hotels and guest houses does push the price up. However, when looking at the average rates throughout the year, there is only about a £20-£30 difference in average cost for accommodation with August statistically being the most expensive month.
Obviously, if you are camping, that will be quite a bit less, but you will likely be more restricted on the timing of your visit by the weather.
Aside from accommodation, you also have the cost of travel to Shetland. The options are to either fly or hop on a ferry.
As is commonplace these days with flights, demand drives the price, so as you'd expect they are more expensive in the summer, especially once the school holidays start.
There is also seasonality in the ferry prices. They offer low, mid and high season prices with the high season being about 45% more than in low season and mid (as you'd expect) somewhere in the middle.
For example, if two of you travel by ferry with a car and a 2 berth cabin, in the low season you can expect to pay around £250, but the same in the high season would be £350.
Check out my other post for more information in this where I talk about how to get to the Shetland Islands.
So, wrapping this section up, if money is no problem, it doesn't matter too much, but if you would like to save a few ££, but still have a good chance of clement weather, then look to the shoulder seasons of June or late September.
Final thoughts – what is the best time to visit the Shetland Islands
So with everything above considered, I'm really happy with when I visited in July and probably wouldn't change it knowing what I know now. I really recommend checking out Unstfest and it wasn't very busy, perfect if you are looking to get away from it all.
As a second visit, I think I would try to visit in January to take in one of the fire festivals and try to catch a glimpse of the Northern Lights.
One thing is for sure though, I found The Shetland Islands to be a special place that is worthy of a visit any time of the year and a place that I know deep inside I will return to one day.
I hope you found this post helps to plan your trip to Shetland. If you also have any recommendations for others reading this, please drop them in the comments, I'd love to see them.