Given its uber-stylish ambiance and out-of-the-world attractions, a holiday in Dubai may set you back quite a fortune. That said, it is possible to stretch your budget here with these cool cheaper things to do in Dubai on a budget.
From free world-class attractions to exciting cultural and historical experiences, we have put together here 15 ways with which you can experience Dubai on a budget.
Coming your way in this post - click to expand ->
1. Experience the free Attractions at the Dubai Mall
The Dubai Mall in Downtown Dubai is so vast and gigantic that it is home to over 1200 outlets, more than 200 venues, and of course tons of leisure and entertainment choices. In fact, you can easily spend your Dubai holiday without ever stepping out of this mall and being completely air-conditioned, it's a great spot if you are visiting Dubai in the summer. But, did we say that you can do it without a bit blowing your budget? Thanks to its many free attractions such as the 155-year-old skeleton of Dubai Dino (it's real) and Human Waterfalls.
You can even delight in the fascinating marine creatures at Dubai Aquarium as a part of it's free to watch. Apart from these, don't miss the Dubai Fountain outside of the mall – this marvelously choreographed water show is another attraction which you can experience for free.
2. See Burj Khalifa
Whether it is your first or hundredth trip, a Dubai visit is not complete without a visit to Burj Khalifa. For those rare who are unversed, Burj Khalifa Dubai is a soaring 828-meter glossy structure and is the tallest of its kind.
If you are not able to make an entry here, it is still possible to snap a selfie and get a choicest view of this structure from a cheaper or even a free vantage point anywhere in Downtown Dubai, such as the Dubai Mall.
3. Take in Palm Fountain for Free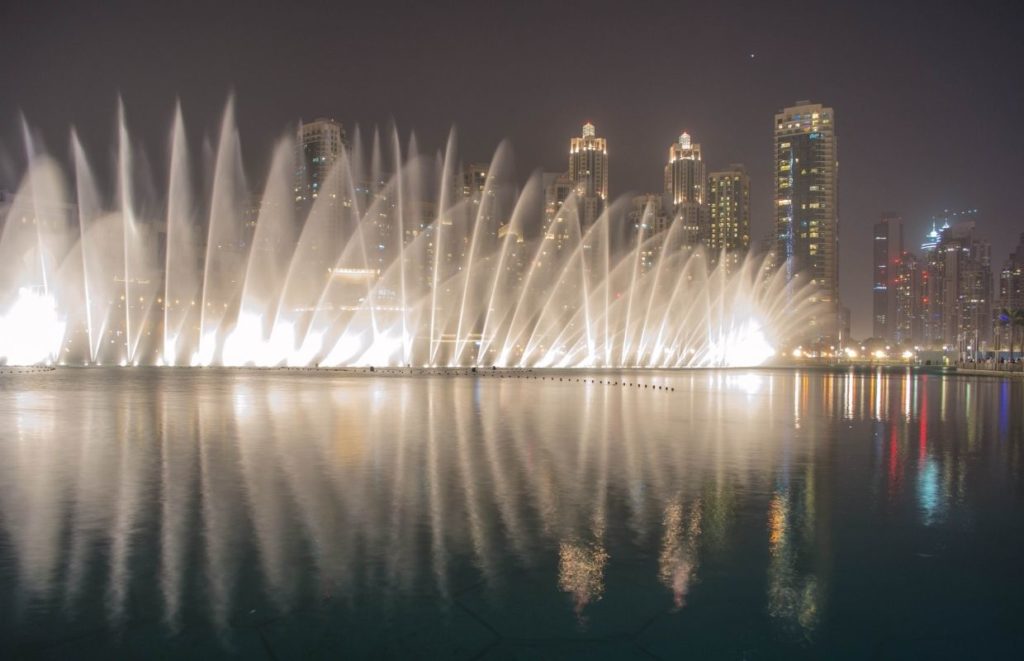 Dubai recently broke its own world record with the launch of Palm Dubai. It's the world's largest fountain show, blissfully set against the views of Atlantis, The Palm, at the Pointe (Palm Jumeirah).
It is another must-see if you are only in Dubai for a couple of days and the best thing is that you can experience this strikingly choreographed aquatic performance (in astonishing sync of music and light) in its entire splendor without spending a dime.
4. Get the Sky-High Views of Palm Jumeirah at a Fraction of the Cost
The man-made island of Palm Jumeirah, with its surreal palm-tree-like design, is so iconic that you must see it at least once in your lifetime. But the only way to catch this view in its entirety is to take to a lofty, towering vantage point.
While aerial tours and activities such as helicopter tour and sky diving are surefire ways to delight in this sight, they are overpriced. But not anymore as the View at the Palm is open now! This observation deck on the 52nd level of Palm Tower is a must-experience for anyone who doesn't want to miss this grand display of the island as well as its surroundings.
5. Set out on an Abra Ride for Just AED 1
Dhow cruise along Dubai Creek or Dubai Marina is one of the unmissable things to do in Dubai. But if you are looking for a super value alternative for this, be sure to embark on an abra ride along the bustling waters of Dubai Creek. And you heard it right; it won't cost you more than AED 1 which is equivalent to US$ 0.27.
6. Step Back in Time for AED 3
Dubai Museum is one of the ultimate attractions in the region for those looking for an authentic immersion into the Emirati past and culture. You will find this within the Dubai's oldest Fort – Al Fahidi Fort, built in the 18th century. Amble along its traditional courtyard with ancient dhows; feel the age-old Emirati lifestyle as you explore the replicas of the region's primitive dwellings; and be in awe at the intriguing Bedouin craft – all for a nominal charge of AED 3.
7. Check out Al Fahidi Historical Neighborhood for Free
This is another must-visit in Dubai for history and culture enthusiasts. Locally known as Al Bastakiya Quarter, a stroll through its narrow lanes will give you a glance of how life used to be for Emiratis in the 19th century. Most of the historical structures here are now converted into a museum or an art gallery and you can access the majority of them for free.
8. Get a First-Hand Experience of Emirati Culture & Heritage for AED 25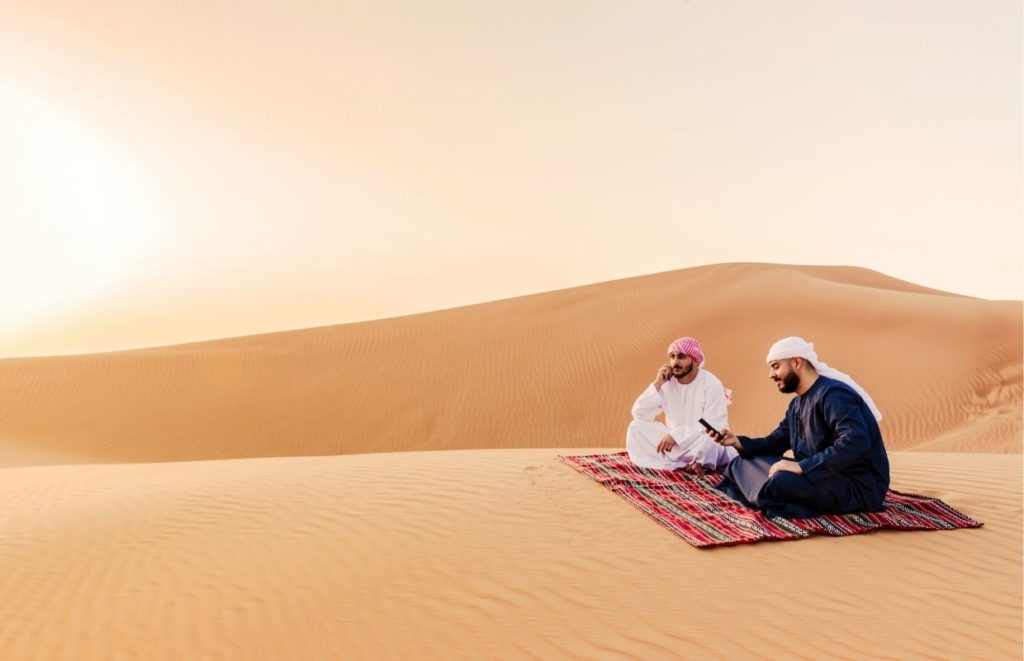 If above experiences are not enough to get a slice of the region's intriguing culture and traditions, be sure to make your way to Sheikh Mohammed Centre for Cultural Understanding at Al Bastakiya Quarter. For a nominal entry fee of just AED 25, you will get to learn about the bonafide Emirati culture, traditions and religious background from a friendly, knowledgeable host. There are also programs inclusive of traditional Emirati meals.
9. Desert Safari
A Dubai desert safari is an absolute yet affordable package which introduces you to the region's culture, history and pristine nature all with an adventurous twist. Select a morning safari that lasts for two to three hours or a more extravagant evening desert safari inclusive of BBQ dining, traditional performances (such as Belly Dance and Tanura show), and cultural activities like henna tattooing, falconry, Shisha smoking etc.
There is also an overnight desert safari that comes with camping facilities under the desert stars. The major draw of all desert safaris is undoubtedly 4X4 dune bash, followed by a camel ride and quad biking, among other exclusive desert experiences. 
10. Sit Back at Dubai's Amazing Green Parks
For those who crave for a quick respite from the city's concrete mess, a wealth of green spaces awaits you in the form lush parks. What's even more endearing is that their admission fee is not more than AED 5. From Zabeel Park, Mushrif Park and Creek Park to Al Mamzar Beach Park and Safa Park, each of Dubai's parks is distinct with its unique offerings and facilities.
11. Taste Scrumptious Street Food
If you don't want to blow your budget for food, wander around Dubai's narrow streets across Bur Dubai and Deira. This not only allows you to discover the region's hidden gems, but most importantly lets you sample the delectable street foods for super less. Yes, you can savor a flavorsome shawarma wrapped in meat and vegetables or a filling plate of falafel with dips for just AED 6 or even lesser amount.
12. Make the Most of the Happy Hour Deals
Fancy sipping a drink in a plush bar or a nightclub in Dubai however without forking out? You can keep a check on your favorite bar's happy hour deals – it lets you relish its signature drinks and cocktails for discounted rates, sometimes even for half price.
13. Sign Up for a Sightseeing Tour
For sightseers, there is no better way to cover the main attractions of Dubai than on a guided city tour. With an expert guide in tow, it takes you to almost all of the region's both legendary landmarks and lesser-known delights, thus promising you a perfect overview of Dubai's definite sees. You can consider a hop-on hop-off Big Bus Tour or more preferably opt for a city tour with roundtrip hotel transfers, arranged by a reputable travel service provider.
14. Enjoy Budget Shopping at Souks
What's a Dubai trip without some retail therapy? But if you wish to do in a budget way, head to souks across Old Dubai, mainly Gold Souk, Perfume Souk, Spice Souk and Textile Souk. They all are a treasure trove of marvelous souvenirs and most unique handicrafts. It not only allows for affordable shopping but also lets you gain a first-hand understanding of the region's exciting trade traditions.
15. Discover Dubai in the Longest and Fastest of its kind Dubai Metro
Looking for an alternative way to take in Dubai's sights? Board Dubai Metro; beyond a reasonable way to get around Dubai, it is an attraction in its own right. Launched in 2009, it continues to be the world's most advanced as well as the longest automated (driverless) metro service.
Things to do in Dubai on a Budget – Final Thoughts
The best thing about a Dubai vacation is that you can make it as extravagant or budget-friendly as possible. So, if you wish to take in Dubai without breaking the bank, it is absolutely worth adding the above experiences to your Dubai itinerary. We are sure that you won't regret doing it!