As with so many others, my first stop in Asia on my trip around the world was the bustling capital city of Thailand, Bangkok.
I flew into Bangkok Don Muang Airport, arriving at night and spending a total of 5 nights in Bangkok including one night in Ayutthaya, the old capital.
This post is my recommended 5 days itinerary in Bangkok including some of the best things to do and see in Bangkok for a first-timer, with lots of other information you might need for a perfect Bangkok itinerary, such as what to pack, what scams to look out for and where to stay in Bangkok.
Of course, the orders can be switched around and I have added some additional suggestions to the end, so mix and match what you need to if you want to tailor the itinerary for you.
If you want to skip straight to the itinerary details, click here, but I first want to share some general tips and advice to help you out during your Bangkok visit.
Coming your way in this post - click to expand ->
Note – Please know, some of the external links on this page are affiliate links, this means that if you purchase after following one, I make a small commission from the sale at no additional cost to yourself.
Getting from Bangkok airport to the city center
The chances are that you will be arriving in Bangkok by air. If not, then skip this section and don't worry, as you'll likely already be in the city center.
There are two main airports in Bangkok; Suvarnabhumi Airport (BKK) and Don Muang Airport (DMK).
Don Mueang Airport tends to handle domestic flights and some short distance international flights whereas Suvarnabhumi Airport is the main international airport and is much larger.
Distance from Bangkok Airport to the city center
Don Muang Airport is 25km north of Bangkok and tends to handle domestic flights and some short distance international flights
Suvarnabhumi International Airport is 25km east of the city and is the main international airport for Bangkok. It is much larger and well connected to the Bangkok center.
How to get from Suvarnabhumi Airport to Bangkok
Airport Rail Link – Operating from 6 am to midnight, Bangkok's Airport Rail Link is a great choice as it easily connects with both the BTS Skytrain and the Metro. The total travel time is around 30 minutes and tickets are about $1.50.
Private Transfer – This is by far the easiest option as you can organize a private transfer to meet you at the airport and take you straight to your accommodation and operates 24 hours a day. However, as you'd expect, it is also the most expensive and can cost anywhere between $30 – $50. Expect the journey to take 40-50 minutes.
Metered taxis – Another easy option would be a regular taxi. It will be quite a bt cheaper than a private transfer, probably in the $15 region, but it will depend a lot on where exactly in the city you need to be. ravel time: 40 to 50 minutes
Bangkok airport to the city by BMTA Public Bus – At around $0.50, this is the cheapest way to get from Suvarnabhumi Airport to Bangkok, but it will take a lot longer, usually over an hour. The bus operates from 5 am to 11 pm daily.
My recommendation: Even if you are on a really tight budget, for the additional $1, I'd go for the Airport Rail Link every time. If you want convenience then the Taxi is also a good option.
Bangkok Don Muang airport to the city center
Metered taxis – Try to ignore the touts and limousine drivers who approach you inside the airport and pass through to the taxi rank. A metered taxi will be in the region of $15.
Skytrain and taxi/bus combo – If you want to save a bit of money you can take a taxi (around $2) or the A1 bus ($1) from the airport to Mo Chit Skytrain station that is on the Sukhumvit line. From here you can hop on the BTS and make your way where you need to.
My recommendation: Taxi BTS combo. Cheap and effective.
Scams to look out for in Bangkok
As a tourist in Bangkok you are almost certainly going to run into a scam or two, so be sure to keep your wits about you and if someone other than on official tourist office is giving you "helpful" information, take it with a pinch of salt.
By far the most common scam is "The temple is closed" one. In and around the Grand palace you'll find a number of friendly locals who'll give you the disappointing news that the palace is closed for visits due to a holiday or a celebration. Sometimes it may be all day, others just a few hours.
At this point, they'll recommend a tuk-tuk driver who can take you on a tour of the city or a river cruise and basically just lie to sell you something.
When I encountered it, even though I was aware of this common plot, the man was dressed in a uniform, he looked like a government official, so it was really hard not to believe him.
But I ignored him and funnily enough, the Palace was open.
While selling a tour option is pretty harmless, there is a slightly more sinister version of it called the Bangkok gem scam, also known as the Lucky Buddha Day Scam.
Once you have gotten into the tuk-tuk, the driver tells you it's a special day to buy gems and happens to have a friend who owns a jewelry store. Long story short, he takes you there, and they convince you to buy precious stones but they never turn up.
It sounds so obvious and you're probably thinking, I'll never fall for that, but people do all the time, smart people, they are just so good at what they do.
Always check for yourself. Sometimes the attractions are really closed, but maybe they aren't. Do you really lose anything by checking for yourself?
I went to Wat Arun on the same day, and it was unfortunately really closed for that day. Still, I could take some great pictures from outside, and I did experience the very cheap ferry ride across the river.
My 5 days in Bangkok
Day 1 – Chatuchak Weekend Market, Get a massage, Visit Chinatown
Day 2 – Grand Palace, iconic Temples, river ferry, National Theatre, Bangkok nightlife
Day 3 – Ayutthaya Day Trip
Day 4 – Return from Ayutthaya, Khao San Road, Take a night market
Day 5 – Visit a Museum, Watch Muay Thai, and Shopping in Siam Square
So, let's finally talk about what to do in Bangkok in my 5 day itinerary.
DAY 1 – Weekend Market and Chinatown
The Grab driver who took me on my journey from the Airport to my hostel recommended I visit the Chatuchak weekend market the next day. Having done absolutely no research into where to go in Bangkok before arriving there, I decided to follow his recommendation.
Shopping at the Chatuchak Weekend Market
I was lucky that my first day in Bangkok was a Sunday, which means the famous Chatuchak Market was open.
The market is open every week from Friday to Sunday. On Fridays from 6 p.m. to 12 a.m. and on Saturday and Sunday from 9 a.m. to 9 p.m. Chatuchak Market is the biggest market of its kind in the world and definitely one of the top things to do in Bangkok.
While walking around aimlessly is fantastic, you never know what kinds of treasures you might find, there is also a very convenient app to find your way around the market. You can search for shops and other facilities by category, and the in-app map will guide you from your current location to the destination.
Everything at the Market is super cheap, and so I really couldn't stop myself from buying a natural lemongrass soap for 80 bahts and some beautiful trousers for 100 bahts (3 US dollars!).
The vendors are accommodating but not pushy at all which is great if you just want to browse and see what's on offer.
Get a foot massage at Good Massage
you can't leave Thailand without getting a Thai massage. After walking for a couple of hours in the narrow streets and the heat, I got tired. A foot massage at a time like this was the perfect remedy.
There are many massage parlors throughout the city, I found mine via the useful Chatuchak Market App and paid 250 bahts (8 US dollars) for a one hour foot, head, and shoulder massage.
A one-hour foot Thai massage costs the same, and as far as I could see all the shops have exactly the same prices. But the level of comfort might be different (air conditioning, chairs, and wifi are all things you might want to consider).
A Thai full body massage is also a good idea and is available in most massage parlors. But know this. A Thai massage is very different from your regular soft and soothing rubbing massage, this is more about manipulating your body and getting all the cracks out of your system. I'll be honest and say it's not always a relaxing experience, but you will feel amazing after.
What to eat at Chatuchak Weekend Market
There is so much delicious-looking food at the weekend market. I had my first (but not my last) mango with sticky rice of my visit. It was delicious!
For lunch, I went to the food court and had delicious Pad Thai and Tom Yum fried rice. It was freshly prepared, super cheap and so yummy. There are proper restaurants around the market, but I recommend you eat at the food court, sitting on a plastic chair and eating from a plastic plate. It is way cheaper and the atmosphere is entirely different.
I also wanted to try the coconut ice cream that was on offer everywhere, but after lunch, I was so full I couldn't possibly eat any more — an excellent reason to revisit Bangkok, don't you think.
Visit Chinatown
I asked one of my Thai friends for a food recommendation, and she suggested I check the food in Chinatown.
So, I tried to get a taxi from Chatuchak Market to Chinatown, but the taxi drivers who wait around at the exits of the market are there to rip off tourists, and I couldn't find a single one who was willing to turn on their meter.
They also wanted between 200 and 300 bahts for a distance I knew wouldn't even cost 100. I said thanks, but no thanks, and took the metro which was better anyway because I could avoid the crazy traffic of Bangkok.
Chinatown Gate
I got off at Hua Lamphong Station (the central railway station in Bangkok) and walked the short way to Chinatown. The great Chinese gate was my first stop. After a couple of pictures, I headed into the heart of Chinatown, where you can get a wide variety of Chinese and Thai street food.
Eat Lobster for dinner
If you can afford it, I recommend you have dinner at one of the seafood restaurants in China town for example Jumbo Lobster. As the name suggests, they sell humongous lobsters (seriously I had never seen such big lobsters before).
I can't afford lobster for dinner, but I still drank in the atmosphere at one of these restaurants, ordering some fried rice and fresh coconut and watching the lobsters be prepared in different ways (grilled or topped with cheese and baked) . . . Another thing to do in Bangkok on my next visit!
If you are a foodie, a Chinatown food tour may be right up your street.
Day 2 – Grand Palace and Temples
On day 2 it is time to explore some culture in Thailand which can be found abundantly in the old town area of Bangkok. A visit to the Grand Palace and Wat Pho, as well as some of the other famous temples in Bangkok, are all possible in one day.
I started my day at a typical Thailand style cafe with some real Thai breakfast. Hia Tai Kee is where the locals have their morning coffee, but they do have pictures of their menu, and therefore it was very foreigner-friendly. The iced mocha was delicious and abundant, and it fit perfectly with the breakfast, a plate filled with sausages, toast, an egg, and a small salad.
A visit to the Grand Palace
After this rich breakfast, I was ready to explore the Grand Palace. As I already mentioned above, I took a taxi to the site and the first person who talked to me already wanted to scam me. But not with me.
I ignored him and went to the Palace, which was open to visitors. At least to those who were willing to pay the ticket price of 500 bahts. I was shocked at the price, at least at first.
But the ticket includes not only the entrance fee to the Grand Palace but also a 30-minute classical dance performance at the Thailand National Theater, which I decided also to attend that day.
The is also the option of a ticket that includes entry to Vimanmek Palace and Abhisek Dusit Throne Hall.
Alternatively, you can book a guided tour in advance. This is also a nice way to avoid any potential scams, such as the ones I mentioned earlier.
The Grand Palace was, well, grand. There is no other word for it. It is an impressive area of buildings, temples, and roofed over corridors with beautiful paintings, mosaics, and carvings. You can spend hours walking around the area and finding new things to discover around every corner. Unfortunately, you are not alone in doing so. Even in the heat, it was crowded like crazy.
It is home to Wat Phra Kaew or Wat Phra Si Rattana Satsadaram to give it its full name, a large temple complex that is ais regarded as the most sacred Buddhist temple in Thailand. In English, the name translates to the Temple of the Emerald Buddha. It is one of the best highlights of the tour.
By the way, the dress code is strict, and men and women are advised to wear long trousers and shirts that cover the shoulders (no shorts or tank tops). This is enforced at the entrance, and you will be turned away or given clothing to change into if your dress isn't deemed appropriate.
Grab the river ferry across the Chao Phraya River
From the Grand Palace, I walked the way to the ferry crossing over the Chao Phraya River to Wat Arun. You can also take a Tuk-tuk if you don't feel like walking, just make sure you agree on a price before you get on.
The public ferry crossing over the river cost a total of 4 baths (13 cents), and it was quite lovely to see the city from the river.
Visit Wat Arun Temple
Wat Arun, the temple of the dawn, is worth a visit not only because of its location directly at the riverside but also because of its unique and stunning design. Unfortunately, on the day of my visit, it was closed for some kind of ceremony at many monks were attending.
I got to snap some pictures from outside, at least. And if you want to dress up in typical Thai clothing, called Chut Thai, to take some pictures with the Wat Arun temple in the background, you can.
Discover Wat Pho
My visit to the first temple was shorter than expected, and I was back on the other side of the river in no time. That left me enough time to visit Wat Pho where you can see the golden reclining Buddha. At 46 meters long it is an imposing statue. Don't forget to take a picture of its feet. Trust me.
The ticket price to enter Wat Pho temple grounds is 100 bahts (a little over 3 dollars) and included a small bottle of water.
If you asked me, I think every entrance fee in Bangkok should include a small bottle of water. In the heat, you really need it to avoid a heat stroke.
A few more temples in Bangkok to visit
Of course, Wat Pho and Wat Arun are just two of the more popular temples in Bangkok, but that is bearly scratching the surface, there are so many more to discover. Here are a few more to consider if you have a longer stay or would like a few different choices:
Wat Saket Temple (Temple of the Golden Mount) – Perched on an 80-meter-tall manmade hill, the temple welcomes worshippers year-round. there are 300-steps to get to the top of Wat Saket, but they are well maintained and the view is worth it.
Wat Ratchanatdaram Woravihara (Loha Prasat) – Close to The Golden Mount, Wat Ratchanatdaram is an intricate temple with an iron roof made of 37 spires signifying the 37 enlightenment virtues of Buddhism
Wat Benchamabophit Dusitwanaram – The elaborate stepped-out roofs and ornate gables really make this temple stand out. Wat Benchamabophit is also known as The Marble Temple, it is well known in Bangkok and is a major tourist attraction.
Take in a show at the Thai National Theatre
From Wat Pho, I walked to the Thailand National Theater to watch a performance of Kohn, the masked dance drama. Or at least a 30-minute adaptation with English explanations in the form of subtitles displayed over the stage. It was quite entertaining with the exotic dance, bright costumes, and interesting music, and the entry was included in my Grand Palace ticket price, so there was nothing to lose.
Unfortunately, the temperature in the theater felt like it was below freezing point. And even though I always wear long trousers and I had a cardigan with me I was frozen solid after 30 minutes.
Enjoy dinner at Supanniga Eating Room
The last highlight of the day was a delicious meal at Supanniga Eating Room. From the rooftop, you can see the party and dinner cruises floating by on the river and the beautifully lit up Wat Arun.
The experience was high class but surprisingly more affordable than I had expected. For two people we paid 1200 bahts (40 USD). Even on a budget trip around the world, I want to splurge sometimes. And that dinner was a very lovely luxury. Is it strange to return to a 3 dollar a night bed after a 20 dollar dinner? Maybe. But that's totally what I did.
Test the Bangkok nightlife
If you want to continue into the early hours, Bangkok is not shy about coming forward in its nightlife.
There are many wonderful rooftop bars with live music and of course but I have to also mention Soi Cowboy.
While it's not really my thing, it is probably the most famous sight in Bangkok and has featured in many movies including The Hangover 2 and Bridget Jones: The Edge of Reason.
It is a small street, around 150 meters long with more than 30 (mostly go-go) bars packed into it. The atmosphere is pretty wild and has been described as "the place morality and decency forgot" and mostly populated by travelers and ex-pats.
If you are looking for the seedy side of Bangkok, the area is within walking distance from the BTS Sky train Asok Station and the Bangkok MRT's Sukhumvit Station.
Day 3 – Ayutthaya Day Trip
When I'm in a city for 4 or 5 days, I love to try and include a day trip to explore a little further away. In fact, this time I included an overnight, so I was returning to Bangkok the following day.
There are many day trips from Bangkok you can consider:
Rose Garden
The Floating Markets in Damnoen Saduak
Amphawa floating market
Koh Si Chang
Samut Prakan
Kanchanaburi
And many more
Damnoen Saduak Floating Market is the most famous floating market in Thailand that is great for photo shooting. If you want the best trip from Bangkok, this should be on your list the market is very lively and beautiful.
However, my recommendation out of all of the alternatives is Ayutthaya. It is easy and cheap to get to and just dripping in history.
If you also decide to stay overnight (recommended) You can easily bolt on a visit to the monkey temple in Lopburi, one of my favorite places ever.
Rent a bike and explore the temples
The best way to explore the city is by bicycle. At my accommodation, I could borrow a bike for free, but even if your accommodation doesn't have bicycles, you can rent them for a very low price at every corner.
Being the old capital of Thailand boasts countless beautiful temples and ruins throughout the sprawling Ayutthaya National Park. And if you have the time and money to visit them all I recommend you do so. If you only have one day you might want to prioritize.
During my trip I visited the following temples:
Wat Mahathat: Most famous for the banyan tree that over the course of hundreds of years has grown around a Buddha's head. Probably the most photographed image of Ayutthaya.
Wat Ratchaburana: Designed similarly to Wat Mahathat next door but in a much better condition, and less visited. Therefore it is much better for taking pictures.
Wat Lokayasutharam: Home to the reclining Buddha of Ayutthaya. Different from the one in Bangkok, because it is made from stone and lying in the open rather than being housed in a gigantic hall.
If you would like to know more about the park, check out my Ayutthaya National Park guide.
A few other things to do include a short visit to the Petch Fortress, a stroll and maybe dinner at the lively Ban Lan Night Market, and just 30 mins or so by train you'll find the Monkey temple in Lopburi.
How to get from Bangkok to Ayutthaya
There are multiple ways to get from Bangkok to Ayutthaya. You can take a bus, minivan, taxi, or tour, but the cheapest option is to take the train, and that is what I did. You can see more details in this guide.
Ayutthaya Tours from Bangkok
If you don't want to organize your own trip, you can also participate in an Ayutthaya day tour from Bangkok. I recommend checking out the From Bangkok: Ayutthaya Day Tour by Bus & Boat on Get Your Guide.
What to eat in Ayutthaya
Aside from the Thai food that you can get anywhere in Thailand, there are a couple of local delicacies that originated there and that you simply have to try during your one day in Ayutthaya.
Boat noodles
The name 'boat noodles' comes from the boats these noodles used to be sold from. Nowadays the only boat they come into contact with is the ones put in restaurants for decoration.
Boat noodles are a strongly flavored noodle soup made from pork and beef served with pork meatballs and liver. The dish is served in a small bowl and to get really full, most order at least 2 to 5 bowls. I had two bowls of noodles at Pa Lek Boat Noodle and they were delicious!
Roti Saimai
Roti Saimai is Ayutthaya's cotton candy. But it is better than cotton candy because it comes in crazy colors and is served in a sweet roti (an Indian style crepe).
I tried very hard to buy one in the morning on my second day in Ayutthaya. But even though I visited the area that is famous for many Roti Saimai stands they typically only open in the evenings and I was not able to try any.
Where I stayed in Ayutthaya
I stayed at the Ray Nu Guest House. A private room with a shared bathroom costs about 13 US dollars here. It comes with WIFI and a very simple kitchen for you to use, as well as free bicycle rental. The room is air conditioned, spacious, and clean, although the walls are very thin and you can hear what the people in the next room are talking about.
You can see more reviews, check availability, and book your stay at Ray Nu Guest House by clicking here.
If you are looking for something even cheaper, a dormitory bed at 1301 Hostels Ayutthaya might just be what you are looking for. The reviews are excellent, and from the pictures, this hostel seems very modern, comfortable and well thought through. At 6 dollars a night it isn't quite as cheap as hostels in Bangkok but definitely a reasonable price for a bed including breakfast.
DAY 4 – Return from Ayutthaya and Khao San Road
I spent the morning of my third day exploring more of Ayutthaya (read the full Ayutthaya itinerary here) and headed back to Bangkok at around noon. I arrived back at my hostel in the afternoon. Enough time to explore a little bit more of Bangkok if you aren't too tired.
Khao San Road
Not far from my hostel was the chaos of Khao San Road, the famous backpacker mile where you can buy clothing and knock off t shirts, exotic street food such as grilled crocodile and roasted worms, and cheap beer.
The street is lined with bars, and party hostels and everything is loud, flashing, and in my opinion just a little bit too crazy. Surprisingly, everything is also a little bit more expensive than in other parts of the city, so there was really no good reason for me to linger.
It was enough to have seen it once. If you are a party backpacker, this is the place to be. If you aren't, about 15 minutes on Khao San Street will probably be enough for you.
Dinner at The Family
What I needed was a quiet place to relax that evening, and The Family restaurant is the perfect place to do that. Directly at one of Bangkok's canals with cozy seating inside and outside and the cutest cats roaming around it was great to end the day here.
DAY 5 – GOODBYE BANGKOK
With an early flight, I didn't actually get to do anything on my last day in Bangkok. I slept in, checked out, and made my way to the airport.
I used a regular metered taxi and paid almost the same price as I did using Grab.
If you still have more time on your last day here are a couple of additional attractions in Bangkok.
A river trip
I did mention the dinner and party cruises on the Chao Phraya River, right? You could participate in one of them as a memorable evening.
There are also other options for a river cruise up and down the river, you could for example simply take a water taxi to another part of Bangkok to get a glimpse of the city from the water.
Watch Muay Thai
No matter where you go in Thailand you will find Thai kickboxing, called Muay Thai. But the biggest fights happen in Bangkok. If you are into these kinds of sports you shouldn't miss watching a fight in Bangkok. If you can, the Rajadamnern Boxing Stadium is the home of the sport in Thailand and one of the best places to watch it in Bangkok.
You can buy a VIP ticket for a Muay Thai boxing match on Get Your Guide!
Shopping in Siam Square
On for the shopaholics among you. Siam Square is known as the center of Bangkok and home to many many (luxury) shopping malls such as Siam Center. If you wanted to break free of the markets and have a bit of a decadent shopping spree, this is the place to do it.
While we're talking about shopping, if it is your thing, you may also enjoy a visit to Siam Paragon Mall. It is one of the largest malls in Thailand and as well as stores are home to a 15-screen cinema, an opera concert hall, the Sea Life Bangkok Ocean World aquarium, and the Thai Art Gallery. It also has a bowling alley and karaoke center!
Take a night market
The atmosphere in night markets is fantastic and one of the better ones in Bangkok is the Train Night Market Ratchada, a vibrant market with many stalls selling a variety of goods & street food with live music. It is easy to get to on the Bangkok Subway (known as the MRT) Blue Line. Just get out at the Thailand Cultural Centre and you're pretty much there.
Visit a Museum
There are a number of great museums to enjoy in Bangkok that would certainly deserve a place on many itineraries, here are some of the best:
Jim Thompson House
The Jim Thompson House is one of the more quirky tourist attractions in Bangkok. It sits on the Saen Saeb Canal and is a complex of 6 traditional Thai style teakwood houses that have been transported to the center of the city from Ban Krua Silk Village.
Jim Thompson was an American businessman who spent over 30 years in the Thai silk industry. Aside from the houses, visitors come for the relaxing garden and the wonderful collection of Bangkok art and antiques.
There is an entrance fee of 200 baht (around $6.50)
Erawan museum
While I didn't get to it on this visit, it is certainly going to be a part of my next trip to Bangkok. Though officially it's located outside of the city, in Samut Prakan, it's close to the Bang Na BTS station.
Built over three floors topped by a huge elephant sculpture, it is all about the heritage of Thai culture. The first floor represents the underworld, The second floor represents the earth (or human world), and the top floor represents the Tavatimsa Heaven, with each floor having exhibits to match the theme.
The museum is surrounded by a wonderful tropical garden complete with water features and intricate sculptures.
Bangkok National Museum
More of a traditional museum, the National Museum is home to extensive exhibits of Thai art and history and is one of the largest in Southeast Asia.
Relax and people-watch in a central park
Parks are great places to see day to day life, grab an ice cream and kick back to some serious people watching. My recommended choice would be Lumphini Park. It is one of the largest green spaces in central Bangkok, spanning over 500,000 sq m and popular with tourists and residents. From jogging and cycling to more leisurely pursuits such as tai chi or a paddleboat ride on the lake, there is always something to see.
If you time it right you may even get to join in with some of the free workouts that happen regularly, just listen out for the pumping techno music and get involved.
But Lumphini Park isn't your only option, here are some other popular parks in Bangkok:
Chatuchak Park
Benjasiri Park
Benjakitti Park
Queen Sirikit Park
Rama IX Park
How to get around Bangkok
Even though Bangkok is a vast city and traffic sometimes sucks it is relatively easy to get around.
Taxis
You can hail a taxi from almost everywhere, and if they use their meter, it is quite cheap to get from a to b. Just make sure that they turn it on, or tell them to turn it on if they don't do it right away. If they refuse, I would insist or get out. It isn't worth paying what most often is three times the price it should be.
Grab
Grab is the Asian answer to Uber and another option in Thailand. I used it to get from the Airport to my hostel, and for a more than 25-kilometer long drive had to pay 300 bahts (10 US dollars). For my ride back to the Airport I took a taxi and spent roughly the same price. This tells me Grab isn't necessarily cheaper than hailing a cab, but it might be more convenient because you don't have to try to explain to your taxi driver where you want to go.
I did, however, experience times when I wanted to use Grab but couldn't find a driver in Bangkok. In those cases, I found a taxi. If you ever have difficulty explaining where you want to go, it sometimes helps to show them a picture of your destination or tell them a nearby street name.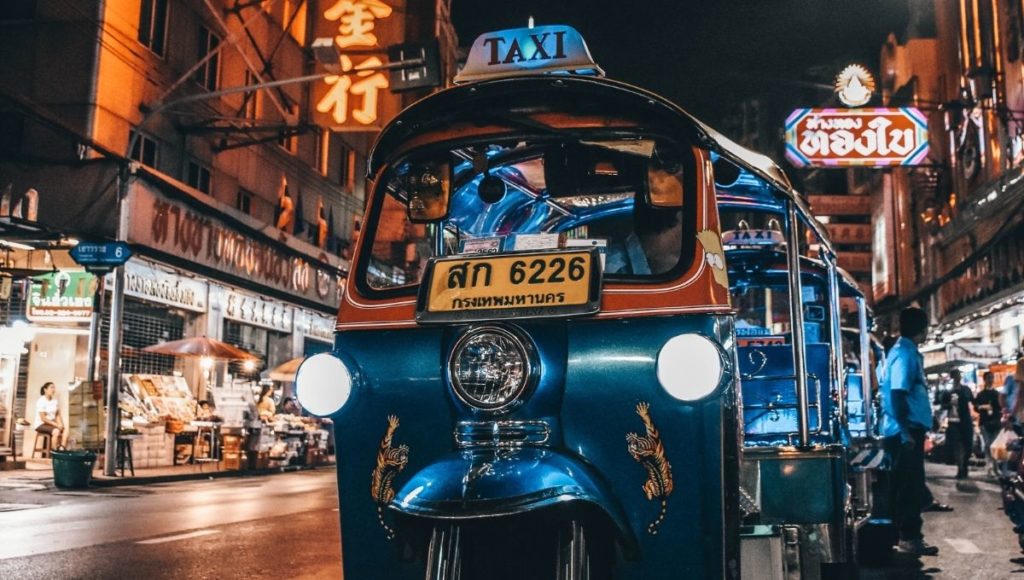 Tuk-tuk
Your other option to get around Bangkok is tuk tuks. Especially in the popular tourist spots they are everywhere and will offer their services. They are usually cheaper than a taxi or Grab but make sure you agree on the price with the tuk tuk driver before you get in. Write it down to be 100% sure that you are talking about the same amount to avoid unnecessary confrontation when you arrive.
Metro
Many people don't really have this on the radar, but Bangkok has a metro. It is very cheap to use and especially during rush hour a much better option than sitting around in a taxi for long periods of time.
Google Maps is your friend. When you search for routes from a to b, it will usually give you public transport options, buses as well as the metro.
The BTS Skytrain
How about a ride in the air-conditioned, high-speed trains zipping over Bangkok, called the Skytrain? From the train, you have fantastic views of the city from above, which makes it kind of an attraction in its own right, but it is also a convenient way to get from a to b.
If you're spending more than a few days in Bangkok, I'd recommend getting a BTS Skytrain to pass for unlimited travel during your stay.
Public buses
I didn't personally take a bus in Bangkok. For one, they are way slower than any other form of transport, and two, it is tough to figure out which bus to take because the information on Google Maps is all written in Thai. With so many other ways of getting around it didn't really seem worth trying to figure out the public bus system in Bangkok.
Tour bus
The final choice is the Hop on Hop off tour bus. These are great if you plan to explore the city, I often recommend them for shorter itineraries, but they are also a great way to get your bearings in larger cities.
Get a local SIM Card for Thailand
The first thing I try to do when I arrive in a new country is to buy a Sim card. In Thailand that is made easy, especially if you arrive at the airport. I purchased a Happy Tourist Sim from dtac, 9 GB of data for 7 days. It only cost 179 bahts (5.70 US dollars) for the Sim card including data. You can also use the card to make local phone calls which I always find very practical. They registered my Sim card for me, and everything was set up within minutes.
It's pretty easy to get a SIM card on arrival, but if you'd rather, You can also purchase a Sim card before your arrival in Bangkok through Get Your Guide. Here is a link to your SIM card on getyourguide.com.
Recommended Bangkok Tours
Two of my favorite tour companies, Get your Guide and Civitas, offer different kinds of experiences for your time in Thailand. Here are a couple of different ideas.
You could do a tour of the Grand Palace, Wat Pho and Wat Arun with a local guide. That way you will learn much more about the history and culture of Bangkok than on your own.
Book your Flexi Walking Temple Tour today!
Or how about a midnight food tour? You can try local Thai food while taking in the city by night. An unforgettable experience for sure.
Check out the price for the Midnight Food Trip by Tuk-Tuk!
Another favorite activity that I did on my trip to Thailand was a Thai cooking class. Although I did mine in Koh Lanta, there are plenty of great options available in Bangkok and if you like cooking, you won't be disappointed.
Where to stay in Bangkok
As the capital of Thailand, Bangkok is a bustling metropolis, so it really is no wonder that you have countless accommodation options. In my experience traveling to more than 20 countries in the past half-year, I have to say Bangkok has the cheapest accommodation of them all. A really budget-friendly destination.
Airbnb in Bangkok
Airbnb in Bangkok is cheap and abundantly available. I just checked for private rooms at a local home, and you can find countless options for as little as 10 US dollars a night. For me, that sounds like a fantastic opportunity to get to know some locals and to see how Bangkok locals really live.
If you are new to Airbnb, by using this link, you will get a discount on your first booking.
And if you are wondering how to find real locals using Airbnb read my detailed post about it.
Hostels in Bangkok
I don't know if where I stayed is the best hostel in Bangkok, but it was definitely amazing value in a great location (not on Khao San Street, but not far away either).
At Stay With The Mixx there are dorm rooms with shared bathrooms for as little as $5 per night! The beds were more or less clean. There was good WIFI, and the shared bathrooms had hot water and toilet paper. As a backpacker on a tight budget, it's really an excellent place to stay.
Click here to check out Stay With the Mixx on booking.com or check out the hundreds of other options on the map below.
Cheap Hotels in Bangkok
If you were hoping for a private room and a little bit more amenities on a small budget, Bangkok can offer that as well.
For example, a single room or standard double room with air-con at Hong Hostel will cost you just 15 US dollars a night including a simple breakfast. The reviews for this hotel are incredible with a score of over 9/10 for many categories including staff, cleanliness, and WIFI.
But . . . you may not be on a budget at all, in which case you'll be blown away by the value on offer. have a browse of the map below and see what you think.
Final thoughts on my Bangkok itinerary 5 days
Bangkok is a great place to start any trip around Thailand or even Asia. It is an effortless place to visit and can be a wonderful travel experience, but only if you are aware of scams and not too trusting of those trying to sell you something.
Bangkok (and Thailand in general) is an excellent place if you are on a very low budget, as accommodation, transport, and food can be found for the lowest prices I have ever seen.
But just because it is a backpacker paradise doesn't mean it doesn't have lots of cultural value and great activities to offer. And should Bangkok really be too much for you, maybe you should extend your day trip to Ayutthaya to be a 2 or 3-day trip. Just to recover.
This 5 days itinerary in Bangkok will make sure you see everything that you should see as a first time visitor
Don't forget to check out my full post about my Ayutthaya day trip, and how to get to Ayutthaya from Bangkok you can find those posts also in my Thailand Travel blog category.