The Philippines is known for its abundance of beautiful beaches, its variety of delicious fruit, and the genuine hospitality and friendliness of its people. Its collection of over 7,000 islands makes it the perfect destination to go island hopping, not to mention how affordable this scenic vacation is known to be! Foreign currency such as British Pounds, Euros and American Dollars will get you far in this scenic island getaway.
"The Pearl of the Orient" gets its name from its rich culture, its welcoming people, its exotic dishes, and its world-renowned tourist spots. The Philippines recently received accolades for being Asia's Leading Dive and Asia's Leading Beach Destination from the 27th World Travel Awards 2020.
If that does not urge you to start packing your bags, the Philippines' Department of Tourism was also declared as Asia's Leading Tourist Board, further cementing their catch phrase that it is indeed "More Fun in the Philippines!"
You will never run out of islands to discover in the Philippines and due to its award-winning tourism board, there are many tailored island hopping tours that you can embark on either by plane, boat, or ferry rides. Whichever way you choose to get around or wherever you choose to explore, be prepared for an adventure filled with memories that will last you a lifetime.
You may also like: 10 Ideas For What To Do In Dubai During Summer
What to do in the Philippines
What can you expect to find and what do you anticipate doing when you are in the midst of the stunning Philippine islands? Whether it is checking off an item on your travel bucket list or even discovering a new passion along the way, the Philippines has so much to offer.
Diving and Snorkeling Tourism
The Philippines' Department of Tourism has recognized dive tourism as one of its key area of tourism growth. What makes it the best diving destination is that it is home to a variety of marine life in its world-renowned diving sites and the highest concentration of coral reef life. These can be found on a variety of islands with so much to explore.
Food Tourism
For the exotic foodie in you, there are some dishes only found in the Philippines that will either make your toes curl from joy or horror (or a little mixture of both)?
With dishes ranging from sizzling pigs' ears and cheeks to a soup largely made up of a certain bird's saliva, you will unleash in you a craving for something that you never would have previously thought possible. If you are adventurous and are willing to try anything once, the Philippines is definitely the place for you.
Eco-Tourism
Preserving the beauty of their country is another way the Filipinos show joy in their home islands, many of which instill conservation efforts to protect the striking nature environment and the land and sea creatures that roam through it. You can be a part of the conservation efforts and take pride in knowing that you contributed to helping a country retain and maintain its natural beauty.
Local Tourism
Traveling is another way of feeling connected to the vast world that we live in. It is a connection to nature, to new cultures and to meeting new people. It is a way for us to broaden our minds and horizons, leaving us with unforgettable memories that we will always cherish.
The Filipino people are renowned for being some of the most hospitable and genuinely friendly souls that you will ever come across. They have a strong sense of family and community and will welcome strangers with open arms.
Afterwards, they will most likely present you with a feast where you will indulge on their home-cooked food more than any you may have had in your entire life. Food is a central focus around every Filipino home, this is how they demonstrate their love and hospitality for those around them.
Top places to visit in the Philippines
1. Manila – The Lively Capital
Your adventure begins in the bustling capital city of the Philippines, Manila. Its international airport, NAIA (Ninoy Aquino International Airport), is connected to multiple locations around the world, making it an easy destination to reach.
Being no stranger to tourists from all over the world, the airport's facilities and its affable staff will greet you with open arms, as Filipinos are known to be very proud to welcome tourists to their beautiful country which they are proud to showcase to the world.
You can opt to stay at one of the many 5-star leading hotels, such as the Shangri-La, Hyatt Hotels, Mandarin Oriental and many more, either for a day or two to recuperate from your flight in before you set off to explore the beauty of the Philippine islands.
Highlights:
Dampa Fresh Seafood Market – handpick the freshest seafood and have them cook it for you the way you want at the restaurants surrounding the fresh seafood market.
Intramuros – Intramuros is a historic walled area that is home to Spanish-era landmarks, such as the magnificent Manila Cathedral, Fort Santiago which houses the shrine to national hero Jose Rizal and the San Agustin and Casa Manila museum which are rich with Spanish colonial furniture, art, religious artwork, and statues.
2. Batangas – Glamping in Philippine Nature
An innovative and unique experience that has taken the Airbnb world by storm is spending the night in unique sleeping arrangements. Domescape is situated in Nasugbu, Batangas, a mere 2-hour drive from the capital.
The short drive makes it an ideal location for a quick stop over before your next island destination. An added benefit is that it is near Tagaytay which houses the infamous Taal Volcano and near several mountains in Batangas, which means you can enjoy a scenic drive through the different terrains that make up Manila.
Domescape is located in a quiet and picturesque township that is known for its refreshing natural river, which flows through the natural pools located in front of each dome. It provides an elevated experience of glamping, with its domes fit for a luxury stay overlooking a forest that surrounds the area.
This picturesque experience is not only limited to within the domes, but to the surrounding environment. You can opt to kayak in the nearby lake and end the day by feasting on a decadent traditionally Filipino meal before falling asleep under the stars.
Highlights:
Eating delectable homemade Filipino dishes around the campfire in the midst of the forest.
Kayak along the natural river that flows through the township and along the Domescape grounds.
3. El Nido Island, Palawan – Eco-Tourism at its Finest
Palawan is the province in the Philippines that is renowned for their eco-tourism efforts. It is a popular tourist destination and due to this, its local government has ensured to keep its eco-friendly efforts as a top priority to preserve the beauty of their islands.
El Nido means "the nest" in Spanish and its name is derived from it being an important turtle-breeding area. Palawan itself is comprises of 45 islands and islets and is renowned for their pristine beaches, turquoise waters, coral reefs, towering limestone formations, and stunning lagoons. The natural beauty that surrounds you will make you feel as though you are in paradise. Sea kayaking is an eco-friendly way of island-hopping across many of the islands that Palawan has to offer.
You can choose to stay in live-aboard accommodation, which are boats that you dwell in while you travel across the various islands or if you want to satisfy your indulgent cravings, the many luxury resorts, and villas available will make it hard for you to choose between.
These resorts all follow the strict guidelines and procedures imposed by the local government to ensure that they are operating on the most eco-conscious level in order not to disturb the natural environment they are enjoying.
Highlights:
Snorkeling and scuba diving – the abundant marine life and coral reefs in El Nido are what put it on the map among snorkeling and dive-enthusiasts.
Kayaking – most resorts provide complimentary kayaks to their guests and give them free reign to explore the little islets around them. You can even find one to claim as your own private beach for the day, or choose to have a secluded island romantic dinner, or get a campfire going with a group of friends.
4. Puerta Princesa, Palawan – To the Caves and Beyond
Puerto Princesa is home to the world-renowned Underground River, which is a UNESCO Heritage Site and one of the 7 Wonders of Nature.
You can explore the majestic river that will lead you to the largest underground river in the world. Here you will paddle through the turquoise waters on a kayak through the majestic limestone caves and formations while you navigate the intricate system through the Puerta Princesa Underground River National Park.
You can opt to travel with a guide who will educate you on the interesting ecosystems at the park and the various species you will encounter. From the caves you can also explore the beautiful mangroves which are very important to the island. Mangroves create a buffer against storms, reduce flooding, and collect large amounts of carbon dioxide, acting as a sort of filtration system for the environment.
It takes about 5 hours to get to El Nido from Puerta Princesa, which can be done by bus, minivan or rented car. A great road trip to take in the scenic route of the Puerta Princesa city before engulfing yourself in the beauty of nature that El Nido is famous for.
Highlights:
Underground River – kayaking through the largest underground river in the world amongst its grand limestone formations is a sight to behold and learning about the ecosystems and the nearby mangroves is an added bonus to participating in activities that benefit the environment.
Honda Bay – go on a day trip to Honda Bay to explore three must-see islands: Cowrie Island, Luli Island and Starfish Island, which could be done by the eco-friendly sea kayak. Here you can go snorkeling and encounter the diverse marine life in their natural environment.
5. Boracay Island, Aklan – Party, Beach, Sleep, Repeat
Boracay Island is the most famed out of all the islands in the Philippines by local and international tourists alike. The entire island was designed as a tourist focal point, with a long stretch of white sand beach reaching almost 4km of the 7km stretch of island. It is not only renowned for its white sand beach with smooth powder-like sand, but also for being a hub for relaxation and nightlife activities.
The island was designed and broken down into 3 Stations along the stretch of beach. Station 3 houses affordable motels, restaurants, and bars. Station 2 has mid-scale hotels and restaurants while Station 1 boasts the luxury hotels, upscale bars, and restaurants.
All three can be walked along by the stretch of beach or on a tricycle through the Main Road that runs along the entire length of the island. Due to the focus on tourism, you can enjoy modern facilities and infrastructure while still enjoying the vestiges of island life and the natural beauty of the island.
With so many options, you can go Station-hopping each day and night to discover all that this beautiful island getaway has to offer.
Highlights:
Relax on white sandy beaches with the smoothest sand you will ever touch and swim in the crystalline blue waters.
Spend the evening barhopping through various Happy Hour specials in beach bars spread out along the long stretch of white sand beach.
Enjoy buffets of the freshest seafood prepared on the beach while dining under the stars.
For the adventurer in you, go snorkeling in Crocodile Island and cliff jumping at Magic Island!
6. Panglao Island, Bohol – Home of the Chocolate Hills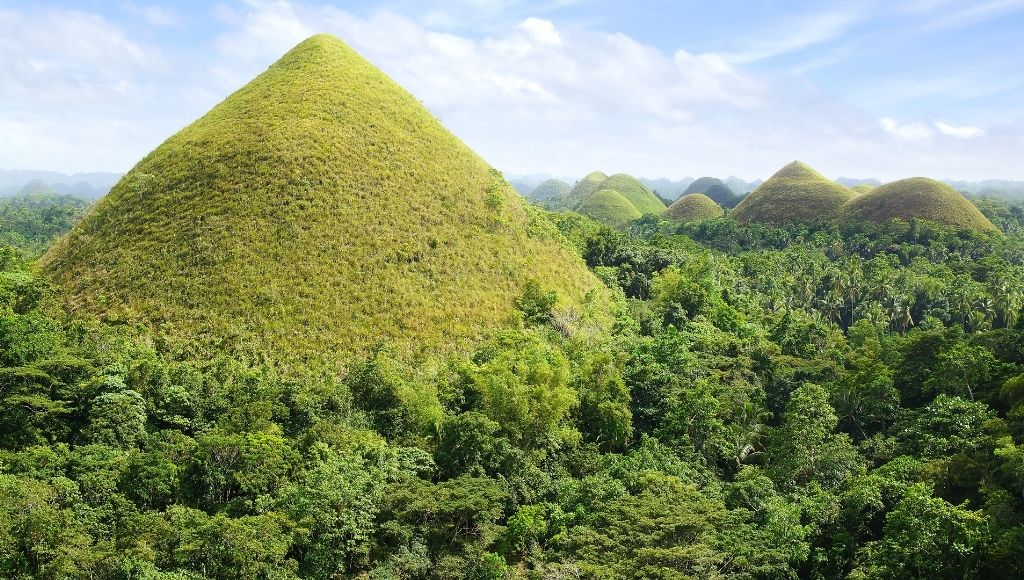 Although not as internationally famous as Boracay and Palawan – Bohol is a vibrant and lush tropical paradise consisting of the island itself and 75 minor surrounding islands. It boasts a wide variety of extraordinary sights and is both a family-friendly and solo traveler destination.
It's home to the world-famous natural phenomena of the Chocolate Hills – over 1000 various dome shaped hills that get their name by turning brown during the dry season and resembling chocolate truffles. They truly are a sight to behold! That's not all there is to see and do in Bohol however, head on over to one of the most popular islands of Panglao. It contains a plethora of white sand beaches, amazing diving/snorkelling sites, a spelunking adventure and in some places you also get a chance to see one of the world's smallest primates: the Philippine Tarsier.
Want to truly relax? Opt for a massage on the beach and get pampered with a great view. Want an eco-adventure? Head to the Hinagdanan Cave – an underground freshwater lagoon that glows a fluorescent turquoise colour with breathtaking natural cave walls.
For more thrills, do not miss out on the snorkelling and scuba diving on this island. Free diving for snorkelers and dive sites here includes house reefs, cave, drift, and wall dives. Some of the must-see sites for every diver are Alona Beach Sanctuary, Heaven, Rudy's Rock, Black Forest. Not only do you get to see a paradise of coral in the waters near Panglao, but it's also teeming with wildlife! Experience swimming in diverse and abundant sea life that include snappers, black-tip sharks, tuna, mackerel, surgeonfish, manta rays, barracudas, dolphins, pilot whales and so much more!
Highlights:
Extremely accessible for Tourists with their own Bohol-Panglao International Airport and ferry sites with various travel options on the island including renting a motorbike, buses, taxis, tricycles and more.
Copious white sand beaches to choose from along with beachside accommodation ranging from the luxurious to the economical.
Natural and historical attractions, as well as a multitude of diving sites with well-established diving companies for tours to choose from.
Final Thoughts
If reading through the above has not yet made you pack your bags and book the numerous convenient flight routes that would take you to the Philippines, you can visit the page of the Philippines Department of Tourism to get more information to cement your trip.
There are numerous accredited travel agencies and tour operators who can assist in planning your trip of a lifetime – island hopping in the Philippines, The Pearl of the Orient. You can also opt to go the adventurous route and simply book to arrive in the capital, Manila, and set off from there because of how accessible, affordable, and easy it is to get around the Philippines.Most of the population speak English, and if in the smaller provinces or towns they do not, their welcoming and kind smiles is a language on its own. You will not only leave with a phone full of pictures from the most picturesque locations, but with the heart and soul of a true wanderer or traveler who has met genuinely friendly people and immersed themselves in true natural beauty. So come on down to find out for yourself that it truly is "More Fun in the Philippines"!
You may also like to read: