There are so many amazing places in the world that you should definitely visit, but of course you can't visit them all at once so you have to make choices. The Netherlands capital, Amsterdam, and the capital of Denmark, Copenhagen, are both fantastic European capital cities that are definitely worth visiting, but which one should you go to first?
Both of these cities have their own, unique features and there's plenty of outdoor activities to be found for everyone.However, you can only visit one at once so in order to help you make this difficult decision, we have compared the two cities down below.
We will tell you about the weather, location, activities, food and many other things of the two cities. In the end, we will recommend one of the two which we think would be the best city to visit first, but by then you will have all of the necessary information to make that decision for yourself of course.
Coming your way in this post - click to expand ->
Note – Please know, some of the external links on this page are affiliate links, this means that if you purchase after following one, I make a small commission from the sale at no additional cost to yourself.
Before you visit – check out my top helpful travel resources
Here are a few of my recommendations for travel assistance and sites I use when traveling myself. For more on these and why I choose to recommend them, check out my full disclosure page.
Quick answer – Copenhagen vs Amsterdam
If you want to be spontaneous and simply follow our recommendation, we think you should go to Amsterdam! Although both cities are quite expensive, Amsterdam is cheaper than Copenhagen and a lot more diverse.
You will find people from all over the world here and there's so much to do and to explore in this vibrant city! The city is really fun as well, thanks to the amazing nightlife as well as all of the different kinds of activities you can do here right from your arrival at the Amsterdam Schiphol airport.
For families
When you go on vacation as a family, it's important that you go somewhere that's family friendly and suitable for the entire family- both the adults as well as the children. Copenhagen in Denmark has a lot to offer for families. There is a lot of cultural highlights you can go see with plenty of fun playgrounds throughout the city to break up the interesting architecture for the kids!
When you go to Copenhagen with your family, you should also visit the Round Tower, as children usually love this. Copenhagen is also a really safe city, so you can definitely take your kids there. However, Copenhagen has a VAT of 25%, which makes it more expensive, especially for families.
If you visit Amsterdam with your family, there's plenty of stuff you and your kids can do as well. You can visit national museums, some of which are free, and many places with entertainment for kids.
Another advantage of going to Amsterdam with your family is that the VAT here is 19%, which makes it cheaper than Copenhagen and, therefore, financially more appealing to families. Amsterdam truly is the perfect vacation destination for families with kids.
As a couple
If you don't have kids, you could also visit one of the cities with your partner. Copenhagen can be a really romantic city for couples. You could visit the Copenhagen Botanical Garden for example and just take a stroll and enjoy each other's company.
There are also multiple museums and even a castle you can visit! Copenhagen is a bit more expensive than Amsterdam thanks to the high taxes and the higher VAT, but it's still manageable for two people.
Amsterdam is a great city to visit as a couple as well. You can visit multiple museums together or if you like to party, you can enjoy the amazing nightlife of this vibrant city together. You could also go on romantic bike rides together and explore the city, which makes it a really fun city for couples to visit.
Solo
You could also travel solo to one of the many towns in these amazing cities of course. If you visit Copenhagen solo, you can enjoy all of the highlights at your own pace and visit as many statues as you want! You also don't have to worry as much about the higher VAT, since there's only one person to pay it for.
Visiting the old town of Amsterdam on your own can be really fun as well! You can visit the museums and go shopping for as long as you'd like! However, Amsterdam can be dangerous at night sometimes so, especially if you're a female traveler, make sure you're always safe and avoid small alleys at night.
Amsterdam vs Copenhagen: An in-depth look
Location
Copenhagen is located in northern Europe with the eastern part of Denmark really close to Sweden. It's located on the north sea coast of one of the islands of Denmark, called Zealand, which gives most visitors the chance to visit the sea while visiting this capital city as well. Although it's located on one of the Amager Islands, the city is still easily accessible, which makes it great to combine with a visit to other spots in Denmark.
Amsterdam is a town located in the north-west part of the Netherlands and Dutch is the main language of the Netherlands. Although it's not positioned in the middle and quite far from other provinces like Limburg or Drenthe, there's plenty of things to do nearby. You're not too far from other big, Dutch cities, like Rotterdam or The Hague for example, and the city is easily accessible by both car as well as public transportation.
Weather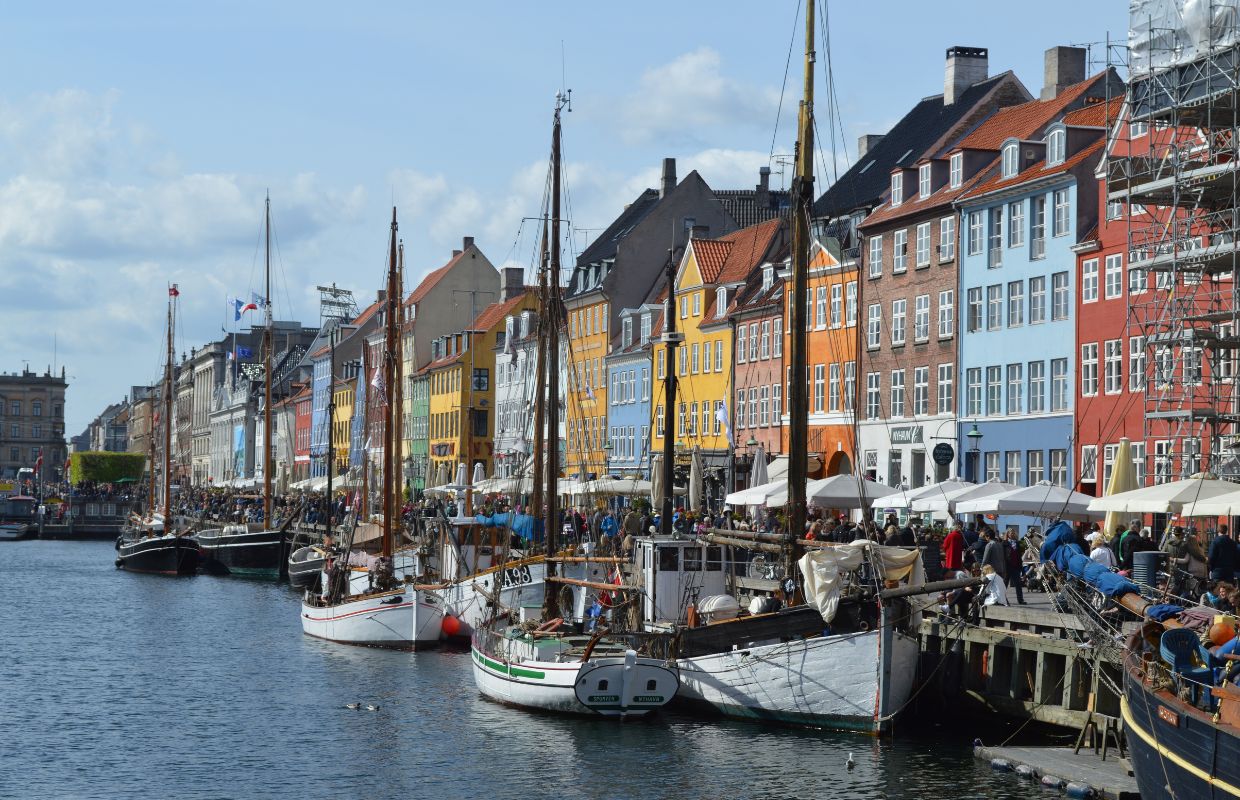 If you visit Copenhagen during the summer months, you will be able to enjoy some warm days, which will be perfect to explore the capital city. The hottest month of the year in Copenhagen is July with temperatures of around 17oC.
This way, you can be comfortable while looking at the architecture of the city. The winters in Copenhagen can be quite cold with an average temperature of 2oC in December.
The summers in Amsterdam are usually a bit warmer with an average temperature of 21oC around August. They have some hot days as well, but the weather is generally pleasant to explore the city in.
However, it does rain more on average in Amsterdam than in Copenhagen as it is located 4 degrees latitude south of the capital city of Denmark. The winter in Amsterdam is pretty much as cold as the one in Copenhagen with an average temperature of 5oC in January, although it can sometimes freeze as well.
History
Although both Amsterdam and Copenhagen are cities from the 12th Century and even before, their history is quite different. Copenhagen actually used to be one of the most important outposts for the Vikings from where they set out on all kinds of travels around the world. For a while, Copenhagen belonged to the ArchBishop, but eventually King Erik of Pomerania inherited the throne.
They even had an eleven-year-old king called Kristian IV in 1588, but during his reign he lost part of the kingdom to Sweden. Today, Copenhagen is one of the best destinations for international conferences and congresses and an amazing capital city.
Just like Copenhagen, Amsterdam used to be a fishing village in its early years. Another similarity between the two cities is how they both grew throughout the years. The biggest growth for Amsterdam happened during the Golden Age of Amsterdam.
The city was the staple market of the world at this time and Amsterdam got incredibly rich. Copenhagen and Amsterdam have something else in common in their history as well, because both capital cities (and their nations) were occupied by the Germans during the Second World War.
Art, architecture & culture
If you love artwork, you should definitely visit Amsterdam first instead of Copenhagen. You will find so many interesting museums throughout the city. The most famous museums of the capital city are the Van Gogh Museum and the Rijksmuseum, although you should visit the Stedelijk Museum as well. You will find a lot of famous art from Vincent Van Gogh for example as well as a better look at the long, turbulent history of Amsterdam.
Amsterdam is also home to the famous Anne Frank House, a museum dedicated to the preservation of the place where Anne Frank went into hiding and wrote her diary during the Second World War.
In Copenhagen however, there's plenty of things you can explore as well. One of the best highlights here are the bronze statues that can be found throughout the entire city. All of these statues are dedicated to royalty, mariners or artists.
The most famous statue is The Little Mermaid from Hans Christian Andersen. There's plenty of cultural tourism you can explore in Copenhagen, but if you're more into art, or riding culture, we recommend going to Amsterdam instead.
Activities & excursions
There's a lot to do and see in both Copenhagen as well as Amsterdam. One of the most fun day trips to take in Copenhagen is going to the Copenhagen Zoo. Here, you will find more than 4.000 animals from all over the world. In Copenhagen, you will also find the National Aquarium of Denmark in which you can spot fish, sharks and many more sea creatures!
If you're looking for some more adventure during your trip to Copenhagen, we suggest going to Bakken. This is a small theme park that can be found in the woods of Copenhagen. Did you know that Bakken is even the oldest amusement park in the world?
If you're more into art and culture, you should definitely go to the National Gallery of Denmark in Copenhagen, where you can look at a stunning collection of both Danish as well as international and contemporary art too.
You can also visit the Amalienborg Palace, where the Danish Royal Family lives! Another highlight in Copenhagen that you can't forget to visit is The Round Tower. It's one of the most iconic buildings of Copenhagen and it's definitely worth the trip!
In Amsterdam there are plenty of fun things to do and incredible places to see as well. A trip to the Van Gogh Museum or the Rijksmuseum can't be missed from your visit to Amsterdam! Here, you will find the world's largest collection of Vincent Van Gogh's works as well as creations from Mondrian.
Both museums are located around the Museumplein, where you can find another museum called Stedelijk Museum as well. If you're interested in history, you can go to the Anne Frank Huis in Amsterdam. This is the place where a young girl and her family hid for more than two years during the Second World War.
If you love nature, you should pay a visit to Keukenhof. This one isn't located in Amsterdam itself, but near the capital city, but it's perfect for a fun excursion. You can see a lot of stunning flowers here and even fields with tulips!
When you're in Amsterdam, you must take a cruise along the canals as well. This way, you get to see Amsterdam from a different point of view. Lastly, you can go to one of their many bars, cafes and clubs and enjoy the vibrant nightlife Amsterdam is known for! You can go out here 7 days a week throughout the entire year!
Food
One thing Copenhagen and Amsterdam have in common is that they both have typical foods, but both aren't world famous for them. There are a few dishes that you should totally try though.One national dish that you can try in Copenhagen is the open sandwich. It's 1 piece of bread that's stacked with meat or fish, vegetables and other garnish.
Another amazing dish you should try is the Spaghetti with meat sauce. This is a kind of spaghetti Bolognese that tastes amazing! When you're in Copenhagen, you can also try their famous meatballs with chopped onions, boiled potatoes, gravy and pickles.
Amsterdam has its own typical food as well. You can try erwtensoep here for example. This is a thick soup made from peas that's eaten a lot in the winter. Another Dutch delicacy is poffertjes.
These are a kind of mini pancakes that are eaten with some powdered sugar and butter. During your trip to Amsterdam, you should also try some haring (a kind of fish) as it's typically eaten on the markets. Amsterdam has a lot of amazing foods to offer its visitors, one of which is the Dutch apple pie that you must try before you return home again.
If you are more in fine food over local treats, both tick the box with a number of Michelin star restaurants available.
Nightlife
When you visit Copenhagen, there's plenty of nightlife you can enjoy. They have multiple clubs as well as relaxed bars and fun discos! You can always go somewhere that suits you as there's more than enough to choose from.
However, when it comes to nightlife, Amsterdam definitely takes the cake. Even though Copenhagen has many different bars, discos and clubs, it's nothing compared to Amsterdam. You can go out here every single day of the week throughout the entire year!
The best parties in Amsterdam are the techno and house parties, as this is a whole different vibe from partying anywhere else in the world.
Shopping
If you love shopping, both Copenhagen and Amsterdam are perfect for your next trip. Copenhagen offers its visitors plenty of amazing stores and shopping streets. If you want to go shopping in Copenhagen, you should definitely go to Strøget. It's Copenhagen's main shopping street and one of the longest pedestrian streets with shops in Europe.
In Amsterdam, you can find plenty of amazing and unique stores as well as coffee shops. They have multi-story departments as well as antique shops. One of the biggest advantages of going shopping in Amsterdam instead of Copenhagen is the price.
As we mentioned before, you have to pay 25% VAT in Copenhagen whereas you only pay 19% in Amsterdam. So although both cities can be a bit expensive, shopping in Amsterdam will be cheaper than Copenhagen with high prices.
Costs
The last important factor you should take with you in your consideration is the cost of the trip of course. Amsterdam and Copenhagen are both quite expensive cities, but if you're on a budget, it's best to visit Amsterdam.
The VAT here is 19%, while the VAT in Copenhagen is 25%! If you're traveling alone or as a couple, you can still go to Copenhagen on a budget of course, but as a family the difference in costs between two countries would be a lot bigger. That's why we recommend going to Amsterdam if you would look solely at the costs of the trip and everything that comes with it.
Final thoughts
So, Amsterdam vs Copenhagen- where should you go? Copenhagen is the perfect place for you if you have a bigger budget (especially when going with your family) and if you want to go somewhere that's quite peaceful.
However, Amsterdam is cheaper and has just as many things to offer. Even better; if you love looking at art, you should definitely go to Amsterdam instead of Copenhagen. Copenhagen has many museums as well, but you get a lot more choice in Amsterdam as the Netherlands are known for its famous painters and artists.
Another factor to consider is the nightlife. If you love going out, you need to experience clubbing in Amsterdam at least once in your lifetime as it will definitely not disappoint.
If you ask us, we'd recommend Amsterdam instead of Copenhagen for your next trip. Copenhagen is a beautiful city of course, but Amsterdam is so much more diverse with so much to see and explore. Of course, you can also look at the individual factors and decide which of them are more important to you.