Easily accessible by high-speed train, A day trip to Segovia from Madrid Segovia is one of my favorite days out, and easy to do yourself.
With one of the finest Roman aqueducts in Spain, imposing Cathedral, impenetrable castle and wonderful food and drink culture, there are so many things to do in a Segovia day trip, it is my favourite place to visit on a day trip from Madrid.
So with that said, here is my guide packed with information about how to get to Segovia, a suggested Segovia itinerary and memories of a day trip from Madrid to Segovia with some friends who were visiting from the UK.
Coming your way in this post - click to expand ->
How to get to Segovia from Madrid
Best Ways to Get to Segovia
Quick Guide
| Method | Rough Cost | Pros | Cons |
| --- | --- | --- | --- |
| Self Drive | €20-€50 | Flexibility, Privacy | Fuel costs, Parking |
| Train | €15-€30 | Speed, Frequent departures | Limited luggage space |
| Bus | €10-€20 | Cost-effective, Multiple stops | Longer travel time |
| Organised Day Tour | €50-€100 | Guided experience, All-inclusive | Expensive, Fixed schedule |
Lets take a closer look at these options, or, if you would rather skip to what to do, just click here.
The easy option: an organized day tour to Segovia
Segovia is a little under 100 kilometers from Madrid, so easily reachable in a day trip. While there are a few options for getting there, the easiest of all is taking an organized Segovia day trip.
There are many options to choose from, some of which also include other cities, such as Avila, but I'd recommend spending a whole day in the city as there is plenty to keep you busy.
You can also find some other great tours via Civitas and Viator, be sure to shop around to find the best one for you.
However, if you would rather have a bit more freedom and make a Segovia day trip under your own steam as opposed to a tour, there are plenty of other options. My recommendation would be getting the Madrid to Segovia train, an in-depth look at that coming up in a moment, but first, let's see at a couple of other options.
Drive to Segovia
One option would be to hire a car and drive yourself. While this would be a little more expensive than most, it does give you the freedom to not be restricted by bus or train timetables. Based on the below, I would recommend option two. Although the drive is 20-minutes longer, once you leave the motorway, the trip becomes a beautiful drive through the Segovia Mountains.
If you do decide to hire a car, I would highly recommend getting familiar with some of the driving laws in Spain to avoid any run-in with the police.
Madrid to Segovia bus
Another option is to get from Madrid to Segovia by bus. It certainly works out quite a bit cheaper, with a day return being around €10, however, the trip takes around 1 hour and 20 minutes, as opposed to a little under 30 minutes on the train.
Despite the extra time it would take, it is still a realistic option if you are on a tight budget. On weekdays there are around four buses a day the run from Moncloa bus station to Segovia. The first one leaves at 6:30am and the last return at 9:45pm.
On the weekends there are fewer buses available and start a little later, if you would like to check the timetable, you can do so on the Avanza website, who run the service.
One of the benefits to the bus is that it drops you off right in the city and a perfect place to start your day at the Segovia Aqueduct, as opposed the high-speed train to Segovia (there is also a slow one, don't get that), which drops you in the middle of nowhere (more on that in a moment).
But to be honest, it takes a lot longer and isn't all that much cheaper than the train, which is why I would highly recommend . . .
Madrid to Segovia train
Tickets on the RENFE high-speed Madrid to Segovia train, which takes 28 minutes, cost a little over €20 for a day return. This makes it great value and by far the quickest way to get to Segovia.
The train to Segovia leaves regularly from Madrid Chamartín Station, which can be easily accessed from most of Madrid via the Metro Line 1. The first departure on weekdays is 6:40am, 8am on the weekends, and the last train back being a little before 11pm during the week and at 9:30pm on the weekends.
It's pretty easy to buy a ticket on the day of travel. Find the ticket office which is well signposted and in the middle of the station, grab a number from the machine and wait to be called to purchase your ticket. The vendors will speak enough English to know what you need, but you should try ordering in Spanish first, out of politeness.
Something to bear-in-mind is that there are often queues at the ticket desk and the Spanish rail system is very efficient. if you are buying tickets on the day. be there early, at least 30-minutes before departure to allow time for lining up and passing through the bag security checks that AVE trains have in place. The train doors officially lock two minutes before departure, which is pretty much always on time.
Tip – Although Madrid's Metro is simple to understand, some of the stations appear twice. If you look at the map, you'll notice that there is Chamartín and Pinar de Chamartín, the train station is the first one. If you have people visiting and send them to the wrong one, well, that would just cause chaos, not that I would ever have done that (sorry Mum and Dad).
So, that said, it is probably a better idea to buy your tickets for the Madrid Segovia train online in advance. They can be purchased p to 60 days before departure and while you can buy them directly on the RENFE website, I find the site really crappy to use and hard to navigate so I would recommend a more simple option such as Trainline.
Both sites sell the tickets at face value, so it shouldn't be any more expensive. I generally like the booking system of Trainline, and their app is helpful too, with live train information, but just feel free to price check between them.
Segovia Guiomar train station to the aqueduct and city center
The high-speed train stops at the Segovia-Guiomar station, which is about 8 kms away from the city centre. However, getting to the city is super easy, so have no fear.
There are two buses that will be waiting, numbers 11 and 12, which both cost €2 per person. Both will take you to the city centre, the only difference is that the 11 drops you right at the Segovia Aqueduct (but takes longer) whereas the 12 drops you about 5 minutes walk away.
Don't worry about where you should get off either, just follow the herd.
Or relax and get a taxi
If you don't fancy a bus ride, there is also the option of getting a cab. There are normally plenty lined up, waiting for the train drop-offs and expect to pay in the region of €7 to get to the centre. If there are 4 of you, or you find some people to share with, not only is this option cheaper, it is also a lot more comfortable and quicker.
Now I'm never one for encouraging fast disembarkment. I hate it when an aeroplane lands and so many people do weird yoga-style contortions to grab their luggage and then hang around crushed in the aisle while the crew fiddle with the door.
I really don't understand it. Just sit and relax for a few more minutes in comfort – you won't be trapped in your seat forever to be left to die and no-one is going to steal your luggage . . . Sorry, I got distracted.
So, I'm not a fan of rushing to get off a train, but here I'd recommend putting an extra bit of juice into your steps. The bus fills up quickly and there only a limited number of taxis that will be ready and waiting, so to make sure you can get on (and hopefully not have your nose in someone's sweaty armpit) try to get out of the station quickly.
We didn't exactly drag our heels and only just made it onto the bus, it was a squeeze. I can only assume they don't have such a thing as maximum capacity for safety limits.
Even with everyone packed in like a tin of Malagan sardines, there were about 40 people left behind to wait for the next bus with no more taxis available.
What to do in a Segovia day trip from Madrid
OK, so now you know how to get to Segovia, it's time to work out why and what to do. Well luckily there is a lot, below are some of the highlights from my most recent visit. If you don't fancy planning it out yourself, one of the easiest things to do is to simply book a guided tour. However, if you would rather have the freedom to explore, let's see what's there to be found.
The Aqueduct of Segovia
The aqueduct is one of Segovia's main attractions, what first put the city on my radar and unmissable. It is why I love the city and what gives it that little extra to make it stand out among many other options for day trips out of Madrid.
We could just about see the arches of the aqueduct, teasing us as they rose above the local houses and businesses as we walked up the helpfully named Avenue Aqueducto, leaving the sweaty armpit fest of the bus behind. The avenue led us directly to the Plaza Azoguejo, a large open space at the base of the aqueducts highest point in the city and also home to the local Tourist Information and numerous bars and restaurants.
The bit you see is just a small part of a stunning construction built by the Romans around the 100AD mark. The original construction was some 17 km long dropping at a consistent 1-degree decline to bring water to the city from the Rio Frio. At its tallest, it is nearly 30 meters high and consists of 167 arches. Seriously, how did they do it so perfectly?
There is a great page about the legend of the Aqueduct of Segovia, how it was (possibly) built by Lucifer himself and many other great little factoids over on the Info Spain page.
On the far side of the arches, we found the little statue of the she-wolf suckling Romulus and Remus, founders of Rome, that you see on many of the postcards while you wander the city.
It was placed here in 1974 and the inscription reads "Roma a Segovia en el bimilenario de su acueducto MCMLXXIV". Or in English – "Rome to Segovia in the bimillenary of its aqueduct 1974".
Eat Cochinillo Segovia
Being awe-inspired is hungry work, so was time to get some lunch.
Segovians are rather proud of their food and drink heritage (as are most places in Spain). They have a great little craft brewing scene, with many of the bars selling local beer and you can also find local wine usually from the Tempranillo grape.
But, the food Segovians are most proud of is their famous dish, roast suckling pig, known locally as conchinillo asado, and it should certainally be one of the food you try on a visit to Spain.
To officially be considered conchinillo there are very specific guidelines set out which include what it can be cooked in and even go as far to specify what the mother of the suckling pig may be fed.
Many restaurants throughout Segovia offer this dish, one of the oldest and most famous is Mesón De Cándido, found in Plaza Azoguejo, at the base of the Aqueduct. I have been told it has fantastic cochinillo, and I'm sure it's delicious . . . but for us it was too expensive so we explored further.
We wandered up the street to the side of the famous restaurant, Calle de San Francisco, for about 400 meters where we found a place called Alma Nostra. I'll often head away from the main area to find restaurants, generally, they will be cheaper and often nicer as they rely on quality rather than location to get customers.
We ordered 2 beers, a coffee, three pieces of tortilla and a ración (larger than a single tapas portion) of croquettes to share. All lovely and total bill was just €13. If you're not sold on the conchinillo and wanted something different, I'd recommend this place in a heartbeat – we even had very friendly service.
Walking from the aqueduct to the Segovia Alcázar
After eating we walked to the opposite side of Segovia's historical center, heading towards the Alcázar of Segovia.
The route takes you up the steps behind the Segovia Tourist Office to the top of the aqueduct with some stunning views back along the way.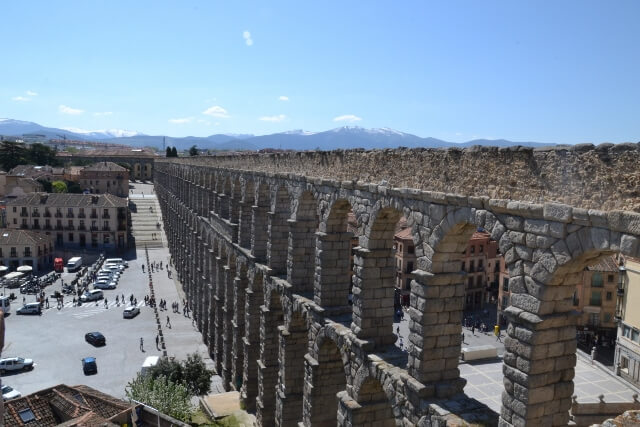 As we walked through the backstreets, gaps in the tall, sand-colored buildings either side of us hinted glimpses of what was to come. Before long, narrow streets gave way to the wide open Plaza Mayor, home to lots more restaurants serving cochinillo and Segovia's impressive 14th-century cathedral.
Segovia Cathedral
Our route towards the Alcázar took us past the huge Segovia Cathedral which took over 50 years to build, starting in 1525, after the city's original one was destroyed by fire in 1520.
General entrance to the Catedral de Segovia costs €3 and tickets can either be purchased on the door or in advance via their website. They also operate a number of guided tower tours throughout the day. The tours run on a schedule so I would advise if you decide to do this, then check the times and book in advance.
Sadly we didn't have time to go inside the cathedral during this visit, but I have heard good things about it.
From the Segovia Cathedral, it was about an 8-10 minute downhill stroll to the entrance of the Segovia Alcázar along Calle Marqués del Arco which became Calle Daioz as we reached the end.
On the way, we stopped for a minute or two in Plaza La Merced, a small park which offers nice views looking back to the Cathedral.
The Segovia Alcázar tour
From whichever way you look at it, Segovia Alcázar is a pretty impressive site. It's one of the few castles in Spain that currently remain undefeated and has never been taken by enemy forces.
Looking at the city walls that need to be conquered before even reaching the moat, I'm not really surprised. It also has quite a fairytale look to it and claims to be one of the main inspirations for the Disney castle.
The Alcázar tour is definitely worth doing. Entry to the castle is €5.50 and an extra €3 for the audio guide which I'd recommend getting as there isn't too much in the way of explanations or descriptions to read. The guide is full of interesting stories about the history of the castle as well as the local area while still being short enough to hold your attention.
For an additional €2.50, you can buy a ticket to climb the 153 tower steps for spectacular views – the cathedral towering over the city with the snow-capped mountains on the horizon is well worth the fee alone.
As I have done the whole tour twice before, I sent my friends into the castle, while I mooched around outside, before joining them to go up the tower. If you'd like more information about the Alcázar, check out the Segovia Alcázar website.
While mooching, I found a small path that led me down below and around the outside of the walls. I walked for a while and was rewarded with some lovely views looking back to the castle. The path continued down to the river below in a circular walk but, conscious of time and growing a thirst, I headed back to the castle café to enjoy a beer while I waited. The views from the café garden are pretty impressive too.
Wandering the back streets of Segovia
Once we were finished at the Alcázar, we headed back to the main plaza by walking around the walls and stopping off for various refreshment breaks. With so many bars and tapas places trying to tempt us in, it would have been rude not to. I also noticed many boutique food shops selling fantastic locally produced food, including hams and cheeses, as well as wine and beer.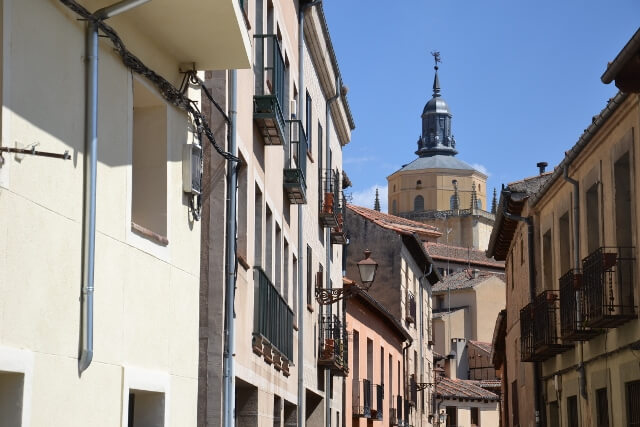 Our final stop of the day was back at the aqueduct, this time we did use one of the plaza cafés. Sitting down, admiring the ancient feat of engineering while sharing a large jug of sangría was a fitting end to a busy, but enjoyable day.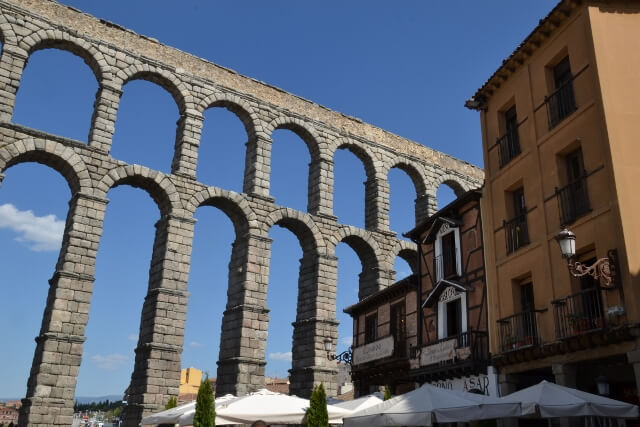 Getting back to Madrid
Of course, as much as I'd have loved to have sat there all night enjoying sangría while watching the ever-evolving hues of the stone aqueduct change as the sun set, our Madrid to Segovia day trip had come to an end and we a train to catch.
Whether driven by laziness or not wanting my nose pushed in more sweaty armpits (even sweatier at the end of the day) we opted for a taxi back to Segovia-Guiomar train station. They can be found easily with the taxi rank being right next to the aqueduct, opposite the suckling wolf statue.
The taxi cost just €6.80 between us, so only 80 cents more than a bus would have been.
Our train departed at 6:22pm to get us back in Madrid before 7pm. We arrived a little early to the Segovia train station in the middle of nowhere, but just meant we had time to enjoy one last beer in the station bar.
Suggested 1-day Segovia Itinerary
One of the many things I love about Segovia is how dense the central core is. Having now visited multiple times, here is my recommended Segovia one day itinerary.
A walk along the aqueduct
The suckling wolf statue of Romulus and Remus
Segovia Aqueduct from above
Refresh in Plaza Mayor
The large, open Plaza Mayor overlooks the Cathedral and is a great place to grab a refreshing something. Beer would usually be my choice. Ask for "Una cerveza por favor."
Segovia Cathedral
A tour of the Segovia Alcázar
Climb the Alcázar Tower
Refreshment break in the Alcázar cafe (next to the ticket office) a drink with fantastic views.
A walk along the walls
Heading back to the heart of the city with a fantastic view of the valley below.
Casa del Sol – Museum of Segovia
Home to over 1500 historical pieces relating to the history of the city including architecture, fine art, and ethnology.
Puerta de San Andreas
The entrance to the Jewish Quarter
Walk through the Juderia (Jewish Quarter)
Enjoy more fabulous views as you head back up to the heart of the city
Postiga Del Sol to Postiga Del Luna
A small open park area
Iglesia de San Martín
Another fine looking church
A wander through the shops
Now is your opportunity to buy some Segovia souvenirs. If you are traveling with checked luggage, then you can buy some nice local beer and wine. There are also some wonderful gourmet food shops and other Segovian trinkets.
Conchinillo for dinner
Back to the Aqueduct
And back to where it all begun to enjoy one final drink before hopping in a taxi back to the train station
In total that will be about 2 and a half miles of walking. that doesn't include any extra miles racked up by wandering though Alcázars or Cathedrals. I think the above is easily achievable in an 8 – 10 hour visit, depending on how many refreshments breaks you have!
FAQs
How far is Segovia from Madrid
The distance between Madrid and Segovia is 69 km, with a road distance of 91.9 km if you're driving. By train, the distance is around 42 miles and takes an average of 31 minutes. If you opt for the bus, the average travel time is 1 hour and 20 minutes, with some buses completing the journey in 1 hour and 16 minutes.
How do I get from Segovia train station to city centre?
To get from Segovia train station to the city centre, you have several options. The most convenient is to take a taxi. There will normally be some waiting, but you may need to be fast off the train to get one. The cheaper (but slower) option is the local bus, which takes about 15 minutes and drops you off near the main attractions.
Is there a bus from Segovia to Madrid?
Yes, there is a bus service between Segovia and Madrid. The average travel time by bus is approximately 1 hour and 20 minutes. Buses are a cost-effective way to travel between the two cities and offer multiple departures throughout the day.
What is the best time of year to visit Segovia?
I believe the best time to visit Segovia is during the spring and fall months when the weather is cooler, summer gets very hot, and the tourist crowds are smaller.
How much time should I allocate for a day trip to Segovia?
A day trip to Segovia typically requires around 6 to 8 hours, including travel time, to fully explore the main attractions.
What is the average cost of a day trip from Madrid to Segovia?
The average cost of a day trip from Madrid to Segovia can range from €40 to €100 per person, depending on choice of transportation and activities.
In summary
Segovia is a wonderful town and I think you'll be able to see enough of it to be satisfied in a day trip. If visiting for longer (and the place is worth it) there are plenty of cheap, or swanky, hotels in Segovia, whatever suits your budget. There are loads more churches to see, a couple of museums, easily enough to keep you occupied for a few days.
I've visited three times now and whenever I have people visit me in Madrid, I will always recommend it to them just as I am recommending to you now.
Find accommodation deals in Segovia
Are you a Travel Blogger?
If you want your blog to be added to our map be sure to check out our submit your blog page here: https://www.thetravelblogs.com/submit-your-blog