I wasn't sure what to expect from my one day in Coimbra having not really heard much about the city before. My previous visits to Portugal had been dominated by the large cities of Porto and Lisbon, however, this trip gave an opportunity to explore further afield.
What I found was a historic city rising high above the banks of the Mondego River that was as pretty on the inside as it was when you gaze upon it from below.
In this post, I want to share with you how to get to Coimbra and some of the best things to do in Coimbra that I discovered while visiting with my wife and toddler.
I have also included a suggested one-day itinerary so you know how to make the most out of one day in Coimbra and don't miss out on any of the highlights.
Please note: This post contains affiliate links. This means if you buy a tour or a hotel room after following a link in this post, I will make a small commission on the sale at no cost to yourself. If you would like to know more about this and the chosen partners I work with, please take a look at my affiliate information page.

Where is Coimbra?
Coimbra is a Portuguese city located around 50 km inland from the Atlantic coast in the centre of the country. It once served as the capital of the nation and is around 75 miles (120 km) south of Porto and 125 miles (200 km) north of Lisbon.
How to get from Lisbon to Coimbra
Day Tour to Coimbra
If you want to relax, let someone else do all the work and just enjoy the ride, then an organised tour is for you. You can find some excellent tours from Lisbon to Coimbra, some also have a couple of additional stops, and they are a great way to ensure you don't miss out on the most important sites.
Of course, there are a couple of drawbacks. The most obvious one is that tours tend to be a bit more expensive. You will also lose an element of freedom as you will be committed to what the guide says you should see.
Drive from Lisbon to Coimbra
The drive to Coimbra is pretty simple and it takes a little over 2 hours. The great thing about driving is it gives you a lot of flexibility if you wanted to visit some other places too. At two hours it is just on the limit of what I would consider a day trip so if you have a bit of spare time, I would recommend staying overnight somewhere close and tie your trip into a visit to the coastal town of Nazaré, the monastery at Batala or the religious complex of Fatima.
Coimbra also makes an excellent stop when driving between Porto and Lisbon.
If you do decide to hire a car and drive yourself then just be aware that there is an extensive toll network on the main roads in Portugal. Some of these tolls are automated so talk to your car hire company about how you can get set up to pay them and they can direct you to the closet place to do this.
For more information on the Portuguese toll network, check out this website.
Lisbon to Coimbra Bus
Intercity bus travel in Portugal is safe, efficient and often offers the best value. You can easily catch the bus from Lisbon to Coimbra which takes about two hours and 30 minutes. There are many buses throughout the day that are operated by Rede Expressos. You can take the bus to Coimbra from Lisbon from either the Sete Rios bus terminal or Oriente station. Tickets cost around €15 each way and should be booked before boarding. You can do this on their website or at the station.
Lisbon to Coimbra Train
The quickest option between Lisbon and Coimbra is the train, but it is a little more expensive than the bus. Depending ow which train you take it can be between 1 and a half hours to two hours and cost in the region of €20. The fare does change slightly depending on promotions going on. You can check train time and prices on the Comboios de Portugal website.
Coimbra from Porto
Tour
As above, an organised day tour is the easiest way to ensure you cover all you would like to see in a day trip to Coimbra.
Drive from Porto to Coimbra
Porto is quite a bit closer to Coimbra that Lisbon is. It should only take around 1 hour and 15 minutes to reach the historical city.
As above you will need to be aware that there are tolls on the motorways and you will need to be set up to pay them. Some of the tolls are automatic, so you will need to register a payment method before you drive or you could face a fine.
If you are looking for a couple of places to tie into a trip to Coimbra from Porto, Aveiro is a lovely city close to Porto where you can enjoy a moliceiro boat ride in the "Venice of Portugal". Also, Costa Nova on the coast is where you will find some of the iconic Portuguese seaside houses.
Porto to Coimbra Bus
The bus from Porto to Coimbra leaves from the Campo 24 de Agosto bus station and takes a little under an hour and a half to reach Coimbra. The ticket is around €12 one way or €22 return. There are more than 15 direct services a day which can be booked via the Rede Expressos website.
Porto to Coimbra Train
The train is my recommended option for getting between Porto and Coimbra. Depending on which one you choose, the journey takes between 1 hour and 1 hour 15 minutes. As you'd expect, the train is a little more expensive than the bus with the fastest option being around €22 one way and the slightly slower train being around €18.
You can check exact times and prices on the Comboios de Portugal website. Tickets go on sale 30 days before the date of departure and often if you book early and can travel off-peak, you will find some savings to be had.
Getting to Coimbra city centre
It is important to know where you will be dropped off if you are taking public transport to Coimbra. The bus to Coimbra will drop you at the central bus station that is located next to the river, close to Estr. Coselhas, the main road that leads you up to the historic heart of the city.
If you are arriving in Coimbra by train, there are two train stations you need to know about. You will most likely be dropped off at Coimbra-B train station which is located 2.5kms to the north of the city. From here you can hop on a second train for the 5-minute ride into the Coimbra station which is closer to the centre.
However, what I would recommend is grabbing a taxi or Uber and heading straight up to the university or New Cathedral. The taxi will not cost much and will drop you right in the best area to kick off your one day in Coimbra sightseeing. More about that in my one-day itinerary coming up.
Parking in Coimbra
If you drive then you will need to find somewhere to park your car. When we visited we were able to find street parking close to the New Cathedral at the top of the city. On Sunday's parking if free but the rest of the time you can expect to pay around €1 per hour if you are using street meters or an official car park in the city.
If you are prepared for a little walk, there is free parking on the far side of the river. The Parking Convent San Francisco is free and about a 10-minute walk to cross the bridge and get into the city. It is a great parking option if you wanted to visit the Little Portugal attraction.
Things to do in Coimbra
Visit the University of Coimbra
Home to one of the oldest in Europe and a Coimbra University tour is certainly one of the best things to do in Coimbra.
The university was first founded in 1290. For the following 40 years, various monarchs decided to move it to Lisbon, back to Coimbra, then Lisbon again until finally settling in its current situ thanks to Dom João III in 1537.
Today, the University has seven faculties – Arts, Law, Medicine, Science and Technology, Pharmacy, Economics and Psychology and Educational Sciences and with a few of the surrounding streets, the area of the university is now a UNESCO World Heritage site.
The centrepiece of the university complex is the Pátio das Escolas, a vast courtyard surrounded by majestic 16th- to 18th-century buildings with stunning views over the River Mondego. The courtyard is free to enter and wander around and admire the gorgeous facades of the historical buildings. However, if you would like to go inside, you will have to buy tickets.
There are two types of entrance tickets. One gives you full access to all of the university buildings (with the exception of the tower) or a cheaper ticket that does not include entrance to the Biblioteca Joanina.
The tickets can be bought from the ticket office which is located outside Porta Férrea, but try to get there either early in the day or late, as it does get very busy.
University of Coimbra ticket price
Full access: €12.50
Without the Biblioteca Joanina: €7
Opening hours
Summer: 9am – 7.30pm
Winter: 9am – 1pm & 2pm – 5pm
More information: https://visit.uc.pt/en
Recommended Coimbra tours
Biblioteca Joanina
The Biblioteca Joanina is one of the standout features of the university, which is probably why access to it is an additional fee on your Coimbra University tour ticket.
Built between 1717 and 1728, the library is home to more than 40,000 books mainly on law, philosophy and theology. The central hall features elaborate ceiling frescoes and huge exotic wood-carved tables.
Fun fact: The library is home to a colony of bats that help keep the antique books in good condition by eating insects that could pose a risk to the papery pages.
Admission to the library is strictly regulated, and groups will be given specific times to access. You will also be limited in regard to how long you can stay there to keep the people moving through. With this in mind, it is advisable to book your visit before you go to help you plan your day in Coimbra or head there first thing in the morning. If you leave it too late, you may risk missing out.
For Biblioteca Joanina opening hours and ticket prices, see the section about the university.
New Cathedral – Sé Nova de Coimbra
Sitting close to the university's Pátio das Escolas you will find the creatively named New Cathedral. But, don't let the name deceive you, this cathedral was originally built as a church back in 1543.
In its early days as a church, it served the Jesuit Order, a religious order of the Catholic Church. However, in 1759, the order was expelled from Portugal and in the following years, the Bishop's seat was moved from what is now known as the Old Cathedral (more on that coming up) to here, which is when it became known locally as the New Cathedral of Coimbra.
When you look up from the outside, it is a pretty imposing building with some nice artistic flair, but nothing too extravagant.
On the inside, it looks like you would expect. Uncomfortable seats, tall vaulted ceilings and an incredible altarpiece at the end of the building. It's another fine Cathedral and wroth popping your head into to take a nose around, but I would plan on spending too much time here.
Visiting details
Admission: Free
Hours: Monday to Saturday; 10 am – 6.30 pm, on Sunday 10 am-12.30 am.
Machado de Castro National Museum
The National Museum Machado de Castro is home to antiques and historical items from the history of Coimbra and the local region. It is named after Portuguese sculptor Joaquim Machado de Castro.
Inside the museum, you will find many items including
Roman Archaeology
Sculptures
Precious metals and religious artefacts from the 12th century onwards
Jewellery
Paintings
Portuguese crafted furniture.
But, out of all of this, my favourite spot is the restaurant, Loggia. It is placed in a courtyard that looks out over the whole city and river below. A great place to stop for a refreshment.
Little Portugal – Portugal dos Pequenitos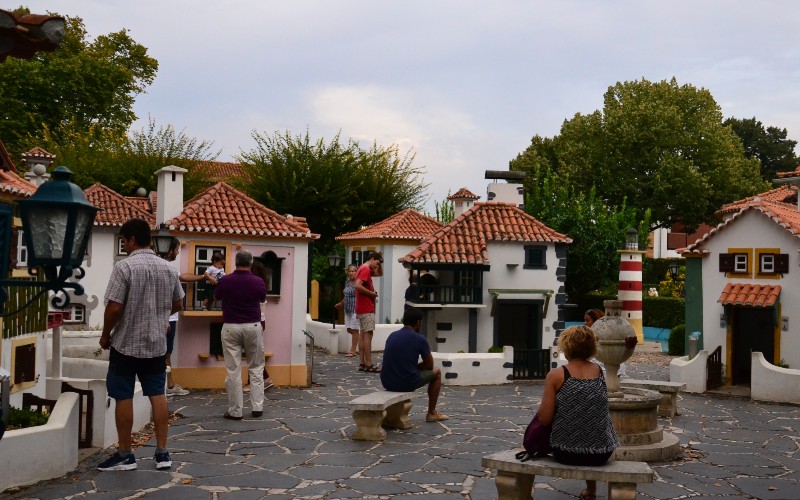 As the name suggests, it is Portugal, but in miniature. The attraction starts off as a museum that shows off much of the goods and artefacts plundered from all the countries that Portugal used to occupy. I guess the biggest realisation for me was how far the Portuguese Empire once spread.
The exhibits are displayed in small buildings built to look as if they are native to the country. While there is no real stand out piece, some of the wooden carvings from Africa are very impressive.
As you head further into Little Portugal you come across miniature versions of some of the emblematic monuments of the country including the Mosteiro dos Jerónimos and the Torre de Belém in Lisbon and the Convento de Cristo in Tomar.
Finally towards the back is are the Portuguese houses, all scaled down to kiddy size. There are traditional dwellings from all different areas of the country and our 2-year-old had so much fun running in and out of them exploring.
It is a nice site to visit, but I definitely think it is more for families with kids rather than adults, but that said, it is still a nice way to see versions of some of the Portuguese landmarks you may not see face to face.
Little Portugal prices
Adult: €8.95
Concessions (from 3 – 13 and over 65): €5.95
Under 2: Free
Opening times
Spring and Autumn: 10am – 7pm
Summer: 9am – 8pm
Winter: 10am – 5pm
For full opening times and special events, check their website: http://www.fbb.pt/pp/en/informations/schedules/
Monastery of Santa Cruz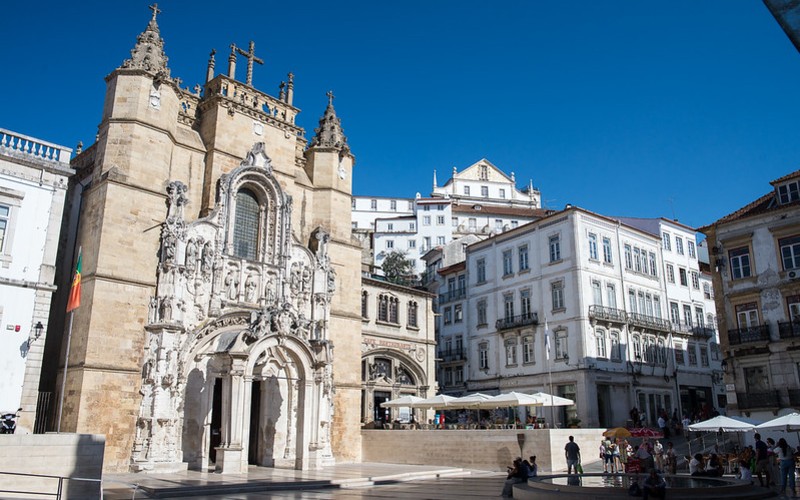 Founded in 1131, the Monastery of Santa Cruz played a vital part in the history and independence of Portugal as a kingdom and is the resting place for the first two Kings of Portugal, D. Afonso Henriques and D. Sancho I.
Aside from the tombs of the Kings, a couple of other stand out features are the cloisters, the baroque organ and don't miss out on visiting the Choir Stalls on the second floor where you can get a great panoramic view of the church.
Your entrance fee will also include a visit to the Museum of Sacred Art which contains relics of the first Portuguese saint, São Teotónio.
Sé Velha: The Old Cathedral of Coimbra
So I have already talked about the New Cathedral, but what about the old one?
Located in the heart of the city among the steep narrow streets, the Sé Velha, in its current style, was built from around 1139.
From the outside, you'd be forgiven for thinking it looks more like a castle or fortress than a cathedral with its tall walls and few narrow windows. This is due to the Portuguese Romanesque Style and is the only Portuguese cathedral built during the Reconquista era that remains intact
The interior has a nave, covered by barrel vaulting, has with two aisles, three chapels.
Se Velha visiting hours
Monday – Friday: 10am – 5:30pm
Saturday: 10am – 6:30pm
Sunday: 11am – 5pm
More information: http://sevelha-coimbra.org/
Cross the Mondego River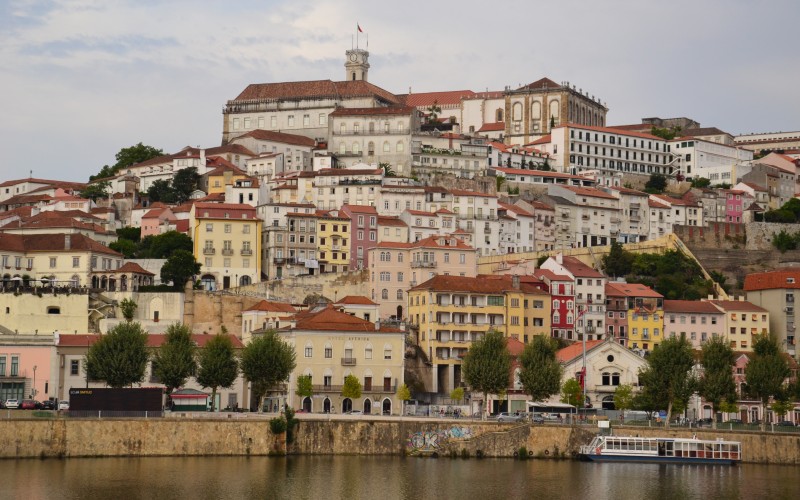 At the bottom of the town is the river and I'd highly recommend crossing the bridge so you can look back and see the wonderful view looking back to Coimbra as the city hangs to the steep river bank.
There are a few cafes where you can grab a coffee, you'll also need to cross if you are heading to the previously mentioned Little Portugal.
Of course, there are many more things to do, but I just wanted to list some of the most popular choices that you should certainly try not to miss with one day in Coimbra.
Coimbra one day itinerary
With all the above considered, I thought I would put together a suggested itinerary for you if you have one day in Coimbra to enjoy, to help you get the most out of the city.
The Morning
Coimbra University Tour
Visit the New cathedral
Biblioteca Joanina
Coffee with a view in the National Museum Machado de Castro
As Coimbra is built up a big hill it makes complete sense to start at the top and work your way down. This means that your first stop will be the New Cathedral, however, before you pop in there, if you don't have tickets for the Coimbra University visit, I would go and grab them first.
The reason for this is that visits to one of Coimbra most beautiful sites, the Biblioteca Joanina is time-restricted. It could be that you can get straight in, or you may need to hang around for an hour or two.
If you do have to hang around, you can spend some time visiting the New Cathedral which is just over the road.
You can easily spend a few hours wandering the university buildings and when you get tired just head to the nearby National Museum Machado de Castro and grab a coffee, or even lunch, in their restaurant that has amazing views.
Side Note: I know this is the morning that we are talking about, but the restaurant is also one of the best places to enjoy a Coimbra sunset.
Middle of the day
Sé Velha: The Old Cathedral of Coimbra
Lunch
Monastery of Santa Cruz
It is a nice route down through the town if you leave from the south-west corner of the university square and head to the Old Cathedral which is the next site on this suggested itinerary.
Once you have visited it would be time to stop for some lunch. There are a few restaurants located in this area serving traditional Portuguese fare. We ate at a restaurant called Fado Hilário which offered good value food and the staff were amazing I'd happily recommend it, but there are plenty of choices.
After lunch you can head over to the Monastery of Santa Cruz where you can visit the tombs of the first two Portuguese kings, D. Afonso Henriques and D. Sancho I, in this incredibly historic building.
To get there I would recommend continuing to head down from the Old Cathedral and pass the Porta de Barbacã, a lovely little area of the town with tight lanes and traditional buildings. Maybe even stop to grab a small glass of the local speciality sour cherry liqueur known as Ginjinha.
Once you have passed through the gate you can turn right on to R. Iisc da Luz to head to the Monastery.
Afternoon
Little Portugal
Riverside parks
Further exploration
Now is time to cross the river over the Ponte de Santa Clara and head to Little Portugal for a couple of hours. As described above here you can see some old artefacts and see the miniatures of many Portuguese monuments.
I would say this part is optional as Little Portugal, while fun to visit, is definitely more of a place that kids will appreciate. You can kick back and relax while they scamper around like little maniacs exploring all the small houses.
If you have an interest in history, there are some great artefacts from the Portuguese empire days in an interesting setting.
If you're not overly enthused by the Little Portugal idea, you could easily spend a few hours exploring the streets a bit further and instead of crossing the Ponte de Santa Clara, head a bit further south and cross the Ponte Pedonal Pedro e Inês bridge which connects the Manuel Braga Park and the Parque do Choupalinho then walk along the banks of the river back to the Ponte de Santa Clara for some lovely views looking back to the city.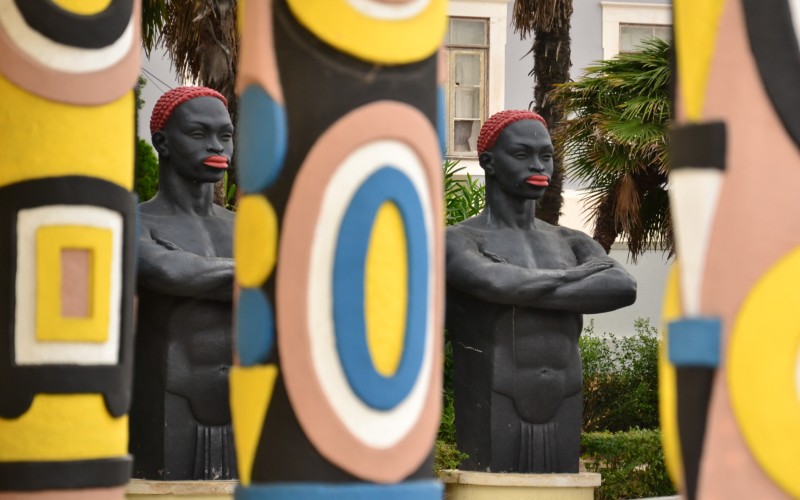 Where to stay in Coimbra
As I alluded to earlier, if you are travelling for a couple of hours or want to explore further afield, Coimbra is a great place to spend the night with some excellent hotels.
Coimbra FAQs
Is Coimbra Portugal worth visiting?
Yes. It played a pivotal role in the forming of the Portuguese kingdom and is one of the countries most important cultural centres. It is dripping in stunning architecture and is postcard-perfect when looking down to the river from above or back to if from across the water.
What is Coimbra famous for?
The most famous attraction in Coimbra is the University. It is one of Europes oldest and steeped in so much history. Coimbra is also home to some stunning religious buildings and a whole medley of architectural influences with roots going back to the Roman settlements.
How long do you need in Coimbra?
You can enjoy the highlight of the city with just one day in Coimbra, but if you really want to get under the skin of the ex-Portuguese capital, I would recommend staying a minimum of one night but you could easily do two if you want to enjoy more museums and historical influences.
Final thoughts on One day in Coimbra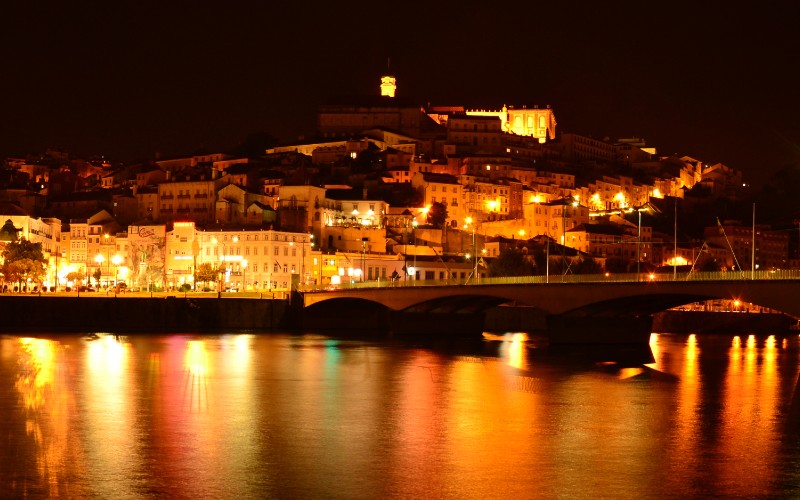 I hope I have whetted your appetite to visit this historical city. As I mentioned at the beginning, I really did not know what to expect from Coimbra but I certainly came away with a desire to return.
From decadent architecture to miniature buildings, lovely views and fine food it has something to keep everybody happy.
Have you visited Coimbra before or are you about to go? I'd love to know how your visit went and if you have anything additional that readers should not miss. Drop them in the comments.
---
Are you a Travel Blogger?
If you want your blog to be added to our map be sure to check out our submit your blog page here: https://www.thetravelblogs.com/submit-your-blog
Continue searching for travel blogs from Europe
[custom-mapping map_id="1195″ height="400″]
Recent blog posts from Europe
[pt_view id="7c0c5a6gyb"]