Portugal is a wonderful country with a gorgeous coastline and some historic cities that demand to be explored. Most visits to Portugal are dominated by the two major cities, but more and more people are taking the opportunity to hire a car and enjoy a road trip from Lisbon to Porto.
Coming your way in this post - click to expand ->
The driving distance between Lisbon and Porto is 195 miles (314 km) if you take the most direct route. This means the drive between the two cities can be completed in around 3 hours. However, my recommendation would be to go slow, get off the motorway, turn it into a road trip and enjoy a few stops along the way. If possible, add in a few overnight stops too.
I regularly visit Portugal most summers and hope to continue to do so for years to come, so I with that in mind I thought I would put together a list of some of the best places to visit between Lisbon and Porto to make the most of your Portuguese road trip.
Of course, it goes without saying that there are loads of places not on this list
Recommendations from my Portuguese road trip
1. The Pena Palace in Sintra
In many ways, as one of the best places to visit north of Lisbon, Sintra actually deserves its own day trip as opposed to a quick visit as part of a Portuguese road trip itinerary. The town itself is worth exploring and you can also find the UNESCO World Heritage Site Quinta da Regaleira. However, I understand you may well be tight on time, so I thought I would focus on the Pena Palace.
This stunning royal residence sits high on a hill overlooking the surrounding town of Sintra. The fairytale look of the colourful walls and rounded towers make this a favourite spot amongst the Instagram community.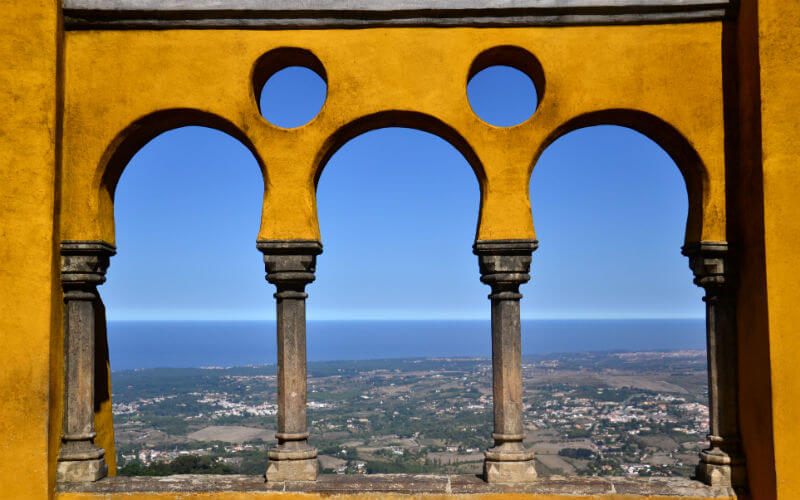 The palace is surrounded by a lush park which is a great place to spend a couple of hours. You can buy tickets for entry just to the park or for the park and palace combined. Personally, I would not recommend paying to enter the palace, especially if you have kids, as it can be quite a stressful experience, but the park and views from the castle courtyard (which you can access with a park only ticket ) are spectacular.
If you wanted to know more, you can read about my experience as well as ticket prices and opening times in my post all about the Pena Palace and Park.
2. Cabo da Roca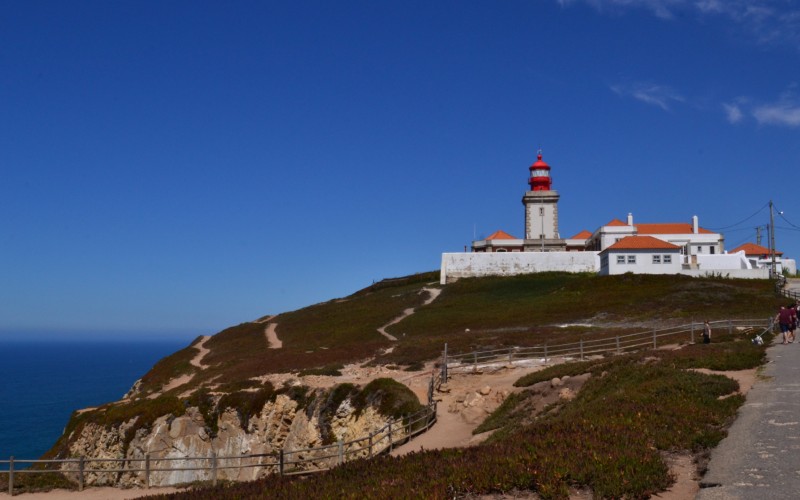 The Cabo da Roca is a nice little stop to take a break and stretch your legs. It's actually not that far from Lisbon, but worth checking out as it is the westernmost point of mainland Europe.
The lighthouse is part of the Parque Nacional de Sintra-Cascais, a rugged, windswept place which (as with most of these geographical points) doesn't have much more than a restaurant and gift shop.
Most people will only spend15 to 30 minutes here to wander around the paths, maybe buy a fridge magnet and then move on. We stayed for lunch in the cafe which had wonderful views across the ocean and was well priced considering the captive audience they have.
While it may be difficult to do during a Lisbon to Porto drive, if you are undertaking your Portugal road trip the other way, and driving from Porto to Lisbon, this is a fantastic spot to enjoy a sunset.
3. Fatima and The Sanctuary of Our Lady
Whether you are a religious person or not, Fatima is a really interesting site to visit to enjoy the sheer power and size of people devotion the lord.
Fatima is a little over an hour and a quarter north of Lisbon and is home to The Sanctuary of Our Lady of Fátima, a huge Catholic complex with multiple basilicas and a square larger than St Peter's Square in The Vatican.
As with most religious sites, it sits on the grounds where a miracle appeared. In the case of the sanctuary in Fatima, the Virgin Mary appeared multiple times to three shepherd children and passed on the three secrets of Fatima.
On the 13th of May and the 13th of October each year, thousands of people make a pilgrimage to Fatima, one of the most important pilgrimages in Catholicism. The dates relate to the first and the final sightings of the Virgin. I would recommend trying to avoid these dates if you would like to visit Fatima during your Lisbon to Porto road trip.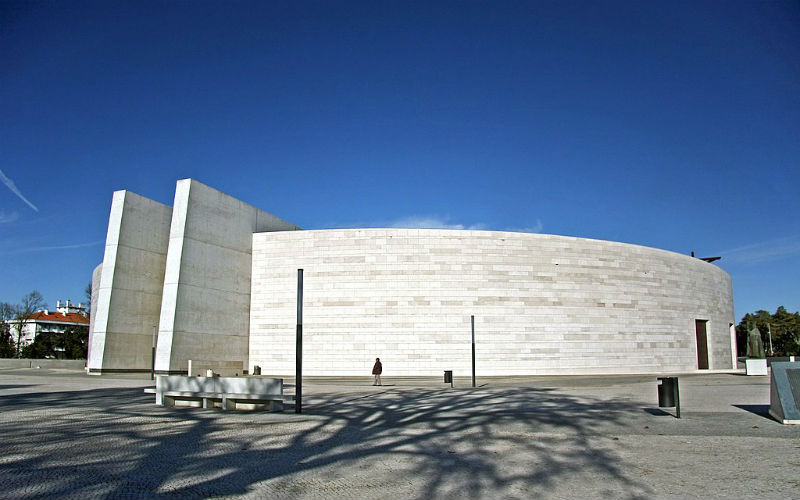 You can easily spend a couple of hours wandering around The Sanctuary if Our Lady Fatima. On one end of the square, you will see the original basilica which was built in the 20s, an ornate building looking very much like what you would expect from a home of god. However, facing it is the more modern Basilica of the Holy Trinity, a rounded building that looks more like a sports complex than a site of worship.
Interesting architecture aside, one thing that stands out in my memory more than anything are the candles. People have long burnt candles in prayer to help others, but here they make them so they resemble the exact body part you are praying for. The fringes of the site is lined with tourist shops selling candles shaped like every body part you can imagine, each representing a different prayer for the intended recipient, From feet, hands, even internal organs like the spleen or guts can all be found in candle form.
Once you have your candle there is a huge furnace next to the small Chapel of the Apparitions where scores of people wait to make their prayers. And yes, there are even willy and booby shaped candles too. I'm not saying this is why it is imprinted in my memory, but . . . it is. Where else do you find booby candles?
4. Batalha Monastery
This stunning gothic monastery seems to be plonked in the middle of nowhere. Towering over anything else in the town that has cropped up around this huge religious building, there is a reason that this site was chosen.
Back in 1385, there was a huge battle on this site. In fact, Batalha Monastery literally translates to the Monetary of the Battle.
King João I and his army were victorious in the Battle of Aljubarrota. Before it took place, he had made an oath to the Virgin Mary that should he be victorious that he would build a huge monument to commemorate in her honour. The victory was a massive event in the history of the country and the catalyst for independence on the Iberian Penninsula and the Monastery is in memory of that.
The original building took over 150 years to build but due to various events such as the great earthquake in 1755 and the dissolution of the monasteries, over time the site became neglected.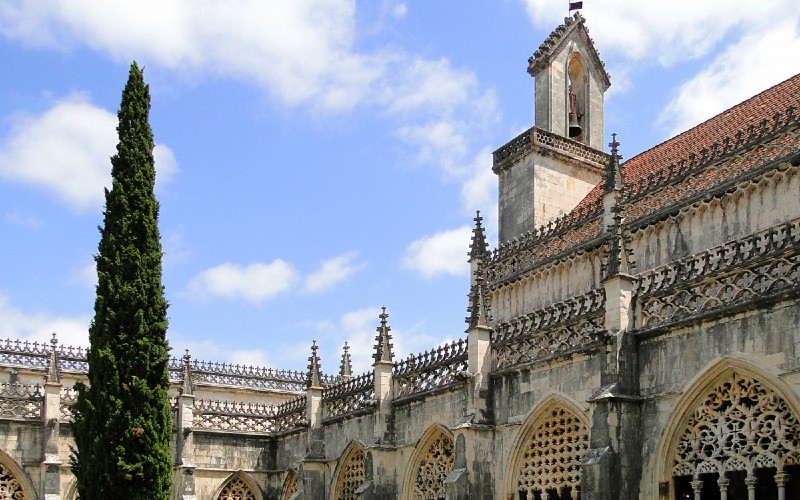 However, many restorations have been made throughout the years, mainly in the late nineteenth century, so it still stands today and is certainly worth including on you Lisbon to Porto itinerary.
The became a Batalha Monastery UNESCO World Heritage Site in 1983.
You can enter the main nave for free, take in the atmosphere and learn some of the histories behind the monastery. However, if you would like to explore the full site it costs €6 to enter.
The rest of the town doesn't offer much. There are a few nice restaurants that offer good value lunches but not much more so don't expect to spend more than a couple of hours here at most.
5. Coimbra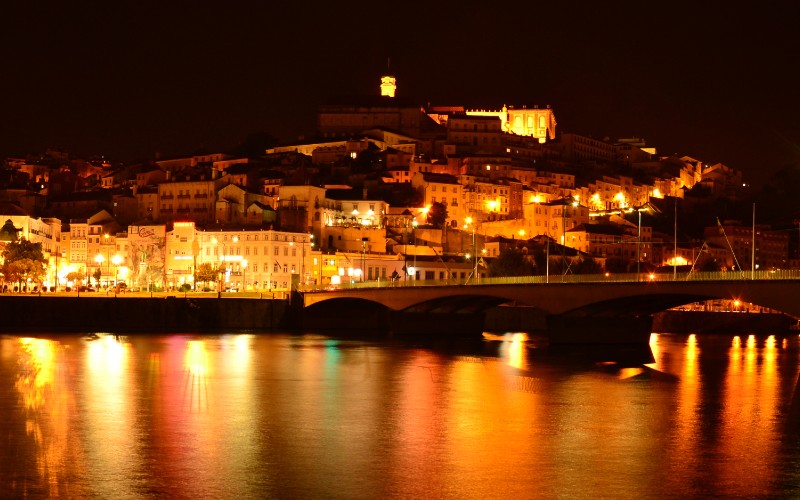 The distance from Lisbon to Coimbra is a little over 125 km and certainly a city that is worth visiting,
Built of the banks of the River Mondego, the rises high above as you look up to the famous University of Coimbra that takes pride of position at the top of the city.
The University is one of the oldest universities in Europe and a wonderful site to visit. The heart of the site is built up around the Pátio das Escolas, a large open square surrounded by majestic looking buildings built throughout the 16th, 17th and 18th centuries. The crown in the jewel though has to be the Biblioteca Joanina.
This library is home to over 40,000 historical books and documents in one of the most decadent halls you can image. Dripping in exotic wood details and large painted frescos, the Biblioteca Joanina is the highlight for most visits to Coimbra.
If you do decide to stop in Coimbra on your road trip from Lisbon to Porto, be sure to book your tickets to visit the university in advance as they do get very busy and the tickets are time-restricted. If you purchase on the day you could be given a time slot a few hours in the future, so it could throw your well-crafted plans out the window.
Aside from the university, Coimbra is home to two cathedrals, a monastery, and is just a wonderful place to get lost in the historical streets. Be sure to read my full post about things to do in Coimbra to get a flavour of what you can expect from this one time capital of Portugal.
6. Praia do Pedgrogao
This is a small resort town on the coast of Portugal. While I haven't explored enough of the coast yet to honestly say this is one of the best beaches between Porto and Lisbon, it can certainly be considered. Fundamentally the term best beach means something different to everyone. If you like your beaches quiet and isolated, then this is a great shout.
I stayed in Praia do Pedrgao for 3 days and found it to be a quiet, super relaxing beach. A couple of restaurants, beachside bar and a lot of sand, perfect for switching off forgetting about the world.
To the north and south, the beach stretches on for miles as a wild expanse. There are a few small parking areas along the way so if you truly want to find isolation, you can easily find a spot of beach all to yourself.
7. Nazare
Another seaside town but in contrast to Praia do Pedrogao, this is a much larger, more commercialised town for tourists.
The long sandy beaches are considered to be some of the best beaches outside of the Algarve and with plenty to do in the town, a good option, if you have kids as there will be more to keep them entertained when compared to Praia do Pedrogao.
One of the highlights is the Nazaré Funicular, a cliff railway that links the town below to the clifftop village of Pederneira. Most people go up to the top to enjoy stunning views of the beach and town below.
These days, Nazare is probably most famous for surfing. The Nazare Canyon lies just off the coast of the town which leads to incredibly high breaking waves. In fact, in 2017, a Brazillian surfer named Rodrigo Koxa surfed an 80 foot (24.4 metres) monster wave off the Nazare coast setting the work record for the highest wave ever surfed.
8. Vagos Toy Museum
This stop is more if you are on a car trip from Lisbon to Porto with little ones. We all know how impatient kids get on a road trip, so it is important to throw a few stops in there for them too.
The Museu do Brincar in Vagos, which translates to the Play Museum, is a great stop for kids. They have thousands of toys that span generations. But rather than just being crusty relics on display, what makes this place great is most of them you can play with.
There are multiple themed rooms that kids can dress up, get crafty in, even share in a 19th-century tea party as well as a giant train set.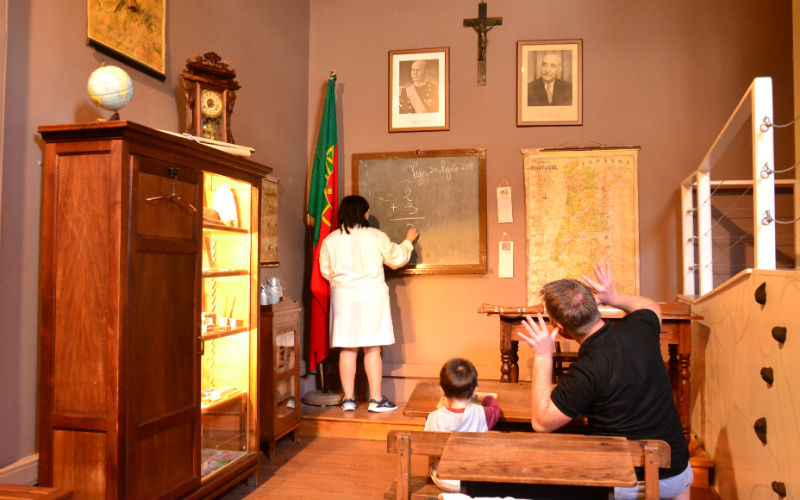 The curator of the museum is the only official Santa in the Iberian Penninsula, so if you're lucky, you may even get to meet Santa too!
I have written a post about the Vagos Museum of Play if you wanted to know a little more about it.
9. Costa Nova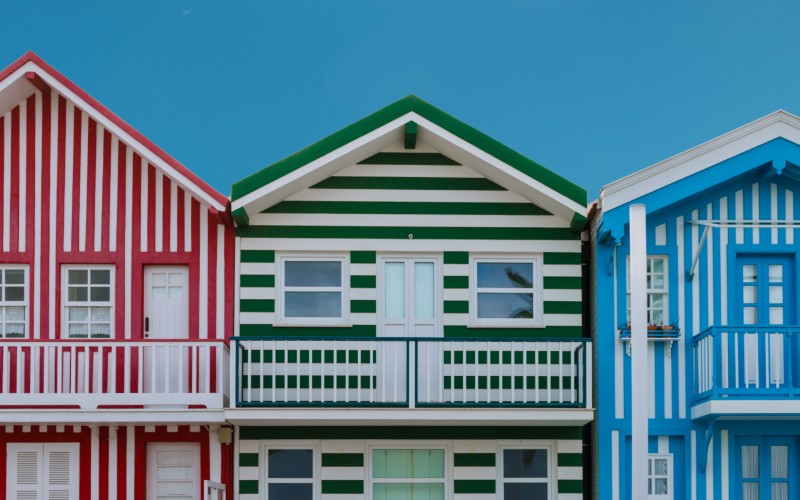 Costa Nova is a mall, beachside fishing village on the coast of Portugal close to Aveiro. It is famous for the Costa Nova Haystacks. Nope, not large mounds of dried grass, these are the iconic, colourful buildings you will see in the area.
Traditionally these were for the local fishermen to keep their gear in, made bright and colourful, but over time they were turned into dwellings.
Costa Nova is a popular spot for tourists to see the traditional, hoses and also has a wonderful beach.
A little further north you can find the Lighthouse of Praia da Barra (that's the image at the top of this post), also known as the Aveiro Lighthouse, which at 203 feet is the tallest lighthouse in Portugal.
10. Aveiro
Aveiro is a small city less than an hour south of Proto. It is famously known as the Venice of Portugal due to the canals that run through the city. One of the most popular things to do in Aveiro is a moliceiro boat ride.
A moliceiro is a traditional type of boat from the region that has been used for centuries. They were to move a special type of seaweed that grows in the Aveiro lagoon to be used for fertiliser for local crops. Nowadays the colourful boats serve purely as a tourist attraction and are a great way to discover the city and history.
Aside from a boat ride, Aveiro is a colourful city with many stylish, art-deco buildings showing the wealth that was once in the town. There are many pretty tiled houses and some great restaurants.
A few other places to consider on a Portugal road trip
All of the above places are ones that I have visited during my trips to Portugal, however, there are a few more that I would like to mention for you to consider as great ideas for places to visit between Lisbon and Porto, and places I will certainly visit in the future, but I did not make it there yet.
11. Tomar
The last Templar town to be commissioned for construction, Tomar is one of Portugals prettiest cities. It is home to the Convent of the Knights Templar of Tomar and a beautiful castle.
12. Serra da Estrela Natural Park
101 thousand hectares of Natural Park and the largest protected area in the country. It is the highest spot in the country and home to the only ski port in Portugal. Great for hiking and some wonderful views.
Places to visit between Lisbon and Porto – Final Thoughts
Hopefully, this has inspired you to add some of these places to your Portuguese road trip itinerary if they weren't on there already.
Currently, I have 11 suggestions on the list, however, I plan to add to it as and when I discover more places to visit between Lisbon and Porto that deserve to be added, I will edit and update, so feel free to bookmark this page and check back from time to time.
But what about you? Do you have any suggestions for me? I'd love to hear them so next time I'm in Portugal I can check them out for myself and add them to the list.
Leave your suggestions in the comments to help me, and any other readers, make the most out of our road trip through Portugal.
---
Are you a Travel Blogger?
If you want your blog to be added to our map be sure to check out our submit your blog page here: https://www.thetravelblogs.com/submit-your-blog
Continue searching for travel blogs from Europe
[custom-mapping map_id="1195″ height="400″]
Recent blog posts from Europe
[pt_view id="7c0c5a6gyb"]