Seville is hot right now, and I'm not just talking about the relentless sunshine. In the last few years, it has become one of the most popular places to visit in Spain, and for a good reason. The city is listed in countless "top places to visit in Europe" style lists, and with so many things to do, it should definitely have a place close to the top of any Spain itinerary.
In this post, I want to share my recommendation of what to do in my 2 day Seville itinerary.
If you don't have the luxury of two days, e sure to also check out my post about one day in Seville for some great suggestions on a day trip to the city.
You may also enjoy:
Coming your way in this post - click to expand ->
Note – Please know, some of the external links on this page are affiliate links, this means that if you purchase after following one, I make a small commission from the sale at no additional cost to yourself.
2 Day Seville Itinerary
Day 1
Relax in Maria Luisa Park & Plaza de España
Plaza de España
Torre del Oro and the Maritime Museum
Plaza de Toros de la Real Maestranza de Caballería de Sevilla and the Seville Bullfighting Museum
The Guadalquivir River and a Seville Sunset
Tapas in Triana

Day 2
The Real Alcázar of Seville
Lunch and a wander through the Jewish Quarter Seville
Seville Cathedral – The Cathedral of Saint Mary of the See
Enjoy a Seville Sunset at Las Setas
I believe two or three days are just about right for Seville, but there is so much more to discover in southern Spain, if you are staying longer, I would certainly recommend hiring a car to discover more of this amazing region. A road trip around Andalusia can lead to some wonderful experiences.
I recently took the Madrid to Seville train, with my wife and toddler, and based on our visit, I have grouped together a suggested itinerary of the best things to see in Seville in 2 days. The itinerary covers all of the sites that would be considered a "must-see" as well as a couple of fabulous spots to enjoy a Seville sunset.
Feel free to mix and match the order of events if you are trying to fit everything in with pre-made plans during your weekend in Seville. Oh, and make sure you have your walking shoes as it is all on foot.
Before I dive into my self-guided tour, if you would rather take the easy option, you can book a free walking tour here, always a great way to explore a city with ease.
What to see in Seville in 2 days – Day 1
Relax in Maria Luisa Park & Plaza de España

Price: Free
Hours: Open From 8:00 am to 10:00 pm in the winter, midnight in summer
Recommended visit: 2 – 3 hours
I often think the first day in any new destination needs a certain level of adjustment. Whether it's the language, the weather or just the pace of a city, things will be different to where you came from. This is why I like the first morning of any trip to be quite relaxed and ease into the swing of things, Maria Luisa Park is the perfect place to do it.
Maria Luisa Park is large (around 100 acres) green space that was donated to the city in 1893, previously was privately owned gardens, part of the Palace of San Telmo. The park is made up of wide boulevards and smaller pathways that link the numerous fountains and monuments throughout the park and is a favorite place for one of Seville's iconic activities, a horse and carriage ride.
Horse Drawn Carriage in Seville
A horse-drawn carriage ride through the park is one of the iconic things to do in Seville. Trips are a set fee of €36 per hour and can be found just at the entrance of Plaza de España. During my visit there were always plenty available, so I don't think you have to worry about what time to turn up or booking ahead, but then again, I wasn't in Seville at high season, but I think you'll be fine.
If you did want to book ahead, you can do so by clicking here.
If you would rather not use the horsepower, it is also possible to hire a family bike. A pedal-powered carriage that can sit up to four people and a little extra space at the front to strap in a baby.
Plaza de España
There is no doubt in my mind that Plaza de España is the stand-out feature of Maria Luisa Park which has been used extensively as a filming location including Lawrence of Arabia and Star Wars Episode II: Attack of the Clones when it was transformed into the Palace of Naboo. It should not be missed with 2 days in Seville.
The vast, crescent-shaped plaza was built In 1929 when Seville hosted the Ibero-American Exposition World's Fair. Nowadays, the stunning semi-circular building is now mainly boring government offices; however, there is also the publically accessible Historical Military Museum of Seville.

The museum is located in the interior corridor of the Plaza de España, between the Puerta de Aragón and the North Tower and is free to access. However, it is worth noting the museum has limited opening times:
Monday to Friday: from 9:30 a.m. to 2:00 p.m.
Saturday: from 10:00 a.m. to 2:00 p.m.
Sunday and holidays: Closed
In front of the main building runs a curved 515-meter canal where you can hire a rowboat if you would like to spend some time on the water. Splashing other boats is definitely recommended in the summer heat of Seville, just don't tell them I told you so.
Four bridges, each represents one of the original four kingdoms of Spain, span the canal, linking the main building to the plaza and running around the edge, you will find 49 different tiled benches with the artwork each representing a different region of Spain.
You'll notice small bookshelves next to each seat, this was meant to be a free book exchange, and visitors could leave books relating to the region represented by the bench. Sadly, there were no books left.

Other park highlights
If you can pull yourself away from the photogenic plaza, you can do a little more exploring of Maria Luisa Park. There are numerous fountains and monuments to discover, but be sure to track down Monte Gurugú, a mini-mountain with a small waterfall and lovely views across the park.

Once you are finished in the park I would recommend exiting to the South, not far from the Seville Aquarium, which may be an option to visit if you are staying for a little longer before walking north, along the river where there are a number of places to grab some lunch and refresh before heading to . . .
Torre del Oro and the Maritime Museum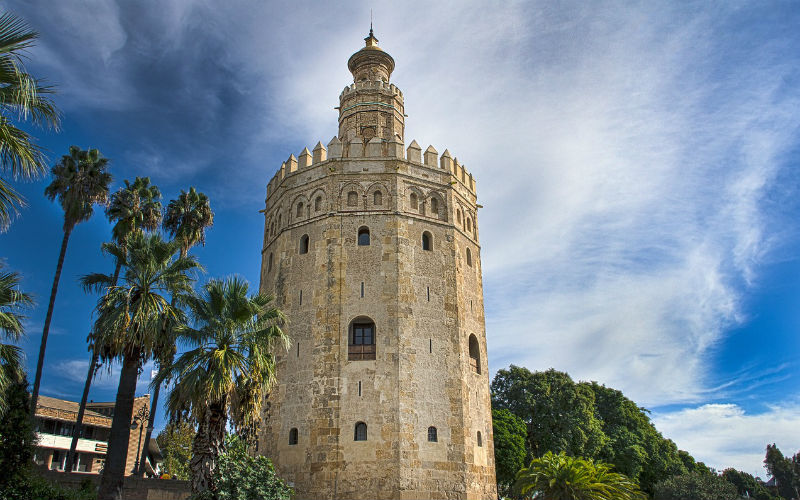 Price: Adults €3, students and children 6-14 years €1.50, Kids under 6 are Free. Optional audio guide €2. Mondays are free all day.
Hours: Monday to Friday: 9:30am – 6:45pm, weekends from 10:30am, closed on holidays.
Recommended visit: 1 hour
Translating to Tower of Gold in English, the 12-sided defensive military watchtower dates back to the 13th century, built during the Moorish occupation, and gets its name from the golden reflections that it projected onto the river.
The tower has been rebuilt and repurposed throughout the years, most recently after undergoing a major refurbishment in 2005. Before being a museum, it has been used as a chapel, noble prison, gunpowder store, offices of the Harbor Master's Office and Naval Command.
The museum itself has some excellent displays. Seville's most prosperous years were on the back of the harbor and shipyards, and the city played an essential role in the naval dominance of Spain Armada. However, the main attraction, in my eyes, is the chance to climb the 36-meter tower and admire the views of the river below.
After the Torre del Oro, if you have time you can head away from the river and explore Avenida de la constitución, an important public way that starts from Puerta de Jerez and reaches the Plaza Nueva. It is thought of as the centre of the city. The likelihood is you won't have to go out of your way to find it however. Alternativly head straight to …
Plaza de Toros de la Real Maestranza de Caballería de Sevilla and the Seville Bullfighting Museum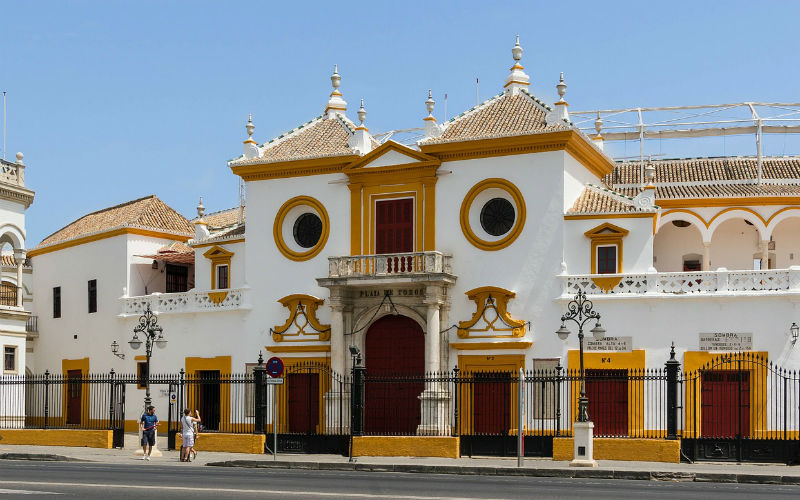 Price: €4
Hours: Daily 9.30am-7 pm, except on bullfighting days until 3pm.
Recommend visit: 1 – 2 hours
Next up is a visit to the Seville Bullfighting Museum. Of course, this is only an optional suggestion, I'll be honest here and say we didn't visit as bullfighting is definitely not my kind of thing, however, that doesn't get away from the fact that it is a huge part of Spanish culture, and as such, many people will be interested in learning more.

As a stage for bullfighting, it is considered one of the world's most challenging environments because of its history, characteristics, and viewing public, which is regarded as one of the most unforgiving in all of bullfighting fandom.

Taken from Wikipedia
I don't even really know what that means, who gets forgiven? Surely you win or lose and either way, the bull dies, so what forgiving is there to do?
Anyway, it's one of the most iconic bullfighting arenas and in Spain and if you want to learn more about the traditions of killing bulls in an arena while wearing pink sparkly outfits, this is probably the most famous bullfighting arenas in Spain to do it.
The season runs from Easter Sunday to 12 October, with around 20 fights in total. The most popular period is Feria week, at the end of April, when some of the most celebrated matadors in the world make an appearance.
It is possible to buy tickets from the ticket office, located within Seville's bullfighting ring. The prices range for €45 up to over €1000 depending on where you sit. Interestingly they are designated Sol, Sol y Sombra or Sombra. This relates to sun, sun and shade or shade. So the clue here is you may want to take a sun hat if you go for the cheap seats.
It is also possible to buy tickets online, which is recommended during popular festivals.
The Guadalquivir River and a Seville Sunset
Price: Free
Hours: Whenever the sun sets
Recommended visit: Depends on how many drinks you want 😉
Something I love to do whenever I am visiting somewhere new is to seek out an excellent place to enjoy a sunset. Seville has a few places to enjoy the end of the day, another suggestion in day 2, but this was my favorite.
As the searing heat of the day gives way to night, the city really comes to life, and what better way to welcome the relief than a cocktail and enjoying a Seville sunset.
From the Bullfighting ring, you can easily cross to the river and enjoy a relaxed wander as other runs, cycle, rollerblade and more along the river bank.
Just by Tirana bridge is a great little spot where you can grab a drink as you enjoy the view, but we were happy just to sit at the water's edge by Triana bridge, relax and watch the sun drop before crossing to find some food, which brings us nicely onto my final suggestion for day one.
Tapas in Triana
Price: Depends on where you eat but you should be able to have a good feed for less than €15 then as many drinks as you like.
Hours: Expect locals to be drinking and eating until midnight, then that is when the party kicks in and runs all night.
Recommended visit: As long as you can last!
After crossing the Triana bridge, you will have arrived in one of the most famous Tapas areas in Spain and exploring all the delicious things to eat in Seville should certainly be something not to miss out on!
The main street where you will find most of the tapas bars is Calle San Jacinto, it is lined with bars and taperia's with people sat dining, drinking, and contributing to an electric atmosphere.
The Triana area is also home to many of the arts and crafts that come out of the city such as pottery and ceramics and the iconic dance of Flamenco, more on that in day two.
Some places to look out for are Blanca Paloma, a locals hotspot so be sure to early as busy every day and Bar Amarra, which offers some of the best seafood in Seville.
But don't worry too much, it is hard to go wrong in this area, just hop from bar to bar, enjoy some of the local delicacies such as tortillas de camarones (shrimp fritters) and Secreto Iberico, a delicious cut of Iberico pork.
If you do worry and don't want to miss out on the best spots in Triana, there are a number of food tours of the area or this night tour gets great reviews.
Don't Miss: Triana Market Seville
Be sure not to miss the Triana Market, a small covered market with lots of local produce, gifts and an excellent place to enjoy some wine. It can be found on the right-hand side, just after the bridge as you cross the river into Triana.
Two days in seville Itinerary – Day 2
The Real Alcázar of Seville
Price: €9.50 if you buy a ticket on the day, €3 for the optional audio guide
Hours: October to March: 9:30am – 5pm, April to September until 7pm
Recommended visit: 2 – 3 hours
Seville's Real Alcazar is a UNESCO World Heritage Sites and probably the most famous tourist spot and at the top of many people's list of must-visit sites in Seville. Aside from being a jaw-droppingly exquisite royal palace with architectural influence spanning hundreds of years, it is also a famous Game of Thrones filming site, helping it reach a whole new demographic of tourists.
As you'd expect there are queues, which is why I highly recommend buying your ticket in advance and booking the earliest entrance. We visited at 10am on a Sunday morning, and as we arrived a little before 10, the line was already a couple of hundred people deep.
At first, I was worried that we would have a long wait, however, as we had bought our Real Alcázar tickets online, we got to skip the entire line and were in within minutes. I cannot stress enough, if you get one thing from this Seville blog post, get this: Book your tickets in advance for the Real Alcázar of Seville.
Top tip – Book in advance for the earliest entry of the day to skip the queues and visit the Alcazar Seville before the crowds.
Once we were in, we shared an audio guide and set off exploring. I definitely recommend purchasing an audio guide on the way in.
While the Real Alcázar is enjoyable just to wander, the comprehensive guide helps you understand where you are, and what you are looking at and without it, there is very little guidance. You can either reserve them when you book your ticket or decide if you want one on the day.
Another option that I would certainly consider if I were to return would be to book a guided tour. This is the best way to enjoy the highlights of the Alcazar with minimal effort. Once the tour is over you are welcome to stay and explore further on your own.
The Real Alcázar is a maze of chambers and interlocking courtyard gardens, you could easily spend a whole day wandering through the ornate rooms and orange tree-lined courtyards. In fact, if you have longer than just two days in Seville, I would recommend saving at least half a day to fully enjoy the Alcázar.
A couple of favorite spots of mine that you should be sure not to miss are the decadent baths in the basement, the Labyrinth and the English Garden, it is in the latter we found some peacocks and a particularly aggressive duck with a taste for shoes.
After a morning spent taking around 157 photos of orange trees at various angles, we were ready for a break, and fortunately, there is a small cafe bar with lovely views of the garden where we stopped for a refresh before heading on to our next stop.
If you are spending 2 days in Seville, I'd recommend allowing two to three hours to explore the Alcázar. You could easily spend a lot longer, but there is still so much to see!
If you wanted to book your own tickets, you can do so on their website and still organise a tour guide for free. Click here to check it out.
Lunch and a wander through the Jewish Quarter Seville
Hours: All Day
Price: Lunch can easily be found for around €10
Recommend Visit: 1 – 2 hours
The barrio (neighborhood) of Santa Cruz, also known as the Seville Jewish Quarter, is a maze of narrow streets connecting many small plazas, all lined with tall, imposing buildings.
This style of town planning, with small streets and tall buildings, is prevalent in southern Spain, it is a traditional way of limiting a building's exposure to the sun during the brutal summer months to try and keep them fresh.
Although now it is a thriving neighborhood, it wasn't always like in the Jewish Quarter. Like many other Spanish cities, Seville has a mixed history when it comes to religious tolerance.
This barrio gets its name for being where all of Seville's Jewish residents were forced to live, to separate them from the rest of the population, after the city was taken back from the Moorish people in the 13th Century.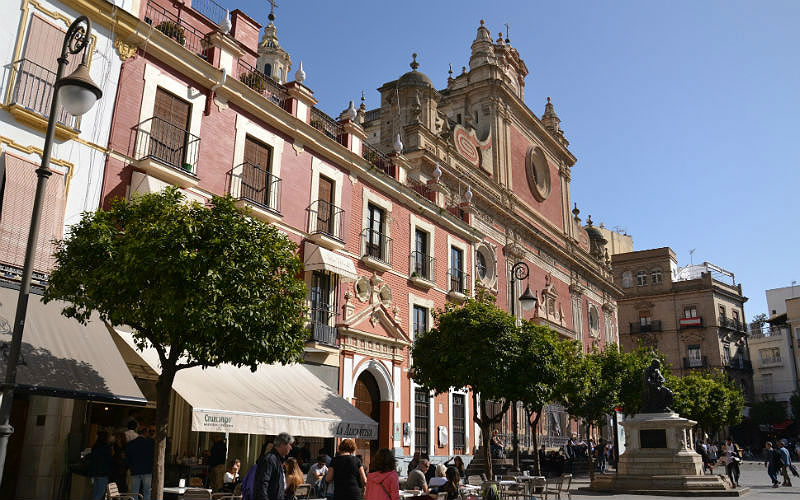 There was a brief period where Catholics and Jewish shared the city, albeit divided by a big wall, but in 1492, Jewish people were officially banned from Spain thanks to the Alhambra Decree.
This left the people living in Santa Cruz with 2 choices, convert or leave. Well, there was probably a third, try to hide, but that typically just led to torture and likely death, so wasn't too popular. As residents began to leave, the barrio fell into disrepair and became a real no-go area.
As things started to settle down in the 18th century and people started to get over that religious superiority crap, the area started being rebuilt and once again became a vital hub of the Seville community.
Nowadays it a tapping hotspot. You will find scores of bars and restaurants with tourists and locals alike creating a lively buzz and a great place to enjoy lunch on your second day.

While I don't have any personal recommendations for where to eat, my good friends at Plates Pillows & Places told me to check out Umami as an awesome tapas place, and I have complete trust in what they say, however, we again were limited in our choice by our little man.
Be sure to also find Plaza del Salvador, there are some great little antique bars there and a gorgeous church you can pop your head into if you have time.
While there is no doubt that the Barrio Santa Cruz has come full circle and is once again a thriving hotspot of Seville if you look closely you will still see reminders of its not-so-savory past. Once such example is the Skull of Susona in the door where her old home was, a real-life Romeo & Juliet tragedy.
Seville Cathedral – The Cathedral of Saint Mary of the See
Seville Cathedral Hours
Monday: 11:00am to 3:30pm and 4:30pm to 6:00pm
Tuesday to Saturday: 11am to 5pm
Sunday from 2:30pm to 6pm
Price: Adults €9, children €4 Admission free for Disabled persons and free entrance on Monday's from 4:30pm 6:00pm
Recommended Visit: 2 hours
Located next to the Alcazar, the Seville Cathedral and Giralda Tower is dazzling. It took over a century to build, from 1401 to 1506 and when it was completed in the 16th century, it replaced the iconic Hagia Sophia as the largest cathedral in the world, a title it still holds. There are Catholic buildings, the Basilica of the National Shrine of Our Lady, in Brazil, and St. Peter's Basilica in the Vatican, but technically these are churches.
As with the Real Alcazar tickets, it is possible to purchase Seville cathedral tickets on the day; however, there will be queues. If you would like to visit both sites, be sure to take a look at saving some money with a combined ticket and tour.
As we had a tired little toddler with us, we decided not to venture into the Cathedral, merely admire it from the outside. However, it is well worth a visit, just check out some of the reviews, and here are some spots inside that you must not miss:
Seville Cathedral highlights
The Central Nave – Just the sheer size of it will astound you as it rises to a height of 42 meters.
Capilla Mayor altarpiece – The largest in the world and the lifetime's work Pierre Dancart, it comprises of 45 carved scenes from the life of Christ.
The Christopher Columbus Tomb – It's actually funny, in a dark way, how even after he died he couldn't stop traveling.
The Crocodile – "El Lagarto" was meant as a gift to Alfonso X from the King of Egypt in exchange for his daughter's hand in marriage. Funnily enough, he didn't approve the wedding bells, but the crocodile stayed and is a great one for the kids.
The Giralda Bell Tower – It's quite a climb to the top of the tower at 103 meters, but the views of the Alcazár and Barrio Santa Cruz are worth it. Interestingly the climb is a series of 35 ramps designed to be wide enough to get to the top on horseback.
Patio de los Naranjos – a landscaped open space with loads of orange trees
Enjoy a Seville Sunset at Las Setas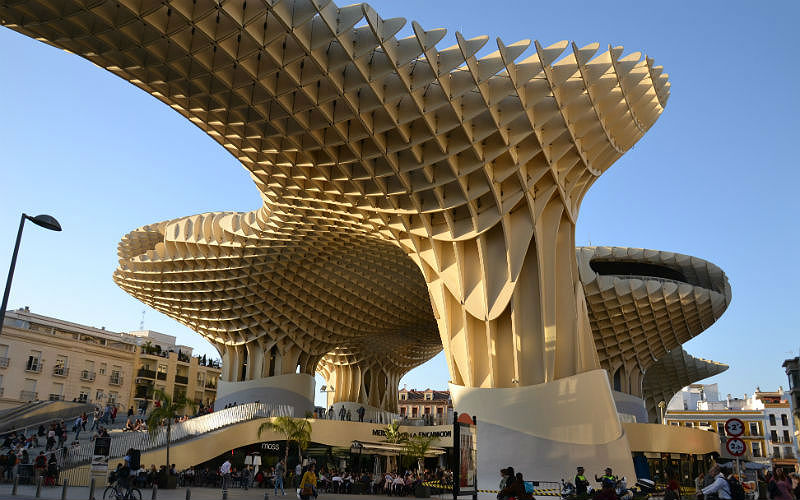 Hours: 9:30am – 11pm (11:30pm on Friday and Saturday)
Price: €3 (children under 5 free)
Recommend Visit: 1 – 2 hours
While researching your visit to Seville you've probably come across some photos of this strange structure and thought what the hell is that?
Well, this wired construction is the Metropol Parasol, also known as Las Setas, translates to The Mushrooms and is said to be the most massive timber-frame structure in the world.
You can find Las Setas Seville in La Encarnación square. Constructed in 2011, there isn't any kind of romantic story behind it, it was built merely as a way of beautifying a square that was previously a car park, and I think it has done a spectacular job. Although, I do wonder what the people living in the surrounding apartments make of it. It has drastically changed their view.
Whatever your opinion of the Metropol Parasol itself, some see it as a beautiful, architectural triumph, others just simply say it's damn ugly, what you can't dismiss are the views from the top.

Located on top of the Metropol Parasol is a circular walkway that you can access via an elevator at the base. Although it's easy to get up in a wheelchair or with a buggy, it is worth noting that along the walkway are small steps throughout, they are also on a slight gradient, so while it is possible to get to the top, it may be difficult to enjoy the full experience in a wheelchair.
It's a shame really as I don't see any need to have the steps and feel it could have been done in a way to make it fully wheelchair accessible.
There is a small bar at the top-selling beer and other light refreshments making this a fabulous spot to sit and enjoy another beautiful sunset in Seville.
And finally, what else but …
Finish your stay in Seville with a Flamenco Show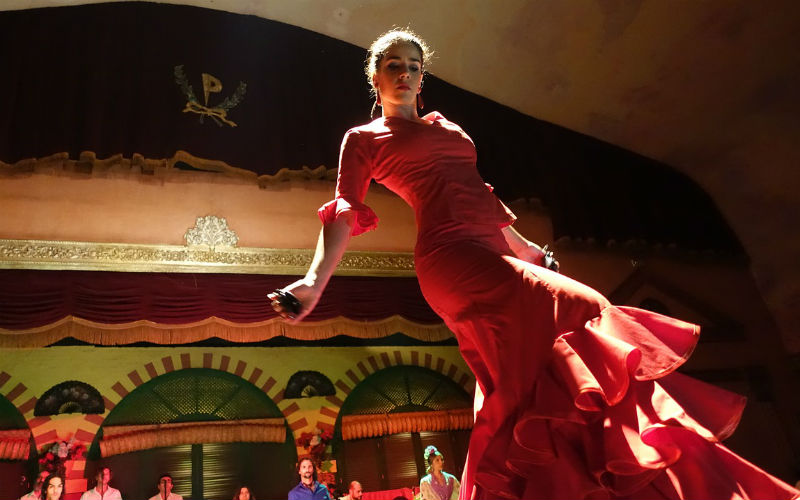 Hours: Most Flamenco shows in Seville hold multiple shows starting from around 7pm
Price: Tickets start from around €18 depending on when and where you go
Recommend Visit: Until the end of the show and then go and try it yourself in a nearby bar!
You can not enjoy a Seville city break without getting swept up in the Flamenco culture. Andalusia, and in particular Seville, are synonymous with the iconic Spanish dance.
As you walk around the city, you will see it everywhere, from the buskers in the streets to the small souvenir figurines, if there is one thing they love in this region, that's Flamenco.
Whether you are a fan or not, I would highly recommend seeing a show as it is an entirely different experience to merely listening to it.
Being brutally honest here, I'm not a fan of the music, if it's on the radio, the radio gets switched off pretty quickly. However, seeing it live is a totally different experience. I'm not going to gush over how much I now love it, I still don't really, but it was undoubtedly more enjoyable live.
Endless places are claiming to offer the best Flamenco in Seville and probably people with a lot more experience than I to make that decision for you. However, in my research, there were a couple of names that would come up repeatedly: Casa del Flamenco & The Casa de la Memoria de Al-Andalus (the House of Al-Andalus Memories).
Final thoughts on 2 days in Seville
So that wraps up Seville in 2 days up nicely. As mentioned at the beginning, this is a pretty relaxed itinerary and easily achievable for the laziest of tourists.
If you visit Seville and have a bit more time or want to cram lots in, you could also consider a Hop on Hop off Bus, or if you really get into Flamenco in Seville why not consider taking a Flamenco lesson? Not many better places to give it a go!
Of course, if there is anything else you'd recommend to help my readers enjoy their time in Seville, feel free to suggest it in the comments.
Madrid to Seville train
As I hate flying, we caught the high-speed AVE train from Atocha station in Madrid to Sevilla Santa Justa Train Station. Aside from the fact we had an impatient toddler with us, but on reflection, I'd choose the train over a plane any day.
The best thing about getting the train to Seville, as opposed to flying, is there is no hanging around airports, just get there and go. But please note, the trains in Spain do generally leave on time, and for the high-speed trains, there is bag scanning in effect, so be sure to leave some time spare to get through, it won't wait for you.
The trip took a little over 2 and a half hour, which to me, make Seville do-able in a day trip from Madrid, but you will be very rushed to see everything as a tourist, especially if you wanted to spend some time in the Alcazar or Cathedral, so while possible, I would recommend a minimum of one night.
Cost: depending on when you go, tickets range from a little over €40 to a little over €100. The cost depends on how full the train is and if it is peak time. The average prices seem to settle at around €60.
Time: the train ride is between 2h 45 mins – 3 hours on a high-speed train with more than 20 trains a day making the trip between Madrid and Sevilla, with options more or less every half hour.
Where to stay in Seville
Where we stayed
We arrived late on Friday so headed straight to our hotel and nested down for two full days of sightseeing to come. We stayed in the Hotel Pasarela which, while not the most luxurious, definitely offered good value, large beds and the location was good, located next to the Parque de Maria Luisa, and about a 10-minute walk to the city center.
More Seville Hotels
Recommended Seville tours
Of course, if you would instead not think about what to do or see and just take a tour during your 2 days in Seville, there are plenty of options, feel free to check out some of these recommendations at Get Your guide and have a fantastic time in one of the best cities in Spain.