Where to stay for your visit
Dubai is massive and an incredibly popular tourist destination; you can find it is pretty crowded the whole year-round. With so much going on, what is the best location to stay in Dubai? Well, that depends on what matters to you.
From the grandeur of Dubai shopping malls to iconic attractions such as the Burj Khalifa; there's so much to see in Dubai, and every corner offers accommodation.
One of the hardest problems in front of almost every tourist is which accommodation to choose.
But don't worry. Whether you're visiting Dubai with your family, looking out for some kid-friendly attractions nearby or seeking nightlife-friendly places to hang out at; I have the information you need.
Coming your way in this post - click to expand ->
You may also like:
Best place to stay in Dubai for tourists
I'm writing about a city that practically lives and breathes tourism. Almost every area of the city is an excellent choice to visit and enjoy. Every place has something to offer tourists. However, some areas are slightly better to visit in Dubai if you are a tourist, especially if you're tight and just have a one week in Dubai itinerary.
If you have less than a week in Dubai, I'd recommend sticking to the most famous areas. Try to look for a hotel either in the Dubai Marina area, Downtown or Sheikh Zayed Road.
Downtown
The Downtown area of Dubai is like the Manhattan of New York. From the iconic Burj Khalifa to the biggest and grandest malls of the world is situated in this area.
Dubai Marina
The entire touristy new Dubai lies in Dubai Marina along with some of the best-known eateries. It is widely regarded as one of the most picturesque docks of the whole United Arab Emirates.
Sheikh Zayed Road
The entire stretch is a tourist delight. It covers almost everything you need to see and experience in Dubai, barring some of the old charms of the city as it is power-packed with everything contemporary.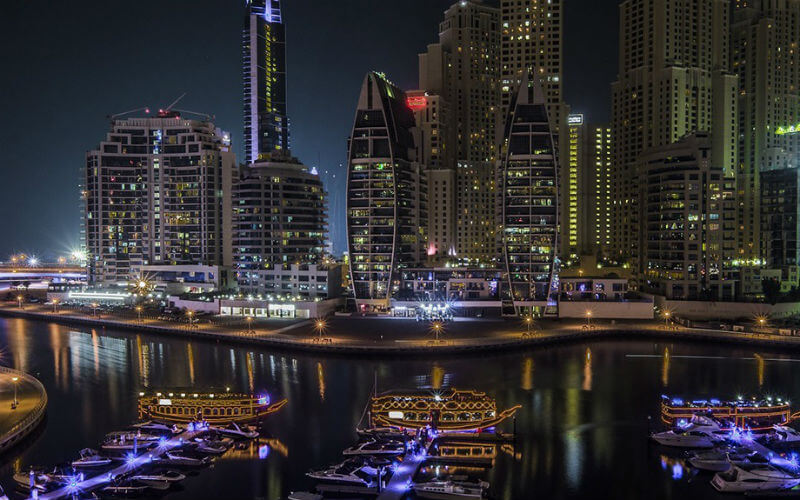 If you're sightseeing, be sure to read: Dubai and Abu Dhabi – Top 10 Photo Spots
Where to stay in Dubai for shopping
Ah! Dubai and shopping are almost synonymous with each other. Even a reluctant shopper can return being a shopaholic. It's tough to recommend the best place, after all, how do you choose the best when comparing the most revered across the world?
However, not one to shy from a challenge, I've got a couple of recommendations for you.
If you live for markets and love the trading experience, bartering your way to the best price possible, then I'd certainly consider staying close to the Gold Souq.
Alternatively, if you want to hang with the uber-rich, get a taste of their lavish lifestyle, what could be better than staying in a Dubai Mall? How about staying in THE Dubai Mall, one of the most luxurious and famous malls in the entire world. Here are a couple of recommendations.
Flora Grand Hotel, Deira
The best part of Flora Grand Hotel's is its location is the fact that it is located in the busiest part of Dubai. It ensures you're never away from any action. Also, it is close to the most famous souq of Dubai- the Gold Souq. Others souqs too are nearby, including the famous Al Ghurair center. If you want to visit any other place, the metro railway station is walking distance.
The Address, Dubai Mall
When your aim is shopping, how about a place inside a mall? Exciting, isn't it? The Address inside the Dubai Mall is one of the best places to stay for shoppers. Not only is it full of impressive views of the sea, but it is also at a height envied by many. From Gucci to Armani, KFC to Candyland; Dubai mall is every shopper's dream.
Best Place to Stay In Dubai With Kids
When you're in Dubai with kids, the stay has to be most comfortable. After all, they need a decent place to crash after the whole day of fun and excitement. Most of the family-friendly places are resorts close to the coast with plenty to keep them entertained. Here are two of the best places to stay with kids.
Hotel Sea View
A location that is ideal for any tourist, the Sea View Hotel is an economical choice with per night range starting a little above INR 2000. The best part about the hotel is the fact that it is kid-friendly. In Dubai, a kid-friendly hotel is a tag given to some places that have special activities, amenities, or facilities for kids. These can include child-friendly swimming pools, play area, and most tempting of all, babysitting services while you enjoy shopping or even just a meal in peace!
Atlantis, The Palm
If you have a little extra to spend, give your kids an experience they won't forget ever with Atlantis. It is an astounding resort with a private beach that could keep the kids busy for the whole day. What's more, the resort owns one of the best in the world theme parks- Aquaventure water park, and the guests have free access. It also has a lagoon aquarium with the choicest of the world marine species. You can also enjoy teen and kids' exclusive clubs there.
Discover things to in Dubai
Best Place in Dubai for Nightlife
In spite of being the principal city of a conservative Arabic country, Dubai is pretty high on nightlife, mainly due to the influx of tourists from all over the world. If you're planning to enjoy the vibrant Dubai nightlife, why not stay in a nightclub? Here are the best for you.
Jumeirah Mina A' Salam
An astounding experience for anyone looking to enjoy the nightlife scene of Dubai, Jumeirah Mina A' Salam is one place that is sure to help you loosen up at night. It's 360-degree night club that is not only one of the best parties in Dubai but also offers spectacular views of Dubai's mighty skyline. Also, the service there is considered to be astounding.
Armani Hotel, Dubai
While just the name is enough, this luxury hotel is also home to some of the most celebrated nightlife in Dubai. Armani Prive should be your pick to enjoy a night partying with the crème-de-la-crème of Dubai. Yes, it is a bit heavy on the pocket, but then all the premium experiences are.
Best Area to Stay in Dubai on a Budget
Every place witnesses tourists who wish to spend more on touristing and less on accommodation. Dubai realizes it and that is why it has some extremely cool budget hotels too.
St. George Hotel
A comfortable room with free buffet breakfast in the busy street of Deira is what St. George Hotel has to offer you. Sounds good to me. The average charges are only around INR1000 per night which includes free Wi-Fi as well. What more could a budget traveler in Dubai want?
Royal Falcon Hotel
If the above nightclubs were too expensive for you, here's a budget accommodation that offers you the best of both worlds in your pocket range. The Royal Falcon offers you straightforward lodging with nightclub facility also, and all this for a little over INR 1100 per night.
More Dubai accommodation deals
Conclusion
People from all over the world come to Dubai for many different reasons but will hopefully leave with the same conclusion. Dubai is charming, exquisite, and vibrant while also being extremely warm, thanks to the people. Whether visiting to do a bit of shopping, relaxing on the beach or packed days of touring, I'm sure you'll fall in love with the city and the people.